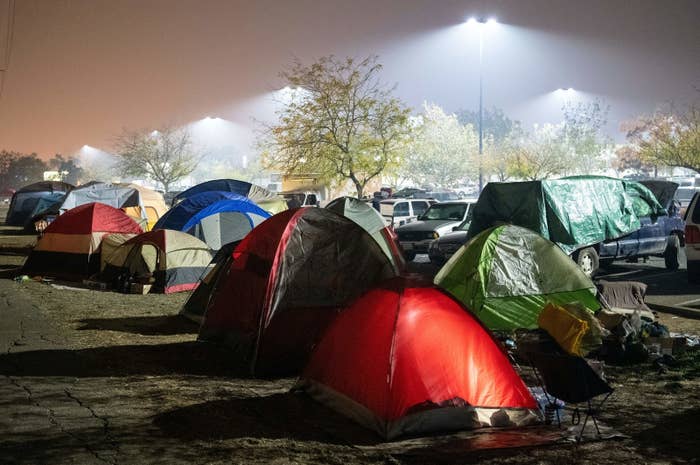 So many people from Paradise, California, who lost their homes to the deadly Camp fire are now desperate to find new places to live nearby. But realtors are quickly running out of options.
In the neighboring city of Chico, for example, all available rental units disappeared within a few days. And there's a similar frenzy playing out in the housing market, where homes are repeatedly getting 15 or more offers and consistently selling above the asking price. Five Chico realtors told BuzzFeed News they've never experienced this kind of high demand, and are scrambling to find displaced families some place, any place, to live.
"We're out of rentals 100%. Our market for available properties for people to buy is dwindling to almost nothing," Sarah Nielsen, who has been a real estate agent in Chico for about 15 years, told BuzzFeed News. "Everyone's panic-struck."
California's deadliest fire burned through the town of Paradise two weeks ago, quickly destroying more than 12,600 residences and claiming at least 79 lives. Nearly 700 people are still missing as of Monday. The Camp fire is 66% contained, according to state officials. It's one of multiple fires raging across the state.
The decimation of all these homes comes as California faces a years-long housing crisis. According to the California Department of Housing and Community Development, a projected 180,000 new homes need to be built each year to meet demand. But fewer than 80,000 new homes, on average, have been built annually in the past decade.
"California is already not keeping up with its current and future housing needs, and now we're having to replace homes that are subject to these terrible fires," Jordan Levine, a senior economist at the California Association of Realtors, told BuzzFeed News.
"Housing supply is the one area where we really can't afford any more challenges and unfortunately that's exactly what these [fires] are going to be," Levine said.
And the wildfires impact on the state's housing supply is likely only going to worsen in the future as the world warms, increasing the conditions favorable for fires, and more people move into the areas at risk of catching fire.
Following the Tubbs fire that burned through Northern California's Santa Rosa last October and the Thomas fire's impact on Southern California's Ventura last December, both places initially experienced a drop in total housing sales and then sales quickly rebounded, according to Levine. That's because there were more buyers competing over the homes left standing.
More than a year later, realtors in Santa Rosa still field requests from people displaced by the Tubbs fire looking for new homes. "When you're talking about the short-term effects of the fire, there was speed race to who can get to the homes the fastest," Katie Reynolds, a realtor for Prosper Real Estate in Sonoma County, told BuzzFeed News. Moreover, prices went up due to the shortage, and the high demand lasted for months. (More than 5,600 structures, many of them homes, were lost in the Tubbs fire, according to state records.)
Before the Camp fire, Chico's housing market was slowing, according to Shane Collins, a Chico realtor. Then it went "crazy," Collins said, with a couple hundred homes effectively being sold in a matter of days. (Besides working nonstop to secure people new housing, Collins' parents and others that fled from Paradise are staying under her own roof.)
Due to the intense demand, property sales are being streamlined, according to Eric Stofa, a Chico realtor with Coldwell Banker DuFour Realty. Sellers are selecting an offer and not doing counteroffers, meaning those who didn't get the property can move on quickly to try again elsewhere.
"Sellers are electing not to counter offers but just to select one and move forward, because it's too emotional," Stofa told BuzzFeed News. "They are reading cover letters, and every cover letter is just a tragedy. And so how do you select who purchases your home? Who needs the home the most? Everyone needs the home."
After all available rentals in Chico were snatched up, realtors started directing people to the neighboring small towns of Oroville and Yuba City. Stofa and others speculate that may soon happen with home sales too, because new ones aren't coming on the market at a fast enough clip.
The housing market in Sacramento, nearly 100 miles south of Chico, has not seen yet an uptick in demand, according to local real estate agent Justin Vierra. In fact, the market has been slower than normal, and he's not sure if it's due to the upcoming holidays or all the smoke in the air from the fires keeping people inside.
But some former Paradise residents, especially the elderly, can't compete in Chico right now, realtors say. A quarter of Paradise's population are 65 or older, according to the 2017 population estimates, and the median household income between 2012 and 2016 was less than $50,000.
"The inventory is decreasing and there's still a whole lot of people out there that don't have a home," Jessica Sorenson, a Chico realtor, told BuzzFeed News.