A defiant Hillary Clinton gave a candid, lengthy election post-mortem Wednesday, partly attributing her loss to a right-wing, pro-Donald Trump machine that manipulated social media and pushed false information.
But two examples she cited aren't entirely accurate.

Responding to a question Wednesday at the Recode Code Conference about Twitter's influence on the national discourse, Clinton accused the platform of letting false content run amok and enabling users and bots to spread fake stories and extremist narratives.
"I think [Twitter] has become victimized by deliberate efforts to shape the conversation and push it toward conspiracies, lies, false information," she said.
Clinton then alleged that President Trump has recently gained millions of Twitter followers, thanks to a massive bot army, a claim that has been debunked.
"Who is behind driving up Trump's Twitter followers by the millions? We know they're bots," she said. "Why? I assume there's a reason for everything. Is it to make him look more popular than he is? Is it to try to influence others on Twitter about what the messaging is so that people get caught up in it and lose sight of what they're trying to say?"

Multiple reports claiming that Trump gained millions of mostly bot followers over three days recently went viral, but a Twitter spokesperson told BuzzFeed News on Tuesday that it was not true.
Snapshots from archive.org show Trump's official account, @POTUS, had 18 million followers four days ago compared to 18.2 million on Wednesday.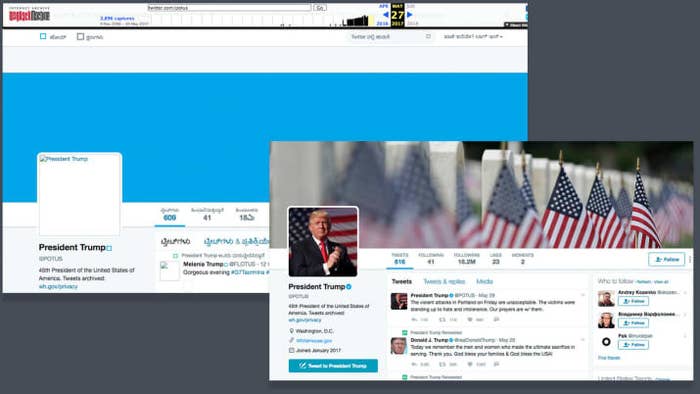 The same goes for his personal account, @realDonaldTrump, which had 30.7 million followers three days ago and 31 million on Wednesday.
As BuzzFeed News' Jane Lytvynenko notes, Trump is not the only one experiencing an influx of potential bots.

Other large accounts like Hillary Clinton, Barack Obama, and even Justin Bieber also have many new followers that appear to be fake Twitter users.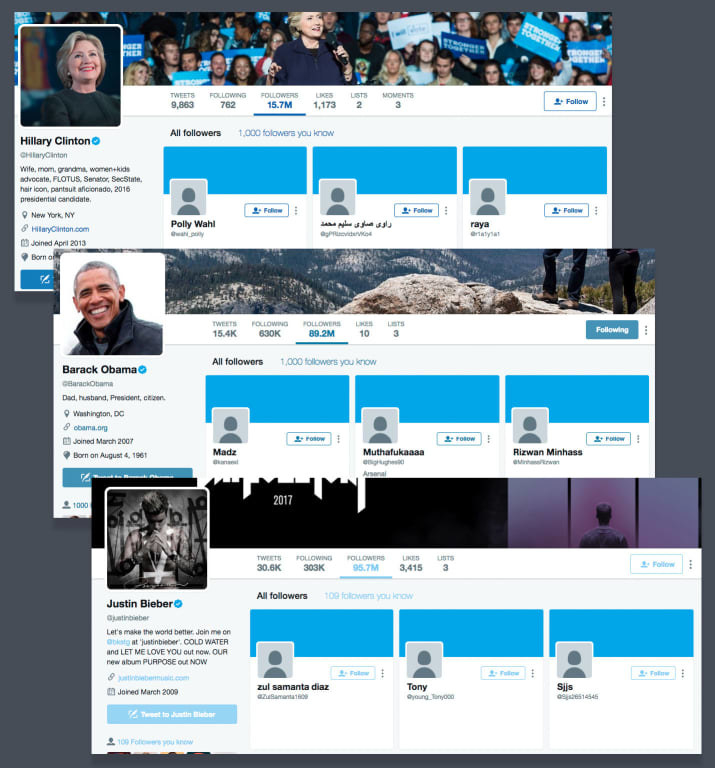 Clinton also honed in on the power of "media forces on the Republican side," arguing that outlets like Fox News and Sinclair Broadcasting, a conservative media conglomerate, are beginning to influence the coverage of local stations across the country.
"You have Fox, but then you have Sinclair buying 140-plus local stations and they're beginning to call the shots on those local stations," she said, specifically pointing to a local NBC affiliate in Montana and how it covered newly-elected Republican Congressman Greg Gianforte's alleged attack on Guardian reporter Ben Jacobs last week.

Clinton claimed the NBC affiliate in Montana, which Sinclair is in the process of purchasing, refused to "send footage of what happened" to NBC in New York after they called to request it.
"They said no, because that reporter was from a liberal paper and we don't think it's a story we want to be part of," Clinton said.
Clinton appeared to be referencing a New York Magazine article that reported KECI, the NBC affiliate in Montana, refused to cover the incident at the time, or share footage it had access to.
Clinton's synopsis, however, is not exactly true. The Montana TV station did not have footage of Gianforte body slamming Jacobs, but at the time, refused to cover the story and air audio of the scuffle. The station later apologized.
A source told the magazine that KECI news director Julie Weindel told NBC News "The person that tweeted [Jacobs] and was allegedly body slammed is a reporter for a politically biased publication. You are on your own for this."
Weindel later told New York Magazine that those comments were taken out of context and they had been unable to verify the information.
"We were eventually able to confirm, and we did aggressively report the facts of the story, the investigation, and the assault citation, based on the sheriff's information and press conference, which we covered and sent in its entirely to NBC and MSNBC immediately," Weindel told the outlet.
Sinclair, which owns 173 outlets nationwide, does have a history of favoring Republican candidates and pushing local stations to the right.

A spokesperson for Clinton did not immediately return a BuzzFeed News request for comment.
Trump took to (you guessed it) Twitter to slam Clinton's interview, saying that the former presidential candidate "blames everybody but herself" for losing the election.