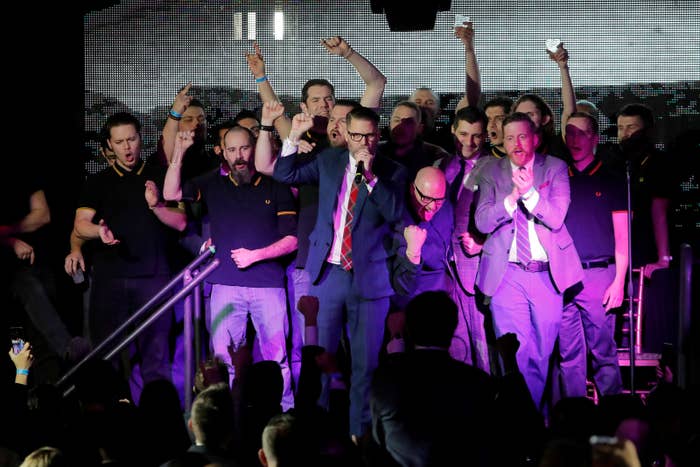 Facebook has banned several pages and groups associated with the Proud Boys, a far-right men's group that was present at last year's Unite the Right rally in Charlottesville, and whose members were involved in a brutal street brawl in New York earlier this month.
The company confirmed Tuesday that it has begun shutting down a variety of accounts associated with the Proud Boys and its founder, Gavin McInnes, on both Facebook and Instagram, citing its "policies against hate organizations and figures."
"Our team continues to study trends in organized hate and hate speech and works with partners to better understand hate organizations as they evolve," a Facebook spokesperson told BuzzFeed News. "We ban these organizations and individuals from our platforms and also remove all praise and support when we become aware of it. We will continue to review content, Pages, and people that violate our policies, take action against hate speech and hate organizations to help keep our community safe."

The company was still in the process of removing the pages and groups Tuesday night, the spokesperson added, noting that "some pages/groups may still be up, but will be coming down."
McInnes, who cofounded Vice magazine, formed the Proud Boys in 2016. The group has since gained notoriety for its raucous, often violent presence at far-right rallies and demonstrations across the US and for its members' willingness to align themselves with neo-Nazis and white supremacists.
Earlier this month, a group of Proud Boys members were involved in a vicious fight with far-left protesters following an appearance by McInnes at New York's Metropolitan Republican Club. Six men, including members of the Proud Boys, were eventually arrested and charged in connection with the assault.
In August, Twitter also suspended several accounts associated with the Proud Boys, who tout themselves as "Western chauvinists," saying that they had violated the company's policy on violent extremist groups.
Facebook's action comes just days after a gunman entered a synagogue in Pittsburgh, killing 11 people attending Shabbat services in what is believed to be the largest attack on Jews in US history. The suspect, who faces federal hate crime charges and the possibility of the death penalty, frequently shared vitriolic, white-supremacist views and content online.
News that McInnes and his group had been banned from Facebook platforms was first reported by Business Insider.

On Tuesday, Proud Boy fans and other Twitter users began noticing that Facebook pages and accounts linked to the group no longer existed. An Instagram account belonging to Bay Area Proud Boys was no longer available Tuesday evening.
The Facebook expulsion will rob the group of its ability to reach thousands of followers, and has the potential to blunt the Proud Boys' recruiting tactics. The Southern Poverty Law Center, which tracks hate groups, has chronicled how Proud Boys leaders utilized Facebook's private groups and pages "as spaces for planning and putting out calls for action, helping place Proud Boys on the ground."
The organization had more than 35 regional and city-specific groups as of three months ago, according to Tech Crunch, which did a deep dive into how Proud Boys used Facebook to create a robust, international network and recruit and vet "thousands of new members and [feed] them into local chapters."
As Tech Crunch points out, subdivisions and factions of the Proud Boys, such as the Fraternal Order of the Alt-Knights (FOAK), still exist on Facebook and Instagram, though they wield far less influence and have amassed only a fraction of followers.
As of Tuesday, the Proud Boys USA Facebook account had more than 20,000 likes. Gavin McInnes' Instagram account, with more than 156,000 followers, has disappeared from the platform; a Facebook page plugging his CRTV show Get Off My Lawn, with 100,000 likes, also appears to have been taken down.

Other pages, however, remained active, including the Facebook page for Proud Boy Magazine, which has more than 15,000 likes.