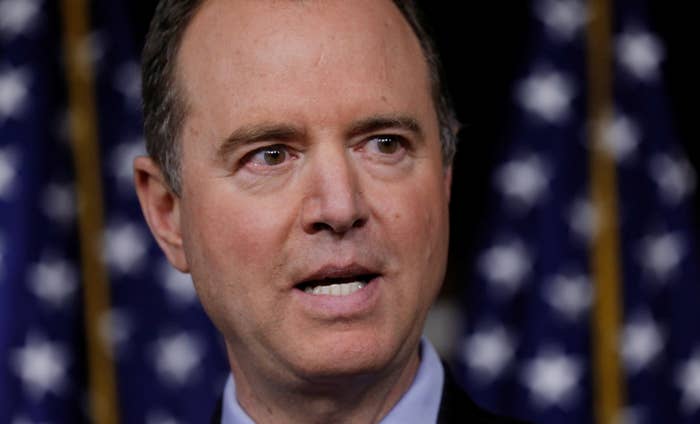 The House Intelligence Committee's top Democrat, Rep. Adam Schiff, said that there is "more than circumstantial evidence" that President Donald Trump's campaign colluded with Russia.

Speaking to MSNBC's Chuck Todd on Wednesday, Schiff said he has seen evidence that shows there was coordination between Trump's campaign and the Russian government during the presidential election.
When asked by Todd about former director of national intelligence James Clapper's contention that there is no evidence of collusion between the Trump campaign and Russia, Schiff said he disagrees.

Pressed on whether Schiff had merely "circumstantial" evidence to the contrary, the Democrat replied, "Actually, no."
"I will say that there is evidence that is not circumstantial, and it very much worthy of investigation," Schiff said.
video-cdn.buzzfeed.com
Just hours after Schiff's comments, CNN reported that the FBI has information suggesting Trump's associates worked with Russian operatives to damage Hillary Clinton's campaign.
The information possibly shows that "people connected to the campaign were in contact and it appeared they were giving the thumbs up to release information when it was ready," an unnamed source told CNN. BuzzFeed News could not independently confirm the report.

FBI Director James Comey announced Monday that his agency was investigating the relationship, testifying that the FBI came to believe that Russia was using "active measures" to hurt the Clinton campaign and help the Trump campaign.
Schiff's revelation comes after a daylong dispute between himself and House Intelligence Committee Chair Devin Nunes. Nunes announced Wednesday that he had evidence showing that personal information for Trump's team may have been picked up in incidental collection and briefed House Speaker Paul Ryan and the White House, as well as the press, before notifying Schiff and other intelligence committee members.
Nunes dropped the comments during a press conference on the committee's Russia investigation, but said none of the surveillance he has seen was related to Russia.
Schiff slammed Nunes, declaring that the chairman's surprise disclosure not only undermines his credibility, but could hinder the committee's ability to investigate the president.
"I think we have been dealt a serious body blow to the credibility of our ability to get answers by today's events," Schiff told Todd. "To me, it underscores the importance of having an independent commission look at this as a supplement to anything the Congress does."