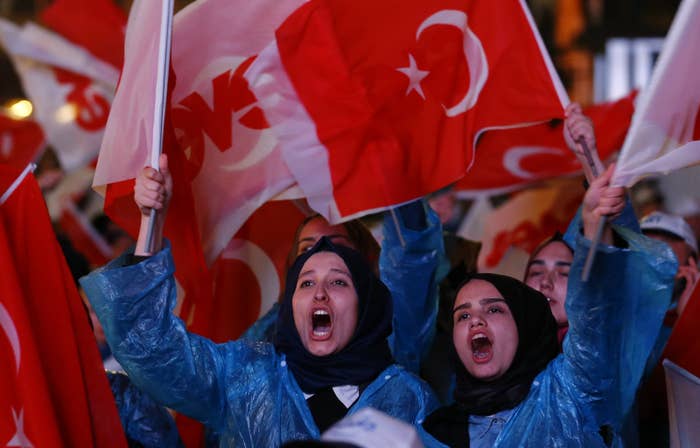 Turkish president Recep Tayyip Erdogan won a narrow victory Sunday in a divisive nationwide vote on proposals to grant his office vast new powers.
Proponents of a raft of deep constitutional changes that would transform Turkey from a parliamentary to a presidential system of governance claimed victory late Sunday night, with just over 51.2 percent of the vote amid record-high turnout, according to unofficial numbers released by state television and official news agencies. The country's high electoral board confirmed victory for Erdogan's "Yes" camp.
"Today Turkey made a historical decision," Erdogan told the nation late Sunday in a televised address in which he presented his "Yes" camp as the underdog despite its considerable advantages . "It was difficult to defend the changes, but we succeeded."
In a message to Western critics of what many describe as Turkey's authoritarian drift under Erdogan, he added, "We expect other countries, especially our allies, to respect Turkey's decision."
Turkey's Prime Minister Binali Yildirim, whose post will be eliminated under the amended constitution, sought to calm the nation's frayed nerves. "We are one nation," he said in a televised address. "I thank my citizens. Our special thanks to our great leader, Erdogan. Those who vote 'No' are also precious. I greet them all. We are Turkey. We are together. No one should have a broken heart. No one lost. Turkey won."
The outcome was complicated by the narrow margin of victory, and the opposition's allegations of voting irregularities. Turkey's electoral commission announced at the last moment that it would accept ballots that lacked an official stamp, a change that prompted the country's secular opposition People's Republican Party to announce its intention to contest up to 2.5 million votes.
In many ways, a shaky outcome following a divisive campaign and allegations of political repression was the worst possible scenario for Turkey, suggesting that there's a large and potentially destabilizing bloc of people in opposition to changes that include granting any popularly elected president the authority to issue decrees, name cabinet members, and declare a state of emergency and take unspecified national security measures without parliamentary approval. The most important changes, including the scrapping of the post of prime minister and the elimination of a European-style coalition government system, won't take effect until 2019. But Erdogan immediately can become leader of his party as well as president, something forbidden under the current constitution.
"The conditions under which the votes were held and the act of tallying the votes raise serious doubts about whether the vote was free and fair, " David L. Phillips, a former State Department adviser on Turkey during the Clinton, Bush and Obama presidencies, told BuzzFeed News. "If the Turks feel disenfranchised, they will revert to other means, and the risk of political violence becomes more widespread."

The tiny sliver of victory was far less than the 60 percent that Erdogan and his Islamist-rooted Justice and Development Party, or AKP, publicly sought. Turkish voters in the large cities of Istanbul, Ankara, Adana, Antalya and Mersin, long AKP strongholds as well as the coastal city of Izmir and the mostly Kurdish metropolis of Diyarbakir voted against the proposed changes.
"Introducing changes of such magnitude with a very thin margin will be problematic going forward," Sinan Ulgen, a former Turkish diplomat and now a scholar at the Carnegie Endowment for International Peace, told BuzzFeed News. "Assuming the yes vote holds, this means the country has been very evenly divided in terms of backing these momentous changes, so the establishment of this new constitutional order is bound to create complications in the months and years to come if no further efforts are made to win over an additional segment of society."
Turkey's polarization was evident at voting stations around the country. Turnout was high, estimated at more than 85 percent. At one polling station in the Istanbul district of Kadikoy, a pair of sisters said they voted in opposite ways for opposite reasons.
"When you look at the world, our current coalition system won't take into the future," said Sude Sensoy, 34, an advertising industry professional. "My 'Yes' vote has nothing to do with Erdogan or the AKP."
Her sister, Beyza, a 20-year-old law student, said she was voting 'No' exactly because of her mistrust of Erdogan and the AKP. "They came to power by manipulating religion," she said. "Now they're involved in corruption, so I don't support them."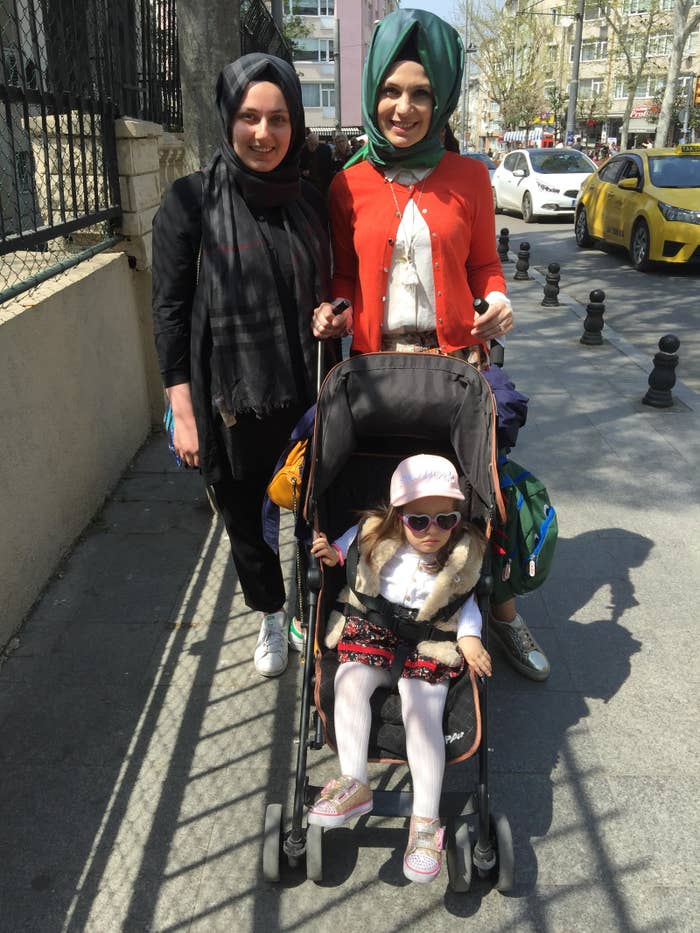 "Yes" voters argued the new system would make the country more democratic by empowering an elected president over the unelected bureaucracy and streamlining politics by doing away with messy coalition governments. "No" voters described their votes as a way to combat "fascism" and defend the Turkish republic.
Some warned that Erdogan's narrow victory, if confirmed, would further estrange Turkey from its traditional Western allies, including its primary European Union trading partners, and risk an intensification of the country's civil strife. Turkish security forces are already combatting a renewed insurgency by Kurdish guerrillas in the country's southeast while fending off attacks by ISIS and ridding the bureaucracy of alleged supporters of the coup last summer.
"If the vote is 'Yes' and Erdogan has succeeded in consolidating his power and rejects European values, its EU aspirations would be dead and its cooperation with the US and NATO would be in doubt," said Phillips, who now teaches at New York's Columbia University.
"You can't have a dictatorship that coexists with Western democracies and the US," he said. "Turkey under Erdogan is already a dictatorship and this will be used to consolidate his powers and legally justify dictatorial rule."
CORRECTION
According to the Turkish constitution, the parliament has the right to approve war. An earlier version said the president could declare war without the approval of the parliament.
Outside Your Bubble is a BuzzFeed News effort to bring you a diversity of thought and opinion from around the internet. If you don't see your viewpoint represented, contact the curator at bubble@buzzfeed.com. Click here for more on Outside Your Bubble.