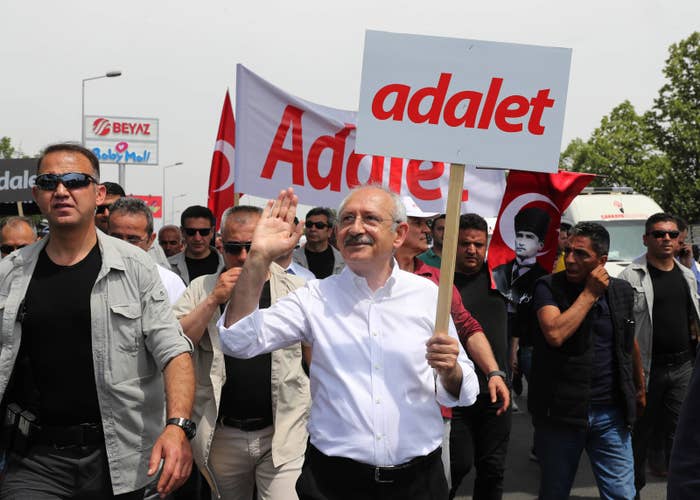 KARTEPE, Turkey — A possible showdown between President Recep Tayyip Erdogan and the Turkey's main opposition party may be coming to a head this week as a 280-mile pro-democracy protest march from the capital, Ankara, wends its way to Istanbul.
Kemal Kilicdaroglu, a one-time Ministry of Finance number-cruncher, is the leader of the Republican People's Party and a member of parliament. The 68-year-old announced a protest march last month after a court sentenced a member of his party, Enis Berberoglu, to 25 years in jail on charges of leaking information about Erdogan's arming of Syrian rebel groups. Tens of thousands of Turks have taken part in the march, which will conclude July 9 at the prison in Istanbul where Berberoglu is currently being held.
The protesters, sometimes marching quietly in the blistering summer sun for hours, have been carrying signs that simply say "justice," in what is the first sustained mass protest against Erdogan's ongoing crackdown since last year's failed July 15 coup attempt, including the imprisoning of political dissidents, the shuttering of newspapers, purging of scholars, judges, and security officials, and alleged torture in prisons filled to capacity.
"Turkey has to find an exit from this authoritarianism," Kilicdaroglu, sitting in an air-conditioned mobile home during a break in the march, told BuzzFeed News. "Now Turkey is like a semi-open prison. There's not much difference between being in prison and being outside prison."
The march, modeled on Mahatma Gandhi's 240-mile protest, known as the Salt March, against British rule in 1930, has drawn the ire of Erdogan, who has accused Kilicdaroglu of supporting terrorism. "You are launching a march for terrorists and for their supporters, something which you have never thought about doing against terrorist groups," Erdogan told supporters in Ankara on Saturday. "You can convince no one that your aim is justice."
Yet the march has clearly made Erdogan and leaders of his Justice and Development Party, which dominates parliament, a bit nervous. Authorities have deployed thousands of security personnel to accompany the marchers, both to keep the demonstrators under control and to protect them from potential provocateurs, according to march organizers.
Though the march began initially with mostly supporters and members of Kilicdaroglu's party, the CHP, it has since drawn other opposition groups, including the Kurds, leftists, environmentalists, and women's rights activists. Selahattin Demirtas, jailed co-chair of the opposition Peoples' Democratic Party, or HDP, endorsed the march through an intermediary.
As the march wended its way through the town of Kartepe, 80 miles east of Istanbul, with temperatures soaring above 90 degrees, onlookers greeted the protesters with cheers, and truckers blew their horns. "We came to show our support," said Nuray, a 41-year-old schoolteacher who with her husband came to visit the marchers. "We don't belong to any group, but we believe there is no justice in Turkey. I am inspired by all the old people walking beneath the sun."
Perihan Ulas, a 78-year-old grandmother, took part in the march, wearing a white scarf to shield herself from the heat. "I am marching for justice," she said. "I am marching for the young people."

Some who at first cynically dismissed the march as a stunt that would peter out are taking a second look. "With each step of the march, the number of heads turning has increased," wrote Kanat Atkaya, a columnist for the centrist daily Hurriyet.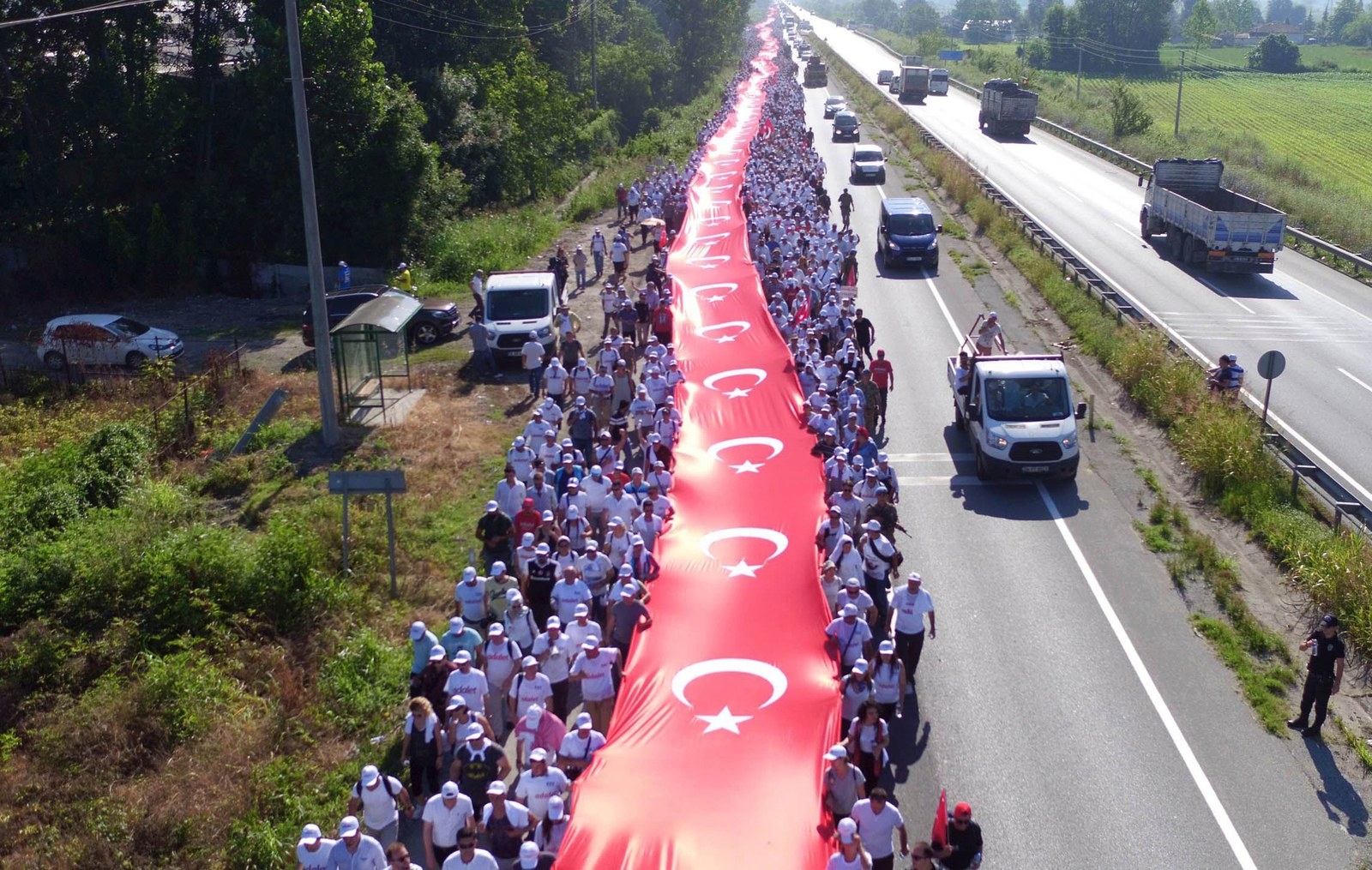 That Erdogan's government even allowed the march surprised many. Under an emergency law established after last year's coup and repeatedly renewed, protests can easily be barred on security grounds. Police on Sunday aggressively prevented an annual transgender march along Istanbul's famous Istiklal Street, arresting seven.
Kilicdaroglu has often been criticized for failing to stand up to Erdogan. In an age of brash, street-fighting demagogues, Kilicdaroglu can come off as too genteel and polite, say some of his critics. But others say he appears to be finding his political voice.
"Every party in Turkey stood against this coup d'etat and this was actually the first time no one supported a coup," he said. "But after just five days, the emergency state of law was declared and this was another type of coup d'etat. It was a civil coup d'etat and the main actor was Recep Tayyip Erdogan."
At the very least, he said, the march was emboldening people to speak out and act. "They made people wear this jacket of fear," he said. "And now we're trying to convince people to take it off."