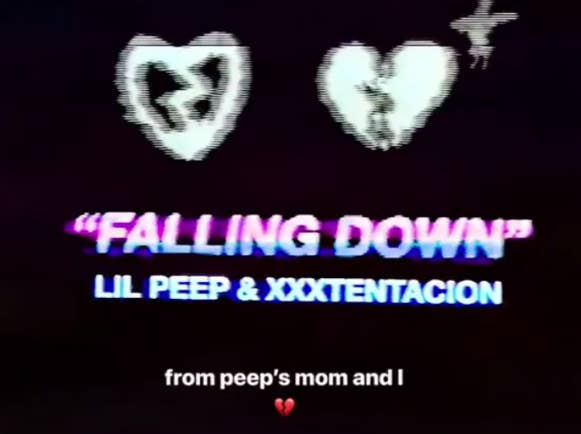 XXXTentacion and Lil Peep, two beloved young rappers who recently died, released a posthumous song Friday called "Falling Down."

XXXTentacion, born Jahseh Dwayne Onfroy, was shot and killed in June at the age of 20. Lil Peep, born Gustav Ahr, died last November of an apparent overdose at 21. The song is XXXTentacion's first music release since his death.
The rappers were two of the more famous members of a new generation of musicians known for blending emotional lyrics with hip-hop beats, and for using the free website SoundCloud to distribute their music.
In trademark fashion, Ahr and Onfroy compare rain to tears in the song.
Rapper ILoveMakonnen, born Makonnen Sheran, cowrote and produced "Falling Down," and shared a clip of it on Instagram the day before its release. He said that Onfroy had been inspired to join after Ahr's death.
"I posted a few weeks ago about how much it meant to me to know that this song I co-wrote with @lilpeep inspired @xxxtentacion to want to jump on and add some verses," he wrote.

Sheran also thanked his two deceased collaborators' mothers, Cleopatra Bernard and Liza Womack. The women have managed their sons' social media accounts since their deaths, posting tributes and releasing merchandise.
Teasing the song the day before it came out, Bernard wrote on Instagram, "from peep's mom and I ."
Bernard posted an audio clip of her son listening to an early version of the song and saying of Ahr, "His name will live, brother! I feel hella shitty because it's like, if I had known he was so cool, I would have fucked with him sooner."
Young fans flocked to the raw emotions each rapper expressed and their skillful, lo-fi production. They and their SoundCloud rap cohort were also recognizable in pictures on social media for their style — face tattoos, colorful hair, and a pastiche of brand logos. Many of them, including Onfroy, faced allegations of violence and abuse.
Onfroy's song "Sad!" has remained high on the Billboard Hot 100 since his death.
Sheran did not immediately respond to request for comment, nor did Ahr and Onfroy's publicists.