Twitter revamped its reply feature today: Usernames won't show up in replies to tweets anymore.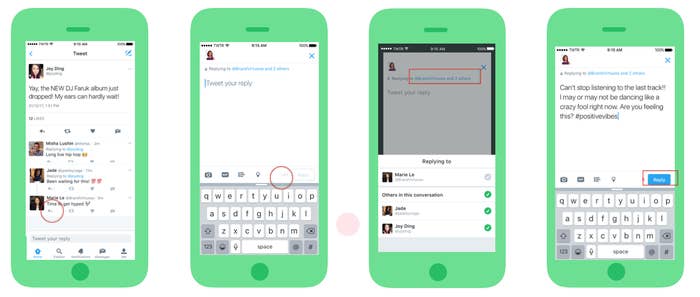 It used to be that a bunch of @ usernames would show up in your Twitter replies, which could occupy a significant chunk of the 140 character limit for tweets. Now the @ names won't appear in the replies themselves. The names of the people in the conversation will appear above the tweet, and you can control who's part of the conversation by tapping on that list of names.
And people are ~stressed~.
People pointed out that it's tough to remove yourself from replies with the new feature:
And they just generally...loathe the change.
But some people love it, I guess?
The overwhelming majority of reactions have been negative, though.
Twitter rolled back a similar feature in December in response to widespread outrage.
The company has recently shipped a number of updates, many of which are intended to curb abuse. In June 2016, it announced that GIFs, videos, photos, and other media wouldn't count toward the 140-character limit.
It's worth noting that pretty much any time Twitter rolls out a change, people get mad. Twitter did not respond to a request for comment.