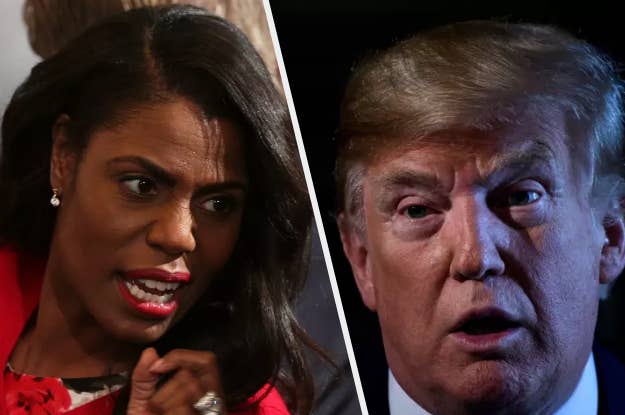 President Donald Trump called his former aide Omarosa Manigault Newman a "lowlife" after she accused him of being racist in her new book.

During a meeting between President Trump and members of the group Bikers for Trump, New York Times reporter Maggie Haberman asked, "Do you feel betrayed by Omarosa, sir?" and Trump responded, "Lowlife. She's a lowlife."
NBC News tweeted a video of the remark:
Manigault Newman is a former contestant on The Apprentice who became a senior aide to Trump before being fired in 2017. She reportedly claims in her new book, Unhinged, that President Trump is a "racist" who repeatedly used the n-word multiple times during the making of his show.

Manigault Newman reportedly wrote that she never heard Trump use the racial slur herself, but she had investigated the existence of a tape in which he had allegedly used the word "multiple times" during outtakes for The Apprentice.
Then this week, Manigault Newman told NPR that she had heard the tape, and that it "changed everything for her."
In the book, which BuzzFeed News has requested an advance copy of, she reportedly claims that Trump's team scrambled to prepare a response in case the tape came out. It never did, but she claims that "three sources in three separate conversations had described the contents of this tape" to her.
"They all told me that President Trump hadn't just dropped a single n-word bomb," she reportedly wrote in the book. "He'd said it multiple times throughout the show's taping during off-camera outtakes, particularly during the first season of The Apprentice."
She added, "I would look like the biggest imbecile alive for supporting a man who used that word."
Trump previously said he hires "the best people in the world" to work for him, but dramatic staff departures have rocked the White House since the beginning of his term.
In a statement Friday, White House press secretary Sarah Huckabee Sanders described Manigault Newman as a "disgruntled" former White House employee and claimed that the book was "riddled with lies and false accusations."