Late last night, hackers took over hundreds of prominent Twitter accounts and started pushing tweets in Turkish that accused Holland and Germany of being Nazis. The hackers accessed the accounts, which include Forbes, Reuters Japan, Nike Spain, Starbucks Argentina, Duke University, through a third party app called the Counter, according to Gizmodo.
A translation of the above tweet reads: "#nazigermany #nazinetherlands this is a little #ottomanslap see you on #april16 what did I write? LEARN Turkish."
The tweet links to a YouTube video praising Turkish president Recep Tayyip Erdogan titled "Reis'i Üzeni de biz üzeriz. @sebomubu" ("If someone makes our Captain sad, we will make them sad"). The description of the video reads "Nazi Almanya, Nazi Hollanda ! Türk'ün sabrını zorlamayın. Biz bu yola kefenimizi giyerek çıktık. Derken şaka yapmıyor idik." ("Nazi Germany, Nazi Netherlands don't try the patience of Turks. We were not joking when we said 'we set off on this path wearing our burial shrouds.") The user @sebomubu, named in the video's title, has also been suspended from Twitter.
After a failed coup against him in 2016, Turkey's Erdogan is campaigning for an April 16 referendum that would rewrite parts of Turkey's constitution. Erdogan's critics say he's trying to consolidate power amidst a crackdown, and he's been publicly feuding with Dutch Prime Minister Mark Rutte and German chancellor Angela Merkel over the referendum. Both countries have tried to block his attempts to campaign with expat Turks in the Netherlands and Germany.
Twitter said in a statement that it was aware of the hack and had responded: "Our teams worked at pace and took direct action. We quickly located the source which was limited to a third party app. We removed its permissions immediately. No additional accounts are impacted."
Third party apps have long been an issue for Twitter, especially after the Saudi hacking group OurMine started exploiting their vulnerabilities to hack prominent users' accounts last year. The group hacked into the accounts of Facebook CEO Mark Zuckerberg, Google CEO Sundar Pichai, and Uber CEO Travis Kalanick. The social network has also struggled with harassment and hate speech for nearly its entire existence.
The Counter, which provides analytics on an account's followers, tweeted before its account was suspended that it had begun investigating the hack and had attempted to contain the damage. The app's site also displays a "down for maintenance" message. Twitter did not publicly provide an official reason for suspending the app.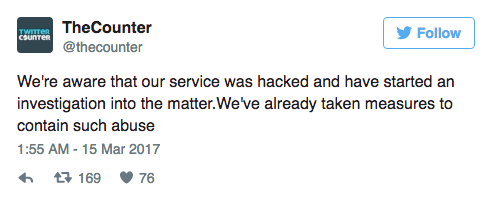 Even if your Twitter account wasn't hacked, this incident is a reminder to check your third-party Twitter extensions, de-authorize ones you don't use, and make sure you've set up two-factor authentication for your account.
The hack comes at a bad time for Twitter. The marketing research firm Emarketer released a study Tuesday projecting that Twitter's revenue from mobile ads would decline by nearly $1 billion in 2017. If the paper's findings bear out, it will be the first time the company's share of the mobile advertising industry decreases, even at a time when companies are spending more money on mobile ads.