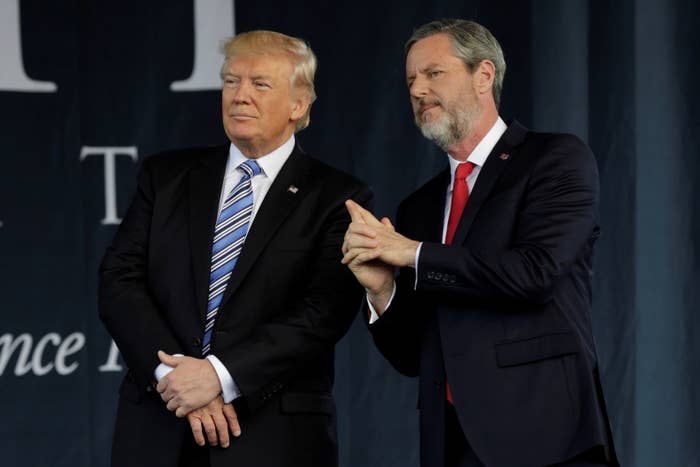 The prominent evangelical leader Jerry Falwell Jr. has for the first time acknowledged putting up $1.8 million for a business venture managed by a young pool attendant whom he and his wife befriended during a stay at a luxury hotel in 2012.
BuzzFeed News first reported in May on a lawsuit that claimed the Falwells had developed a "friendly relationship" with Giancarlo Granda, then 21 years old, at the lavish Fontainebleau Miami Beach, flying him in a private jet, offering "financial assistance," and ultimately setting him up in business.
Falwell played a key role in the 2016 presidential election four years later when he abruptly endorsed Donald Trump and helped to deliver the overwhelming support of white evangelical Christians.
BuzzFeed News has previously reported that Michael Cohen, Trump's former lawyer and fixer, helped broker the crucial endorsement. Cohen was sentenced to three years in prison in federal court earlier this month after pleading guilty to lying to Congress and unrelated illegal campaign finance violations. Those violations involved payoffs to women who claimed to have had affairs with Trump.
Until now, Falwell had made no public comment about his role in the business, a dormitory-style hotel in Miami Beach. His involvement came to light only because two former participants, a father and son, said they were pushed out of the deal. According to the 2017 lawsuit they filed, Falwell "indicated that he wanted to help Granda establish a new career and build a business." The affidavit that Falwell recently filed in response to their suit says that the young man was given a share in the multimillion-dollar business "in exchange for his agreement to serve as local manager."
"My wife and I provided a loan of $1 million" for the purchase of the youth hostel, Falwell wrote. "Later, my wife and I provided additional funds of $800,000 for renovations of Alton Hostel which are being treated as an additional loan."
The filing does not explain why Falwell chose to invest so heavily in the venture, or why Granda was selected as the local manager despite having no evident experience in real estate or hotel management.
Falwell, the president of the evangelical Liberty University, played a pivotal role in Donald Trump's presidential campaign as the first major Christian leader to endorse the outsider candidate. Falwell even said that Trump, a twice-divorced former casino magnate who has bragged openly about his sexual exploits, was an exemplar of Christian values. "In my opinion," he said, "Donald Trump lives a life of loving and helping others, as Jesus taught in the Great Commandment."
As BuzzFeed News had previously reported, a source close to Falwell said he was "sure" Falwell had discussed the Granda case with Cohen prior to his unexpected decision to lend his backing to Trump. There is no evidence that these discussions played any part in the endorsement.
The same year that Granda and Falwell developed a friendly relationship, the former pool attendant was introduced to Trump at Liberty University. Trump was visiting to give a convocation speech. Michael Cohen also attended. It was unclear what Granda, who was not a Liberty student, was doing there.
Cohen did not respond to a text and a WhatsApp message.
Falwell's affidavit is part of a motion to dismiss his role in the lawsuit, which was brought by Jesus Fernandez Sr. and Jesus Fernandez Jr.
Rolando Diaz, the lawyer for the plaintiffs, said, "All he's trying to do is say the state of Florida doesn't have jurisdiction over him because he says he wasn't involved. We have affidavits by realtors that say he was involved." Diaz said he intends to question Falwell in a sworn deposition. "His deposition is taking place whether he likes it or not."
Falwell's legal document states, "During a family vacation to Florida, Mr. Giancarlo Granda introduced me to Mr. Fernandez and/or his father in the lobby of the Lowe Miami Beach Hotel in Miami Beach, Florida. There was talk in principle where these gentlemen urged investment in a Miami-based youth hostel."
Falwell said he didn't ultimately reach an agreement with the Fernandez family. He said a company controlled by a partner of his from Virginia, of which Falwell's wife was a part owner, first contracted to buy the youth hostel but then backed out of the deal.
It was after that, he wrote, that a company called "Alton Hostel," owned by Granda, Falwell's wife, and his son Jerry Falwell III (also known as Trey), was formed to purchase the property.
Falwell Jr. declined to comment for this story. The attorney for Falwell, his wife, and his son, wrote: "I have no comment regarding the pending lawsuit. Similarly, my clients have no comment."
Granda declined to answer any specific questions. He sent a statement in the third person that said he was a business partner of Falwell's son, and said the youth hostel appraisal had increased by 40%. Granda also added a quote from Falwell's recent affidavit that said he had received a share in the business because he was local, and that he had overseen a million-dollar renovation of the youth hostel. He also sent a WhatsApp message that said: "Please stop texting me. I'm studying for a final exam."