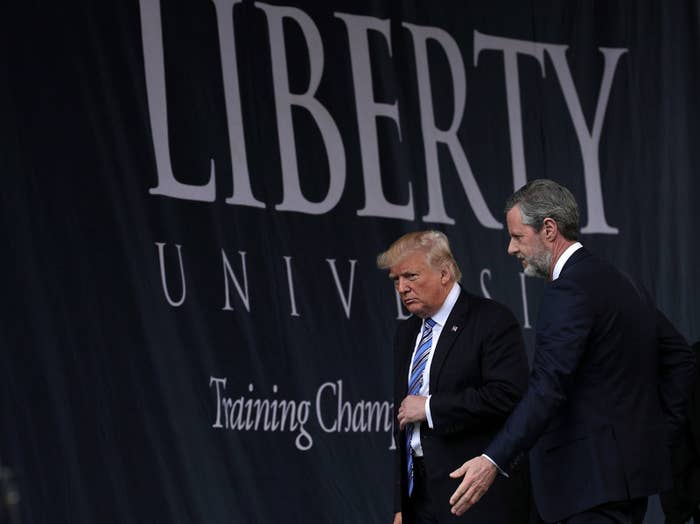 Six months after evangelical leader Jerry Falwell Jr. and his wife befriended a Miami hotel pool attendant in 2012, the young man was introduced to Donald Trump during a visit to the large religious school Falwell runs, Liberty University, according to a photograph sent to BuzzFeed News.
As BuzzFeed News reported in May, a civil lawsuit in Miami alleges that Falwell and his wife met the young man, Giancarlo Granda, at the Fontainebleau Miami Beach hotel, where Granda worked as a pool attendant. They became close, and the Falwells flew Granda in a private plane and later set him up as part owner of a $4.65 million business venture in Miami Beach, according to the suit, sources, and state and local business and property records.
Liberty University owns the rights to the photo of Granda meeting Trump, according to the photographer who took it. Over a period of three weeks, the university's public relations department did not respond to numerous email and phone requests by BuzzFeed News for permission to publish the photo.
Falwell and his attorney did not respond to questions about why Granda was visiting the university while Trump was there, and why he was introduced to Trump, who was then a reality show host and real estate magnate. Granda and his attorney also declined to comment. Granda's LinkedIn page says he has a bachelor's degree from Florida International University but makes no mention of Liberty University.
Trump visited Liberty University Sept. 24, 2012, to give the convocation address. Accompanying him, according to a video posted on the school's website, was his fixer, Michael Cohen.
Got a tip? You can email tips@buzzfeed.com. To learn how to reach us securely, go to

tips.buzzfeed.com

.
Cohen was an acquaintance of Falwell's and helped arrange Falwell's milestone endorsement of Trump during the 2016 election campaign, BuzzFeed News reported, citing a high-ranking official at Liberty University.
That endorsement paved the way for the widespread evangelical embrace of Trump in spite of the former casino mogul's three marriages and crass talk about women and sex.
Cohen is now under criminal investigation. He is also involved in litigation with adult film actor Stormy Daniels, to whom he paid $130,000 shortly before the 2016 presidential election, to keep quiet about an alleged affair with Trump. Cohen, who has defended making the payment, did not respond to a request for comment. Cohen has reportedly denied wrongdoing.
Even before his endorsement, Falwell passionately supported Trump and said the magnate "lives a life of loving and helping others, as Jesus taught in the Great Commandment."
The evangelical has defended Trump through repeated scandals, including Cohen's payment to Daniels. Most recently, Falwell was one of the few religious leaders to offer strong support for the administration's policy of forcibly taking children from parents accused of illegally crossing the border. "I've got no patience for all this outcry about how inhumane it is," he said.
According to the Miami lawsuit, Falwell backed Granda in business after Falwell "indicated that he wanted to help Granda establish a new career and build a business."
Granda, Falwell's wife, and Falwell's son became partners in a multimillion-dollar venture involving real estate and a hostel in Miami Beach, records show. A representative for Falwell says the evangelical is not an owner himself but loaned the money for the down payment, about $800,000. The Falwells' representative said that Granda was "offered a share" in the hostel venture because he lived in Miami and would act as a manager.
The Alton Hostel, which does business as Miami Hostel, has 120 beds and is connected to a building that houses a liquor store. Guests pay just $20 per night, store their belongings in lockers, and share toilets.
Got a tip? You can email tips@buzzfeed.com. To learn how to reach us securely, go to tips.buzzfeed.com.