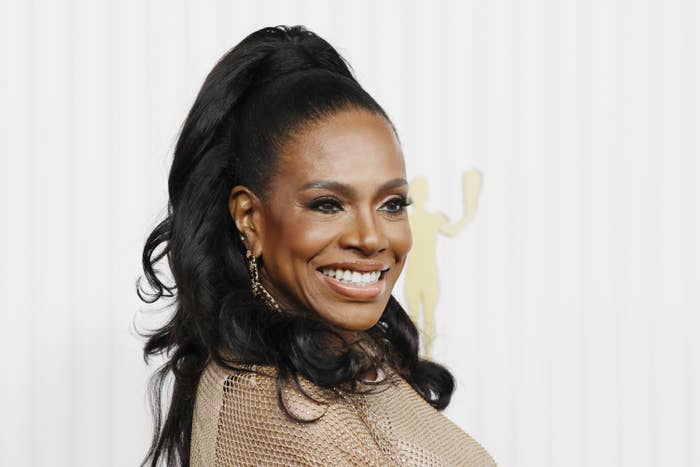 Sheryl Lee Ralph has said she was sexually assaulted at a work-related event years ago.
While appearing on the podcast Way Up With Angela Yee on Monday, the Abbott Elementary actor said that network executives saw a "famous TV judge" assault her. She says she was then asked to not report the attack in an effort to avoid "bad press."
"This man walked in, grabbed me by the back of my neck, turned me around, and rammed his nasty-ass tongue down my throat. And everybody at the network saw it," Ralph said.
BuzzFeed News has reached out to Ralph's representatives for comment.
The 66-year-old Emmy winner did not disclose the alleged assaulter's name or when the incident may have occurred but clarified she was not talking about Judge Greg Mathis. She called him a "great man."
Following the alleged incident, Ralph said she called New Orleans Mayor Marc Morial, who was in office from 1994 to 2002. He offered to directly send officers there immediately; however, she said a representative for the network tapped her on the shoulder and said, "please don't." People tried to persuade her that the incident wasn't as terrible as she thought it was.
"They did not want any bad press around their show and did not care what had just happened to me," Ralph said. "That's the kind of stuff that happens. That's what happens. That's what makes it hard for women to speak up about these things."
Ralph also cited a previous experience in which a man touched her without consent in front of others.
"I thought to myself, 'What did I do to deserve that?'" Ralph said. "'My skirt is at my knees. I have a sweater blouse. What made this man think that he could just come over and put his hands on my body?'" Ralph said. "He did not know me."
Years later, the man sat across from her at a table at a different event and did not recognize her, Ralph said on the podcast. He seemed to have no memory of that night, so she confronted him in front of others. Ralph said that everybody at the table was appalled that she would stand up for herself and bring the incident up at the dinner table.
Later in the podcast, Ralph said she was shocked to see justice for the victims of Harvey Weinstein, who last month was found guilty of multiple sex crimes in Los Angeles and given a 16-year prison sentence in addition to his 23-year sentence in New York.
Yee thanked Ralph for sharing her experiences. "I can't even imagine the things you've been through being in this business as long as you have," Yee said. "I just think it's important because there's so many women that might feel like they got some power hearing you talk."
Giving advice to other women in the entertainment industry, Ralph said not to accept an invitation from a man asking them to go to his room in the middle of the night and said have him meet them in the lobby instead. She also encouraged women to speak up about sexual assault and not live with the "horrible" effect it has on victims.
"Nowadays, speak up. Tell your truth. Do not carry the burden of that pain especially if it's something you feel you cannot work through. Because you know situations like this experiences like this drive people crazy. It hurts them to their core. They get changed forever," Ralph said.