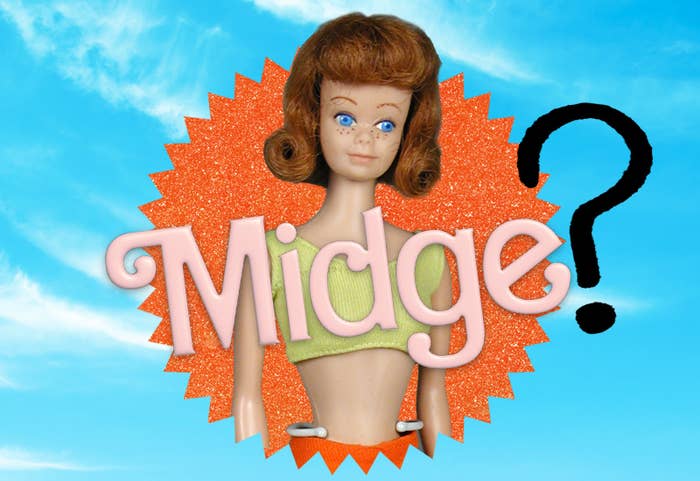 The plot of the Barbie movie may still be shrouded in mystery, but one controversial doll might just be the secret to it all. Her name is Midge. She's pregnant. Her belly is partially made of metal, and it detaches. Oh, and she's been canceled a few times.
Earlier this month, the film's official trailer and character posters were released, including one for Midge. Her appearance is notable, as she is one of few characters in Greta Gerwig's film that aren't variations of Barbie or Ken dolls. Barbie, which comes out on July 21, will follow Margot Robbie and Ryan Gosling as the standard figurine power couple, while Issa Rae, Dua Lipa, and Simu Liu are among the many stars playing their various iterations. There are also a few human characters, but Midge (Emerald Fennell) and her husband, Allan (Michael Cera), are the only non–Barbie and Ken dolls to receive posters.
Midge and Allan are relatively lesser-known dolls, but that's not the only reason their additions to the film stand out. The characters also come with controversy; more specifically, a plastic baby may or may not be why Midge and Allan didn't reach Barbie and Ken status.
The minutiae mostly have to do with Midge. She was first introduced as a doll in 1963 so Barbie could have a friend — just like Allan would be for Ken a year later. "Midge wasn't the dream girl. Barbie was the dream girl. Midge was the ugly sidekick who might have made a mistake," M.G. Lord, author of Forever Barbie: The Unauthorized Biography of a Real Doll, told BuzzFeed News. "Achilles and Patroclus, Lucy and Ethel, Barbie and Midge."
Lord said Midge was a redhead with freckles and had "weird bulging eyes that look straight ahead." This was in opposition to Barbie at the time, whose eyes looked down to the side "seductively." To further distinguish Midge from her fabulous best friend, Mattel designed her with less makeup and a generally less fashionable style, according to antique and collectibles appraiser Lori Verderame.
However, Midge's initial life as a doll was short-lived. Verderame said Mattel discontinued her in 1967 and replaced her with a doll named PJ who better resembled Barbie, with thick, long blonde pigtails. Midge returned in the late '80s as part of the California Dream Barbie set but, according to Lord, was only available temporarily.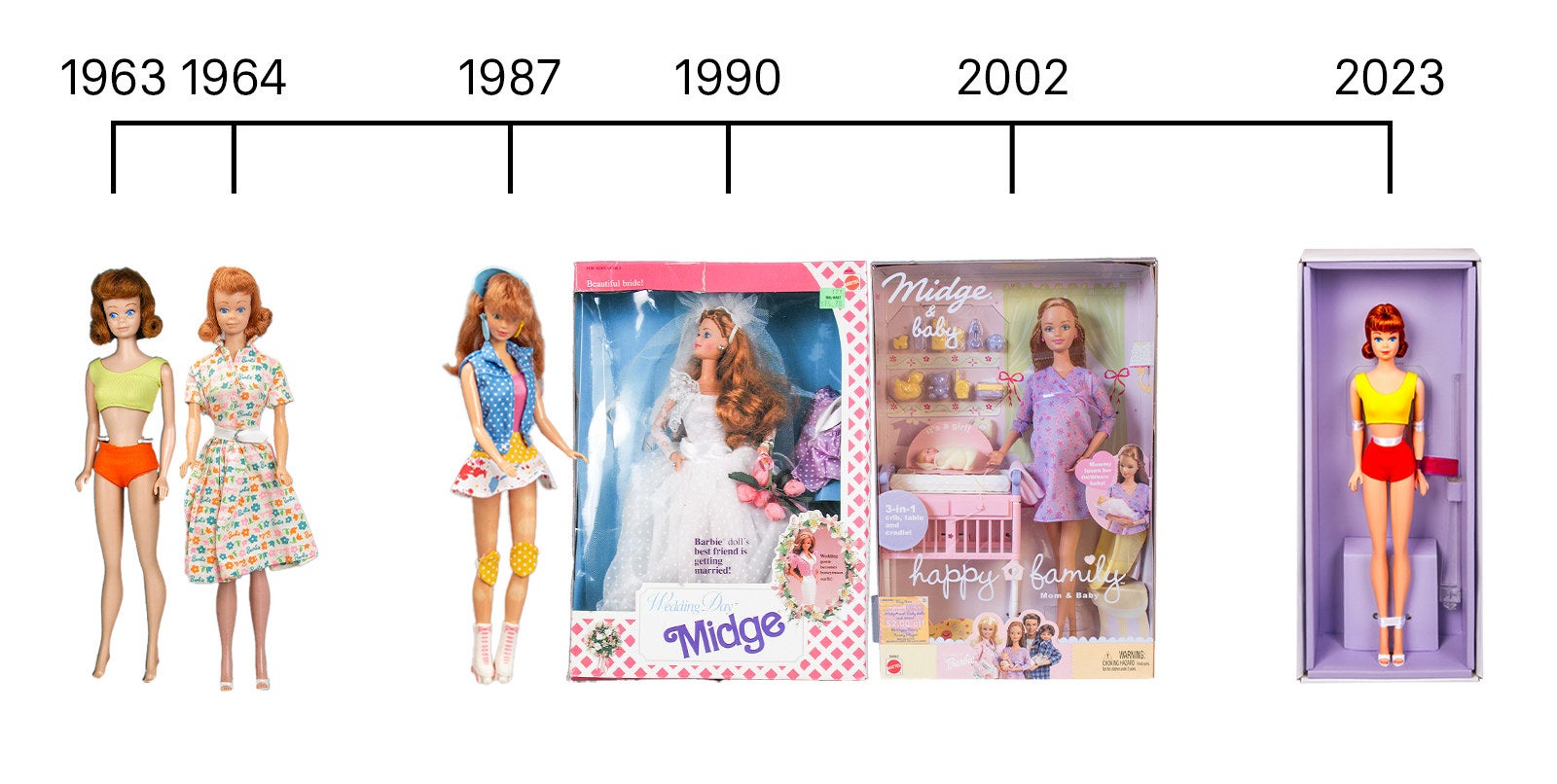 It'd take until the late '90s for Midge to get her moment in the sun — though when she did, she got burned by the heat of attention. For her third debut, Midge, who was designed to be a young adult, married Allan, had a 3-year-old son, Ryan, and was pregnant.
"​​She got married to Allan Sherwood way back in 1991. So she could, under normal standards, have a baby," said Carol Spencer, who worked as a designer at Mattel for 35 years. "Barbie can never have a baby, and she's destined to never get married because that would end the play situation. Poor girl."
Barbie inventor Ruth Handler never wanted the main doll to be a parent, Lord said. Lord added that Barbie was meant to represent "the period in a young woman's life before she had the responsibility of a family," so the responsibility of motherhood was then forced onto Midge. Literally. A pregnant stomach was attached to her via a magnet. When opened, Midge's detachable pregnant belly revealed a removable baby.
This didn't sit well with all consumers, as the "Happy Family" set received backlash from parents. According to the Associated Press, Walmart's conservative clientele started a campaign to have the store remove Midge dolls from shelves, arguing the doll promoted teenage pregnancy.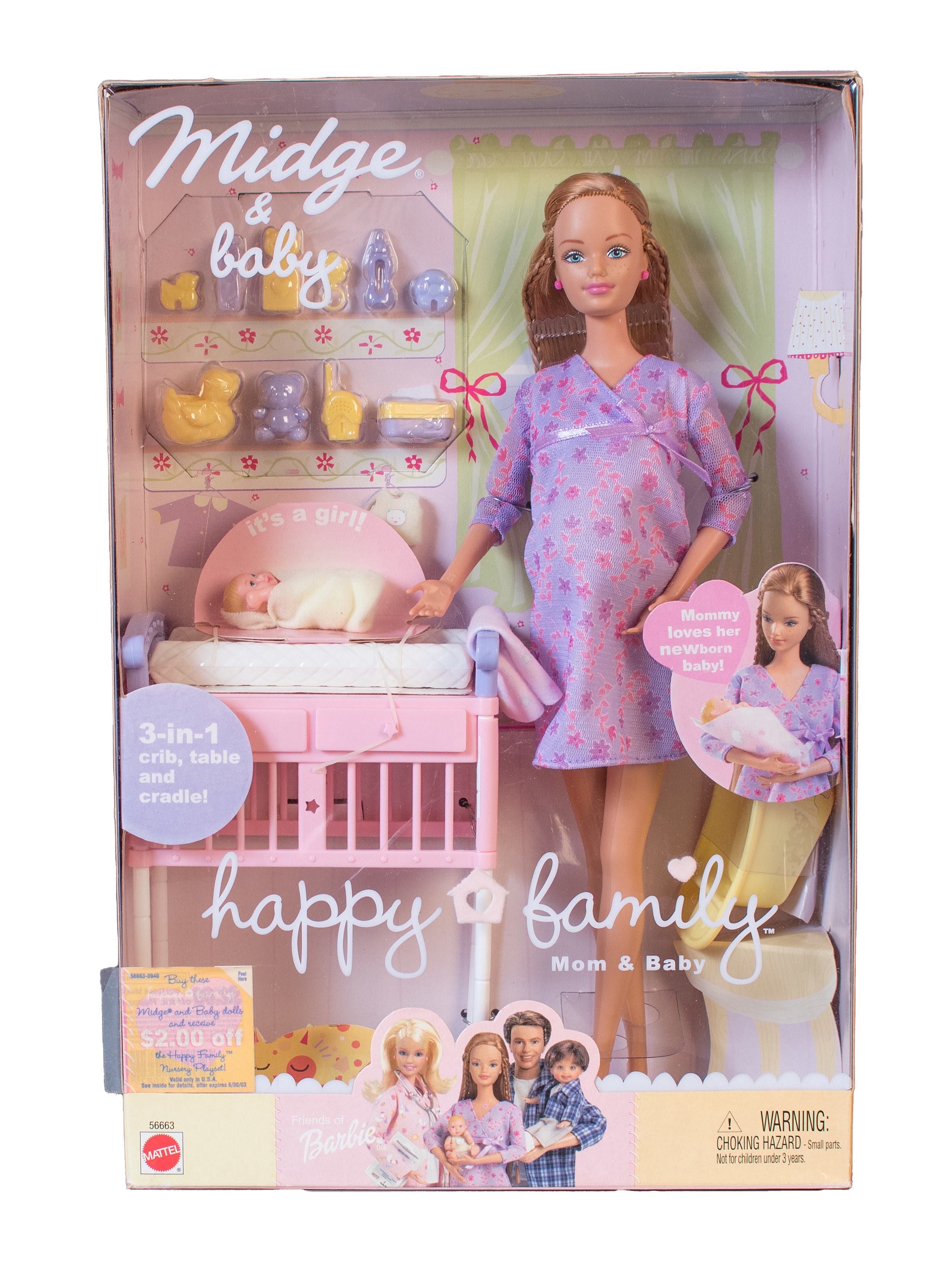 "It was kind of freaky and confusing in certain ways, but I don't think it promoted [pregnancy]. I think that's a little wacky," Lord said.
According to Verderame, some versions of Midge didn't reveal whether the baby was a boy or a girl to keep the sex a surprise for children. When doing research for her book, Lord discovered kids would use the pregnancy bump as a storage case for coins and erasers.
Eventually, after numerous complaints, Walmart pulled Midge from the shelves in 2002, according to the Associated Press.
Midge made another comeback in 2013, according to Spencer; however, Midge was no longer a mother or pregnant. Instead, Midge was sold as her character on the animated series Barbie: Life in the Dreamhouse.
As for Allan, Verderame said there's no controversy surrounding his disappearance, aside from his association with Midge. However, it seems fans generally weren't as invested in his friendship with Ken as they were with the relationship between Midge and Barbie. Verderame noted the last time Mattel sold a new Allan doll was in 2014 as part of a 50th anniversary double date set with Midge.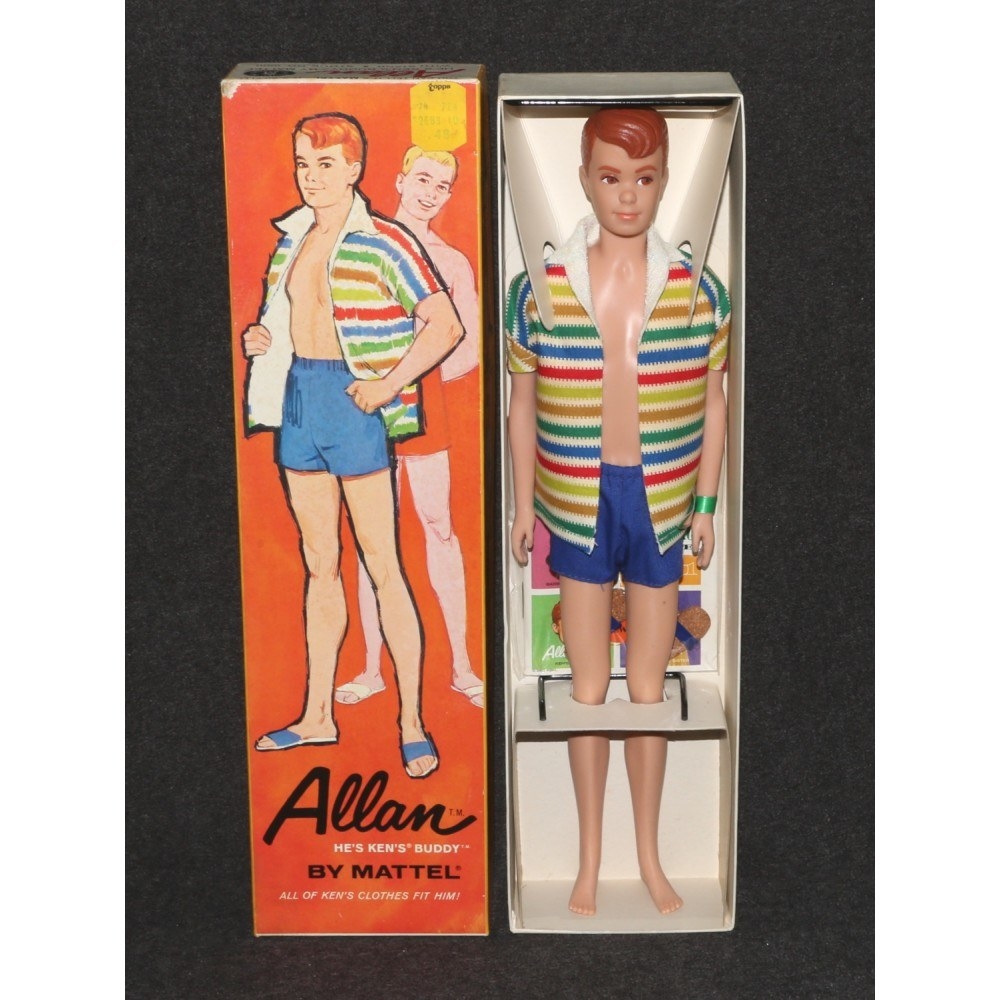 The couple quite literally doesn't have the same worth as their more popular best friends. Verderame said a clothed Midge doll in good condition from the '60s would usually be worth $500 to $600 today, while an Allan would be worth between $300 and $500. But a vintage Barbie doll could be worth several thousand.
However, Midge had her ardent fans, and they're excited she's finally getting her due in the movie. This includes Keres Cottrell from Oregon. When he was a child, he stole his older sister's Christmas gift, a pregnant Midge doll, and cherished it until he turned 12.
"I was totally one of those kids that tore apart my Barbies," Cottrell said. "I'd cut their hair off and draw on their faces and stuff. And she is one of the only ones who never got the chop. She never got drawn on. She was almost pristine, like, the whole time because we just loved her little magnet belly."
Like Cottrell, Yvette Williams, from Rowland Heights, California, immediately recognized Midge when the character posters debuted. She quickly sent the poster to her mom, who'd given her a Midge doll when she was 4.
Williams credits the doll with teaching her about pregnancy but doesn't believe Midge promoted teen pregnancy, as she saw motherhood as an adult aspiration, just like the astronaut and doctor Barbies. "As a 4-year-old, I didn't know what causes pregnancy, but I knew that the babies come from mommy's tummy," she said. "I don't know how else I would have learned."
Midge's return is imminent both onscreen and off. In March, Mattel brought back Barbie's freckled friend for her 60th anniversary. They're selling a vintage doll wearing a two-piece yellow-and-orange swimsuit reminiscent of her original beach look for $55. This Midge is not pregnant.
Midge's role in the Barbie film remains unclear. On the poster, Fennell is dressed as the pregnant, maternal Midge, so her historic controversy may be part of the film. Either way, Midge has seemingly earned her place in the movie in spite of — or perhaps because of — her controversial days.
After all, what star hasn't had a scandal or two? ●