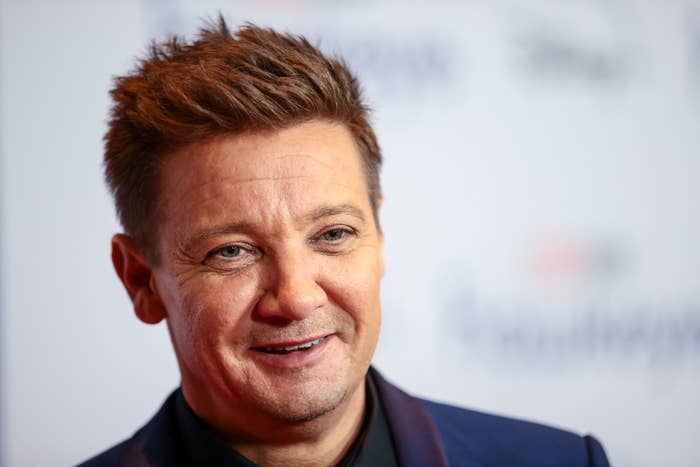 Jeremy Renner is making his first television appearance since the snowplow accident on New Year's Day that nearly killed him near his Nevada home.
In a Wednesday trailer for "Jeremy Renner: The Diane Sawyer Interview – A Story of Terror, Survival and Triumph," the Hawkeye actor opened up about being crushed by a 7-ton snowcat he was operating. He said he remembers every detail of the terrifying experience and has no regrets for putting himself in danger to save his nephew from being run over.
"I was awake through every moment," Renner told ABC's Diane Sawyer. "I'd do it again because it was going right at my nephew."
Sawyer listed Renner's injuries, which included eight ribs broken in 14 places, his liver being pierced from a rib bone, a collapsed lung, and a broken jaw and eye socket. After his injuries, Renner said he would wonder what he would look like once he healed.
"I'm thinking like, What's my body look like? Am I just going to be like a spine and a brain like a science experiment?" Renner said.
The Avengers star confirmed that he used sign language to tell his family that he loved them after the incident.
The interview, which is set to premiere on ABC on April 6, will showcase Renner's emotional and physical recovery and how his family supported him through it all. Sawyer also interviewed his nephew.
"I've lost a lot of flesh and bone in this experience but I've been refueled and refilled by love and titanium," Renner said.
In Instagram and Twitter posts on Jan. 21, Renner said he broke more than 30 bones in the incident.
A 911 call log from the Washoe County Sheriff's Office revealed that Renner was "completely crushed" by a snowcat vehicle on Mt. Rose Highway in Nevada during the accident on New Year's Day.
According to records obtained by BuzzFeed News, on Jan. 1, at 8:55 a.m., dispatchers received an emergency call stating that a snowcat ran over Renner. The log also noted that the person who dialed 911 was screaming while asking the dispatcher for help and that Renner could be heard "moaning loudly in the background."
During the call, Renner was "bleeding heavily from his head and other injuries" while the person who dialed wasn't "sure where all the blood is coming from," the log shows.
On Jan. 15, Renner tweeted that he was with "family at home" while watching the second-season premiere of Mayor of Kingstown, the crime drama he stars in.
"Outside [of] my brain fog [being] in recovery, I was very excited to watch episode 201 with my family at home," he wrote.