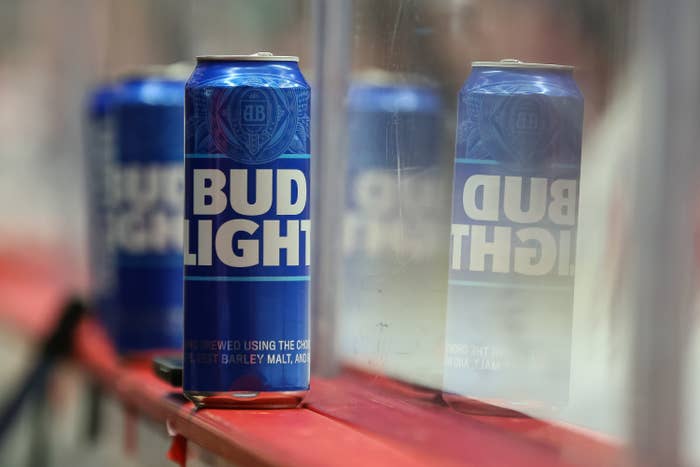 Anheuser-Busch CEO Brendan Whitworth broke his silence on Friday after a brand deal between Bud Light and TikTok star Dylan Mulvaney prompted an anti-trans backlash.
"As the CEO of a company founded in America's heartland more than 165 years ago, I am responsible for ensuring every consumer feels proud of the beer we brew," Whitworth said in a statement, noting he wants every Bud Light drinker to feel proud of the corporation's beer.
However, Whitworth never explicitly mentioned Bud Light, the brand's partnership with Mulvaney, or the subsequent fallout with anti-trans activists.
"We never intended to be part of a discussion that divides people. We are in the business of bringing people together over a beer," the statement reads.
Mulvaney, a 21-year-old trans woman and influencer, posted an Instagram video on April 1 for her nearly 2 million followers in which she drinks Bud Light from a beer can with her face on it. She promoted the company's March Madness contest in the video with a caption that identified her as a #budlightpartner.
The promotional video prompted outrage among many anti-trans beer enthusiasts who were unhappy with Mulvaney's involvement, including musician Kid Rock.
"Grandpa's feeling a little frisky today. Let me say something to all you and be as clear and concise as possible," he said in an Instagram video on April 3 which showed him shooting multiple cases of Bud Light with a rifle and flipping off the camera. "Fuck Bud Light and fuck Anheuser-Busch. Have a terrific day," he continued in the video.
Elsewhere in Whitworth's statement, the CEO says he's "building and protecting" the company's "history and heritage."
"I care deeply about this country, this company, our brands and our partners. I spend much of my time traveling across America, listening to and learning from our customers, distributors and others," he said.
Prior to Whitworth's comments, Anheuser-Busch sent a statement to BuzzFeed News last week saying the company works with "hundreds of influencers" across its brands to better connect with various demographics.
"From time to time we produce unique commemorative cans for fans and for brand influencers, like Dylan Mulvaney," the spokesperson said in a statement.
Mulvaney's partnership with Bud Light wasn't the first time she received anti-trans hate for a brand deal. On April 5, she posted a series of photos as part of an Instagram ad for Nike's Zenvy leggings and Alate bra. In her caption, Mulvaney tagged the Instagram account for Nike Women and said the products were "perfect for workouts and everyday wear!"
Nike defended the partnership in an Instagram statement, according to Insider. The company reportedly said that while it appreciates "comments that contribute to a positive and constructive discussion," it would delete any "hate speech, bullying, or other behaviors that are not in the spirit of a diverse and inclusive community."
Mulvaney addressed the backlash for both the Nike and Bud Light ads while appearing as a guest on an April 11 episode of Rosie O'Donnell's podcast. Mulvaney notably said she tried to be uncontroversial over the past year but that it hadn't worked.
"I think it comes back to the fact that these people, they don't understand me, and anything that I do or say somehow gets taken out of context and is used against me," Mulvaney told O'Donnell. "It's so sad because everything I try to put out is positive. It's trying to connect with others that maybe don't understand me. It's to make people laugh, or to make a kid feel seen."