LONDON — People close to WikiLeaks founder Julian Assange have been concerned about his deteriorating health in recent months, a source told BuzzFeed News.
Assange, who has been living in the Ecuadorian embassy in London for nearly six years, released his medical records Wednesday as part of what he called a bid to get US presidential candidates Hillary Clinton and Donald Trump to do the same. A 27-page "psychosocial" and medical assessment from November 2015 lists a litany of complaints, including a growing pain in his right shoulder.
It's that pain that lead the source close to Assange to grow worried enough to speak out ahead of the medical report's release. "I spent nearly five hours within the embassy last weekend and his situation is concerning," the source, who asked not to be identified by name to protect their relationship with Assange, told BuzzFeed News. "We talked for a few hours and when I hugged him to say goodbye, I could feel a very tense and big knot on his right shoulder. Because he has no access to a medical center we don't know what that is — but it could possibly be seriously malicious, such as a cancer."
The source said that Assange told them about his mental health, but not physical health, during the visit and said that he was feeling stressed and very low. Assange did not immediately respond to a request for comment sent via Twitter DM.
The report publicized Wednesday noted that Assange's physician, whose name Wikileaks redacted, has been unable to diagnose the source of his pain during his visits to the embassy. "Mr. Assange's physical condition has deteriorated as a result of a pain in his right shoulder region," the report reads, noting that Assange is taking painkillers daily.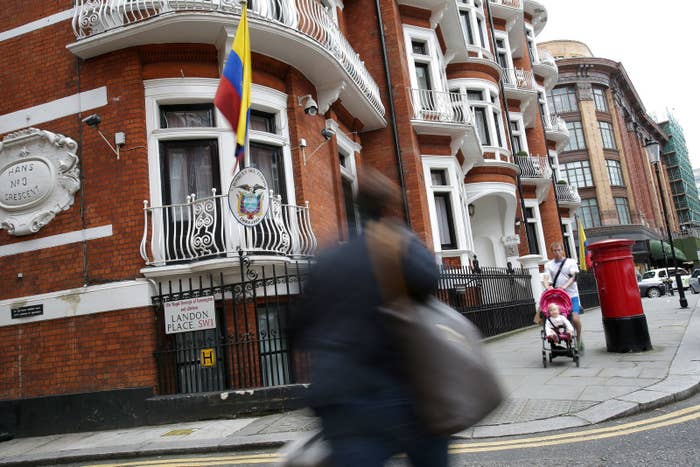 A letter from Assange's physician dated December 8, 2015 noted that he'd prescribed Assange a painkiller known as Voltarol, taken in conjunction with the maximum recommended dose of paracetamol, another painkiller.
"The absence of a clear cut diagnosis and standard procedures is causing extreme stress to Mr. Assange, and concerns range from permanent damage to shoulder/arm to the possibility of cancer," the report reads. It does not clarify whether the concerns were those of the evaluator, whose name was redacted, or Assange.
Although Wikileaks redacted the names of Assange's doctors, the group has come under criticism for failing to redact vital information in some of the information it has released. The names of locals potentially put in danger for meeting with diplomats were left in place In tens of thousands of State Department cables it published in 2011.

Last October, the Ecuador embassy asked the British government for permission to allow Assange to leave the embassy to get an MRI on his shoulder. The Brits in turn said that Assange was free to leave the embassy but the warrant for his arrest, issued by prosecutors in Sweden who want to question him on rape allegations, was still in effect. Assange remained in the embassy, where it was recently announced that Swedish prosecutors will visit him on October 17.

"As long as the charges against him are not dropped he will have to remain in the embassy," the source said. "He needs to go to the hospital for his shoulder."
On Wednesday, Wikileaks also released a dental report from July 2015, which highlighted that Assange has a broken tooth that requires a root canal. The dentist who wrote the letter, whose name was also redacted, noted that pulling the tooth in a non-medical setting would ill-advised.
"Julian is doing pretty bad although he is trying to hang on there," the source said. "I think you can imagine living in such a confinement would make anyone crazy."
BuzzFeed News has previously reported on Ecuadorian security's description of Assange's stay in the embassy, including several instances of erratic behavior. In one case, Assange was described as "out of control" during a physical confrontation with security staff when he was was caught attempting to tamper with the embassy's security equipment.