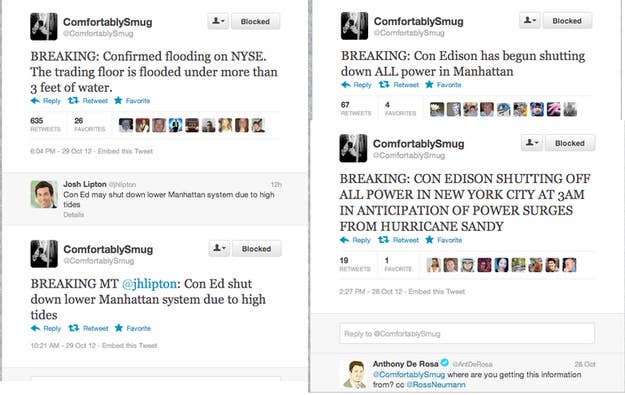 New York City Councilman Peter Vallone told BuzzFeed Tuesday that he's asked the Manhattan DA's office to look into charges against a Twitter user, Shashank Tripathi, who spread misinformation during Hurricane Sandy.
Tripathi, who tweeted during the peak hours of Hurricane Sandy, resigned as the campaign manager for New York Congressional candidate Christopher Wright Tuesday evening. Tripathi, who goes by the pseudonymous @comfortablysmug on Twitter, also issued an apology to the people of the New York saying his actions were "irresponsible."
"I'm glad he apologized," said Vallone, a former assistant district attorney who represents Astoria, in Queens. "I think the consideration of criminal charges will assure this kind of stuff doesn't happen again."
Vallone told BuzzFeed that "the Manhattan DA is taking this very seriously." But he conceded that "it's a very difficult case to make."
Vallone said the DA's office would have to make the case that the tweets were sent deliberately to fool the public with "no legit basis for the tweets themselves." He said it was "easier to prove" tweets sent by Tripathi about Manhattan losing power were more obviously conjured up and not based on other false news reports.
"Everyone knows the example of yelling fire in a crowded movie theater," Vallone said.
"A little bit of truth makes them much more dangerous," Vallone added, saying the nature of the feed having truth mixed with falsehoods made it hard for people to separate lies from fact.
"I hope the fact that I'm asking for criminal charges to be seriously considered will make him much less comfortable and much less smug," Vallone said.