The airline employee who stole a commercial plane from Seattle-Tacoma International Airport Friday night and flew it through the skies before crashing it, killing himself, has been identified by colleagues as Richard "Beebo" Russell.
Russell, a 29-year-old resident of Sumner, Washington, worked as a ground services agent handling baggage and towing planes for Horizon Air.
Airline officials and the FBI held a press conference Saturday but declined to officially name the man. However, they said he had worked as a ground services agent for Horizon Air since February 2015, which matched information on Russell's LinkedIn profile. Air traffic controllers also referred to the man as "Rich" as they spoke with him during the incident. Sources, including one in law enforcement, also confirmed his identity to the Seattle Times, and a statement from his family later confirmed his identity as well.
"All 23,000 of us want to express our sincere sympathy to his family, his loved ones, and his coworkers," Brad Tilden, CEO of parent company Alaska Air Group, told reporters.
Gary Beck, CEO of Horizon Air, said that at 7:32 p.m. local time Friday, the man stole the Q400 cargo aircraft, which was not scheduled for a flight and wasn't carrying any passengers, from a maintenance area. He then used a pushback tractor to rotate the aircraft 180 degrees, before taxing the plane to the runway. He flew the plane for roughly an hour, while fighter jets scrambled to fly alongside him as he performed what Beck said were "incredible maneuvers."
"I'm just a broken guy," Russell told air traffic controllers. "I've got a few screws loose, I guess. I never really knew it until now."
The plane ultimately crashed in a wooded area on Ketron Island, bursting into flames.
In a statement Saturday, Russell's family said they were shocked and devastated by the incident.
"It may seem difficult for those watching at home to believe, but Beebo was a warm, compassionate man. It is impossible to encompass who he was in a press release," the statement said.

"He was a faithful husband, a loving son, and a good friend," the statement continued. "A childhood friend remarked that Beebo was loved by everyone because he was kind and gentle to each person he met."

Jay Tabb, the FBI special agent in charge for Washington, told reporters dozens of investigators were at the crash site, while 30–40 agents had been interviewing the man's friends and family. "I want everybody to know we're diligently investigating this matter and will get to the bottom of it," he said.
On Sunday, the FBI said that it had recovered a flight data recorder and components of the cockpit voice recorder from the crash site, as well as human remains found among the plane's wreckage.
"While the focus of our investigation thus far has centered on Richard Russell, 29, of Sumner, Washington, the FBI is awaiting the results of a review by the Pierce County Medical Examiner's Office," bureau spokesperson Ayn Dietrich-Williams said in a statement.
Tilden, the Alaska Air CEO, said the employee worked his shift Friday and was believed to be wearing his uniform when he stole the plane. He said the man had passed a background check and was accredited to be in the secure areas of the airport.
"He was around airplanes, working around airplanes, but in terms of improvements that we might make as a company, as an industry, to make this honestly very safe industry even safer in the future, it's too early to say," Tilden said.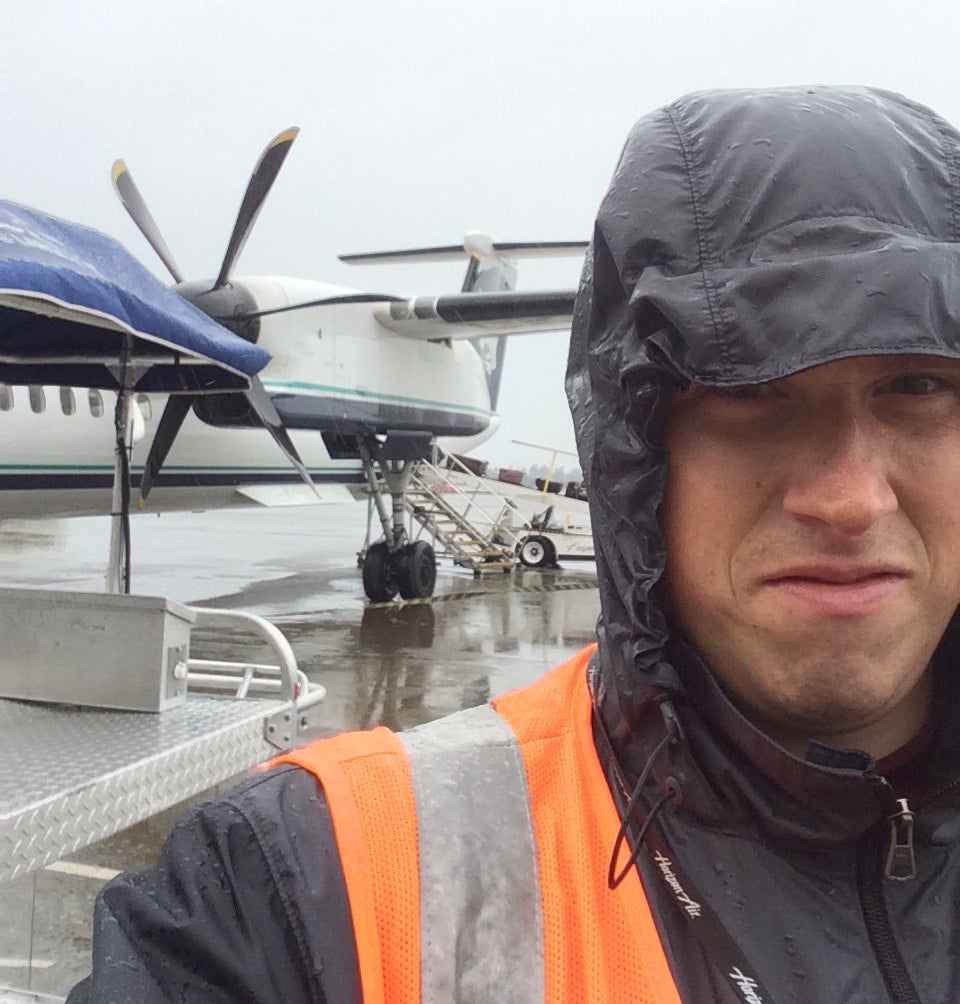 Tilden noted that commercial aircraft in the US don't have keys to their doors or ignition keys like vehicles. "The set-up in aviation in America is we secure the airfield and then we have the mindset that we have employees that are credentialed and authorized to be there to operate them," he said.
Beck, the Horizon CEO, said the employee didn't have a pilot's license and he wasn't sure how he had learned to fly.

"Commercial aircrafts are complex machines," Beck said. "They're not as easy to fly as, say, a Cessna 150, so I don't know how he achieved the experience that he did."
Horizon offers its employees an assistance program to deal with mental health, Beck said. He was not aware whether the man had used it.
Rick Christenson, who retired as a Horizon operational supervisor in May after 32 years working for the airline, was sitting on a deck overlooking the Puget Sound on Friday night when he spotted the plane.

"For an aircraft that size to be flying that low, something wasn't right," said Christenson, 61, who said he immediately contacted his former colleagues to try to find out what was happening.
Christenson told BuzzFeed News he watched the plane fly erratically and do "weird turns," closely followed by the two F-15s, one following from high and another lower down.
"All of a sudden, he rolls the airplane and does almost a barrel roll, and he comes straight down to the water," said Christenson. "I was screaming, 'Pull out, pull out.' He pulled out of the dive maybe 50–100 feet above the water and started heading south, and we lost sight of him."
Shortly after, Christenson saw the plume of black smoke from the crashed plane.
"I did not know he was alone. I thought there was 76 people on the airplane, and was absolutely sick. Absolutely horrified," said Christenson, whose wife also works for Horizon.
The large network of Horizon staffers on social media alerted him to the news that the plane was flown by Russell, a man Christenson worked regularly with.
"I thought he was a pretty nice kid. He always had a smile on his face," said Christenson. "He was quiet, did his work."
Christenson said that Russell would not have been trained to even start a plane's engine, as it was not a part of his job, but he may have seen mechanic staff or pilots do it.
"It never crossed my mind that somebody would do something like that," he said.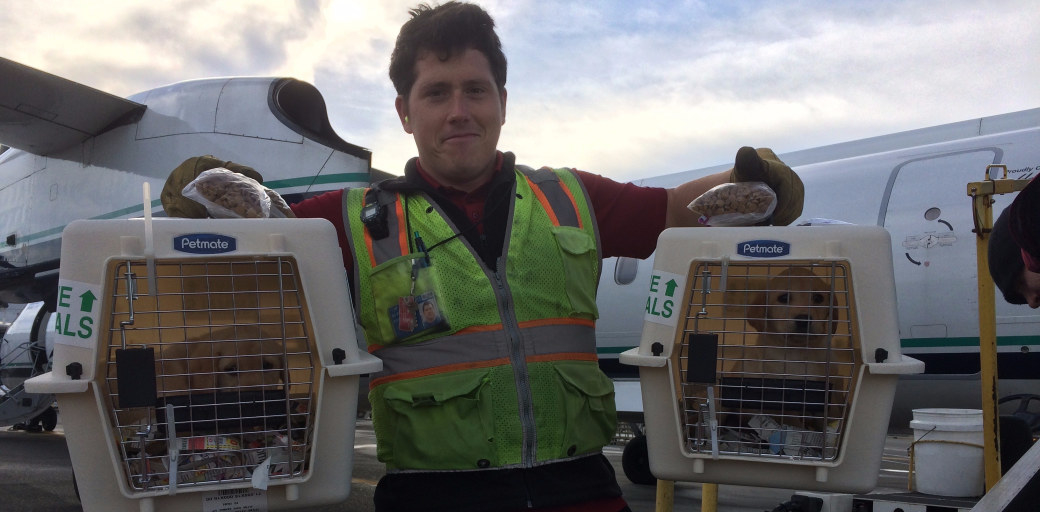 Other Horizon Airlines colleagues also posted condolences for Russell online. "He was such a kind person to me. He would take my shifts if I needed. Never knew he was fighting a battle non[e] of us knew about. He was always smiling," wrote one colleague on Facebook.
Russell wrote a blog in 2017 for a college communications class, writing about his work and family, including his wife, Hannah, whom he married in 2012. The couple previously ran a bakery together in Oregon.
In a video posted to YouTube last December, Russell talked about his work and how it offered him a chance to travel the world.
"I'm a ground service agent. That means I lift a lot of bags. Like a lot of bags. So many bags," he said. "But it allows me to do some pretty cool things too." The video showed images of his travels, including a flight-seeing tour in Alaska, a road trip in France, and a rugby game in Ireland.
In one blog post for his class, Russell designed a logo that included a drawing of a Q400 turboprop, the same make of plane he stole Friday night, writing that it was the type of plane he worked on.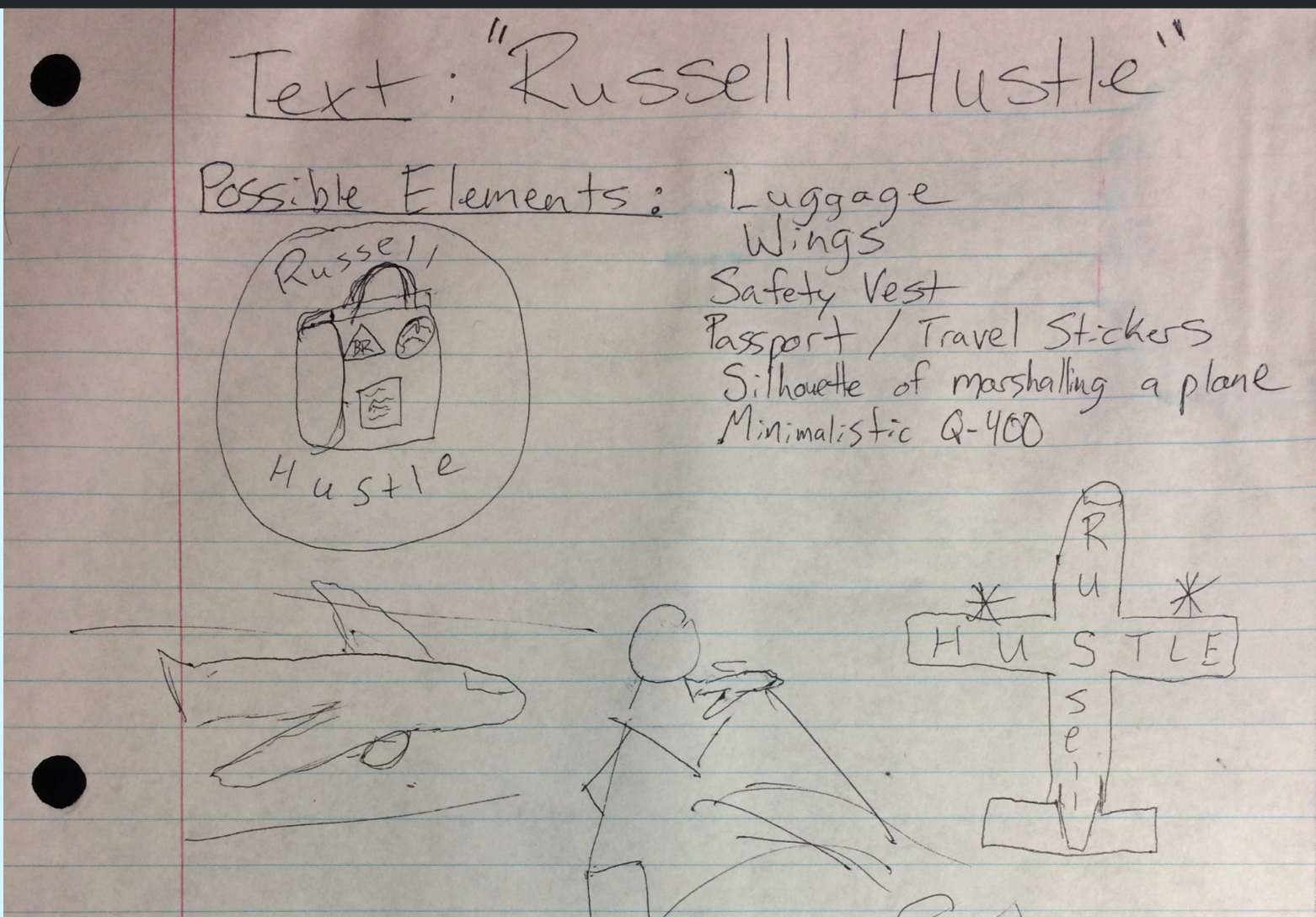 Russell wrote that he hoped to become a manager at Horizon, or to join the military or go into law enforcement, once he'd graduated.
The National Suicide Prevention Lifeline is 1-800-273-8255. Other international suicide helplines can be found at befrienders.org.

CORRECTION
Puget Sound was misspelled in an earlier version of this post.