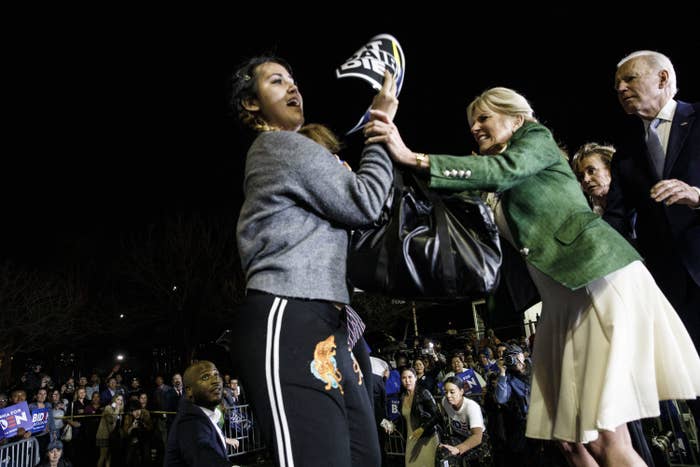 A vegan protester storming the stage of Joe Biden's victory speech on Super Tuesday got tackled by two unlikely linebackers: the candidate's wife, Jill Biden, and his senior adviser, Symone Sanders.
Biden spoke Tuesday night in Los Angeles after a banner election night, which by that time included winning Virginia, Alabama, Minnesota, Tennessee, Oklahoma, and Arkansas.
"Let's get something straight. Wall Street didn't build this country. You built this country. The middle class built this country. And unions built the middle class," the former vice president said before a protester holding a "let dairy die" sign ran onstage.
Anti-dairy protesters have been turning up at most political events in the state this election season.
A security guard stopped the protester (Biden does not have Secret Service protection) and pulled her away as she chanted "let dairy die."
Jill Biden immediately blocked her husband with her body.
But then a second protester stormed the stage, and the women of the Biden campaign fought back.
Jill physically grabbed the protester by the wrists and pushed her away.
Sanders, dressed in a striped blazer, ran after the protester, tackling her and dragging her offstage.
Sanders gained prominence during her role as national press secretary for Bernie Sanders during the 2016 election before becoming a CNN commentator. She joined the Biden campaign in April 2019.
People on Twitter applauded the women for their quick instincts.
Another angle showed traveling press secretary Remi Yamamoto also helping Sanders drag the protester offstage.

Yamamoto posted on Twitter, "There's no one I'd rather rush a stage with."
The protesters only stopped the event briefly.
"You're OK. You're OK," Jill Biden told her husband, who then turned back to the audience and continued speaking.

The Biden campaign has not yet responded to a request for comment, but there was at least one minor injury.
"I broke a nail," Sanders tweeted.