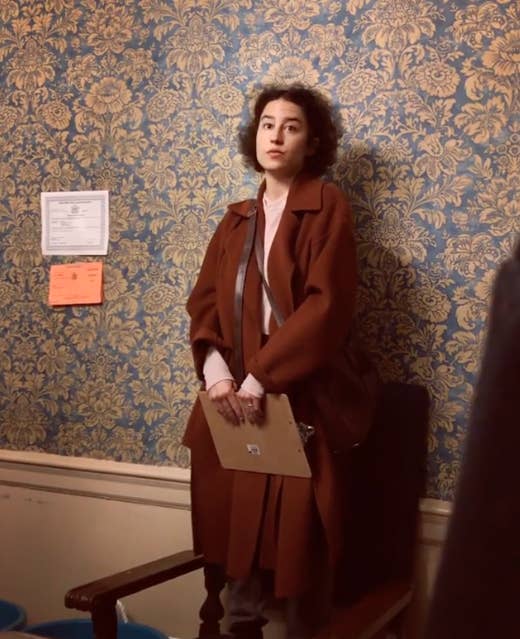 A political event hosted by Broad City's Ilana Glazer inside a Brooklyn synagogue was shut down on Thursday night after anti-Semitic graffiti, including the words "die Jew rat" and "Hitler," was found on the building's walls.
Police found anti-Semitic graffiti and statements written in black marker throughout the Union Temple of Brooklyn, an NYPD spokesperson said, and on Friday released an image of the suspect, who appeared to be in his 20s and is seen wearing a red suit jacket.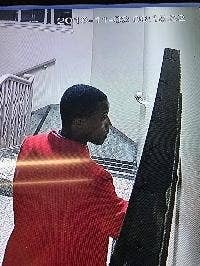 On Friday night police announced they arrested 26-year-old James Polite and charged him with criminal mischief as a hate crime and making graffiti.
Police found "Hitler" scrawled on a first-floor staircase, "iset oven here" (presumably a misspelling of "insert") in the second-floor bathroom, "Jew better be ready" written on a third-floor staircase, and "end is now" and "die Jew rat we are here" on the fourth floor.

After the news broke, Twitter apologized for having the phrase "Kill all Jews" in the New York local trending topics.
The discovery of the graffiti comes less than a week after a white supremacist entered the Jewish Tree of Life temple in Pittsburgh and killed 11 people.

Union Temple is a 10-story building in Prospect Heights that hosts congregation services and events, two schools, and the Murmrr Theater, where the event was to take place.

Glazer was due to interview Democracy Now's Amy Goodman and local Democratic candidates as part of her Generator Series. Thursday night was the fourth and final event of the series.

"The Generator community experienced, together, how white supremacy, anti-Semitism and racism silences human rights politics and halts progress," said Glazer in a statement to BuzzFeed News.
"But they won't stop us from communicating, canvassing, and voting. We will continue to learn, organize, and act and make this country as safe for as many people as possible," said Glazer.
Rabbi Mark Samech from Union Temple told BuzzFeed News that upon hearing of the graffiti he felt "complete disgust and dismay that this would happen, shock that it would happen at all, even more shock that it would happen in the wake of Pittsburgh."
The graffiti was found just before the 8 p.m. event was to start. Glazer announced to the crowd shortly afterward that anti-Semitic graffiti had been discovered and the event canceled.

Glazer was "visibly upset" when she spoke to the crowd, said attendee Shelby Quackenbush, 26.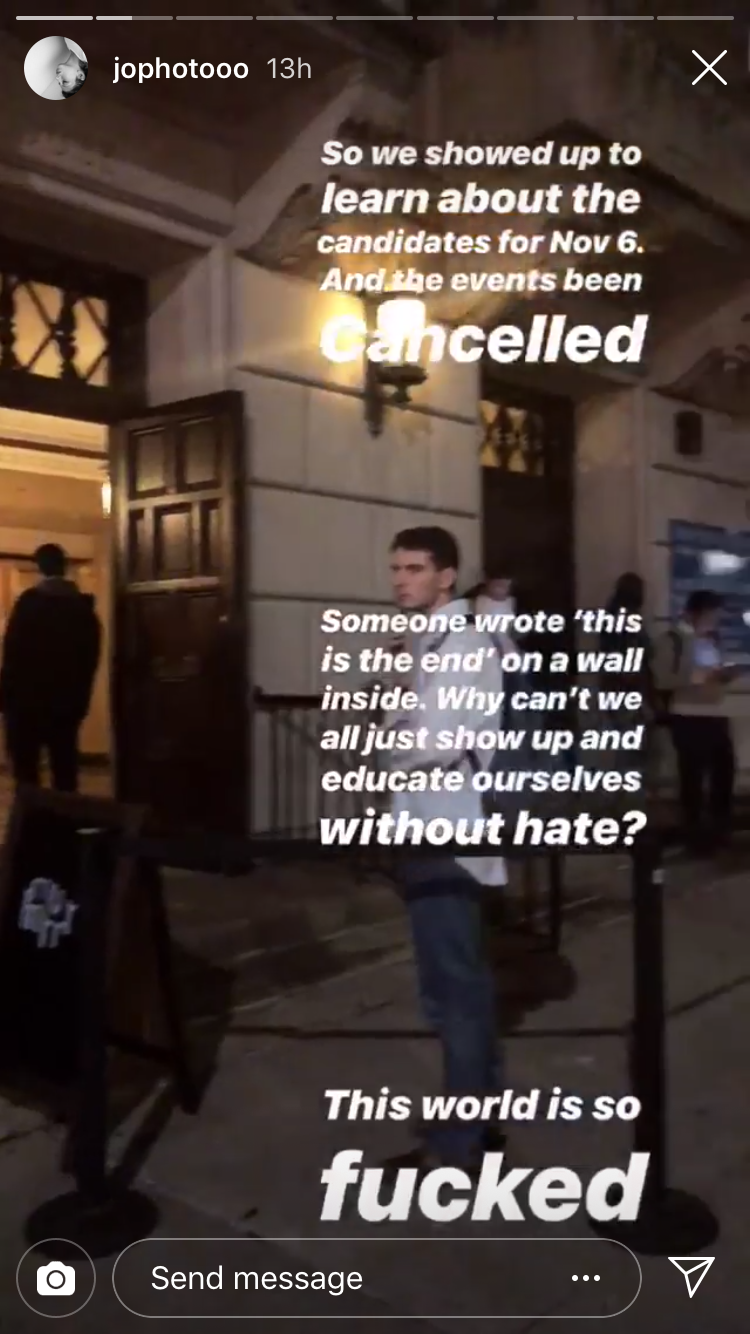 "Everyone was shocked, especially after the events in Pittsburgh," said Quackenbush, who said she'd been watching police officers walking around the auditorium entrance before the delayed start but hadn't thought there was any cause for alarm.
Another event attendee, Nata Andresen, 39, said the event had shaken her up, particularly because she was Jewish and her great-grandparents had fled to New York to escape persecution in Russia.
"To experience this right in Brooklyn was really weakening and scary, to think that my daughters are growing up in a place where there is still hatred in our community," said Andresen.
"Just the writing on the wall is a form of terrorism; it's a way of scaring a group," said Andresen.

Jodi Rosenblum, 28 had just arrived at the upstairs entrance to the theater last night when a friend downstairs called and alerted her that something had happened.

"We ran down the stairs as fast as we could," Rosenblum told BuzzFeed News.
She saw a photo taken by other visitors of the "iset oven here" graffiti.
"It's bone-chilling," said Rosenblum, who is Jewish.
"I just hope it doesn't discourage people from showing up to the polls. This just gives us a greater reason to show up and vote on November 6," said Rosenblum.
Rabbi Samech said Sabbath services and other events would be continuing as normal this week at the temple, and that they'd coordinated with security professionals and the NYPD to ensure people felt safe.
He said the attack had resulted in an outpouring of love from the community, both from Jews and non-Jews alike, and "a resolve to recommit even more strongly to the values we all hold in common."
"Diversity, tolerance, love, peace understanding, community: all the things we stand for, if anything our resolve is just even stronger to see those values put forth. Those are the values that will ultimately prevail," said Samech.
The NYPD's Hate Crimes Task Force is looking into the incident, and the investigation remains ongoing.

CORRECTION
Nata Andresen's great-grandparents fled persecution in Russia. An earlier version of this post, as Andresen originally told BuzzFeed News, said they fled persecution from Nazis.