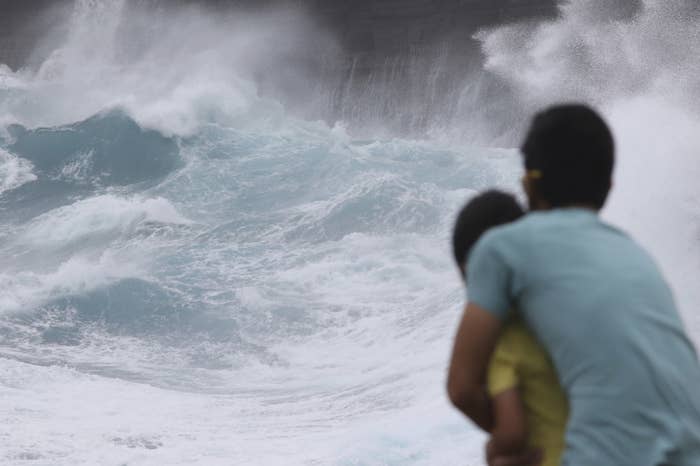 Having weakened from a hurricane Friday, Tropical Storm Lane passed by Hawaii Saturday, breaking apart as it turned away from the islands and out into the open Pacific Ocean. But the storm was still moving so slowly that officials warned it could continue to cause catastrophic flooding and landslides across the state.

"Torrential rain will be the largest threat," FEMA Administrator Brock Long said in a call with reporters Saturday morning. "Today's message to the citizens of Hawaii is don't let your guard down."
An additional 10 to 20 inches of rain is expected, which could cause landslides and flash flooding, officials said. Several more days of rain are also forecast after the tropical storm has passed the islands.
As of early Saturday morning, the storm was "nearly stationary," said Steve Goldstein, an administration liaison for FEMA's National Oceanic and Atmospheric Administration, telling reporters that Lane was "expected to be a long-duration flood event."
By the afternoon, the storm had headed west, with maximum sustained winds of 50 miles per hour that were expected to slow as the storm moved away from the islands. The National Weather Service canceled all storm warnings and watches for Hawaii, but said that lingering moisture from the tropical storm would still produce excessive rainfall through the weekend, causing flash floods and landslides.
But while the worst fears about Lane's impact never materialized, Lane did manage to unleash historic amounts of rain on the state. Preliminary figures from the National Weather Service Saturday showed that Lane had dropped the fourth-highest amount of rain for a hurricane in the US since 1950, according to the Associated Press.
"This is not a sprint, it's going to be a marathon. We've got a situation where the storm has slowed down ... and we're going to get heavy amounts of rainfall and surge," FEMA deputy regional administrator Bill Roch said Saturday.
Hawaii's Big Island had already gotten 40 inches of rain Saturday, with another 5 to 10 inches still expected to fall across the windward side of the island and on Maui. Another 3 to 5 inches of rain was expected on the other islands, and high surf has been forecast on all southern and eastern shorelines of the Hawaiian islands.
"Catastrophic flooding" has already occurred on the Big Island, according to reports from the Central Pacific Hurricane Center., and mudslides have made several roads there inaccessible.
A brushfire on Maui, near the tourist resort area of Lahaina, also caused evacuations as the hurricane approached on Friday morning. The fire, whipped by strong winds, covered an estimated 300 to 400 acres, and damaged 21 structures, 30 cars, and a baseyard with heavy equipment, according to the Maui County officials.

The Ala Wai Canal, located next to Waikiki, where the majority of the 9.3 million tourists who visited Hawaii last year stayed, is also expected to flood.

"Canal has flooded before. It's safe to say, based on rainfall, that it will flood again, the impact of which I cannot say at this time," Ray Alexander, director of contingency operations and homeland security for the US Army Corps of Engineers, said Friday. On Saturday, however, Alexander said he had not heard any reports of it flooding yet.
More than 1,100 Hawaii residents slept in emergency evacuation shelters Friday night, down from 1,526 Hawaii residents the night before. Emergency management officials had opened nine new shelters Friday, with the capacity to house 2,000 evacuees, after Honolulu Mayor Kirk Caldwell said Thursday that the island of Oahu — home to most of the state's population — did not have enough shelters for residents

As Lane approached the island of Oahu Friday, officials in Honolulu had been concerned about a strong storm surge coupled with high tides. Caldwell said lifeguards were urging people to leave the beach. All beach parks were closed Friday, and lifeguards are not using towers for safety reasons.
"We have three streams emptying into the Ala Wai Canal — Palolo Stream, Manoa Stream, and Makiki Stream — and they all pour into this canal, and if the tide is extra high, you could see flooding from the backside of Waikiki along with flooding from the surge on the frontside of Waikiki," Caldwell said at a press conference in Waikiki.
In that scenario, officials would ask people in Waikiki to evacuate to the second floor of a building, and would only make it a mandatory evacuation if necessary.
Authorities in Oahu warned citizens that there may be issues with food, shelter, power, accessing roads, and medical treatment, but said emergency responders were prepared to mount an immediate response to any damage. In the event of widespread power outages, USACE said it had prepared to provide emergency power and has installed temporary towers.
Hawaii US Sen. Brian Schatz tweeted Friday that federal agencies had been "sharp and aggressive" in responding to the storm, and said that "the federal response has been more than solid."