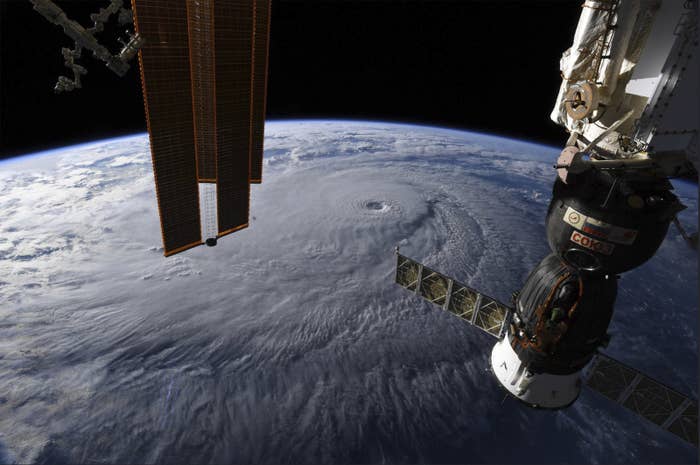 HONOLULU — The mayor of Honolulu warned residents Thursday that Hawaii's capital city would soon begin to experience the wrath of Hurricane Lane, a powerful storm threatening to unleash intense winds and devastating flooding on the state, but acknowledged that there were not enough shelters for the island's residents.

"We don't have enough shelters for the almost million people that live on this island," said Honolulu Mayor Kirk Caldwell on Wednesday during a press conference. "To do that would be so prohibitive in terms of cost, but many people have places they can go other than shelters."
Caldwell, whose office oversees Oahu, opened shelters across the island on Thursday at 10 a.m.
But residents, he said, should only go to the shelters as a last resort.
Most of the shelters "have not been designed or hardened to withstand winds greater than a tropical storm," said Hiro Toiya, the deputy director of the Hawaii Emergency Management Agency, at a press conference. Specifically, these structures are not designed to withstand winds greater than 39 mph.
"While hurricane evacuation shelters offer some protection from high winds and flying debris, they are intended to be a last-resort option for residents and visitors to use at their own risk," a press release from the mayor's office said.
Toiya said people should consider evacuating if they live in areas prone to flooding, on exposed ridgelines, or in homes built before 1995 with wood frames or single-wall construction that had not been retrofitted to withstand storm-force winds. Shelters, however, would have "very limited in space" with just 10 square feet allocated per person, "which is essentially standing room only."
Evacuees heading to public shelters were also expected to bring their own supplies, including clothes, hygiene items, food, and water for two weeks.
A report completed by state emergency officials after the false missile alert in January said that Hawaii did not have enough shelter space for the state's 1.4 million residents, and the nearly 300,000 visitors in the state.
"There are insufficient hurricane evacuation shelters to meet the estimated demand of the population and these shelters have no supplies," the report said.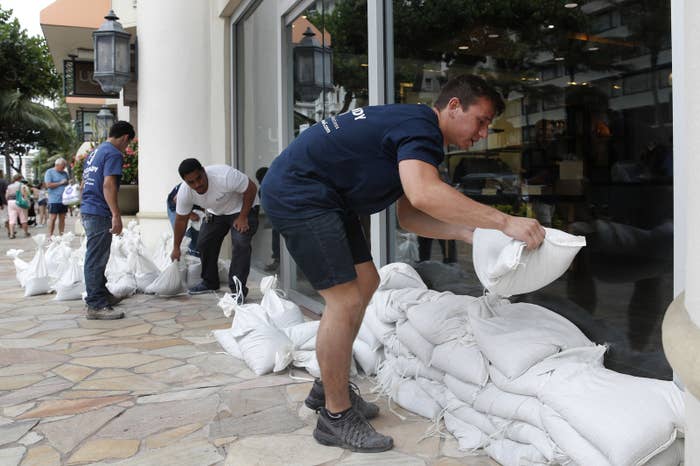 By Thursday afternoon, high winds and heavy rainfall were already impacting many of the islands. A total of 35 evacuation centers were opened and more than 600 people sheltered in them overnight ahead of the storm, officials said.

Steve Goldstein of the National Oceanic and Atmospheric Administration said that Hurricane Lane, at Category 3 strength, is strong enough that it does not need to directly hit the islands to have a damaging impact.
Some parts of the state could see as much as 30 inches of rain, which will likely cause flooding, wash away roadways, and necessitate rescues, he said.
On Thursday, landslides were already affecting roads across the state, closing more than half a dozen streets and highways on the Big Island, blocking parts of the iconic Hana Highway on Maui, shutting down lanes of the Pali Highway and H-3 Freeway on Oahu, and closing down Kuhio Highway on Kauai, which was already severely damaged by flooding in April.
Goldstein said dangerous surf up to 20 feet on south and west shores combined with a storm surge and high tide caused by the full moon would cause additional problems.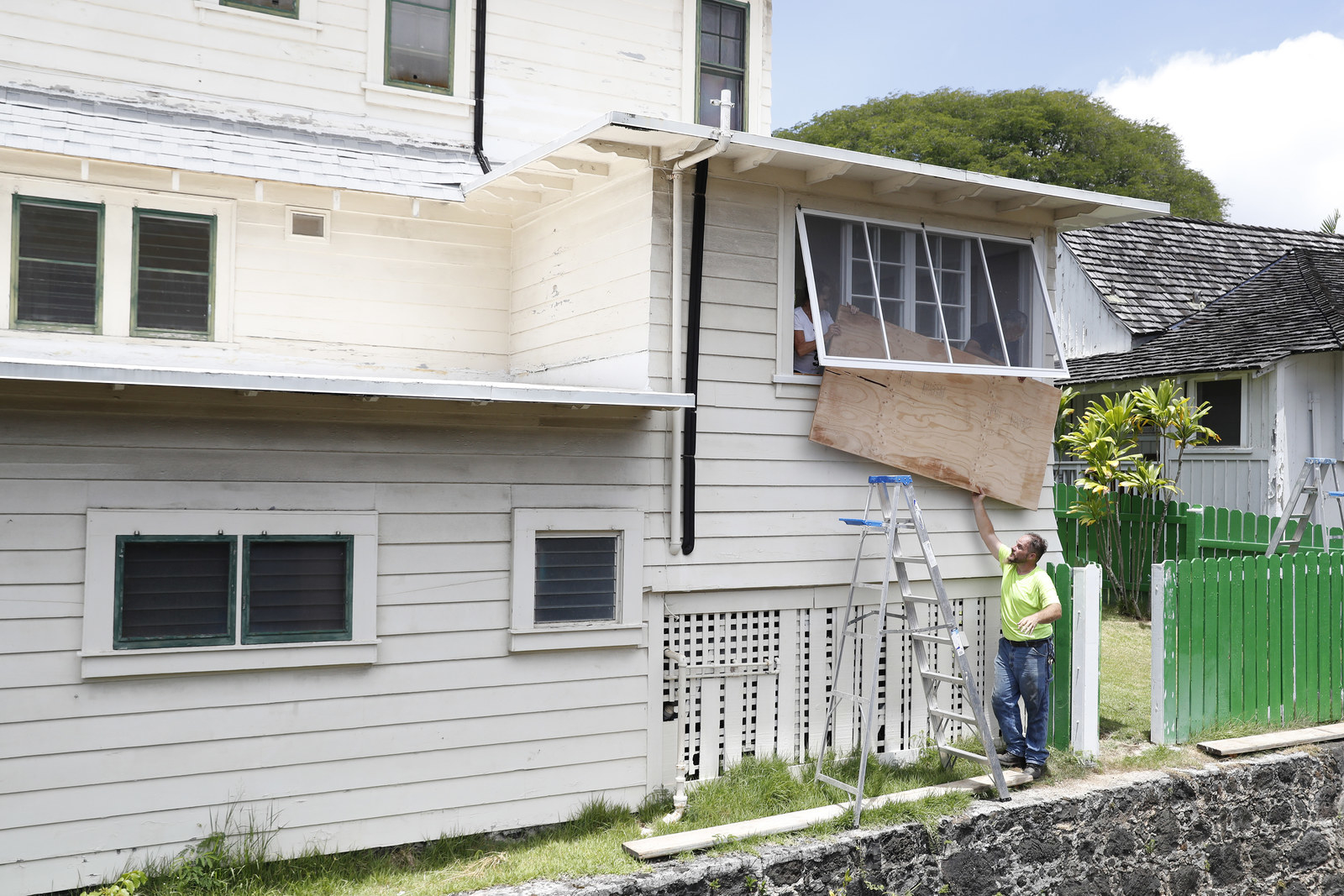 Toiya said Wednesday that decisions to evacuate would depend on coastal inundation and that it was too soon to predict the size of the storm surge. The mayor said officials would consider voluntary and possibly mandatory evacuations in coastal areas, but are going to "wait and see how that plays out."
Hawaii Gov. David Ige said the state has "contingency plans to scale up" if more shelters are needed, but did not provide specific details when asked later by BuzzFeed News.
"Here's what I can tell you: The state recommends sheltering in place unless directed otherwise by emergency personnel," said Ige's Communications Director Cindy McMillan.
She described the shelters as "adequate" but did not provide further information and directed BuzzFeed News to contact the Hawaii Emergency Management Agency.
"It is true that many [shelters] were designated at a time when the assessment was based on visual inspections, rather than full engineering analyses now required," HiEMA's Public Information Officer Richard Rapoza told BuzzFeed News. "Most of these existing designations have not been revisited because of the number that would be necessary and the expense of the engineering studies. It is possible that some shelters may suffer damage under a worst-case scenario where extreme conditions far exceed anything Hawaii has experienced to date. Still, these shelters represent our best response to the dangers we are likely to encounter."
"Based on our experience with Iniki and other natural disasters, people are more comfortable and no less safe staying in their own homes," Rapoza added.
Jason Daly, a 49-year-old father who lives a block from the beach in Waikiki, told BuzzFeed News he planned to shelter in his second-floor condo with his wife, son, and two dogs.
Daly wasn't worried about storm surge reaching his home, he said, but thought the first floor of his building might flood from heavy rainfall. He planned to hunker down with a stockpile of 50 gallons of water, dozens of canned foods, coolers, batteries, and propane for cooking.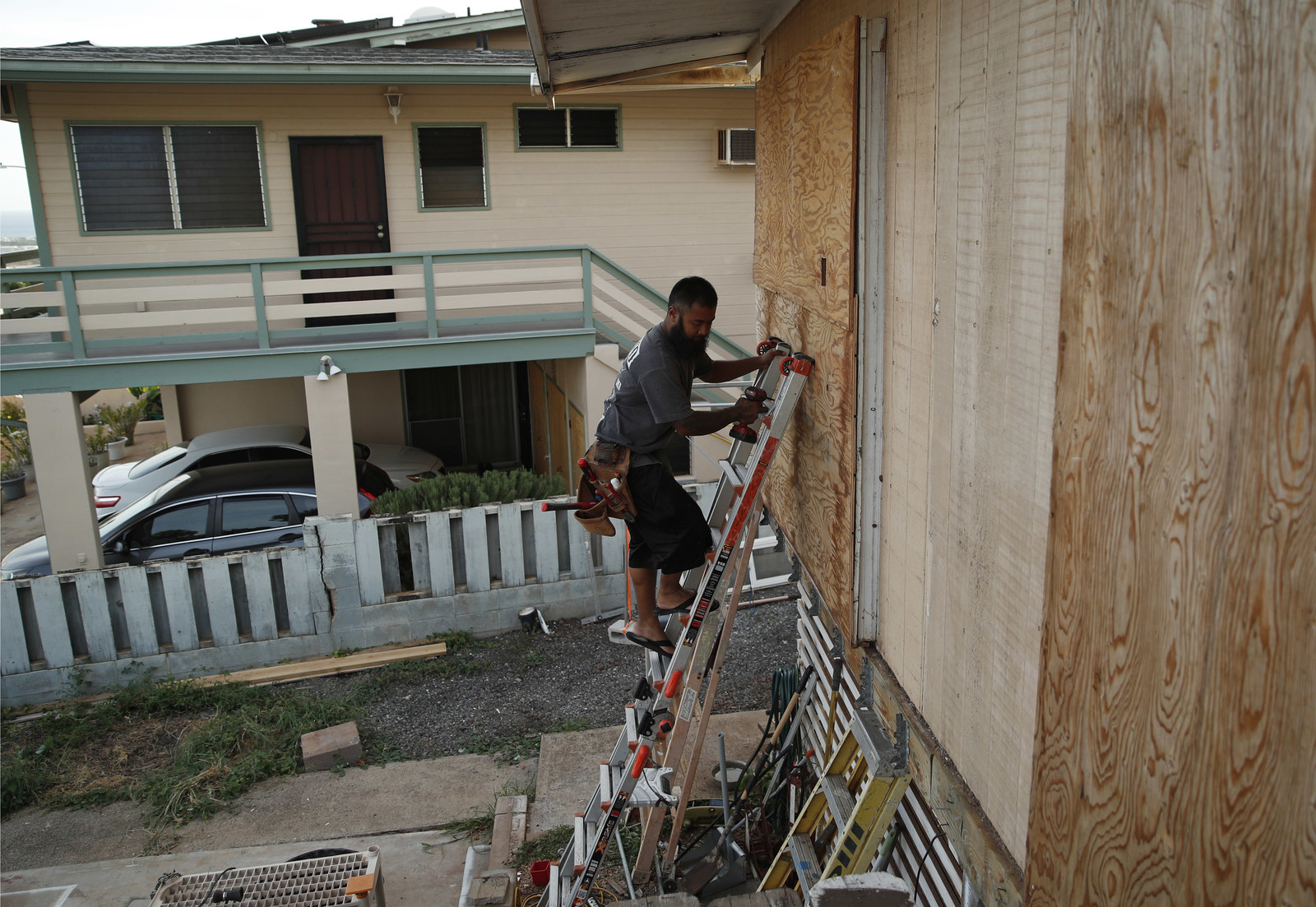 On Wednesday night, a presidential emergency declaration was approved in advance of the hurricane.
Federal Emergency Management Agency Administrator Brock Long said Thursday that the storm would not pass quickly and would likely impact the islands for the next four to five days.

The evacuation facilities were meant for residents to shelter in for a few days to wait out the storm, and those who can't return to their homes will be transitioned into emergency shelters for a longer stay.
Hawaii Sen. Mazie Hirono said at a press conference Thursday there were 300 federal personnel dispersed throughout the state to assist, along with the American Red Cross, the Salvation Army in Hawaii, and other non-government organizations.
Officials "learned a lot in 2017," Long said, in reference to the disasters caused by Hurricanes Maria and Irma in the Caribbean.

"In Puerto Rico, for example, or in the Virgin Islands, many of the grocery store chains actually had preparable food capability that we just didn't tap into, and we should have, and we've learned that lesson," he said. "Now, one of the first things that we're trying to do is assess how much food is actually on the island on any given day, and then how do we help the wholesalers and the grocery store chains ... keep up and running as much as possible."
Hawaii has an average of four to five days' worth of food on the islands, and FEMA has plans, if needed, to bring in another week's worth of food and hygiene kits to the state.
"We've been hyper-focused making sure we're properly set up to support food and water," Long said.