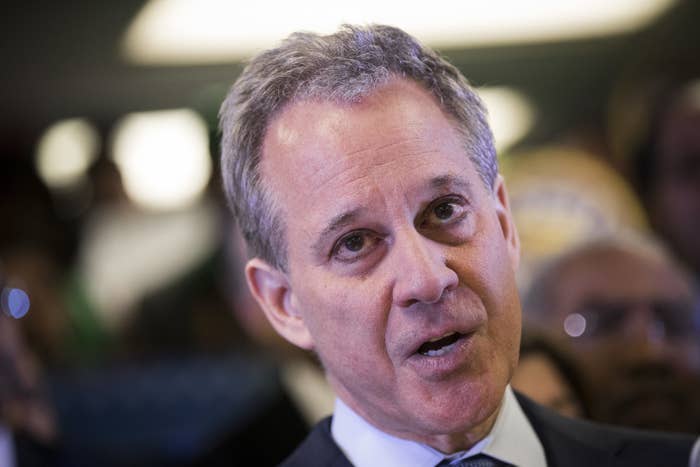 New York's Attorney General Eric Schneiderman is under investigation by a special prosecutor after four women accused him of physical abuse.
Governor Andrew Cuomo announced late Tuesday that he has designated Nassau County District Attorney Madeline Singas to be the special prosecutor in the case. Singas said in a statement that her office will "vigorously investigate" the allegations.
In a New Yorker article published Monday, four women — two of them on the record — who had personal relationships with Schneiderman outlined physical violence including slapping and choking, as well as emotional abuse.

Schneiderman, who lives on Manhattan's Upper West Side, announced his resignation three hours after the story came out. He denies the allegations.
"It's been my great honor and privilege to serve as Attorney General for the people of the State of New York," Schneiderman said in a statement. "In the last several hours, serious allegations, which I strongly contest, have been made against me. While these allegations are unrelated to my professional conduct or the operations of the office, they will effectively prevent me from leading the office's work at this critical time."
New York County District Attorney Cy Vance Jr. said earlier Tuesday that his office was investigating the allegations, but as a result of Cuomo's announcement the Manhattan DA can no longer investigate.
In a letter addressed to Cuomo Tuesday night, Vance said that while he had "absolute confidence" in Singas, he objected to the governor's decision to have her office investigate the allegations.
In an ironic twist, Schneiderman was already investigating how Vance handled Harvey Weinstein, who more than 70 women have accused of sexual harassment and assault. Vance decided to not pursue charges against Weinstein in 2015 despite police having a recording of Weinstein admitting to groping. Weinstein's lawyer had donated $55,000 to Vance in campaign contributions.

Cuomo said Tuesday morning that he wanted to make sure the DA pursuing the case would "have no conflict whatsoever with the attorney general, either institutionally or personally" to assuage the women in the article who outlined that fear about Schneiderman's political power and position stopped them going public earlier.
"These women should have their day in court," Cuomo added.

Vance said in the letter that the potential conflict between his office and the attorney general was eliminated when Schneiderman resigned and that "the alleged acts are plainly within the jurisdiction of my office."
"Put simply, no prosecutors are better equipped to investigate and pursue such
cases in Manhattan than those in my office; we do so, in partnership with the NYPD, every single day," Vance said.
On Tuesday New York City Mayor Bill de Blasio said he was "horrified" after reading the New Yorker story and urged anyone else who may have been a victim to come forward and report the incident to the police. "Anyone who has been victimized can speak up, should speak up and will be protected to speak up," de Blasio said.
Barbara Underwood, the state's solicitor general, will serve in the state's AG role after Schneiderman's resignation. In a statement, Underwood said she was "honored to serve" as acting AG.

"Our office has never been stronger, and this extraordinarily talented, dedicated, and tireless team of public servants will ensure that our work continues without interruption," Underwood's statement read.

But that's only temporary. The state assembly, which has the power to pick Schneiderman's replacement, will decide who will serve in the state's top legal position until a public election in November. It's unknown when it will make the decision.
Schneiderman submitted his formal resignation letter on Tuesday afternoon.