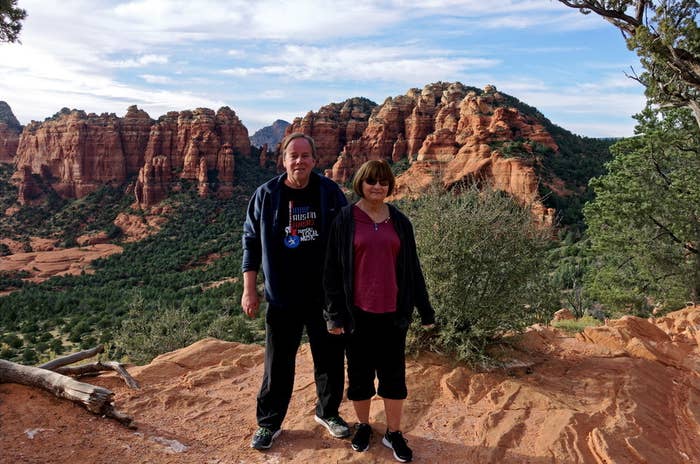 The only attendee at the funeral of Edward Konciak was his wife of 41 years, Cathy.
"They didn't even allow the driver of the hearse to come in, he had to wait at the gate," she told BuzzFeed News.

The funeral home banned embalming and only allowed one guest per burial, alongside the funeral director, to help stop the spread of the coronavirus.
Konciak died from complications of COVID-19 in a New Jersey hospital on April 5.

He'd turned 66 just three days earlier. A kind nurse had brought her phone into his intensive care room so Cathy could wish him a happy birthday. Konciak couldn't speak, but gave a thumbs-up.
The following Tuesday, Cathy read "Death Is Nothing At All," the famous poem by Henry Scott-Holland, at her husband's funeral.
"It just talks about just being in the next room waiting, I'm not really gone, just somewhere around the corner," said Cathy, her voice shaking. "Just kind of out of sight, but still here."

For months, Cathy had been waiting for Konciak to return home, after a major fall last year left him with a traumatic brain injury. After months of hospital visits and rehab facilities, she thought after a temporary stay at the Family of Caring facility in Montclair, he might be strong enough to come home.
He moved into the facility March 12, as nursing homes were banning visitors. What Cathy didn't know when she arranged for her husband's admission was that a visitor on March 7 had already brought COVID-19 into Family of Caring.
So far the facility has had 36 confirmed cases, and 14 people have died from the virus, including the home's administrator.
After Konciak moved in, Cathy struggled to speak with him. The phone would ring for 10–15 minutes with no answer, she said. On the few times they did speak, his speech had deteriorated rapidly. Once she heard a roommate coughing.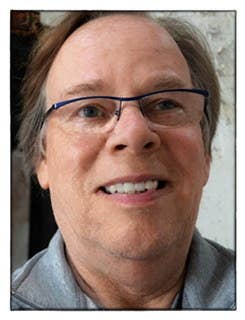 On March 23, she got a call from a doctor at the facility who said they couldn't wake Konciak up and he was being taken to hospital. The next day, he tested positive for COVID-19.
The pair had met in high school, part of a large group of New Jersey friends. They began dating in college, and celebrated their 41st wedding anniversary in January. He loved cars and photography and the desert. They were a study in contrasts — he was chatty to all, but preferred just being the two of them. Cathy always had a large friend group.
"He felt that we were complementary," Cathy said. "I was optimistic and trusting, he was more of a skeptic."

After years working in the photography industry and then IT, Konciak's much-awaited retirement happened last April. He perfected making himself a cappuccino. They got an adored Labrador retriever puppy, Casey.
Konciak spent his time training Casey, working in the yard of their North Arlington home, and playing basketball.

"He loved to play basketball," Cathy said. "What he found, though, was because of his age, all the young guys at the gym would look at him and figure out 'Urgh, he can't play basketball'" — which frustrated Konciak, because they wouldn't pass him the ball and give him a chance to prove himself.

"He was much better at shooting than they were," she added.
Instead, he'd often shoot hoops alone at the gym. That's what he was doing Dec. 20, 2019, when he fell. He was diagnosed with bleeding in his brain and a fractured skull.
For weeks, he was hospitalized in a near-comalike state, unable to talk, move, or eat independently. After six weeks, he'd lost 30 pounds, but had started to recover.
Konciak was moved to another facility, the Kessler Institute. After rigorous physical therapy, he was able to stand without assistance and walk 100 feet with help.
But he had to leave on Feb. 28, as Medicare only covered one month of care. Konciak was then shuffled back and forth between hospitals and rehab facilities, battling various infections. Cathy is frustrated at the care he received, saying the change in his health was dramatic and meant he was unable to come home.
"They describe them as 'subacute' facilities, really, technically, they are just nursing homes," she said. "People are being dumped in rooms and being left there."
The highly contagious COVID-19 has spread dramatically in aged care homes. Of the 5,063 deaths from the virus in New Jersey, 2,050 of them have occurred at long-term care facilities.
Going through his things after his death, Cathy found that her husband had kept every single card she'd ever given him. And as she planned his funeral, she opened the deed to his family plot and found a note handwritten and tucked inside, this time for her.
"Hi Cat," he wrote. "If you are looking at this, I am most likely dead. I have tried to be a good husband. I was just a negative person. Don't know why. Thanks for putting up with me. I love you. Ed."