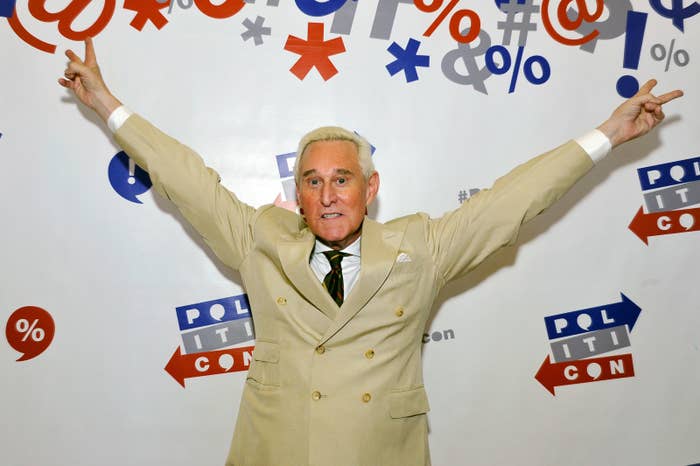 Roger Stone will no longer give a keynote speech at a major cannabis industry event after substantial pushback against the polarizing Trump ally infamous for his lewd and racist tweets.
Cannabis World Congress & Business Expo (CWCBExpo) organizers announced on Wednesday that they had cancelled Stone's speech "following collaborative discussions with numerous partners, participants, and interested parties who support the legalization of cannabis in an inclusive manner."
Dozens in the cannabis industry dropped out of the conference, scheduled for next week in Los Angeles, because Stone was on the agenda. At the heart of the outrage were a number of Stone's previous public statements against women, Jewish people, and people of color.
The Minority Cannabis Business Association (MCBA), which represents minority marijuana business owners and consumers, helped sparked the boycott of the CWCBExpo with a Facebook post announcing that MCBA had withdrawn from attendance and speaking roles at the conference. Stone is a vocal proponent of marijuana legalization, and also a longtime supporter and adviser to President Donald Trump.
Stone has deleted a number of tweets that were angrily referenced by people in the pot industry, including one in which he called commentator Roland Martin a "stupid negro." He called New York Times columnist Gail Collins an "elitist c*nt," and said that anchor Megyn Kelly has a "nice set of cans."

"It shows that it's dangerous to underestimate the people in the cannabis movement calling for equality and inclusion. Basic respect for everyone is non-negotiable," Shaleen Title, a founding member of MCBA, told BuzzFeed News in response to Stone no longer speaking at the conference.
A CWCBExpo statement noted that Stone would be replaced, but did not say with whom. "The forums created by CWCBExpo are crucial to the growth and legalization of the cannabis industry and they supersede the distractions that have surrounded the events," the statement read.
Stone told BuzzFeed News on Wednesday night that he planned to sue the expo organizers for $1 million and that his "many supporters" would be at CWCBExpo and "will fuck them up."
"Hope they are well heeled. See their sorry asses in court," Stone wrote in an email to BuzzFeed News. "I will not be deterred from my efforts to persuade the President to preserve access to legal medicinal marijuana consistent with his pledge to the American people."
Stone was the keynote speaker at the CWCBExpo conference that was held in New York City in June, where Stone announced the United States Cannabis Coalition, a nonprofit organization "dedicated to influencing federal level decision makers," including Trump, to support states' rights when it comes to legalization.

"I am going to be working with a coalition of Republicans and Democrats, progressives and libertarians, liberals, and conservatives to persuade President Trump to keep his campaign pledge, and to remind the president that he took a strong and forthright position on this issue in the election," Stone said at the New York conference.
A change.org petition that asked CWCBExpo organizers to rescind their invitation to Stone had more than 800 signatures as of Wednesday afternoon.
"Inviting Mr. Stone to speak to the crowd, especially as we see the rise of overt racism and anti-semitism, is an affront to the very movement you purport to promote, the industry and all who are involved," the petition noted, which was signed by some of the most well-known and active members of the cannabis industry.
Al Sharpton also gave a keynote speech at June's conference and is listed to speak again at CWCBE next week.
UPDATE
This story has been updated with comment from Roger Stone.