When the Wagner family bought property in Yamhill County, a land of rolling hills, winding roads, and grapevines southwest of Portland, Oregon, they expected to have to obtain permits to break into the marijuana business. They didn't anticipate that months later, they'd be caught in a battle with neighboring grape growers who say weed and wine don't mix.
It all began in late 2016, when Mary and Steven Wagner closed a deal on a plot of land in the Willamette Valley for their son, Richard, to launch a legal marijuana-growing and -processing operation. The younger Wagner, an outdoorsy 33-year-old whose Instagram account quickly filled with photographs of the idyllic setting, didn't try to hide his ambitions.
"Big projects will be starting soon," he wrote in a post dropped between others showing close-ups of fat buds and lush marijuana plants. He excitedly detailed plans for a greenhouse and sun-grown cannabis crops, along with an 8,000-square-foot, two-story building for breeding, curing, processing, and packaging.
"The southern part of our fine state isn't the only zone that grows amazing, high-grade cannabis under the sun!" Richard added in another post, in which he lavished praise on the Willamette Valley for its agricultural opportunities and cool, clean air. Ideal, he said, "for the thirsty gals," or the pot plants he envisioned blanketing the land. Adding to his joy were the "world class biodynamic vineyards" that Richard noted were nearby. "I won't have to worry about spray drift or any other factors involved in their practices that will negatively effect the purity of my environment," he wrote.
It turned out Richard wasn't the only one in the neighborhood concerned about the purity of the environment. In April, neighboring wine producers went to court seeking a temporary restraining order to block the marijuana business, arguing that cannabis would damage their vineyards and businesses by sending "foul-smelling particles" through the air that would settle onto their fragile grapevines. A judge ruled against the neighbors, but the Wagners faced more pushback from county commissioners and a drawn-out fight that could be repeated elsewhere as cannabis growers compete with more traditional businesses wary of the new crop on the block.
"What they're really opposed to is not the processing, I don't think. They're opposed to, primarily, just having growing marijuana there," Richard's mother, Mary, told BuzzFeed News. "It's fear. They're afraid of bringing crime into the area. A different element."
"My new vines, and any future grapes, will be immediately and irreparably damaged."
She might be right. While 56% of Oregon voters approved legalization of recreational marijuana in 2014, the measure narrowly failed in Yamhill, traditionally a conservative, rural farming area. There, 50.4% of the voters were against legal weed.
Yamhill County is not Napa, but the county is responsible for the largest percentage of wine-related revenue in Oregon. Harihara Mahesh, one of the plaintiffs who sought the restraining order, said in court documents that he'd have to cancel plans for a 2.5-acre vineyard near the Wagner plot if it meant "exposing the vines and grapes to foul-smelling particles" from pot plants. "My new vines, and any future grapes, will be immediately and irreparably damaged," Mahesh wrote.
The dispute is an indication of potential tensions, cultural and agricultural, that could arise as the grape and cannabis industries are forced to coexist on the wine-saturated West Coast. Legal recreational cannabis sales begin in California next year, which means the Golden State will be the nation's epicenter for both grape and cannabis production. California brings in an estimated $34 billion annually from its wine industry, responsible for about 60% of the US wine market. Cannabis sales are expected to hit $6 billion in California by 2020 — and that's despite policies that make it harder to make money on weed than wine, like higher tax rates and a federal prohibition that prevents, among other things, export to other states or countries. So cannabis earnings in the region could catch up to wine's over time. And considering that grapes grow best in the same warm weather that helps sun-grown marijuana thrive, issues around grapes and cannabis, from land-use disputes to fear of tainted crops to consumer competition, aren't going anywhere anytime soon.
"There's that perception that we've got Cheech and Chong next door and this is just going to be a free-for-all."
Mary Starrett, a Yamhill County commissioner who has come out in support of the Wagners, questioned the real reasons for neighbors' objections beyond concerns about their grapes. "Are they just kind of guarded and want to protect their turf?" Starrett said to BuzzFeed News, adding that outdated ideas of cannabis growers also may play a role in objections to pot growers. "I think perhaps people have this stigma. There's that perception that we've got Cheech and Chong next door and this is just going to be a free-for-all," Starrett said.
The cannabis and wine worlds already are merging. Diners in Sonoma County, California, a major wine region, dish out over $100 per plate for cannabis-infused meals. The property in Redwood Valley where Fetzer Vineyards once operated is being turned into a massive marijuana operation. And Ted Simpkins, a former executive at the biggest wine distributor in the country, Southern Wine & Spirits, has started a cannabis distribution company.
Mahmood Momtazi owns almost 600 acres near the Wagner plot, and his land includes the Maysara (which means "house of wine" in Farsi) Winery, a picturesque vineyard that hosts weddings, where fog glides in until just the tops of the vines are visible. Momtazi, who joined Mahesh in trying to block Richard, has been growing grapes for about 20 years, and he was particularly nervous about the potential for marijuana growing nearby because his vineyard is "biodynamic," according to legal documents. In other words, grapes that might otherwise be sprayed with chemicals are spritzed or injected with, for example, chamomile tea. The Momtazis worried that cannabis cultivation in such close proximity would pollute their water, jeopardizing the biodynamic status, which goes beyond organic. Like Mahesh, Momtazi also feared that if the Wagners increased the size of their cannabis crop, his vines could fall victim to "harmful, foul-smelling particles."
There's no scientific proof of that. Grapes are a vulnerable crop that can be damaged by wildfire smoke and other environmental factors, but Mark Chien, a longtime grape grower and the program coordinator for Oregon State University's Oregon Wine Research Institute, said he's unaware of any solid research into the effect cannabis might have on vines. "We're still just so in the infancy of understanding the complexity of cannabis and the influence of cannabis on other crops. It just really is not known yet," Chien said.
It might not be known for a long while because of marijuana's status as a federally banned drug, which hampers research options.
"Cannabis fields are popping up near vineyards, and growers are concerned about the potential effect on their crops."
Chien points to one crop that seeps into grapes and could hold a clue to cannabis's potential impact on wine: eucalyptus. In documents seeking the temporary restraining order, Momtazi referenced a California vineyard that was near a eucalyptus orchard; the wine apparently started to taste like eucalyptus.
The head of the California Growers Association, Hezekiah Allen, rejects the argument that cannabis can corrupt grapes. "It's absolute nonsense," he said. "Anyone's allowed to say they don't like a smell. If the law's on their side, they can prohibit that smell. But in terms of contamination or degrading the value of the grapes, that just doesn't make any sense."
Wine drinkers might even like wine with a cannabis kick. Some entrepreneurs are starting to make cannabis-infused wines.
These agricultural unknowns will likely be discussed at a meeting of scientists in August at Oregon State University. The wine research group meets a few times a year to talk about issues facing the industry, and Chien expects cannabis to figure into conversations at the next gathering.
"Cannabis fields are popping up near vineyards, and growers are concerned about the potential effect on their crops," Chien said. "You want to know what the threats are to your crop, and the quality. And if there is one, how to manage it."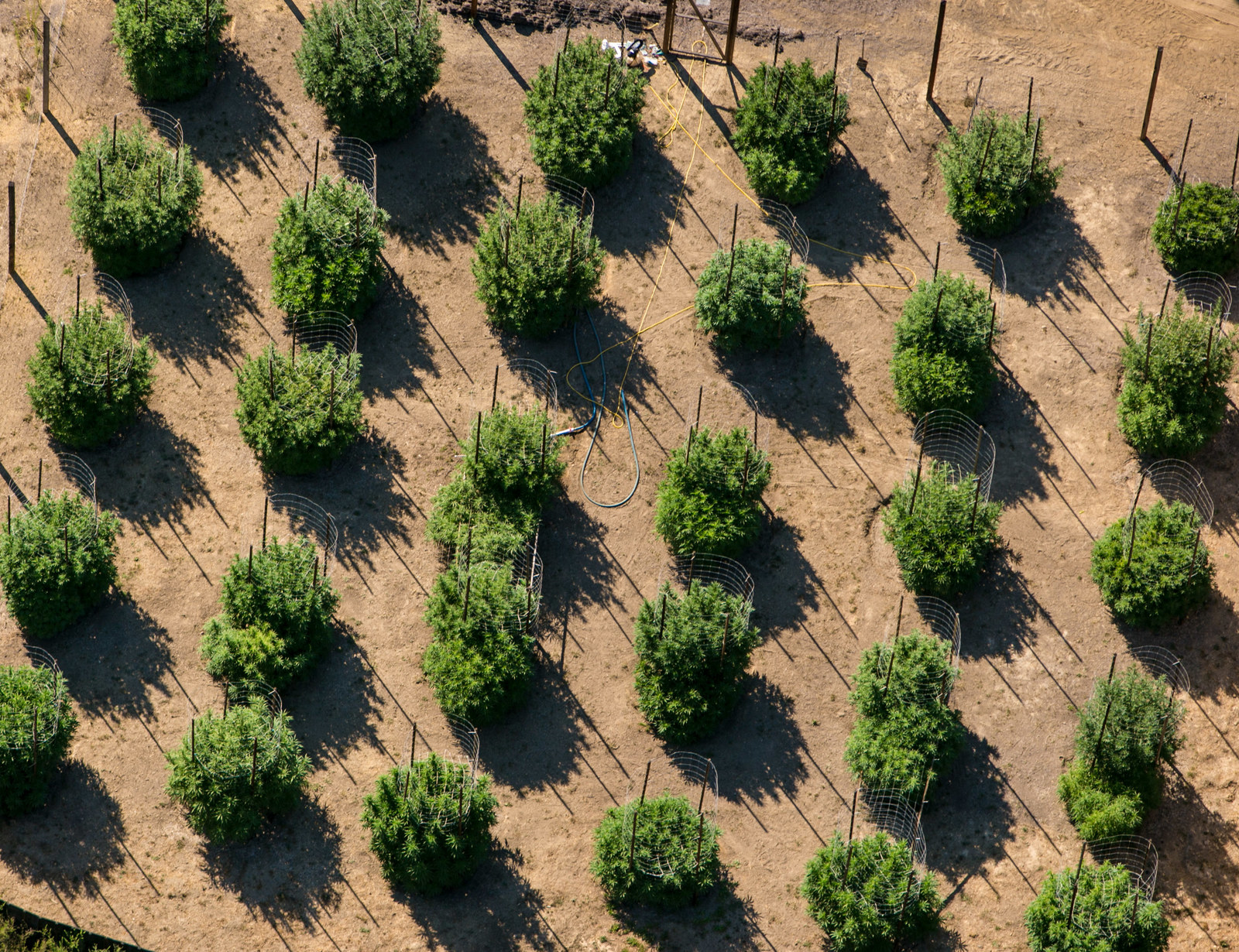 Marijuana's emergence as a major agricultural force has been lightning fast compared to wine's. In just five years, eight states and the District of Columbia have approved recreational use, setting the stage for cannabis operations like the one Richard Wagner planned. By comparison, alcohol has been legal for more than 80 years, and wine started taking off on the West Coast in the 1970s; there was time to adjust. So in addition to fears of damaged crops, there are other possible disagreements, from lingering stigmas as pot emerges into a regulated market to old-fashioned competition for customers from grape growers.

"It wasn't that long ago that wine grapes were sort of the newcomer," Allen said. "So I think there's a bit of hesitation for the wine industry to sort of revisit that experience, because they've really emerged from being sort of a second-class, stigmatized crop to being one of the leading crops very quickly."
When it comes to the friction between grape and weed growers in Oregon, it's possible that simple fear of the unknown fed into the anti-Wagner claims. Neither the Wagners nor their opponents, or the lawyer for the opponents, wanted to talk about the case, but it has played out publicly on social media and in county meetings.
In legal documents, Momtazi said one of his grape customers had already canceled an order after learning of the proposed marijuana activity nearby. Mahesh worried that the skunky odor floating over the hills from the pot fields would ruin his family's way of life. "We effectively will have to stay indoors," Mahesh said at a county commissioner's meeting in April. "And the reason we moved to this beautiful Yamhill County is to be outdoors and be with nature and do our farming."
In his Instagram posts, Richard has expressed his own concerns about his future. "This has been frustrating beyond what words can describe," he wrote in June in response to someone's message of support. "I too am so surprised at how this has evolved, and how currently fear is winning the day here." Richard also wrote that "other than my neighbors bent on trying to ruin my life," he loved Yamhill County.
"The traditional grape grower is a little more conservative, and is probably a little bit leery — curious, if not leery — of having a big cannabis grower as a neighbor," said George Christie, president of the Wine Industry Network, a national marketing company and resource for the wine industry.
"This has been frustrating beyond what words can describe."
Regardless of whether grape growers like having cannabis next door, or vice versa, it's the new reality. Christie is planning a first-of-its-kind Wine & Weed Symposium on Aug. 3 in Santa Rosa, California. The sold-out event aims to explore both the opportunities and threats facing the wine industry as a result of cannabis's creep. And, overall, farmers want to understand marijuana rules and how they might be able to tap into a new, legal revenue source by planting a new crop.
One question that Christie anticipates is whether there will be competition for consumer dollars. If people have $20 to spend on a legal substance to help them unwind, will they split it between a glass of Chardonnay and a joint, or will they choose just one?
Then there's the potential for land disputes. When some people in the wine industry hear about the money people are able to make farming cannabis, "well it's a heck of a lot more than grapes," Christie said. "So I think that there's fear that if a good growing parcel were to come up for sale, how could a winery afford to pay for that land when a cannabis guy could make so much more with that land than they could?"
One other concern to be discussed at the conference will be competition for labor. Pot and grapes are both labor-intensive and high-yielding crops, but cannabis growers tend to pay workers more. People who trim unnecessary pot leaves can make upward of $30 per hour — and are able to sit and work in the shade. That beats what grape farmers offer, Christie said. So while wine business owners already find it tough to fill positions, the growth of cannabis farms could make staffing more difficult.
In late June, the Yamhill County Board of Commissioners voted 2 to 1 against the Wagners' request to set up their marijuana-processing operation, citing, among other reasons, concerns that it should be in an area zoned for industrial use. The decision does not ban the growing of marijuana, but it has ended at least for now Richard Wagner's hopes of establishing a large commercial cannabis-processing facility, his mother, Mary, said. She told BuzzFeed News that the cost of the battle had become too much. "There is no more fight at this point," Mary said, adding that Richard was "quite emotionally upset" because "his whole vision for it is gone."

Starrett wonders if the little case in western Oregon will set a precedent.
"I think it's just going to take some time for people to understand that it's just another agricultural crop."
"Just like when wineries and people growing grapes first came in here, it was just considered completely and utterly radical. And it's the same thing with cannabis," Starrett said. "I think it's just going to take some time for people to understand that it's just another agricultural crop."
Richard has said he went out of his way to seek all the necessary permits and to reassure his neighbors, something that his mother said included sending cards to them after he moved onto the property to introduce himself. After an April meeting with county commissioners, Richard said he planned to follow organic methods to ensure no unnatural particles were spread through the water or the air, and that the processing won't emit pungent particles. "They're afraid, they're very afraid," Richard told The Oregonian, of his neighbors. But he also said he was trying to be understanding. After all, he said, when his neighbors moved to Yamhill County years ago, "they didn't see cannabis-growing as a potential neighbor."
Still, the rejection stings. Mary said the family would focus on growing marijuana and might try again next year to get permission to expand into processing, assuming they have "better understanding with the neighbors." ●