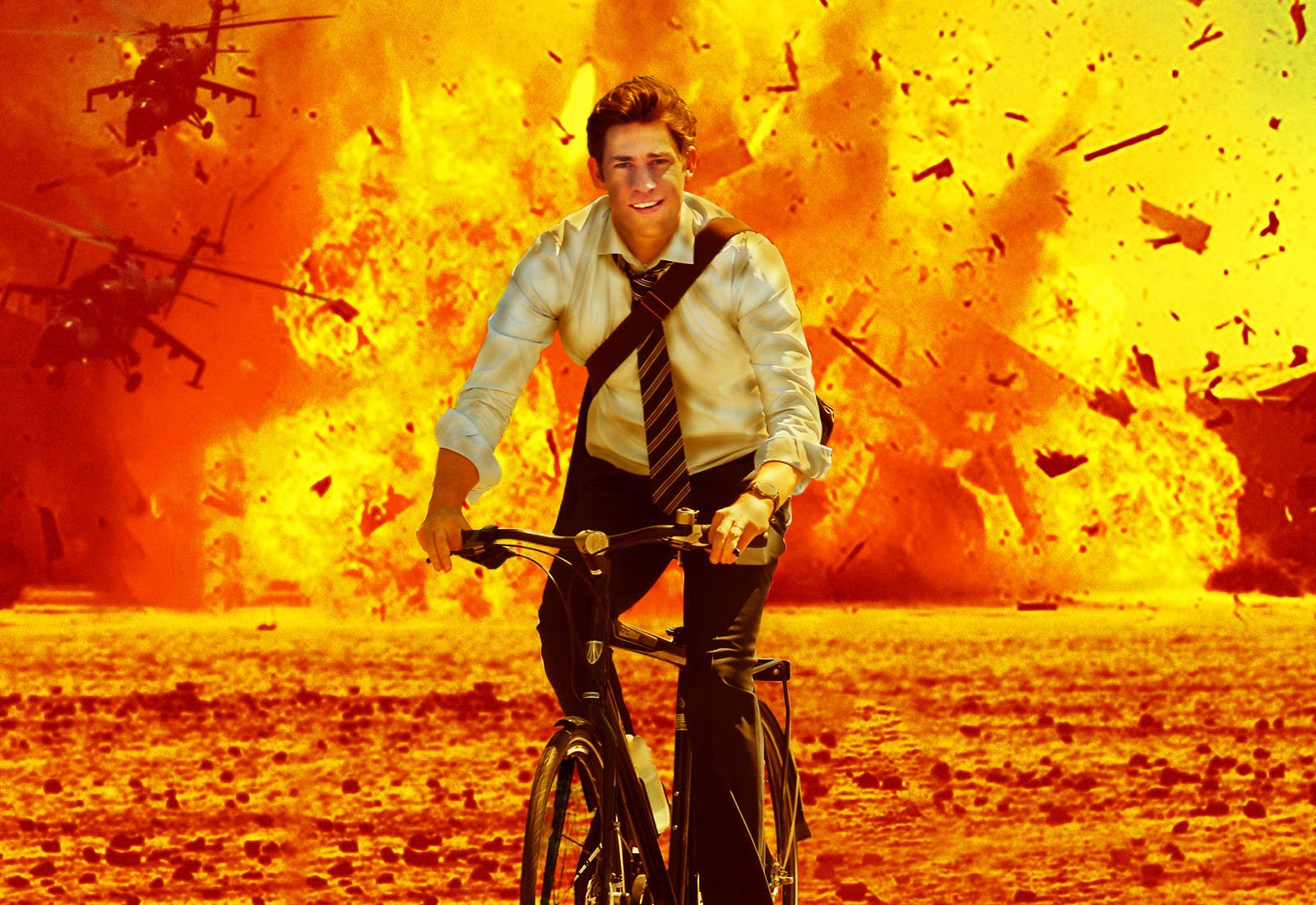 The new John Krasinski made his bearded, brawny debut on the cover of Men's Health magazine in December 2015, a month before the premiere of 13 Hours, the Michael Bay action movie about the Benghazi attack, in which he had a starring role. Krasinski, who'd spent four months packing on pounds of muscle for the part, appeared in a gray T-shirt, his bulging biceps folded across his chest in a manner reminiscent of a PE teacher watching his class half-ass its way through a lap around the track. The spread inside, which featured the actor alternately wearing and wielding a leather jacket against an industrial backdrop, acknowledged the potential for an appreciative gaze, but the cover seemed intent on warding off any implication of thirst trapping. This transformation into Jack Silva, private military contractor and guy with less than 10% body fat, was intended for an audience of straight men.
Krasinski's shift wasn't your standard celebrity glow-up — more of a glow-sideways, a lateral move for an actor who'd spent years playing the beloved romantic lead and nice guy Jim Halpert on The Office and didn't face a pressing need to make the case for his own attractiveness. At 6'3" and possessed of a handsomeness just off-kilter enough to be allowed to pass as that of an everyman on TV, the actor wasn't pulling a Chris Pratt and rebranding himself as a who'd-have-thunk-it hunk. He was doing something closer to what his Aloha costar Bradley Cooper did for his own high profile, bulking up to play Navy SEAL Chris Kyle in Clint Eastwood's 2014 American Sniper, a movie whose unexpected box office success was due in part to its red-state appeal.
Cooper was, of course, playing a role (for which he got an Oscar nomination) — but two years later, certain irate fans of the film nonetheless grumbled their displeasure over seeing the actor at the Democratic National Convention. Krasinski, who's now starring as the title character in Amazon's new Tom Clancy series Jack Ryan, appears to be aiming for a more lasting rebrand that will also allow him to steer him clear of that kind of backlash. His physical transformation hasn't been about allure so much as about embracing masculinity, broadcasting a capacity for seriousness, and for kicking ass and getting shit done. Cubicle drone Jim Halpert has remade himself as an action hero, and a particular kind — a reluctant but stalwart defender of an American way of life. 13 Hours may have been the work of Bay, that auteur of explosions (The Rock), bombast (Pearl Harbor), and robot alien franchises (Transformers 1–5), but it wasn't just another shoot-'em-up. 13 Hours was a movie about a 2012 tragedy that became a persistent right-wing rallying point and a renewed source of contention as Hillary Clinton ran for office in 2016, when the movie came out.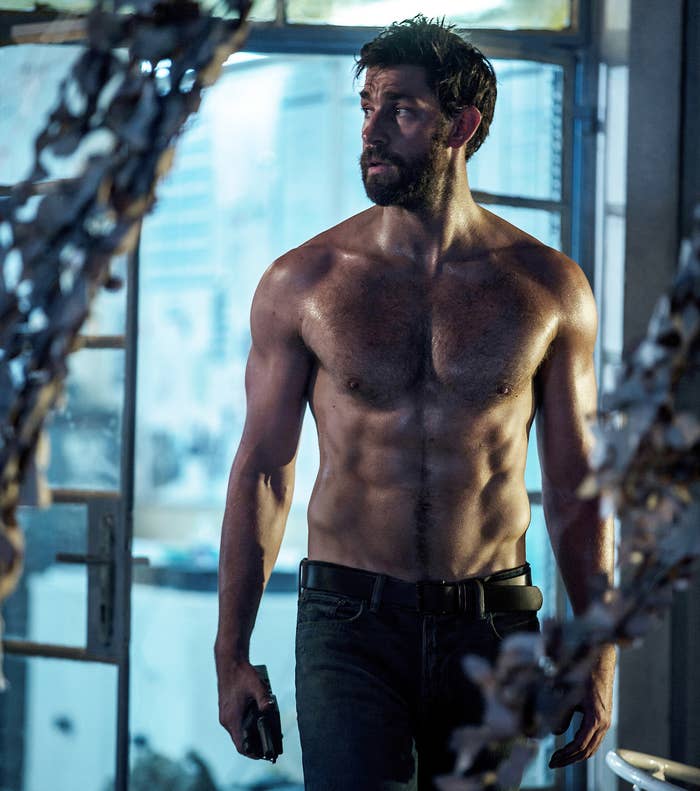 While Bay insisted that his film had "no political agenda" and that its timing, a January release during the presidential race, was not strategic, plenty of people on both sides of the aisle read it differently. 13 Hours tried to stake out middle ground between respectful cinema about real American losses and swaggering spectacle from the man responsible for Armageddon. The weirdness to watching Krasinski in the midst of it had nothing to do with his new look. It came from the cognitive dissonance of seeing an actor whose onscreen persona had previously run so heavily toward the funny-snarky-sensitive now surrounded by machismo, brandishing an assault rifle, muttering about government incompetence, and barking frustration at CIA agents who are portrayed as arrogant, sniveling Ivy League snobs.
The funny thing about Krasinski's turn toward militant espionage punctuated with regular bouts of violence is that there are still touches of his Office persona to be found in it.
Its status as a cryptoconservative attempt at a blockbuster aside, 13 Hours was a major get for Krasinski, who'd been actively trying to break through to the ranks of big-screen stardom (in 2016 he told Conan O'Brien about how he'd been in the running for the part of Captain America). And while the movie sank at the box office, it gave him the opportunity to flex some different muscles, both literally and in terms of performance — to the point where it seems to have signaled a more permanent turning point in his career. Traces of a similarly tough, taciturn patriarch who would kill and die for his treasured nuclear family are also all over Krasinski's April horror hit A Quiet Place, which he directed as well as starred in alongside his onscreen and real-life spouse Emily Blunt. And it was his showing as Jack Silva that convinced the powers that be at Amazon that he could play Jack Ryan in their drama, which operates as a kind of prequel to the many film adaptations Clancy's series has already received. The show's North American premiere will take place at LA Fleet Week, and it's already been renewed for a second season.
The funny thing about Krasinski's turn toward militant espionage punctuated with regular bouts of violence is that there are still touches of his Office persona to be found in it, especially when he's charming a colleague or dealing with new boss James Greer (Wendell Pierce). In some ways, the actor plays the character as a triangulation between Jim Halpert and 13 Hours' Jack Silva — simultaneously the smartest and the most badass guy in the room, whether other people understand all he's capable of behind the unassuming mien or not. It's enough to make you wonder if the new Krasinski is actually all that new, or if he's just strategically tilting toward something that was already there, and that we hadn't noticed, because one of the characteristics of the nice guy is that he makes it easy to assume you're simpatico. It's the kind of quality vague enough to be repositioned without much effort, when all that really needs to change is who he's being nice to.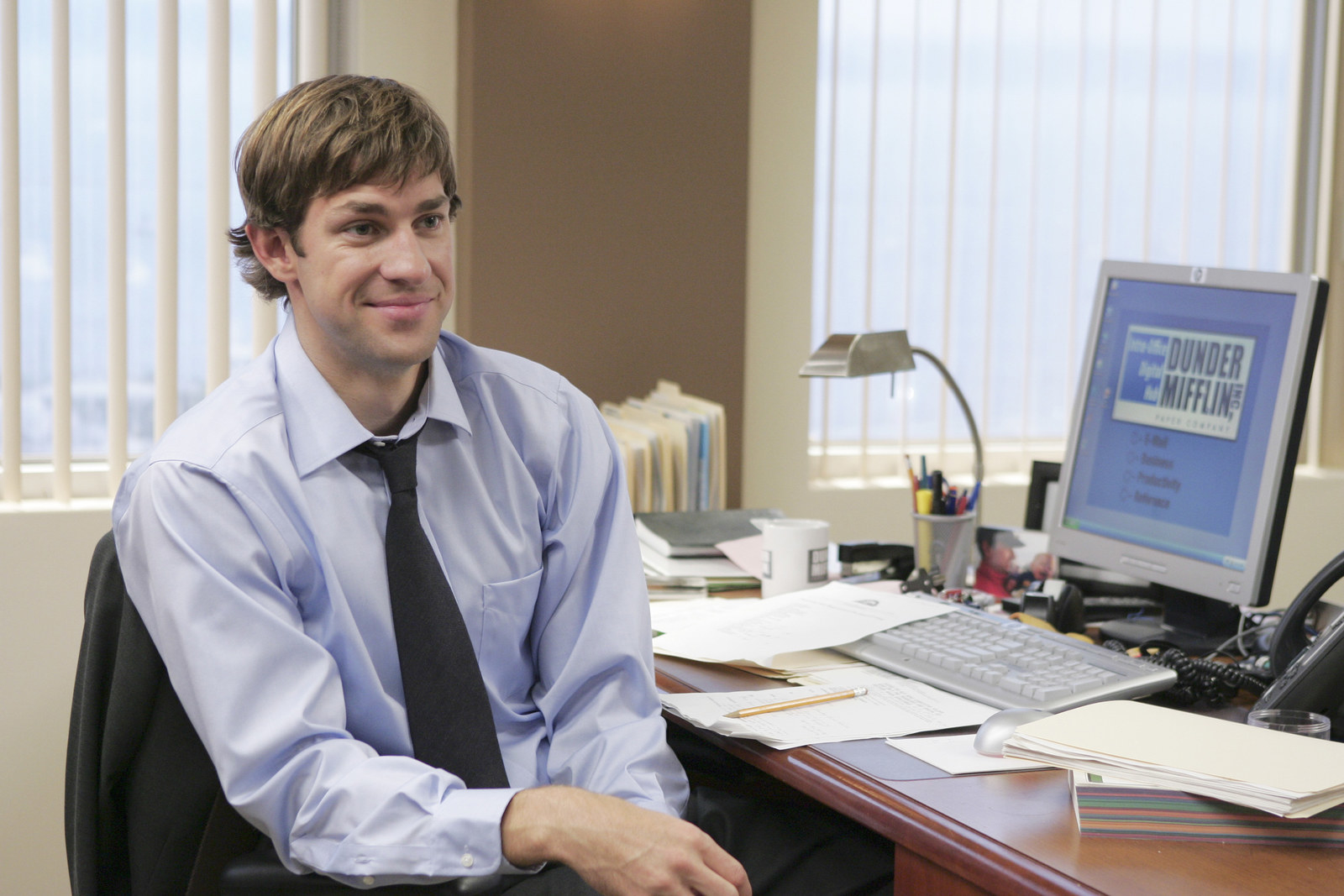 Krasinski has spent a sizable percentage of his time onscreen on the verge of marriage (License to Wed, It's Complicated) or on the verge of becoming a father (Away We Go, The Hollars), and always as the good guy — the kind who might still have some growing up to do but whose solidity is so evident you could sound it out by thumping his chest as if you were testing a melon for ripeness. His arc on The Office was one big journey from lovelorn "slacker-loser-wiseass" to family man, he and costar Jenna Fischer going from one of TV's best will-they-or-won't-they romances to creating a portrait of a functioning relationship and the communication and compromises it entails. He knows perfectly well how he comes across, too — "I have no problem with people seeing me as the nice guy. I hope they don't see me as just the nice guy," he told Elle in 2016. It's a perception that's held up in the press he's done over the years, in which he comes across as down-to-earth, self-effacing, prone to punctuating his speech with the word "honestly," and appealingly fond of talking about how much he loves his wife Emily Blunt, with whom he has two kids, and who's indirectly responsible for the best parts of his careful interviews.
But outside of The Office, his most compelling work has toyed with the image of wholesomeness he projects — showing his awareness of the advantages and expectations that come with it, and the darkness that can lurk underneath. Acting alongside George Clooney in Clooney's 2008 football screwball comedy Leatherheads and Matt Damon in Gus Van Sant's 2012 fracking drama Promised Land, Krasinski's played variations on the beloved golden boy as secret villain, and in weaponizing his aw-shucks air, managed to be more intriguing than the stars. His appearance in his own little-seen 2009 directorial debut Brief Interviews With Hideous Men is even more barbed. The film's an adaptation of a selection of David Foster Wallace short stories that are essentially frank monologues from different male characters, which have been compiled into a virtuosic mosaic of narcissistic, self-justifying ugliness, and as choice of material for first adaptations go, pretty close to a cliché for a guy who majored in playwriting at Brown.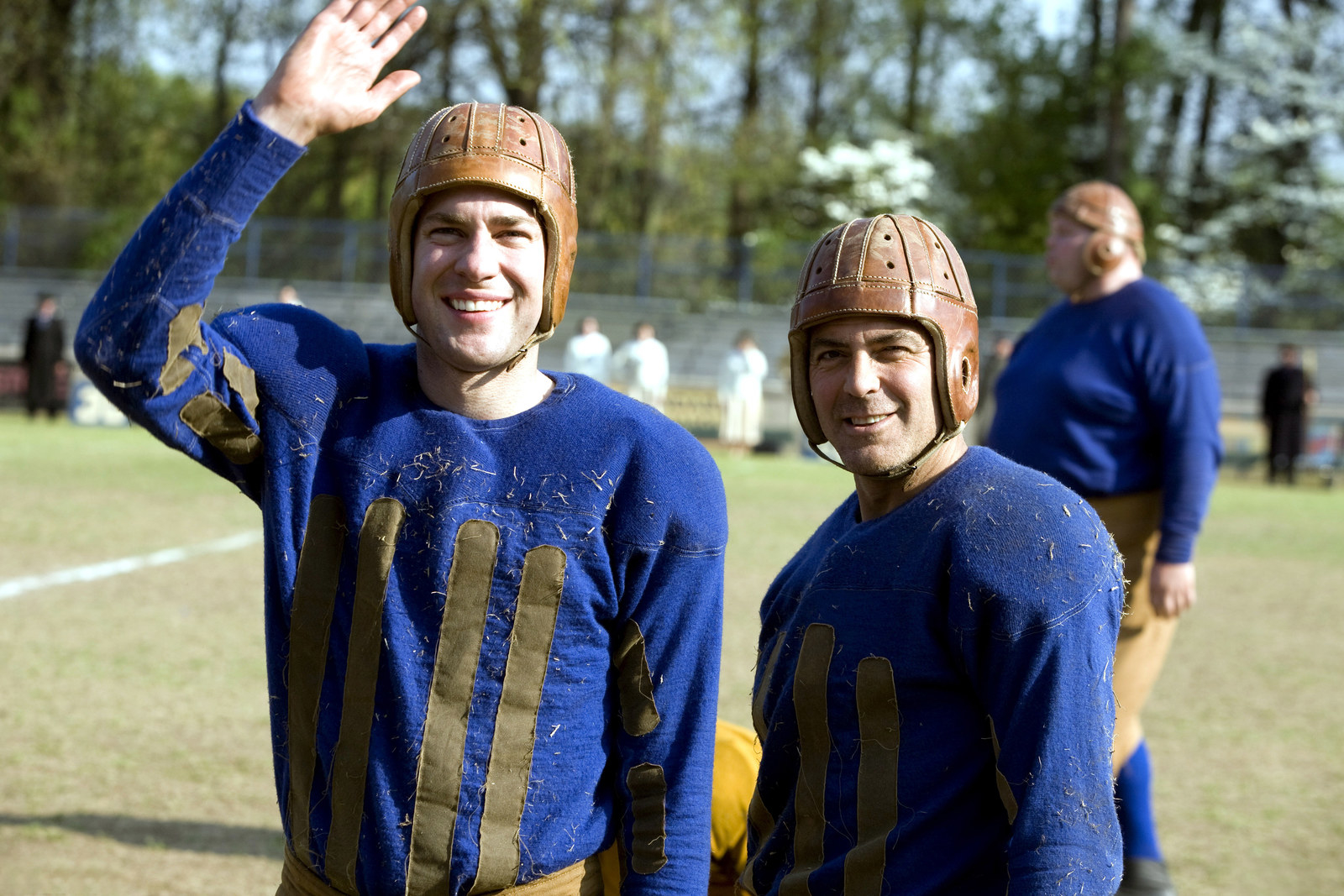 But Krasinski did make a few interesting choices in a film that's otherwise minor. For instance, he inserted Julianne Nicholson as what was, on the page, a wordless, nameless interrogator, turning her into a character who serves as a witness and investigator to these men — a grad student recovering from an abrupt breakup by channeling her pain into an academic project. Her inclusion made the material feel less like a wallow in misogyny and more like a reflection of what it's like when your heart is broken and you feel like you're only being shown the ugliest parts of people.
Krasinski cast himself as her ex-boyfriend, taking on what's arguably the most hideous of all the monologues. It's director's privilege to claim the showiest bits for yourself, perhaps, but Krasinski's role also acknowledged his image as a nice boy, the kind you think about settling down with. In a flashback, he's seen through the scrim of the main character's repeated, idealized memories, smiling at a party and playing piano at a gathering with friends. Eventually, toward the end of the film, he appears in person, at which point he shreds these hazy recollections with an explanation of an act of casual infidelity that ended their relationship ("you almost resent the fact that it's so goddamn easy"), an admission awash with contempt and a desire to be congratulated for its monstrous honesty. The role and the scene highlighted Krasinski's own understanding of how malleable and skin-deep the guise of the good guy could be, suggesting he knew that he was able to wear and benefit from it so easily — how it was a designation awarded a little too unquestionably to floppy-haired white guys who gave off even the faintest whiff of a childhood filled with family dinners and church on Sundays.
It's not a coincidence that both Clooney and Damon picked and positioned Krasinski as the younger rival to them onscreen, an up-and-comer sure to eventually join their club of bona fide movie stardom. He's felt like someone who could be on the verge of arriving at their level for years, just as soon as he figured out his thing — which, it's turning out, is neither Clooney's suave cool or Damon's limber changeability, nor their outspoken (if imperfect) Hollywood liberalism. If anything, Krasinski has veered closer to the example of fellow Bostonian Mark Wahlberg, who loves playing everyman heroes with great abs, and who's most vocal about how he doesn't think celebrities should publicly speak about politics. That is, of course, a political opinion in itself. But it's one that somehow gets positioned as neutral.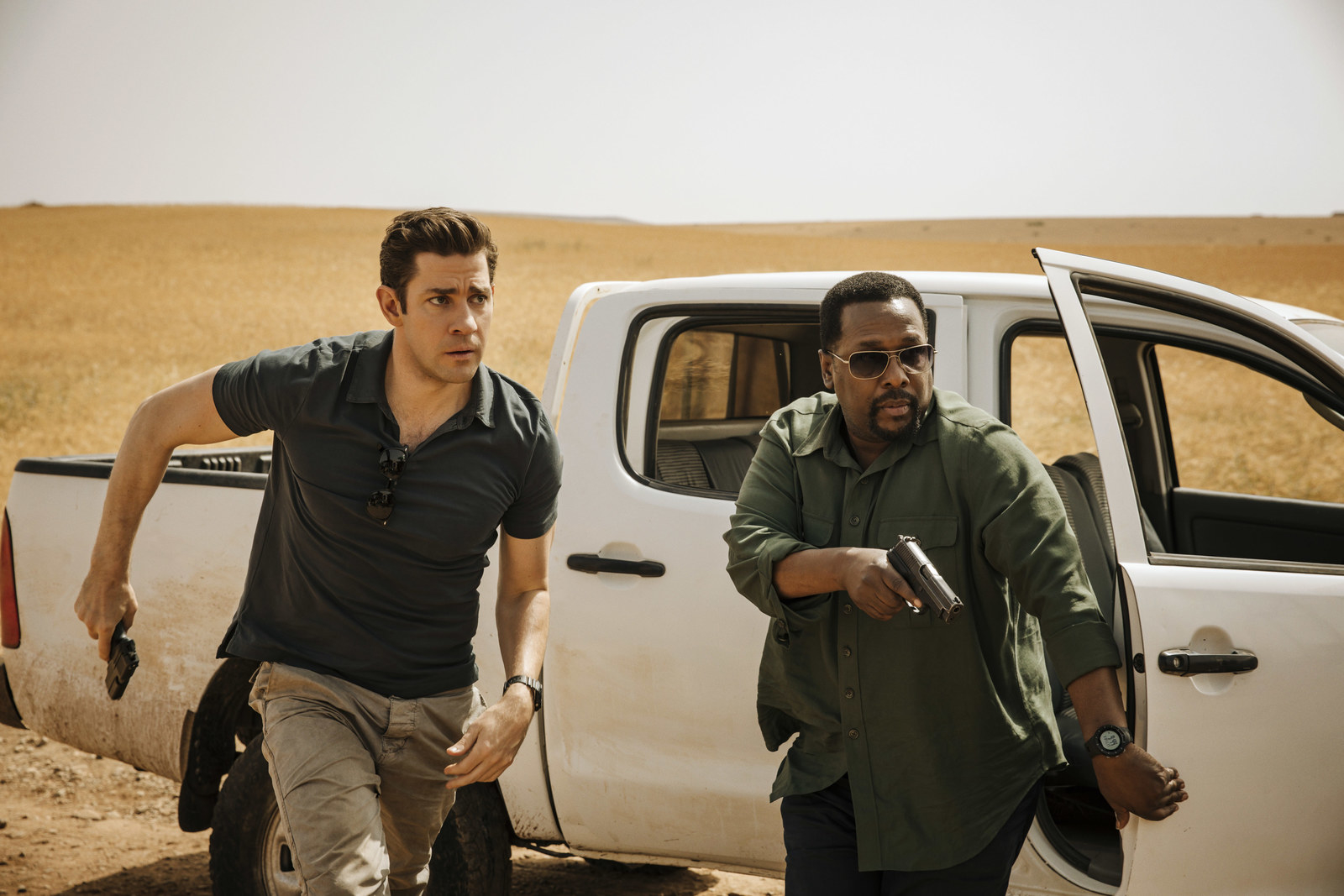 Any sense that Krasinski "will publicly yell at an empty chair in the next 50 years," as the Ringer's Alison Herman predicted, doesn't stem directly from his personal life. While Krasinski has generally kept his leanings to himself, Emily Blunt has spoken out about Trump before (and faced blowback because of it). Krasinski pals around with Aaron Sorkin, with whom he wants to make a show about the Chateau Marmont, and with Matt Damon and Ben Affleck, with whom he cohosted a fundraiser for Elizabeth Warren in 2012. No, any niggling suspicion that Krasinski could someday pull a Clint Eastwood comes from the recent roles he's taken and the careful type of nonanswers he's become prone to giving in interviews. Like when, for instance, the actor, who comes from a military family, told the Daily Beast about how bothered he was that 13 Hours was being seen as political: "The truth is, we should all be proud of these guys, and the moment you politicize it, the more you're moving us toward a world that I don't want to be living in; a world where people want to score political points at all costs."
It's awfully advantageous to not see politics even when, say, starring in a story about one of the most divisive and politicized events in recent history.
Krasinski has sidestepped readings of A Quiet Place as a metaphor for the country's political turmoil, telling the Hollywood Reporter, "That's not what I was going for, but the best compliment you can get on any movie is that it starts a conversation." When preparing for Jack Ryan, which starts with his character working as a mid-level CIA analyst, Krasinski shared some similar-sounding observations with Entertainment Weekly regarding getting to go to the actual agency: "I was blown away by a lot of things with the CIA — how incredibly diverse the place was and how apolitical. There was no politics being discussed, it was about objectives of protecting people and getting to the truth of the matter, which I thought was really interesting." On one hand, you can't blame the actor for wanting to avoid quotes that could possibly be lifted out, aggregated, and result in him dealing with a news cycle and the now-standard round of anger and apologies. On the other, presenting the CIA or a movie about Benghazi as somehow existing separately from politics is either a willfully oblivious or astonishingly convenient way to see the world.
Krasinski is too smart to believe that things are only political when actual politicians are invoked (which was one of the defenses of 13 Hours — that it couldn't be political, because Hillary Clinton wasn't mentioned by name). It's more likely that he is simply opting out of engaging with the optics of the choices he's making because he doesn't feel he has to acknowledge them. It's awfully advantageous to not see politics even when, say, starring in a story about one of the most divisive and politicized events in recent history. It's a selective sight that allows him to be adjacent to potentially inflammatory choices while ankling any responsibility to address them himself. He can let his 13 Hours cast members handle the lines about how the Libyans around them are "all bad guys until they're not" and putting "the fear of god and the United States in them," while his character focuses on missing his family. He can put a pregnancy at the center of his allegory about parental worry, A Quiet Place, and not have any of the characters even acknowledge that this (planned? unplanned?) addition is going to imperil them all. He can drift past torture and human trafficking in Jack Ryan, because while he may make use of the info his colleagues generate to pursue his target, he doesn't participate in these acts himself.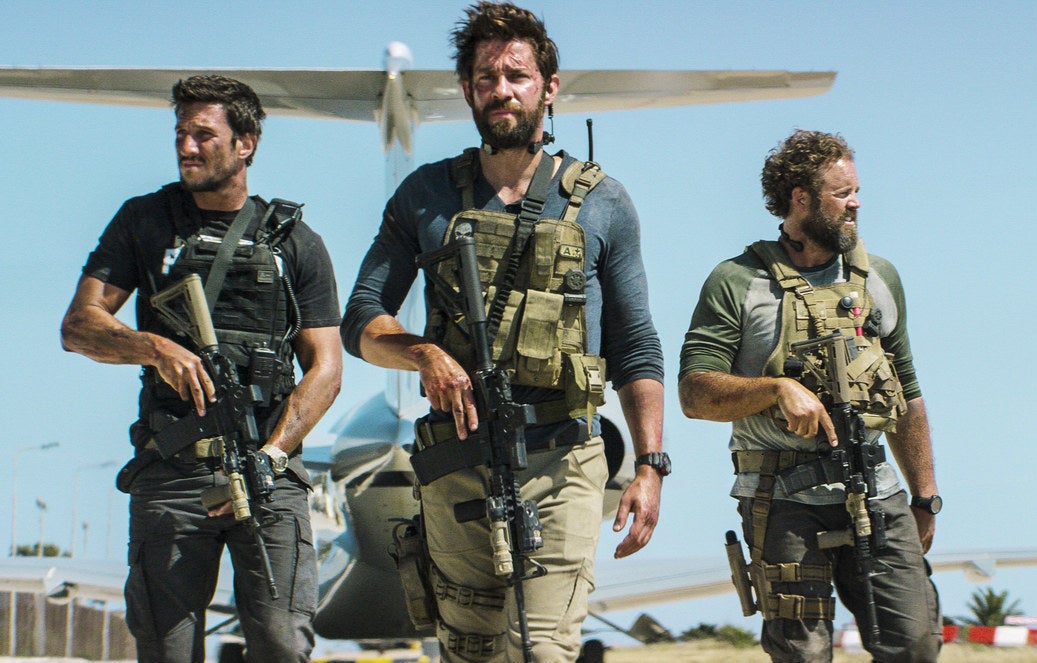 Krasinski is the latest of a host of leading men to have played Jack Ryan — there's been Alec Baldwin, Harrison Ford (twice), Ben Affleck, and, most recently in 2014, Chris Pine (whose film may have fizzled, but whose interviews were engagingly nuanced). Krasinski's incarnation is junior, a CIA desk jockey getting thrown into the field, but there's nothing about Krasinski's approach that suggests he's a fish out of water. As we're given an early glimpse of the PTSD that keeps him up at night, a remnant from his days as a Marine, the camera lingers on his musculature and his battle scarring. Toward the end of the first episode he holds his own in a brutal skirmish which ends in a standoff with him brandishing an unpinned grenade. "I thought you were an analyst," his soon-to-be nemesis Suleiman (Ali Suliman) says, but it's hard to buy his surprise — Ryan is a warrior passing himself off as an egghead in as perfunctory a way as Superman putting on glasses to become Clark Kent is.
Jack Ryan takes place before Clancy's books, and updates and complicates the author's committed right-wing worldview by, among other things, unfolding Suleiman's tragic, formative backstory alongside the main manhunt storyline. But even as the series acknowledges the mire of the US's history and current involvement in the Middle East, it gets its kicks from the dynamic of the red-blooded American patriot versus the Arab terrorists, its hero devoting himself to stopping bad guys rather than contending with policy. "I believe you can make a difference without having to make those kind of compromises," his character says as one point, as the stars and stripe lurking in the background. It doesn't come across as an affirmation of values so much as it does a desire to not think about difficult stuff. Krasinski may not have gotten Captain America, but he's got Jack Ryan, and as he told the Independent, "There is such an appeal to playing a guy who is a real person, that you might see in a bar — he's an actual superhero that could exist," Yet, somehow, Captain America's onscreen attempts to fit his old-fashioned ideals and ideas about patriotism to Marvel's fantasy vision of the modern world feel more complicated than Ryan's. Or, for that matter, than Krasinski's, as the actor deals in Americana as opposed to just America, in flags and farms and family values and threats being made against them, without acknowledging the degree to which these things are political totems.

Krasinski is still playing nice guys, which is a reminder of how low that bar actually is. It really just involves having an apparently nonthreatening face (with all the baggage that entails) and not being a dick. The characters he's playing now are just a different kind of nice — the nice that's the credit someone gets for loving their kids, even as they express it by fretting about another man raising them, the way his character does in 13 Hours. The sensitivity of his earlier characters isn't gone, it's just been transmuted into anxiety — specifically, a white male anxiety about protecting what one has. Where someone like The Rock has carved out a career as our collective cartoon parent saving the world with a smirk, Krasinski's mode is more grounded, and his circle is very pointedly constrained, reflecting narrower ideas of just what it means to look out for your own. His countrymen, his family, his nation — one of the things that links his recent characters together is that while all of them believe in action, they all have a clear line beyond which their sense of responsibility does not extend. Are you still an everyman when you're no longer standing in for just anyone? Krasinski may not see that as political — and he doesn't have to. But that doesn't mean it isn't. ●