A New California Law Requires College Students To Give Consent Before Sex
The "Yes Means Yes" law is the first of its kind.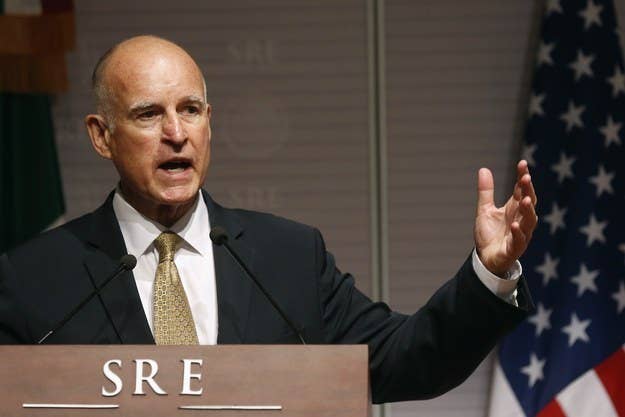 On Sunday, California became the first state to adapt a "yes means yes" law, which mandates that students on college campuses get consent before sexual activity.
The bill, signed into law by Gov. Jerry Brown, imposes the new standard for consent on all state-funded California colleges, as well as private schools where students are eligible for state grants, the New York Times reported.
Students will need to get a "verbal 'yes'" or can signal consent "in a nonverbal way," according to the legislation. However, the absence of active resistance or verbal objections to sex will no longer be able to constitute consent. The bill also gives additional protection to students and sexual assault victims, including on-campus advocates for victims, educational programs for incoming freshmen to learn more about sexual assault and consent, and a rule that any victim who reports a rape cannot be punished for underage drinking.
The bill was introduced earlier this summer by Sen. Kevin de Leon, following a growing national conversation about sexual assault on college campuses.
"Every student deserves a learning environment that is safe and healthy," De Leon said in a statement Sunday night. "The State of California will not allow schools to sweep rape cases under the rug. We've shifted the conversation regarding sexual assault to one of prevention, justice, and healing."
De Leon said the hopes the California law becomes a model for other states. Already, it has found support across party lines, he said.
"It's not an ideological, partisan issue," he said. "Rape is rape."
He became involved in the issue when he learned about the large numbers of sexual assaults on college campuses, he said.
"As a father of a college-age daughter, I was stunned," he said. "I was startled when I found out one out of five women, 20 percent, are sexually assaulted during their time in college."
Critics urged the governor not to sign the bill, arguing it denies due process to those accused of rape. Gordon Finley, an adviser to the National Coalition for Men, said the law is a "campus rape crusade bill" that "presumes the guilt of accused." But many student advocacy groups and feminist activists support the change, claiming it will offer consistency within California schools and change the idea that rape victims must actively resist an assault to have legitimate complaints.
"This is amazing," Savannah Badalich, a student at UCLA, told NPR. "It's going to educate an entire new generation of students on what consent is and what consent is not ... that the absence of a no is not a yes."
If the mindset about consent changes, de Leon said he believes the number of assaults will decline.
"I think it will help start to change the culture," he said. "Men will know their campus administrators take this issue very seriously."