A Shooting At A Gay Nightclub In Orlando Killed 49 People
Gunman Omar Mateen pledged allegiance to ISIS in 911 calls.
What We Know So Far:
At least 49 people were killed after a gunman stormed Pulse, a gay nightclub in Orlando, Florida, around 2 a.m. on June 12.
The shooter was Omar Mir Seddique Mateen, 29, of Port St. Lucie, Florida. He was armed with an assault rifle and handgun.
Mateen called 911 while inside the club and pledged allegiance to ISIS. Transcripts of these calls were released on June 20 by the FBI.
ISIS has claimed responsibility for the attack, but the FBI said there was no evidence Mateen was directed by a foreign group.
Mateen's father has implied his son rejected same-sex couples. The FBI is investigating reports that he was a regular at Pulse, and a number of men have come forward to say they recognized Mateen from previous nights at there or from gay dating apps.
Mateen's wife, Noor, reportedly told the FBI she tried to talk him out of an attack.
The FBI interviewed Mateen in 2013 over "inflammatory comments" he made to co-workers and again in 2014 over his ties to an American suicide bomber.
Updates
Man claiming to be Omar Mateen's former lover says gunman wanted revenge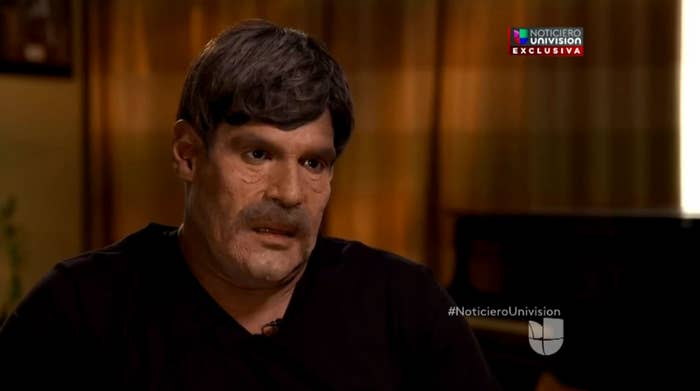 A man identified only as "Miguel" claimed in an interview Tuesday he was Omar Mateen's lover for two months, and that the gunman in the deadly Orlando shooting "had rage" against Puerto Ricans.
In an interview with Noticias Univision, the man told the Spanish-language newscast he had been questioned by the FBI, and gave agents information about when and where he met Mateen.
"We never took a picture together, but it wasn't because I didn't want to," he told Univision's Maria Elena Salinas. "One time we were in bed together and I took my phone to take a selfie and he grabbed my arm and told me not to do it because we weren't a couple."
Univision noted they have not been able to independently verify "Miguel's" story, but that the FBI did confirm officials have been questioning the man.
"I've spent about four days of hell because my phone won't stop ringing," he said about his contact with investigators.
The man, whose voice was disguised and appeared in a video interview with what appeared to be a mask and makeup, also said Mateen was attracted to Latinos but disliked Puerto Ricans.
In an accompanying article, Miguel reportedly told Salinas that Mateen didn't like Puerto Ricans because of an unprotected threesome he had with men he met at Pulse. One of the men, Mateen had told him, had HIV.
"He hated Puerto Rican gays because of the bad things they did to him," Miguel reportedly said.
Orlando shooter visited club hours before launching attack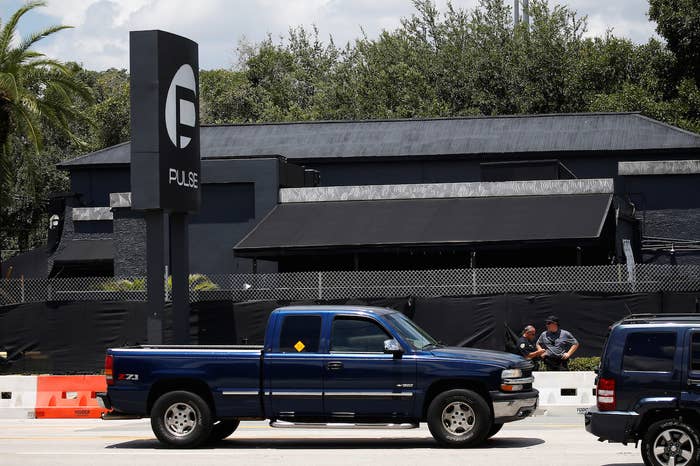 Omar Mateen visited the Pulse nightclub in Orlando hours before returning with weapons to carry out the attack that left 49 people dead, multiple news outlets reported Tuesday.
Mateen paid an entry fee, got a wristband, and went inside the club hours before the shooting began, ABC News reported Tuesday.
Investigators believe Mateen may have been checking security before the attack, according to CNN.
The new details fill in some of the timeline gaps on what the gunman in the deadliest attack since 9/11 did on the day of the shooting.
Prior to visiting the club, Mateen reportedly went to work, and later stopped by his father's home. At some point afterward, Mateen made the two-hour drive from his home in Fort Pierce to Orlando.
According to CNN, Mateen's wife, Noor Salman, told investigators he left home angry and with a bag of guns.
Orlando police say Omar Mateen didn't fire any shots for almost three hours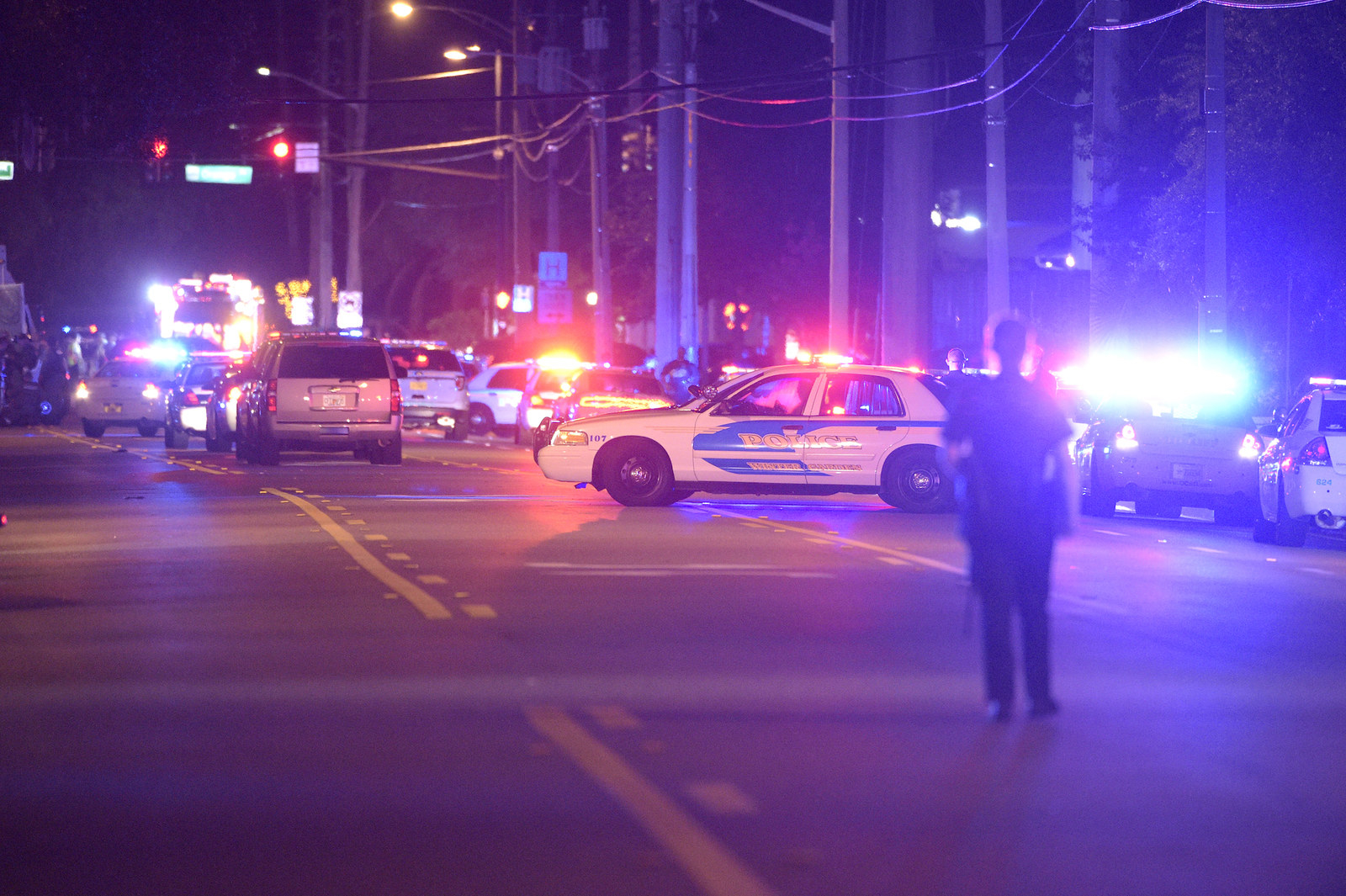 Officials on Monday said Omar Mateen, the gunman who killed 49 people in an attack on a gay Orlando nightclub on June 12, did not fire a shot for almost three hours after his initial rampage.
Authorities on Monday released transcripts of calls Mateen made to law enforcement during the massacre, creating the clearest official timeline yet of what occurred during the hours-long attack.
DOJ reverses course and releases uncensored 911 transcript
House Speaker Paul Ryan criticizes decision to partially redact FBI transcript
FBI releases partial transcripts of 911 calls made by shooter
The FBI on Monday released partial transcripts of telephone calls Orlando nightclub shooter Omar Mateen made during his rampage on June 12.
"Out of respect for the victims of this horrific tragedy, law enforcement will not be releasing audio of the shooter's 911 calls at this time, nor will law enforcement be releasing audio or transcripts of the calls made by victims at the Pulse nightclub during the incident," the FBI said in a statement.
Here is the full statement:
The following is based on Orlando Police Department (OPD) radio communication (times are approximate):

2:02 a.m.: OPD call transmitted multiple shots fired at Pulse nightclub. 2:04a.m.: Additional OPD officers arrived on scene. 2:08 a.m.: Officers from various law enforcement agencies made entrance to Pulse and engaged the shooter. 2:18 a.m.: OPD S.W.A.T. (Special Weapons & Tactics) initiated a full call-out. 2:35 a.m.: Shooter contacted a 911 operator from inside Pulse. The call lasted approximately 50 seconds, the details of which are set out below:

Orlando Police Dispatcher (OD) Shooter (OM)

OD: Emergency 911, this is being recorded. OM: In the name of God the Merciful, the beneficial [in Arabic] OD: What? OM: Praise be to God, and prayers as well as peace be upon the prophet of God [in Arabic]. I let you know, I'm in Orlando and I did the shootings. OD: What's your name? OM: My name is I pledge of allegiance to [omitted]. OD: Ok, What's your name? OM: I pledge allegiance to [omitted] may God protect him [in Arabic], on behalf of [omitted]. OD: Alright, where are you at? OM: In Orlando. OD: Where in Orlando?

[End of call.]

Shortly thereafter, the shooter engaged in three conversations with OPD's Crisis Negotiation Team.)

2:48 a.m.:First crisis negotiation call occurred lasting approximately nine minutes. 3:03 a.m.:Second crisis negotiation call occurred lasting approximately 16 minutes. 3:24 a.m.:Third crisis negotiation call occurred lasting approximately three minutes.

In these calls, the shooter, who identified himself as an Islamic soldier, told the crisis negotiator that he was the person who pledged his allegiance to [omitted], and told the negotiator to tell America to stop bombing Syria and Iraq and that is why he was "out here right now." When the crisis negotiator asked the shooter what he had done, the shooter stated, "No, you already know what I did." The shooter continued, stating, "There is some vehicle outside that has some bombs, just to let you know. You people are gonna get it, and I'm gonna ignite it if they try to do anything stupid." Later in the call with the crisis negotiator, the shooter stated that he had a vest, and further described it as the kind they "used in France." The shooter later stated, "In the next few days, you're going to see more of this type of action going on." The shooter hung up and multiple attempts to get in touch with him were unsuccessful.

4:21 a.m.: OPD pulled an air conditioning unit out of a Pulse dressing room window for victims to evacuate.

(While the FBI will not be releasing transcripts of OPD communication with victims, significant information obtained from those victims allowed OPD to gain knowledge of the situation inside Pulse.)

4:29 a.m.: As victims were being rescued, they told OPD the shooter said he was going to put four vests with bombs on victims within 15 minutes.

(An immediate search of the shooter's vehicle on scene and inside Pulse ultimately revealed no vest or improvised explosive device.)

5:02 a.m.: OPD SWAT and OCSO Hazardous Device Team began to breach wall with explosive charge and armored vehicle to make entry. 5:14 a.m.: OPD radio communication stated that shots were fired. 5:15 a.m.: OPD radio communication stated that OPD engaged the suspect and the suspect was reported down.

Based on OPD radio communications, there were no reports of shots being fired inside Pulse between the initial exchange of gunfire between responding officers and shooter, and the time of the final breach. During this time, the shooter communicated with an OPD 911 operator and an OPD crisis negotiator, and OPD radio communications reported that victims were being rescued.

The FBI urges the public to provide information about the shooter and any contact they may have had with him. Since the release of the FBI's Seeking Information poster, the FBI has received thousands of tips. The FBI will investigate every tip.
Orlando shooter joked about taking gun into a classroom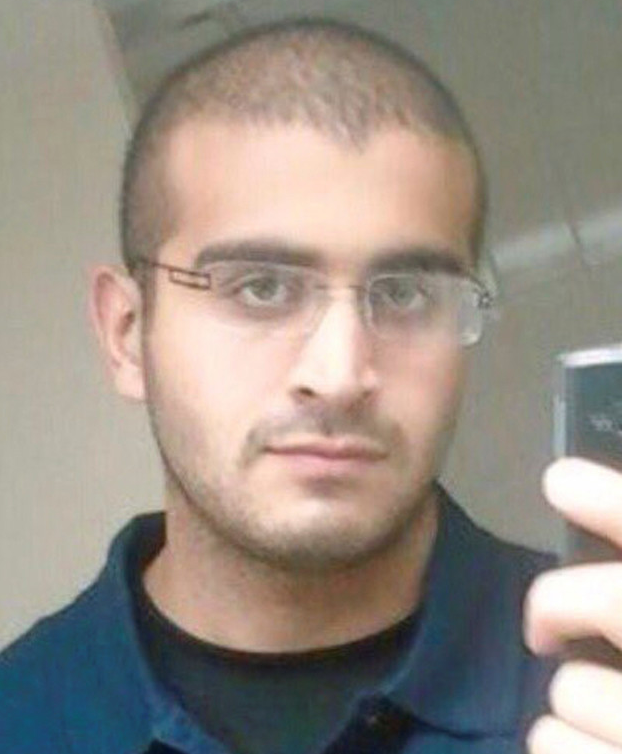 The gunman behind the deadliest terror attack on U.S. soil since 9/11 wanted to be a correctional officer, but flunked out of the academy after falling asleep in class and making disturbing comments.
In April 2007, Omar Mateen joked with a classmate about bringing a gun to class, prompting a superior to recommend he be removed from the academy.
The Orlando gunman's failed attempt at becoming a correctional officer at Florida jails and prisons was detailed in a series of documents released Friday by the Florida Department of Corrections.
The records show Mateen wanted to be a correctional officer in 2007, but he was written several times for falling asleep in class.
In one incident, the young recruit dozed off at the gun range, while he and his team waited their turn.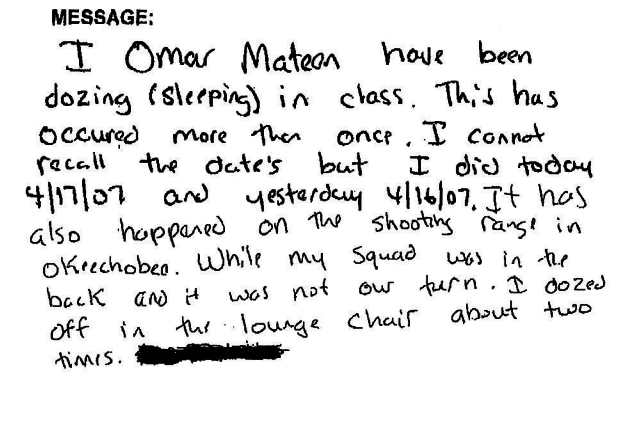 In another incident, Mateen was written up for leaving the campus and not telling any of his superiors.
The most concerning incident, however, occurred on April19, 2007.
"While the class was given a 15 minute break, Omar Mateen approached me laughing saying that if he was to bring a gun to school would I tell anybody," one recruit wrote in a memo. "I looked at him and turned away."
Officials finally recommended that Mateen be dismissed. His superior noted that considering the Virginia Tech shooting had occurred just days earlier, "Mateen's inquiry about bringing a weapon to class is at best extremely disturbing."
FBI agents visit mosque attended by Orlando shooter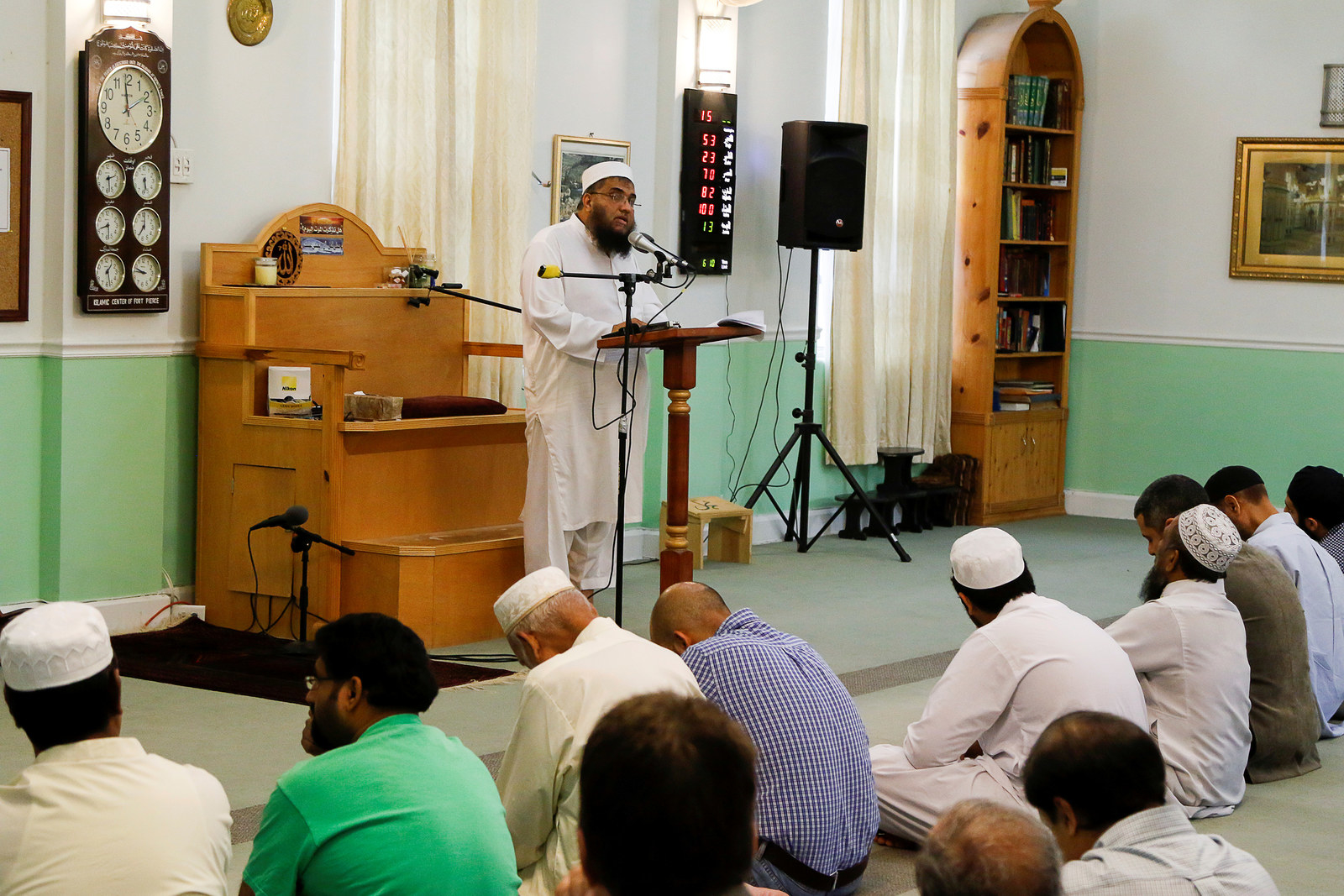 FBI agents are questioning people who may have had contact with the gunman behind the deadly Pulse nightclub shooting, including those who attended the same Fort Pierce mosque he frequented before the deadly shooting.
On Friday, agents visited the Islamic Center of Fort Pierce where they sat down with a person who previously had contact with Omar Mateen, BuzzFeed News has learned.
The interview was one in a series of meetings that have taken place at the request of the FBI, which has been trying to contact anyone who may have interacted with the gunman in the past, Omar Saleh, an attorney with the Council on American-Islamic Relations told BuzzFeed News.
"They've been happening all week and we expect them to come for weeks to come," he said.
Saleh would not specifically identify anyone who had been questioned by the FBI, but said some of the people that have sat down with agents in the last few days included people who attended the Islamic Center of Fort Pierce, a mosque frequented by the shooter.
"They're just members who attended the mosque, and they may, or may not have had contact," he said. "These are people that agents believe may have had a link, any link (to the gunman). (Agents) are just trying to do their jobs."
Agents have contacted people at their homes and work, but Saleh said he has offered the mosque as a neutral location for the interviews to take place.
"The shooter went to the mosque, so we're prepared to sit for interviews with every single member if necessary," he said. "We just don't know who in particular they are looking for."
CAIR officials are urging members of the community to reach out to the FBI if they have any information about the shooter, Saleh said, but they are also recommending they have an attorney present when speaking with the FBI.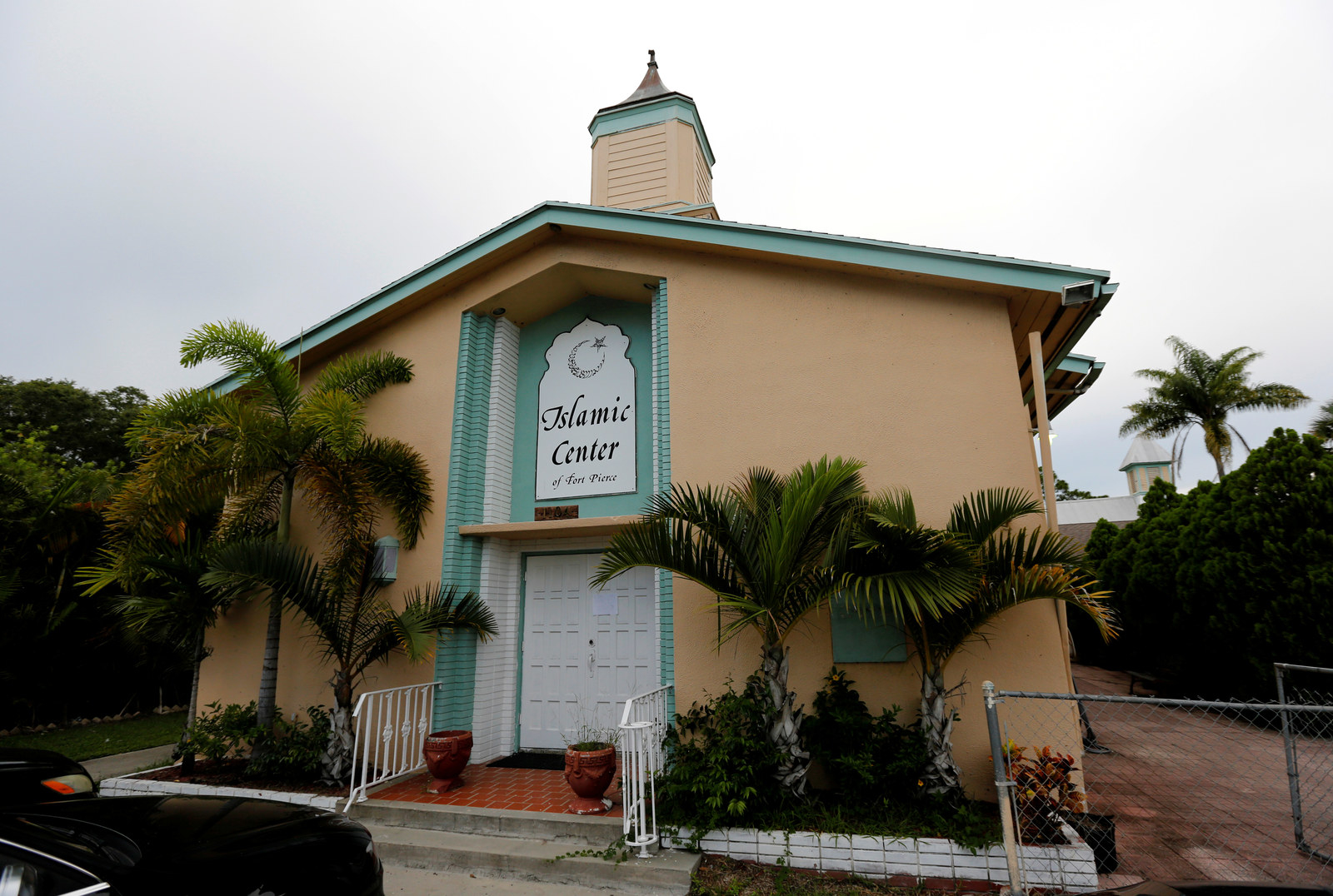 Saleh would not go into specifics over what has been asked or who has been questioned at the mosque in recent days, but he said the inquiries have centered on contact made with the shooter.
This is the second time the mosque has made headlines after an attack. The mosque was also attended by Moner Mohammad Abusalha, an American who became a suicide bomber in Syria.
Saleh said members of the Muslim community have been worried about possible backlash because of the shooting at the Pulse nightclub, but said leaders of the mosque are welcoming the community at large to attend if they have questions.
"Nothing that is coming out of (this mosque) is radical," Saleh said. "And the way we can prove that 100 percent is that we have an open door. These sermons are not hidden. Everyone is invited."
Alabama county commissioner refuses to lower flags to honor Orlando victims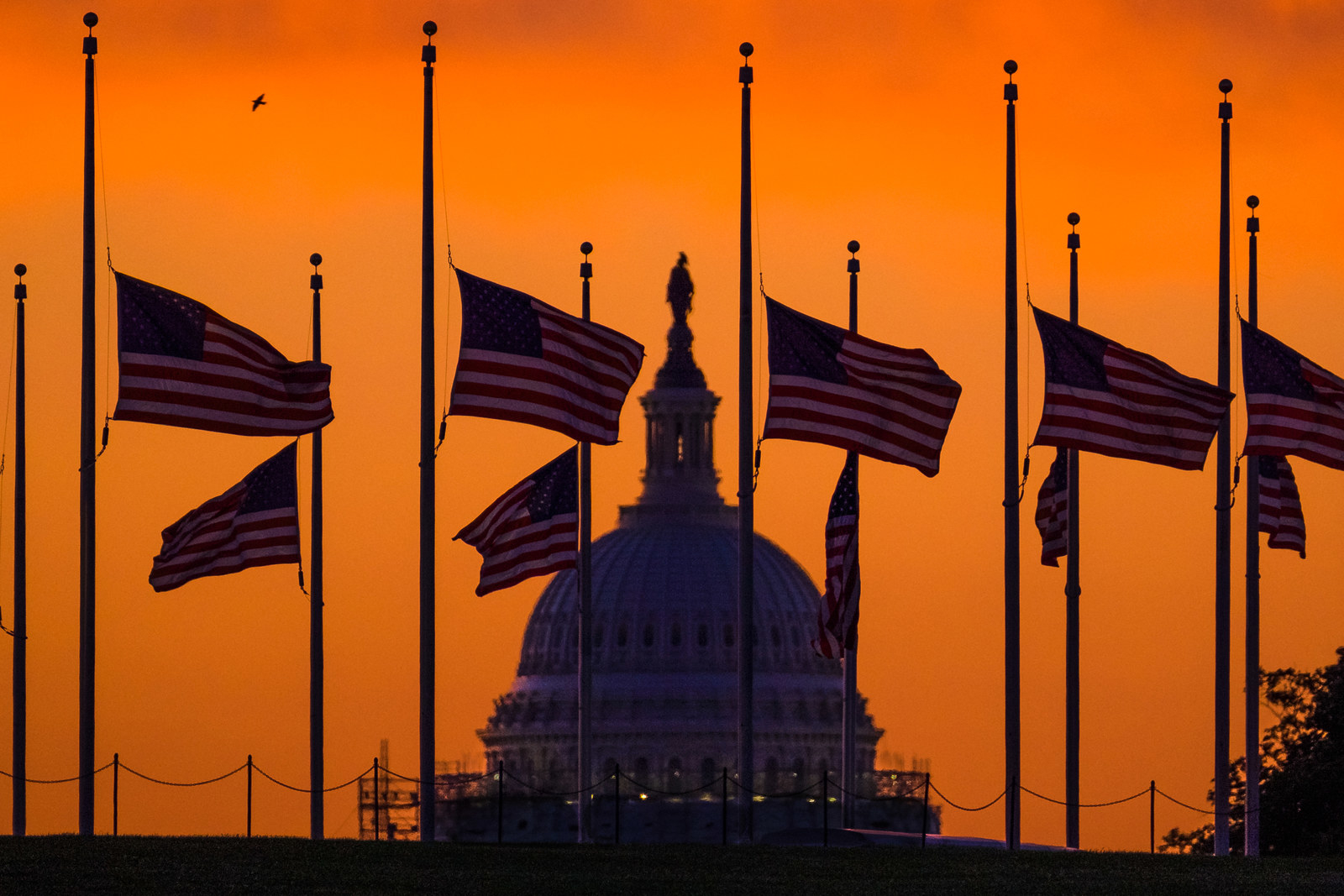 A county commissioner in Alabama is refusing orders by President Obama and the state's governor to lower flags to half-staff in honor of the Orlando shooting victims, saying the massacre does not qualify as a valid circumstance for doing so.
Baldwin County Commissioner Tucker Dorsey defended his decision to local media and on Facebook, where he cited U.S. Flag code as part of his defense.
"Once again I have to copy this post regarding lowering the flags because another follower of Islam decided to shoot up a bunch of innocents in a place where they didn't have the chance to defend themselves or flee," Dorsey wrote. "When are we going to acknowledge the truth? When will we stop the PC and identify the enemy?"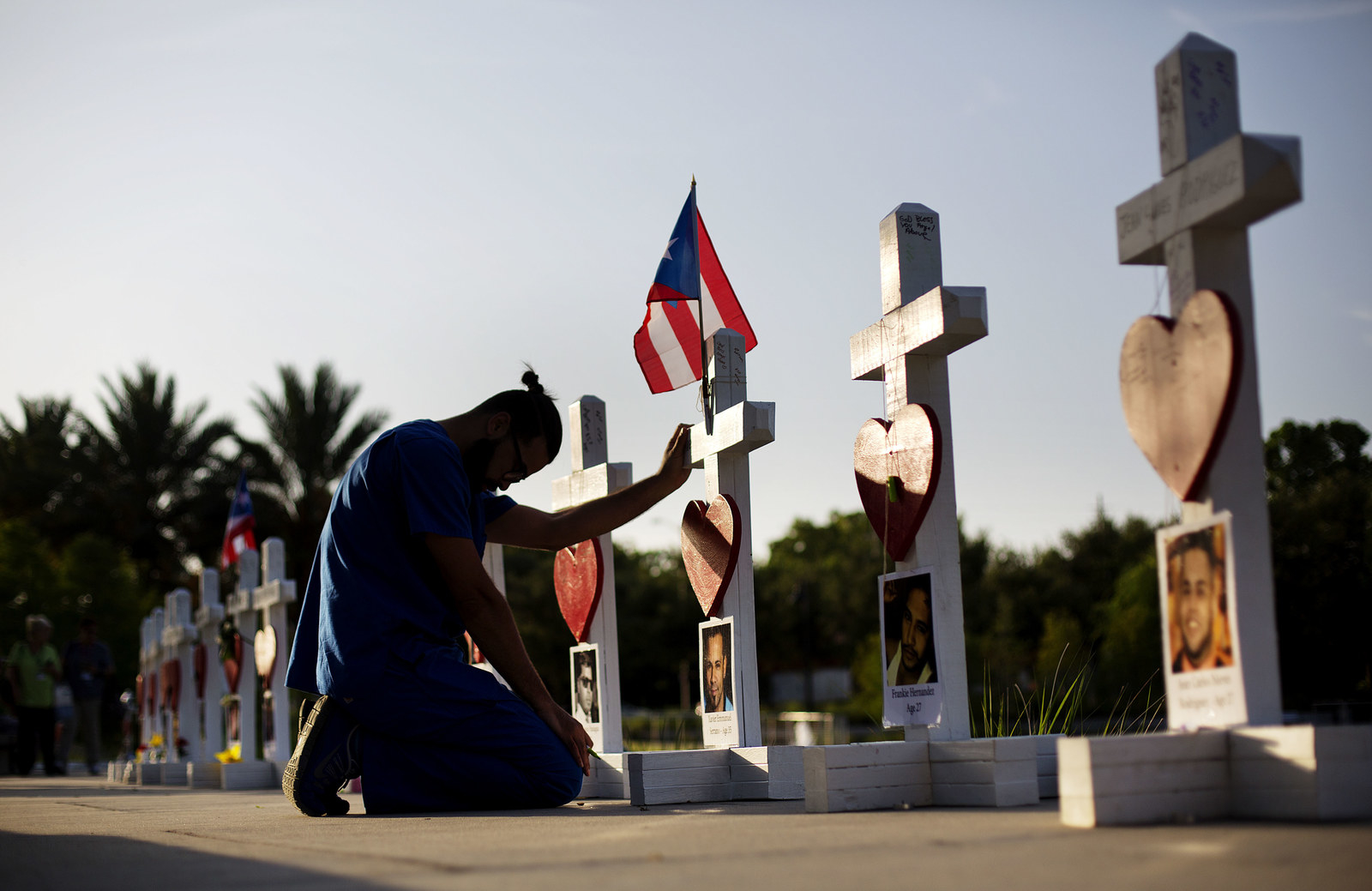 Dorsey goes on to point out that the U.S. Flag code does not include a mass shooting or terrorist event as a reason for lowering half-staff.
Secondly and principally, our flag code specifies that 'no other flag shall be above the flag of the United States', and I characterize that as US citizens holding our head up with courage above all others. When the flag is at half-staff, our country's head is figuratively held low, and quite frankly, I am not willing to hang my head down because of a terrorist attack against our people and our allies. I am not willing to hang my head down because evil shoots up a church, school, or movie theater. We need more than a gesture as a response. I want us, as Americans, to stand tall, courageously, and fight back against the forces of evil, and let's fight like we intend to win.
Dorsey also refused orders to lower flags to half-staff after attacks at Sandy Hook Elementary School, in Paris, and in San Bernardino.
FBI confirms it was contacted by gun shop about Orlando shooter in May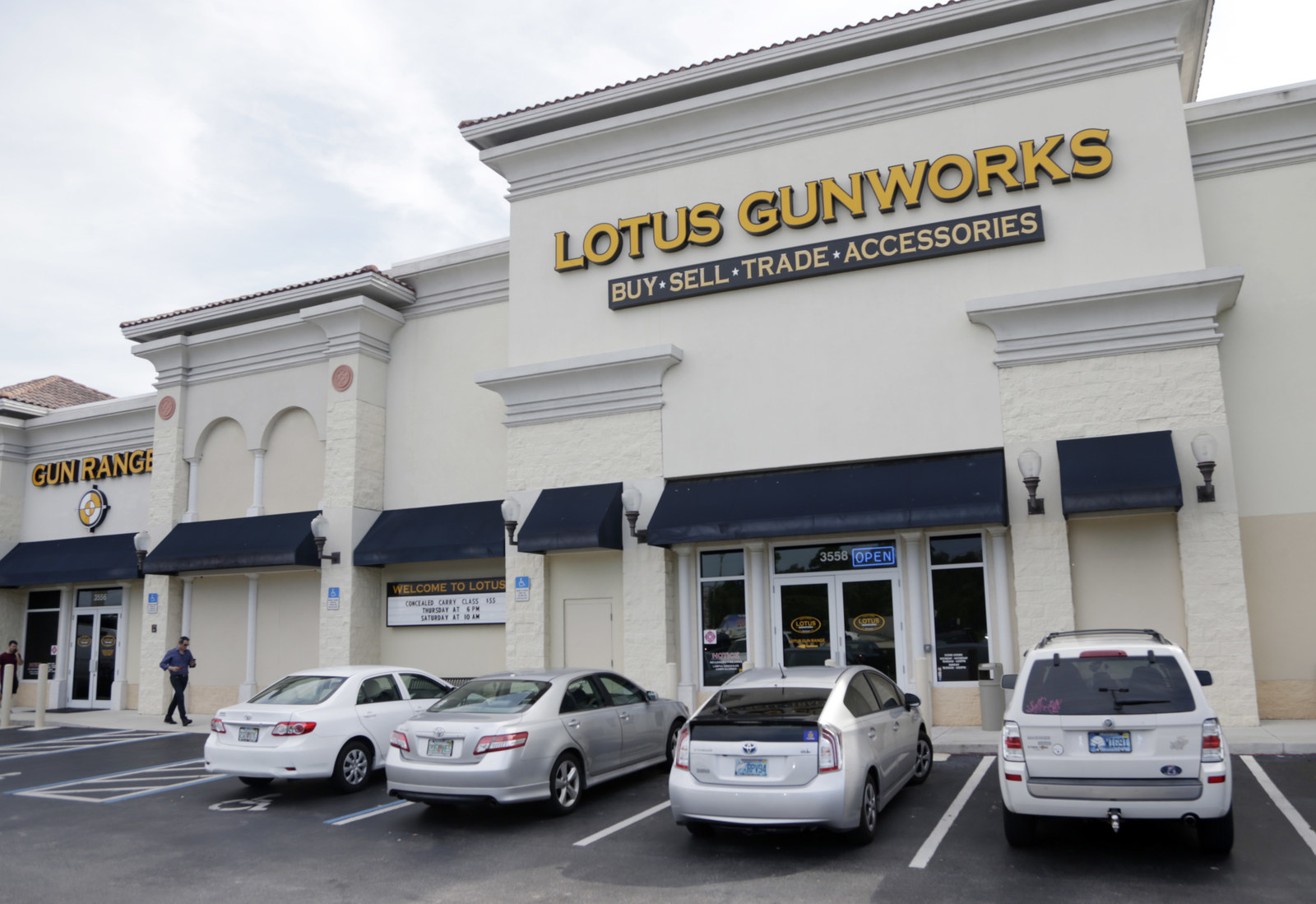 The FBI is confirming reports that employees of a Florida gun shop talked to agents about the Orlando shooter back in May, a month before the deadly shooting.
Employees with Lotus Gunworks, however, did not have any information for FBI agents to follow up on their tip, officials said in statement, including name, date of birth, phone number of e-mail address.
The owner of Lotus Gunworks in Jensen Beach has told reporters he notified the FBI after a man resembling Omar Mateen wanted to buy high-end body armor and ammunition.
Employees did not have the armor Mateen was seeking, and the owner said he became suspicious when he heard him speak in a foreign language.
On Friday, the FBI released a statement confirming they spoke with employees at the gun shop in May "on an unrelated investigative matter."
"Because the store did not carry that particular style of body armor, it referred this unknown individual elsewhere but was unable to collect any information about him, to include name, date of birth, charge card, telephonic information or e-mail address," the FBI read.
After the deadly shooting at Pulse, the gun shop again contacted the FBI to tell them the man who wanted to buy the armor looked like Mateen.
"Unfortunately, given the lack [of] information about this individual, FBI agents were unable to conduct any meaningful investigative follow up."
This Flight Crew Comforted An Orlando Shooting Victim's Grandmother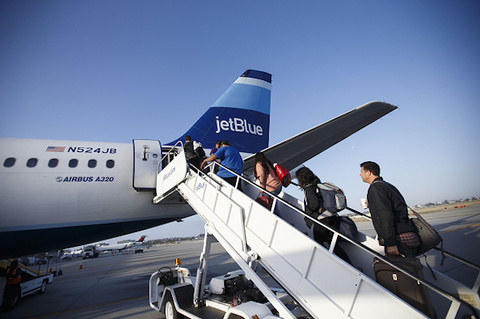 A JetBlue flight crew went the extra mile to comfort the grieving grandmother of Luis Omar Ocasio-Capo, a 20-year-old victim of the Orlando shooting.
Read the rest here.
Largest LGBT rights group in U.S. endorses gun control reforms
The Human Rights Campaign (HRC), the nation's largest LGBT civil rights organization, on Thursday officially endorsed stricter gun control measures as a way to better protect the LGBT community in the wake of the Orlando attack in which 49 people were killed and 53 injured.
The organization said easy access to deadly weapons had "compounded the threat" of bias-motivated violence against LGBT people, and called for restricting access to assault-style rifles, expanding background checks, and limiting the ability of suspected terrorists, and those with a history of domestic abuse, to acquire guns.
"Forty-nine members of our community were murdered on Sunday morning because of a toxic combination of two things: a deranged, unstable individual who had been conditioned to hate LGBTQ people, and easy access to military-style guns," HRC President Chad Griffin said in a statement to BuzzFeed News. "It is imperative that we address both issues in order to mitigate safety risk to our community."
Orlando shooter wrote a letter for his former employer explaining a high school fight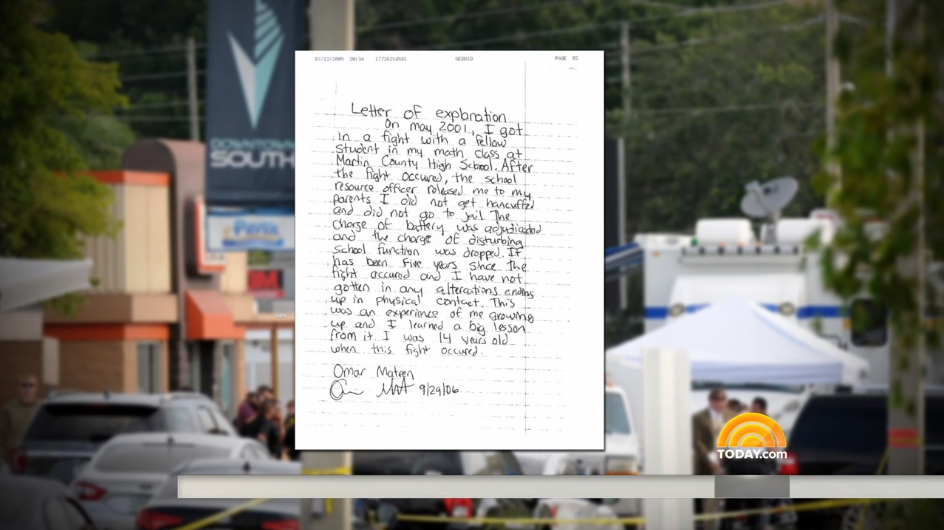 A letter obtained by NBC's Today show revealed Omar Mateen's explanation to the Florida Department of Corrections for a fight he was involved with in high school.
According to school records, Mateen's third-grade teacher said he was "verbally rude, aggressive," with "much talk about sex and violence, obscenities."
In the fifth grade, his instructor called him oppositional, and said he lacked remorse.
Mateen was charged with battery when he was 14 after getting into a fight with another student at his high school.
In a letter first obtained by Today, Mateen explained the incident in 2006 to Florida Department of Corrections as a part of his job application.
He called it "an experience of me growing up, and I learned a big lesson from it."
Read the full letter here:
Letter of Exploration

On May 2001, I got into a fight with a fellow student in my math class at Martin County High School. After the fight occured [sic], the school resource officer released me to my parents. I did not get handcuffed and did not go to jail. The charge of battery was adjudicated and the charge of disturbing school function was dropped. It has been five years since the fight occured [sic] and I have not gotten in any altercations ending up in physical contact. This was an experience of me growing up and I learned a big lesson from it . I was 14 years old when this fight occured [sic].

Omar Mateen
Orlando mayor reminds public of care services to cope with tragedy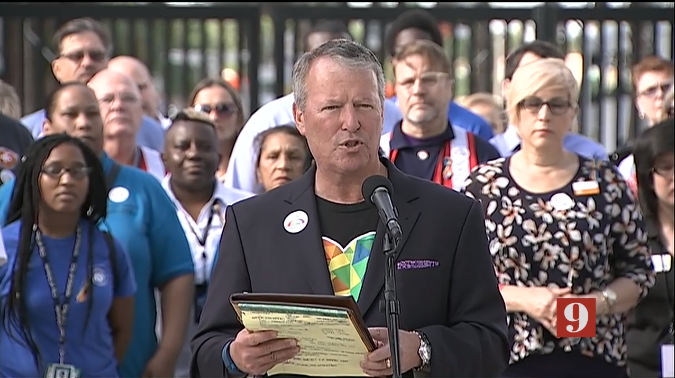 Orlando Mayor Buddy Dyer on Friday morning highlighted the social services available to people grieving after the Pulse nightclub shooting.
Two days ago, Dyer's office opened up Camping World Stadium, a massive sports venue in Orlando, to those looking to receive help. So far, 94 families and 256 individuals have visited the stadium.
He also offered free airline tickets to people wanting to reunite with their families, and announced 85 compensation claims for medical funeral expenses. One family received help from 27 different agencies for a funeral.
Families wishing to bury their loved ones in Orlando have the option of doing so at Greenwood Cemetery, the mayor said. A section of the space has been reserved for the victims.
"I will only attend a funeral if the family wants me to," he said. "These are private ceremonies."
Orange County Mental Health and Homeless Issues manager Donna Wyche stressed the importance of self-care when dealing with grief.
"Pay attention to how you're feeling," she said. "Reach out to people you love. Talk to your children about what has happened. Encourage them to understand the world they live in, and that they're safe."
"Get away from the television, get away from the radio, because sometimes you need to do that," she added.
Gay dating site asks members if they communicated with shooter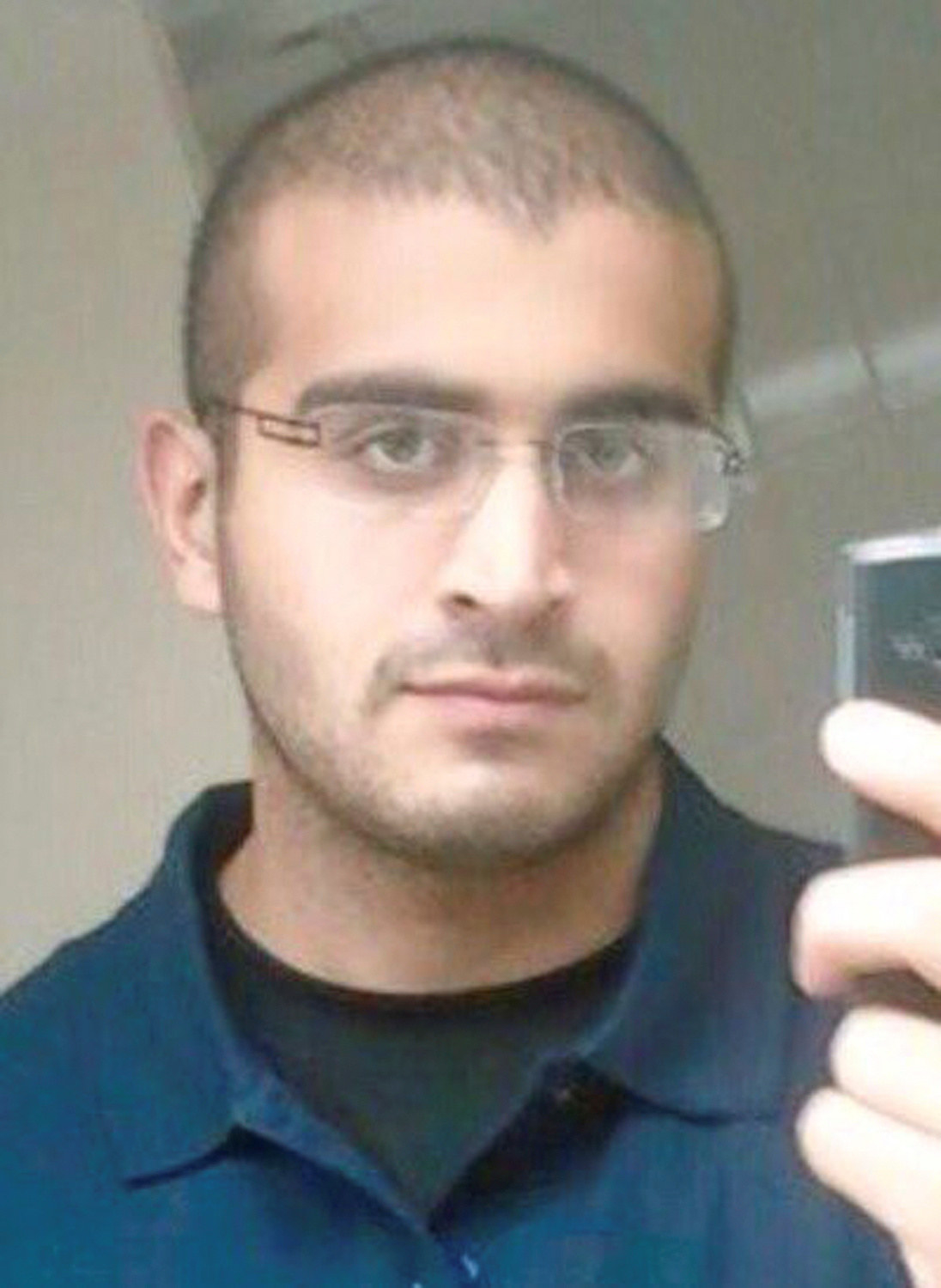 Gay dating site Adam4Adam is asking members who believe they were in contact with the Orlando shooter to reach out to the company so they can forward the information to authorities.
"Rumours (sic) are that he had an account on many gay apps including Adam4Adam and we would like to find that information to be able to give it to the Police," the company wrote on its Facebook page Wednesday. "We are looking for any piece of information as we speak."
On Wednesday gay hookup app Jack'd told BuzzFeed News that investigators had reached out to them because of reports that the shooter, Omar Mateen, may have used the service.
There have been other reports that said Mateen used Grindr, another gay dating app.
David Lesage, spokesman for Adam4Adam, told the Orlando Sentinal that the company was "looking at all users' profiles in Florida especially where he lived and Orlando as well."
Gunman and wife texted during nightclub attack
Omar Mateen and his wife, Noor Salman, exchanged text messages during the massacre at Pulse nightclub, CNN and CBS News reported.
Obama and Biden meet grieving families in Orlando, pay tribute to victims
President Obama on Thursday met with the grieving families of the Orlando shooting victims, telling reporters afterward that their grief was "beyond description."
"As you might have imagined, their grief is beyond description," Obama said. "Our hearts are broken too."
Obama landed in Orlando accompanied by Rep. Corrine Brown and Sen. Marco Rubio, both of Florida, shortly after noon. They were greeted by Florida Gov. Rick Scott and Orlando Mayor Buddy Dyer, who presented the president with an "Orlando United" T-shirt.
From there, the president met privately with victims' families, as well as survivors at the Amway Center.
Obama and Vice President Joe Biden, who flew to Orlando separately, also met with Pulse Nightclub owners and staff and visited the Dr. Phillips Center for the Performing Arts, which has served as a massive memorial site.
"It's a good time for us to reflect on how we treat each other," Obama said. "We have to end discrimination and violence against our brothers and sisters in the LGBT community."
CIA director: No known link between ISIS and Orlando shooter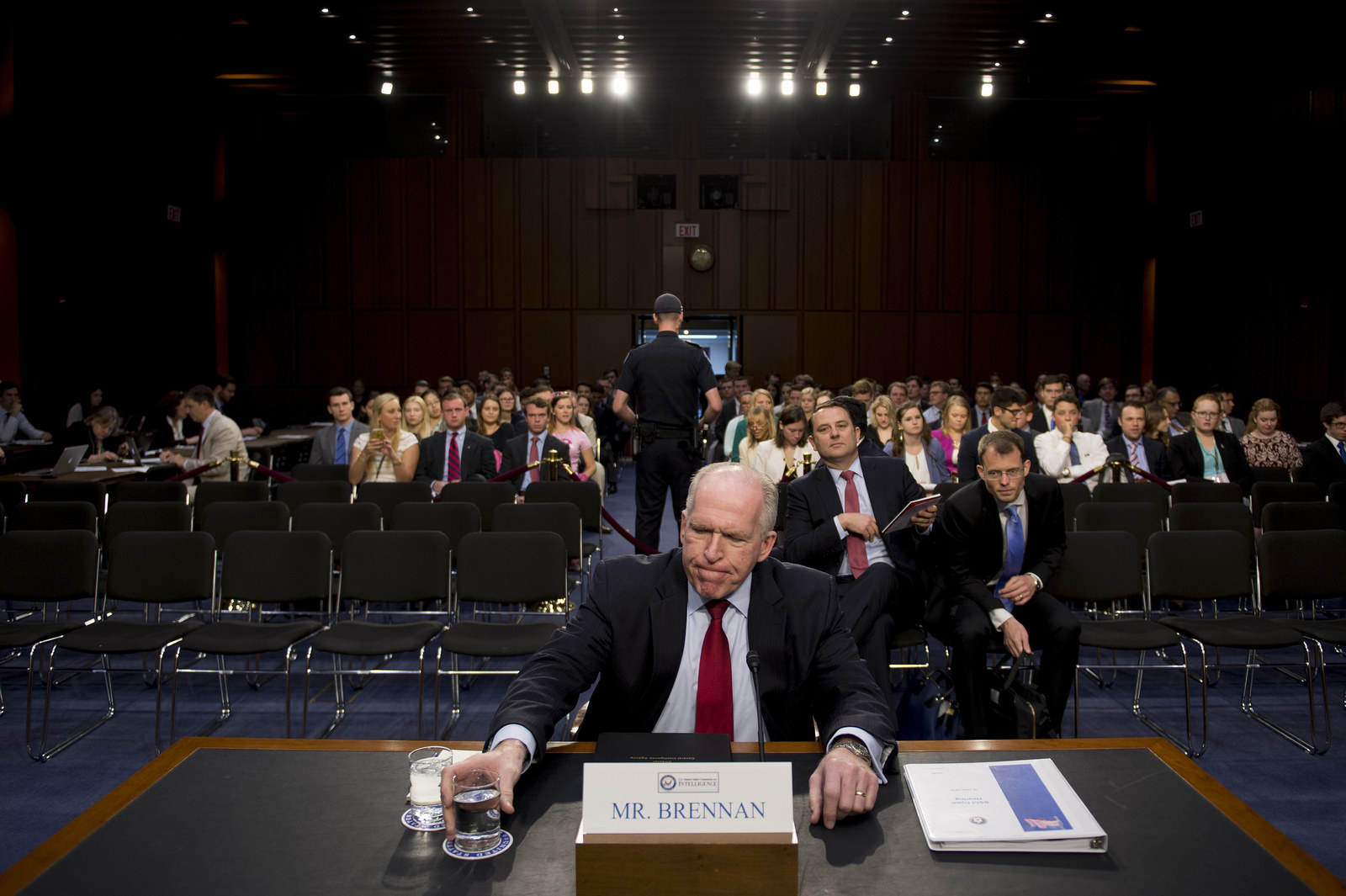 CIA Director John Brennan told Congress Thursday that his agency has not found a direct link between ISIS and the Orlando shooter.
"We have not been able to uncover any direct link between that individual and a foreign terrorist organization," Brennan said while testifying in a rare open hearing of the Senate Intelligence Committee.
Omar Mateen, he added, was another in a string of "lone wolves" — inspired by ISIS propaganda, but acting on their own with no direct connection to the terror group or its leaders.
Law enforcement officials have previously said early there was no evidence that the attack carried out by Omar Mateen was ordered or directed by ISIS.
The rise in lone wolf attacks has highlighted challenges for the nation's intelligence apparatus, Brennan said, particularly as groups like ISIS harness the internet to spread propaganda and influence sympathizers.
"ISIL is attempting to inspire attacks by sympathizers who have no direct links to the group," Brennan said, using the government's preferred acronym for the group. "It really represents a serious challenge."
The CIA was also working closely with domestic intelligence agencies, including the FBI and the Department of Homeland Security, to share information, Brennan said.
— Ali Watkins
President Obama to visit families of Orlando shooting victims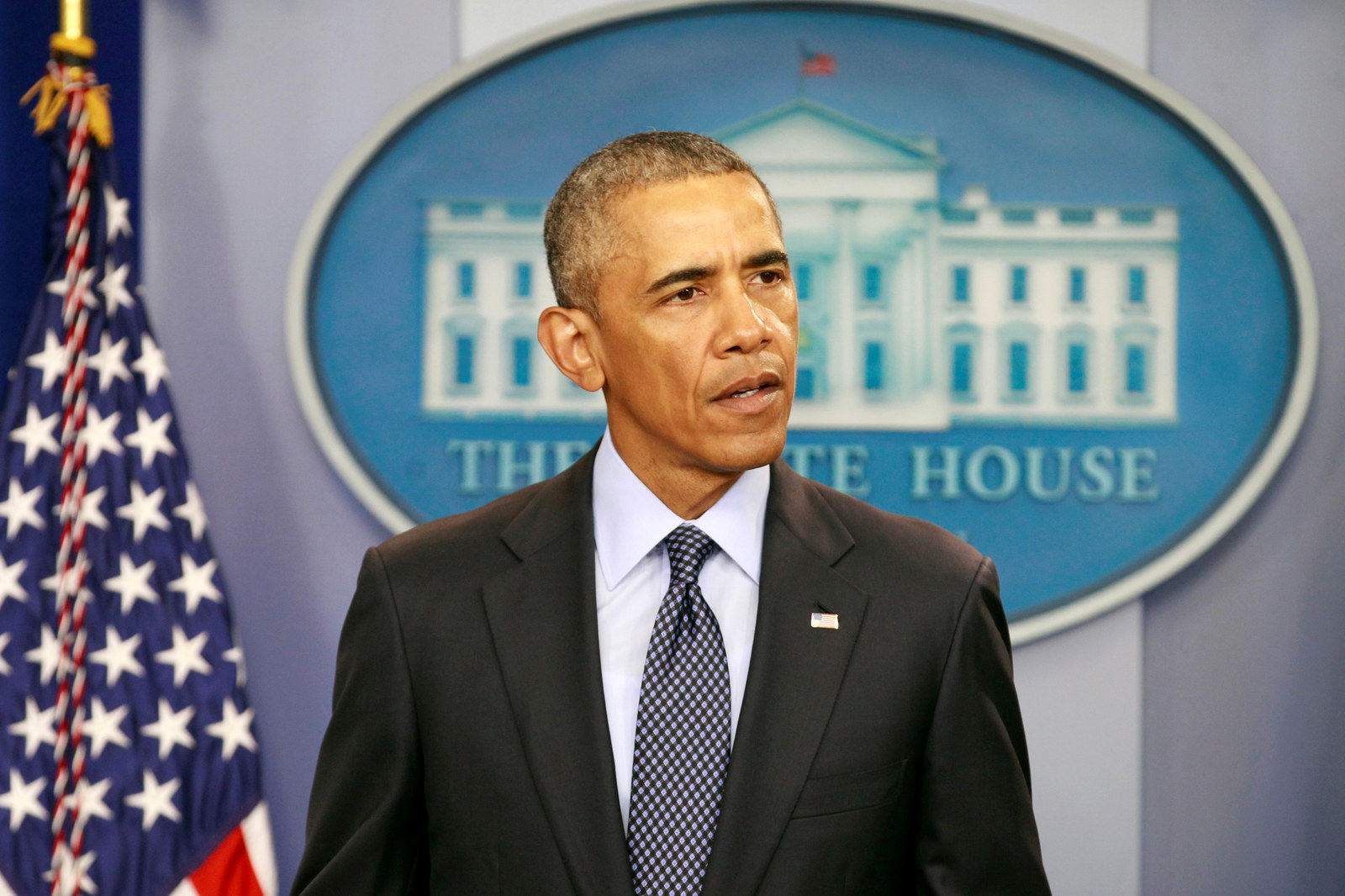 President Obama is scheduled to meet the families of the victims of the Orlando massacre on Thursday, White House Press Secretary Josh Earnest said.
Obama will also meet with survivors and thank first responders, EMTs, nurses, and surgeons who "heroically, courageously" disregarded their own safety to save lives, Earnest said, adding that it would be "an emotional trip."
Obama will then speak publicly "to make clear that the country stands with the people of Orlando, stands with the LGBT community in Orlando as they grieve for their loss," Earnest said.
Vice President Joe Biden is also scheduled to accompany Obama on the trip.
Grand jury to consider charges against Orlando shooter's wife, according to multiple reports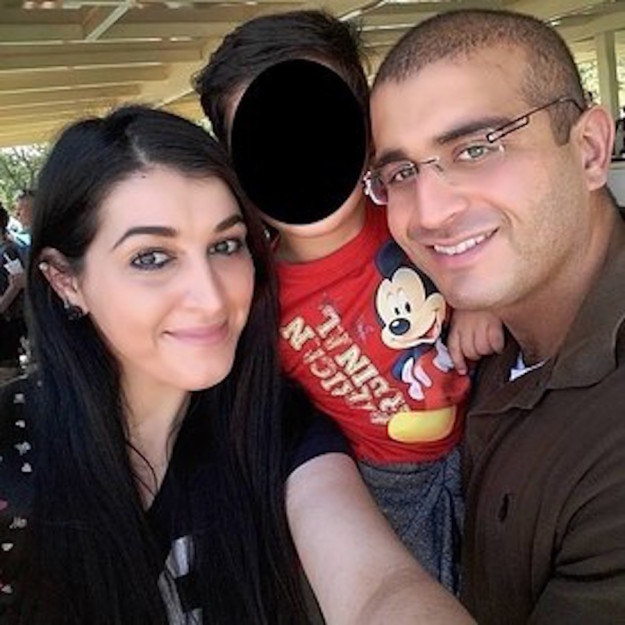 A federal grand jury is convening to consider whether the Orlando shooter's wife, Noor Salman, should face criminal charges related to the deadly mass shooting at the Pulse nightclub, according to multiple news sources.
Salman may have known that her now-deceased husband, Omar Mateen, was going to carry out an attack and failed to alert authorities, according to FOX News.
She reportedly told law enforcement investigators that she was with Mateen when he went to buy ammunition that he would use in the shooting that left 49 people dead. She also said she went with her husband at least one time to visit Pulse.
The couple reportedly had a 3-year-old son together.
A BuzzFeed News reporter witnessed three FBI agents leaving the house of Noor Mateen's family in the San Francisco suburb of Rodeo on Tuesday evening.
Orlando gunman pledged allegiance to ISIS on Facebook on day of attack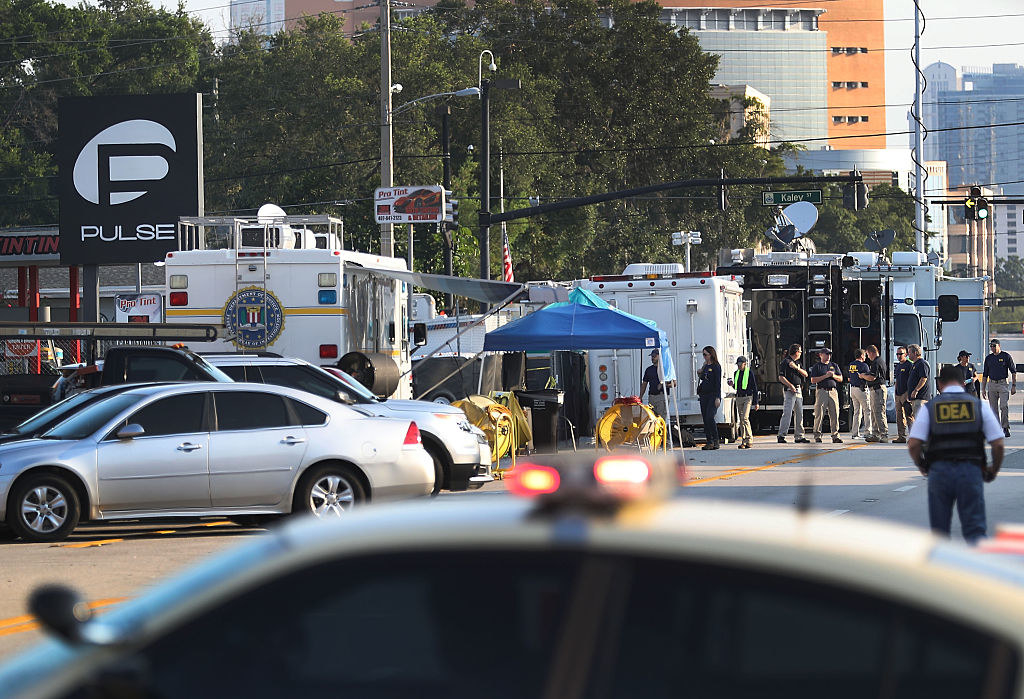 In a series of Facebook posts purportedly written by Omar Mateen on the day of the shooting that left 49 people dead, the gunman pledged his allegiance to the terrorist group ISIS.
"You kill innocent women and children by doing us airstrikes..now taste the Islamic state vengeance," Mateen wrote, according to a letter sent by the Senate Homeland Security Committee to Facebook CEO Mark Zuckerberg. "In the next few days you will see attacks from the Islamic State in the usa."
Committee chairman Sen. Ron Johnson, a Wisconsin Republican, is seeking more information from Facebook on Mateen's online activity, according to the letter, published by Fox News.
"America and Russia stop bombing the Islamic state..I pledge my alliance to abu bakr al Baghdadi..may Allah accept me," Mateen wrote in a posting.
Officials told ABC News four Facebook accounts associated with Mateen have been found.
In other posts, Mateen said, "The real muslims will never accept the filthy ways of the west" and "You kill innocent women and children by doing us airstrikes..now taste the Islamic state vengeance," according to Johnson, who added that Mateen also searched for Pulse Orlando and shooting.
FBI trying to fill in the timeline leading up to Orlando massacre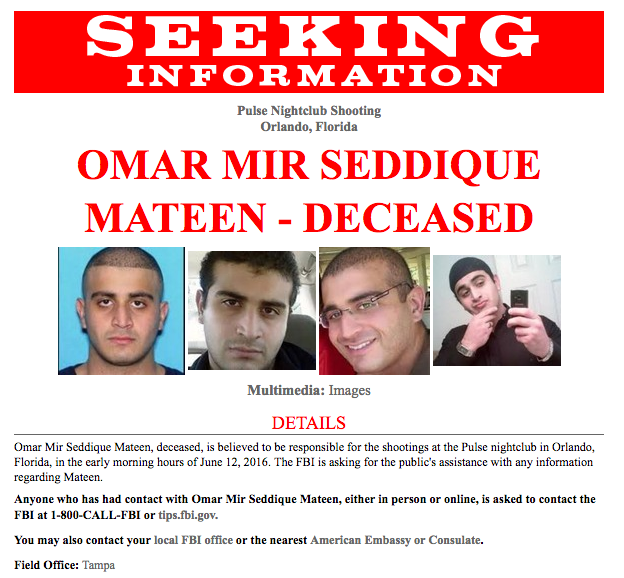 Federal officials on Wednesday declined to say whether the wife of Orlando mass shooter Omar Mateen would face charges as they asked the public for more help in filling in his past.
FBI Agent Ronald Hopper told reporters that authorities are "reconstructing the suspect's movements going back months, days, hours, and minutes leading up to the attack."
"I would call it a hate crime. I would call it terrorism. It's both," he said.
Asst. U.S. Attorney Lee Bentley also declined to address speculation that Mateen's wife, Noor Salman, could face charges for allegedly not divulging knowledge of a possible attack to authorities.
"I won't speculate on what charges might be brought in this case," he said. "It's premature to do so."
Meanwhile, the FBI issued a bulletin appealing for the public's help in tracking down more leads.
Orlando Police Chief John Mina also said that the officers involved in fatal shootout with Mateen early Sunday have been temporarily relieved of duty as a matter of protocol pending the outcome of the investigation. He also appealed for the media to respect their privacy, noting that the officers are not allowed to discuss the case.
Authorities contact gay hookup app regarding Orlando shooter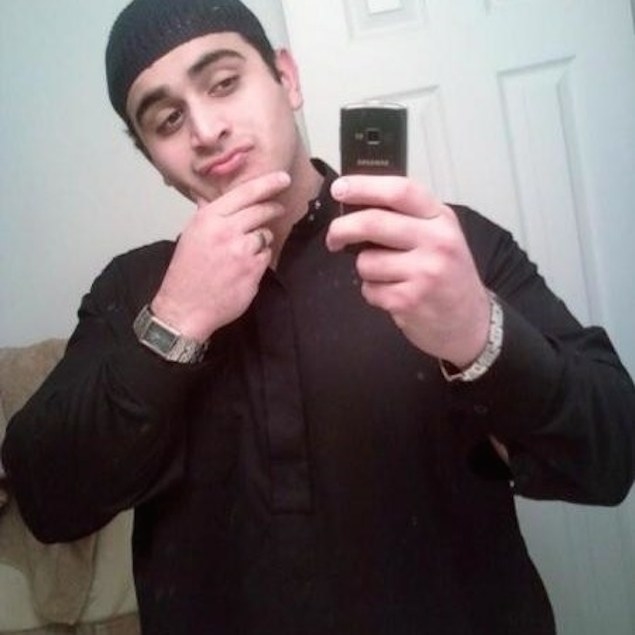 The gay hookup app Jack'd told BuzzFeed News that law enforcement contacted the company on Wednesday morning in relation to reports that Orlando shooter Omar Mateen may have used the service.
"Law enforcement authorities contacted Jack'd early this morning and we are working to assist them in any way that might prove helpful to the investigation. As this is an ongoing investigation, we can not make further comments at this time," Jack'd CEO Hector Camacho said in a statement.
On Tuesday, Camacho said, "We have looked into all information the media has provided to us and have been unable to substantiate that Omar Mateen had a profile on Jack'd."
Kevin West, a regular at Pulse, told the Los Angeles Times he exchanged messages with Mateen on the app.
Orlando shooter criticized BP oil spill clean up in documentary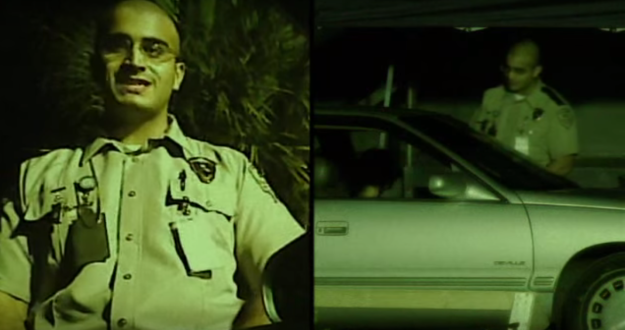 Orlando shooter Omar Mateen appeared in The Big Fix, a 2012 documentary about the BP oil spill, his former employer, G4S confirmed to BuzzFeed News Wednesday.
Mateen had been stationed as a security guard at Pensacola, Florida, from July to October 2010 to assist with the oil spill cleanup process, according to a spokesperson for G4S, the security company where Mateen worked.
In the clip, Mateen goes on a rant about the cleanup process, telling the filmmaker, "No one gives a shit here."
He goes on to tell the filmmaker that "no one gives a shit here."
"Everyone's just out to get paid," Mateen says. "They're like hoping for more oil to come and more people to complain so they'll have jobs. Because once people get laid off here, it's going to suck for them. They want more disaster to happen because that's where their money-making is."
Autopsies of the people killed in Orlando mass shooting are completed
The FBI interviewed a local news producer who said he got a call from someone claiming to be Omar Mateen during the shooting.
Father of Orlando shooter says he had no indication son was gay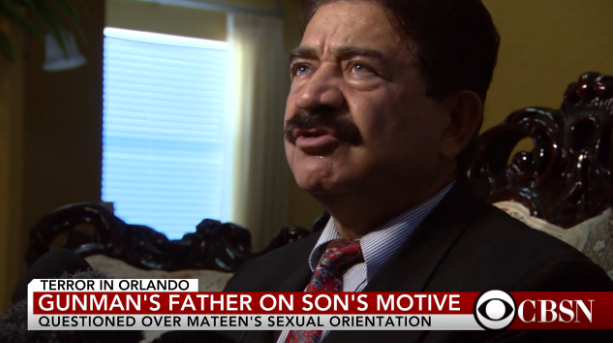 The father of the Orlando gunman on Tuesday told reporters he doesn't believe his son was gay, addressing reports that Omar Mateen used a gay dating app and previously visited the club where Sunday's shooting took place.
"I didn't notice that he had that habit," Seddique Mateen told reporters huddled in his living room Tuesday. "I don't know if he was, if that's his way of life what can you do if he wanted to be, but I don't believe so."
Reporters asked about Mateen's sexual orientation after recent reports surfaced that he had used a gay dating app and previously visited Pulse, the gay Orlando nightclub where he opened fire.
Regulars of the club told the Orlando Sentinel Mateen had visited the club on prior occasions.
Another regular of the club told the Los Angeles Times he had messaged Mateen on the dating app Jack'd before the shooting.
Seddique Mateen also said Tuesday that his son had stopped by his home at about 3 p.m. Saturday, just hours before the shooting.
"I didn't notice anything different," he said. "Just say, 'Hello,' and I was busy, and (he) left like routine."
FBI agents seen at home of Orlando gunman's in-laws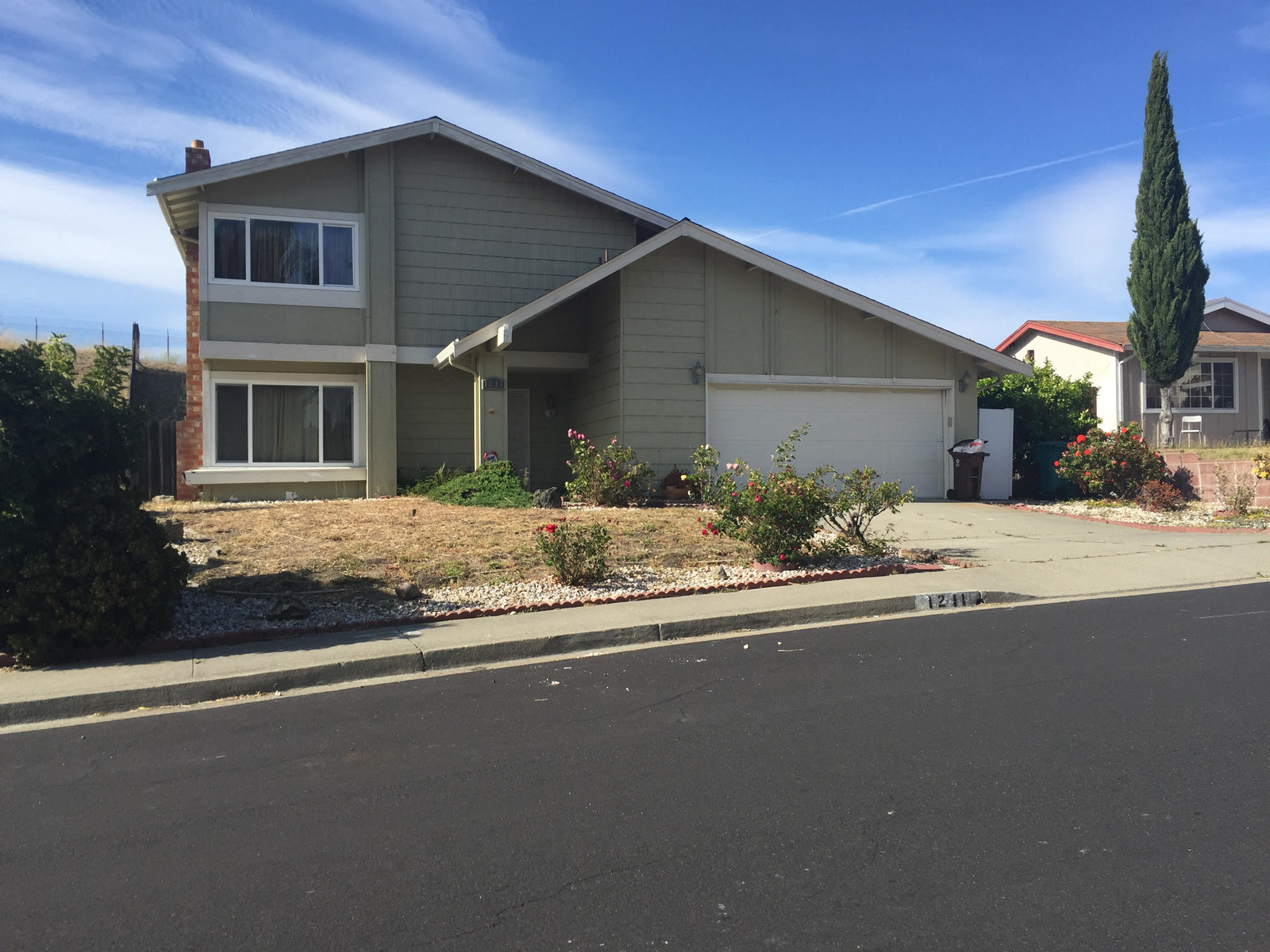 A BuzzFeed News reporter witnessed three FBI agents leaving the house of Noor Mateen's family in the San Francisco suburb of Rodeo on Tuesday evening. Noor Mateen was married to the Orlando shooter, and reports swirled Tuesday evening questioning whether she knew of the attack.
One neighbor said the Rodeo home was inhabited by Noor Mateen's mother and her teenage daughter. The neighbor said the mother was estranged from Noor, who had only visited once, when her father died several years ago.
A second neighbor told BuzzFeed News he had spoken to Noor Mateen's mother the day after the attack and that she had been upset and crying. He also said Noor Mateen was estranged from her mother, who did not like her husband.
A third neighbor stopped by to drop off flowers. Several journalists who had been staking out the house for two days said the family had not been going outside.
New video calls on ISIS supporters to attack the West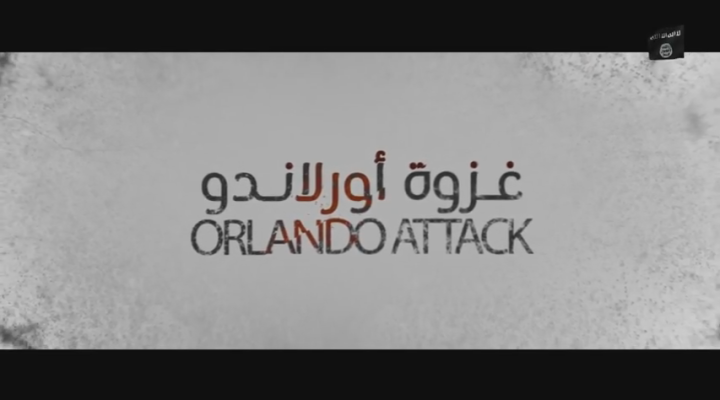 A new video, released by an ISIS-linked propaganda network on Tuesday, praises the attack against a gay club in Orlando and makes the most explicit call to-date asking that ISIS followers wage attacks in the West: "Kill them wherever you find them."
The five-minute video, put out by an outlet called Al Battar, which is not an official ISIS media outlet but produced by sympathizers to the group, opens with a tribute to the gunman who killed 49 people in the weekend attack on the Pulse club.
The FBI confirmed that the Orlando shooter pledged allegiance to ISIS on a 911 phone call, but there is no evidence at this point to suggest ISIS directed the attack.
The second half of the video quotes various extremist clerics who have made arguments supporting attacks on the West.
"The smallest act you do in their lands is more beloved to us than the biggest act done here," the video says, quoting an old statement by Abu Mohammed al-Adnani, an ISIS leader. "It is more effective for us and more harmful to them."
Mosque just outside Orlando vandalized with "#stopthehate" spraypainted on building
U.S. officials concerned over intelligence gaps that failed to prevent Orlando attack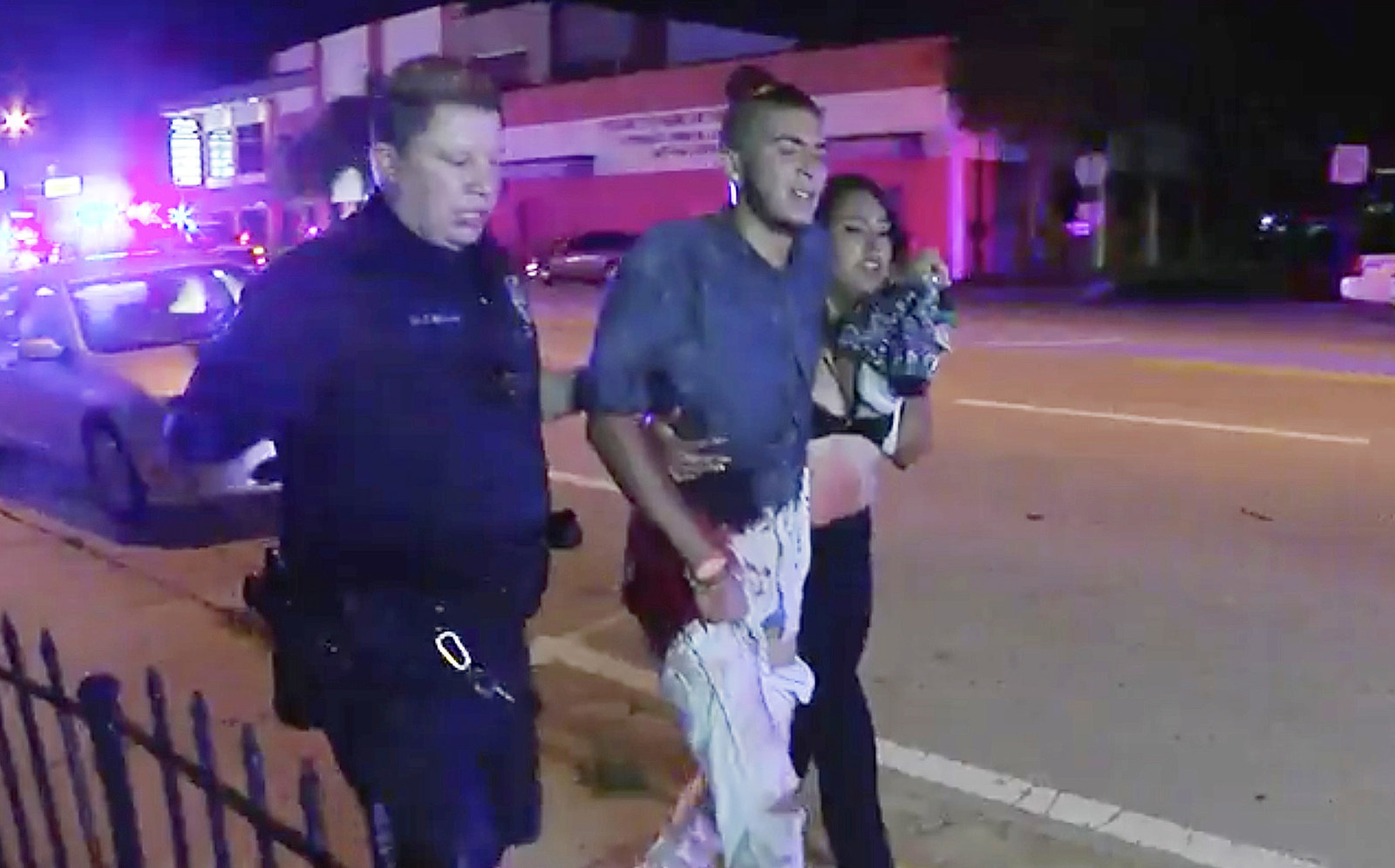 The rise of this ISIS-inspired terror — attacks that are committed by someone who pledges allegiance to the group and is inspired by online propaganda, but aren't directed by the group itself — has laid bare challenging pores in the domestic U.S. counterterror dragnet, which is often criticized for being too wide-reaching.
Somewhere, the system to catch potential attackers in the U.S. has a pinch point. Gun control advocates say it's at the gun shop counter. Republican presidential candidate Donald Trump and some of his supporters say it's at the borders, though Orlando shooter Omar Mateen, for one, was a native-born U.S. citizen. Some intelligence officials say it's in the interrogation room, or at the FBI's counterterror division, or in a loosely-patrolled cyberspace.
"We don't have a list of suspicious people. We may not like what he says, we may not like how he acts, but if the investigation ends and there are no federal findings…at this point, there is no investigation, so there are no more barriers [on the federal side]," one federal law enforcement official told BuzzFeed News, requesting anonymity as he wasn't authorized to discuss the matter publicly. "That appears to be what happened here."
Orlando victim says shooter told her black people "had suffered enough"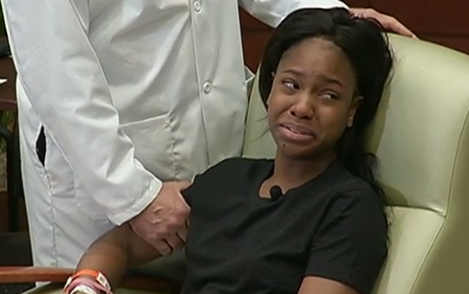 Patience Carter, who was shot in the Orlando attack, said that gunman Omar Mateen told her and other victims that he "did not have a problem with black people," that he thought they "had suffered enough," and he was "doing this to get America to stop bombing his country."
Minutes after Parker ordered an Uber to take her, a friend, and cousin back to a hotel, Omar Mateen opened fire into the club, killing 49 people and injuring 53.
"We went from having the time of our lives to the worst night of our lives in a matter of minutes," Carter said.
Though she said she didn't immediately register what was happening, Carter dropped to the ground and began crawling toward the door. However, after making it outside the nightclub, she realized her cousin was missing and rushed back in with her friend.
Orlando shooter removed from courthouse job because of "inflammatory comments"
Nearly half of Orlando shooting victims were Puerto Ricans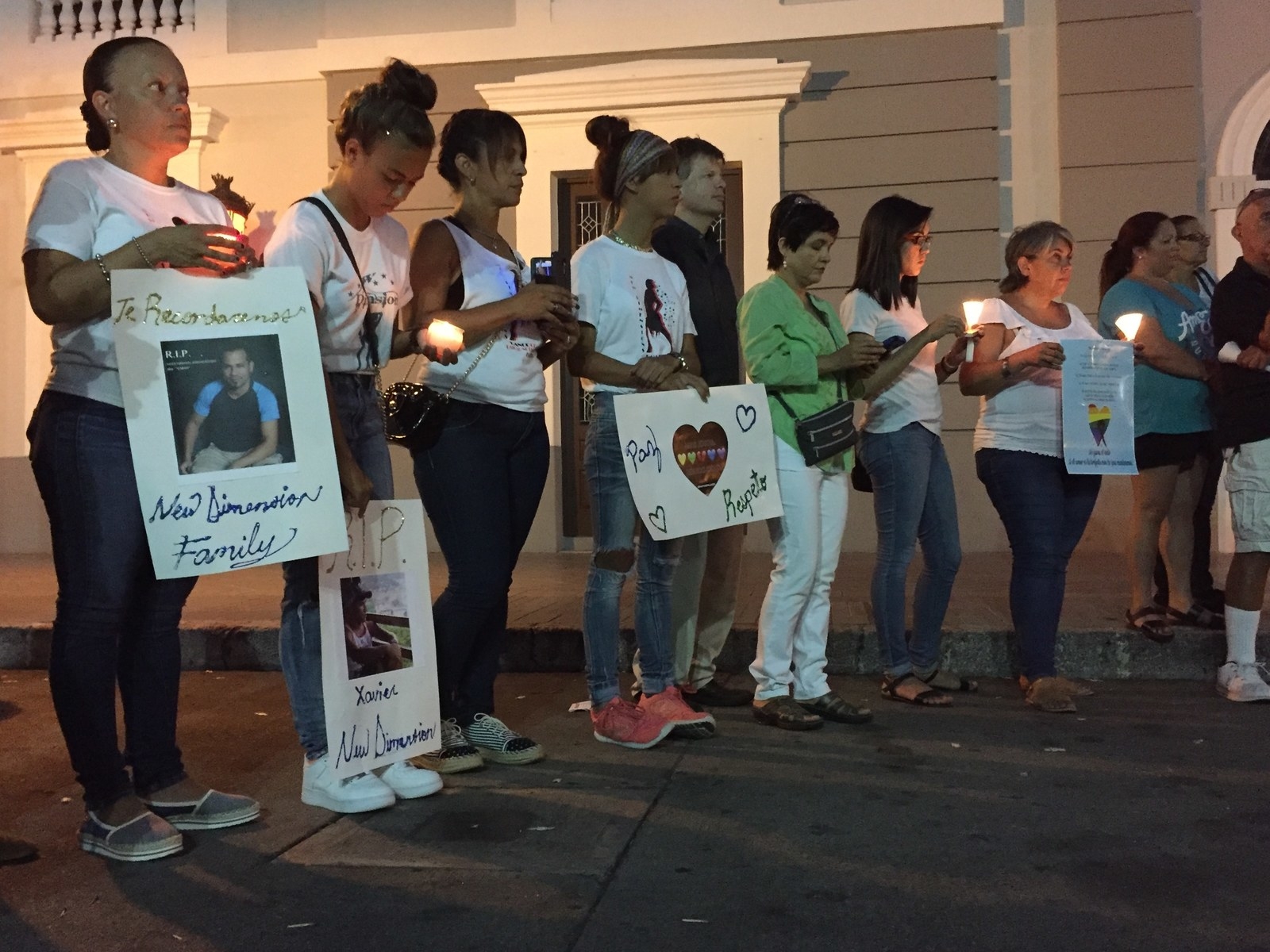 Nearly half the people killed in the Orlando mass shooting were Puerto Ricans, the island's justice secretary said Tuesday.
Secretary of Justice of Puerto Rico, César Miranda, said 23 of the 49 people who died in the attack at Pulse nightclub overnight Sunday either born on the U.S. mainland to Puerto Rican parents or had moved there.
"Faced with this loss, I have been forced to reflect on all the social problems that led to this massacre: intolerance about gender preferences, discrimination against Latin Americans in the United States, and broad access to weapons in that country," Miranda said in a statement. "That is why we must reaffirm our commitment to these three fronts in Puerto Rico and unite with our diaspora and the American people to continue taking steps toward equity."
President Obama lashes out at anti-Islam rhetoric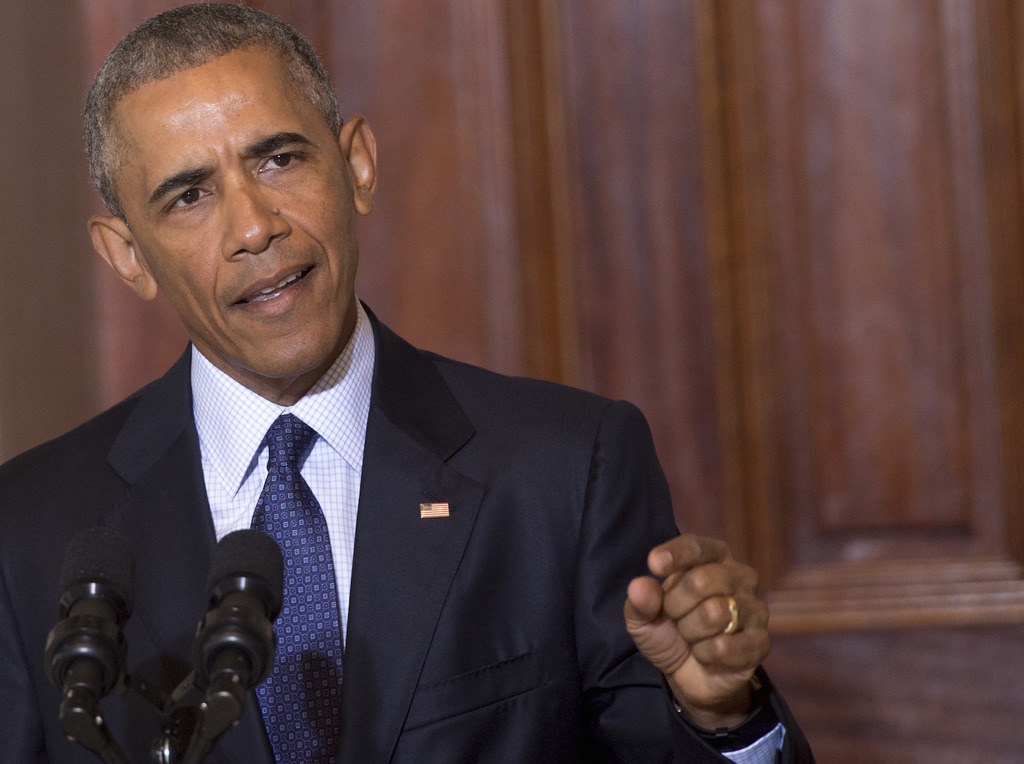 President Obama on Tuesday lashed out against anti-Islam rhetoric used in the wake of the Orlando massacre, saying it only does the terrorists' jobs for them.
Using the term "radical Islam" also does not change any strategy because U.S. officials "know who the enemy is," he added.
"So do the intelligence and law enforcement officers who've spent countless hours disrupting plots and protect all Americans, including politicians who tweet and appear on cable news shows," Obama said in a thinly-veiled reference to Donald Trump.
He also called the anti-Islam rhetoric a "political distraction."
Orlando shooting survivor recalls horror of chaotic scene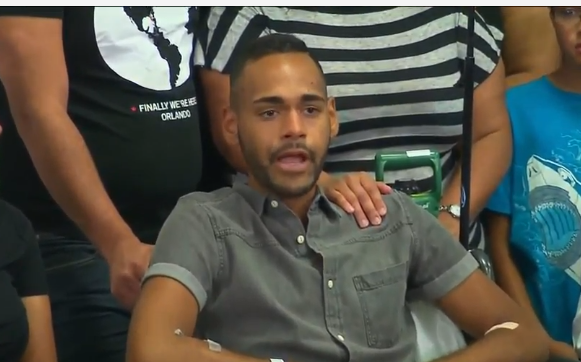 Angel Colon, who was shot during Sunday's assault at Pulse nightclub in Orlando, on Tuesday described the terrifying events after Omar Mateen open fire on the crowd.
Speaking to reporters at the Orlando Regional Medical Center, Colon said that just as he was saying goodbye to friends, he heard gunshots ring out in the nightclub.
"It just keeps going," he said.
Mateen entered the club around 2 a.m. and opened fire on the crowd with a handgun and AR-15 style assault rifle, killing 49 and injuring 53.
Colon and his friends grabbed each other's hands and ran, he was was shot in the leg three times and collapsed.
"I tried to get back up but everyone started running everywhere, I got trampled over and shattered the bones in my left leg as people ran over me," Colon said from a wheelchair. "All I could hear was the shotgun over and over and people yelling for help."
Orlando shooter's wife reportedly tried to talk him out of attack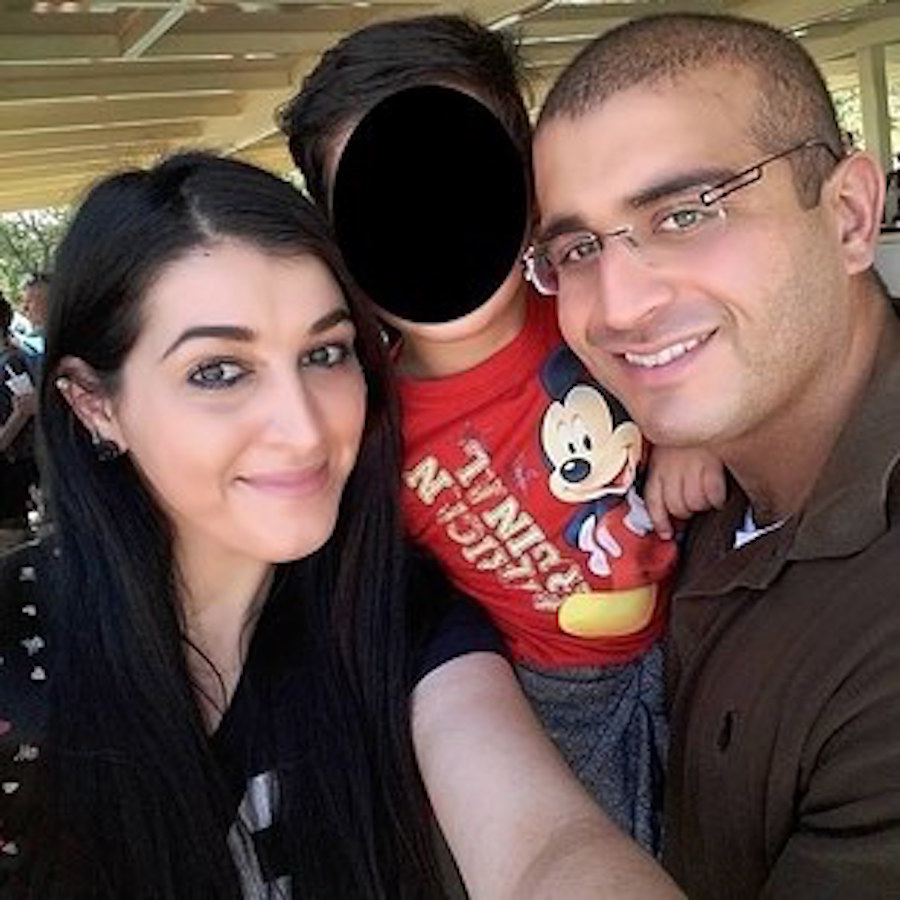 The wife of Orlando shooter Omar Mateen tried to talk him out of an attack after driving him to the Pulse nightclub to scope it out, NBC reported Tuesday.
Noor Mateen reportedly told FBI agents that she was with her husband when he bought ammunition and a holster, NBC reported, citing officials familiar with the case, and also drove him to the nightclub to case it. Now, officials are reportedly considering possible charges against Noor related to not divulging what she knew prior to the attack.
Omar Mateen's father, Seddique Mateen, has said Monday that the family was totally unaware of any issues or plans for violence.
"We weren't aware of any action he is taking," he said. "We are in shock like the whole country."
BuzzFeed podcast discusses what we do and don't know about anti-LGBT violence in America.
In a special mini-episode of BuzzFeed's No One Knows Anything politics podcast, legal editor Chris Geidner talks about hate crimes, statistics, and helping police to identify crimes that single out the LGBT community in the wake of the deadly attack in Orlando.
Listen to the episode here.
Six Orlando shooting victims remain in critical condition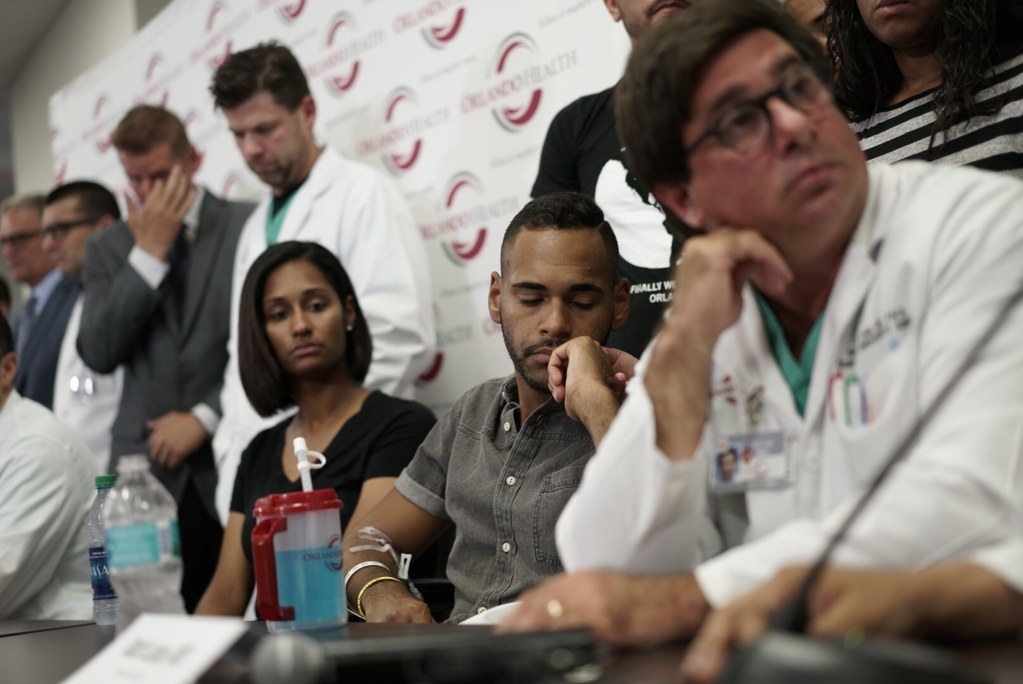 Doctors at the Orlando Regional Medical Center hospital on Tuesday said that of the 27 nightclub shooting patients still in their care, six are critically ill and five remain in "guarded" condition.
No patients have succumbed to their injuries since arriving at the hospital.
In total, the hospital saw 44 patients after a lone gunman opened fire inside the Pulse nightclub overnight Sunday, killing 49 people.
One of them, Angel Colon, described being shot multiple times and then playing dead as the shooting continued.
After the girl next to him was shot dead, Colon said he thought, "I'm next, I'm dead."
He also recalled the gunman taking aim at his head, but somehow missing, hitting his hip and hand instead.
Paul Ryan says ban on Muslim visitors not in nation's interest
House Speaker Paul Ryan on Tuesday said he did not support a ban on Muslim's entering the U.S., despite the rhetoric coming from presumptive Republican presidential nominee Donald Trump.
"I do not think a Muslim ban is in our country's interests," Ryan told reporters. "I do not think it's reflective of our principles."
The U.S., he added, should stick to testing visitors based on security, not religion.
Photo shows Orlando officer who was shot in the head but saved by his helmet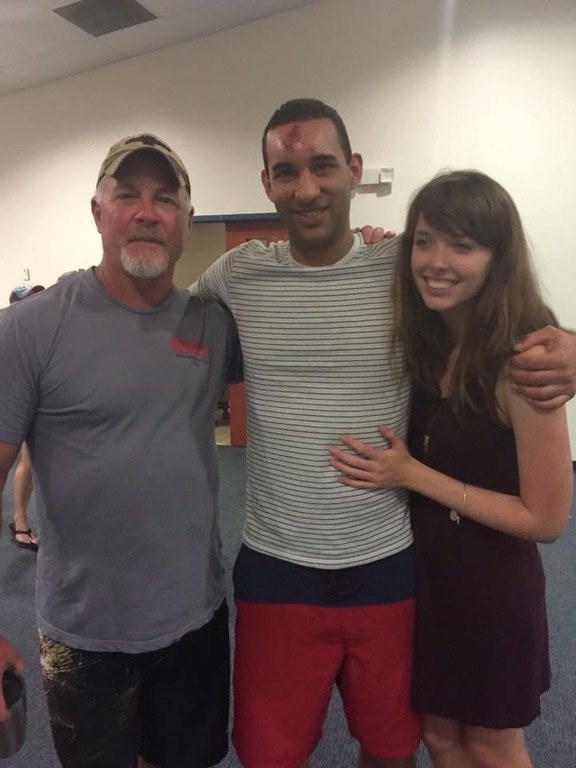 A photo published online Monday shows the Orlando police officer who was saved by his Kevlar helmet from a bullet fired during the shooting at Pulse nightclub. Despite a wound on his forehead, Michael Napolitano is seen smiling in the image.
"He was hit in the Kevlar helmet with a round from the suspect," Police Chief John Mina told reporters. "The Kevlar helmet did stop that round but the officer does have some injuries to his face from that gunshot."
Napolitano and the 10 other officers who fired on the Orlando shooter are OK.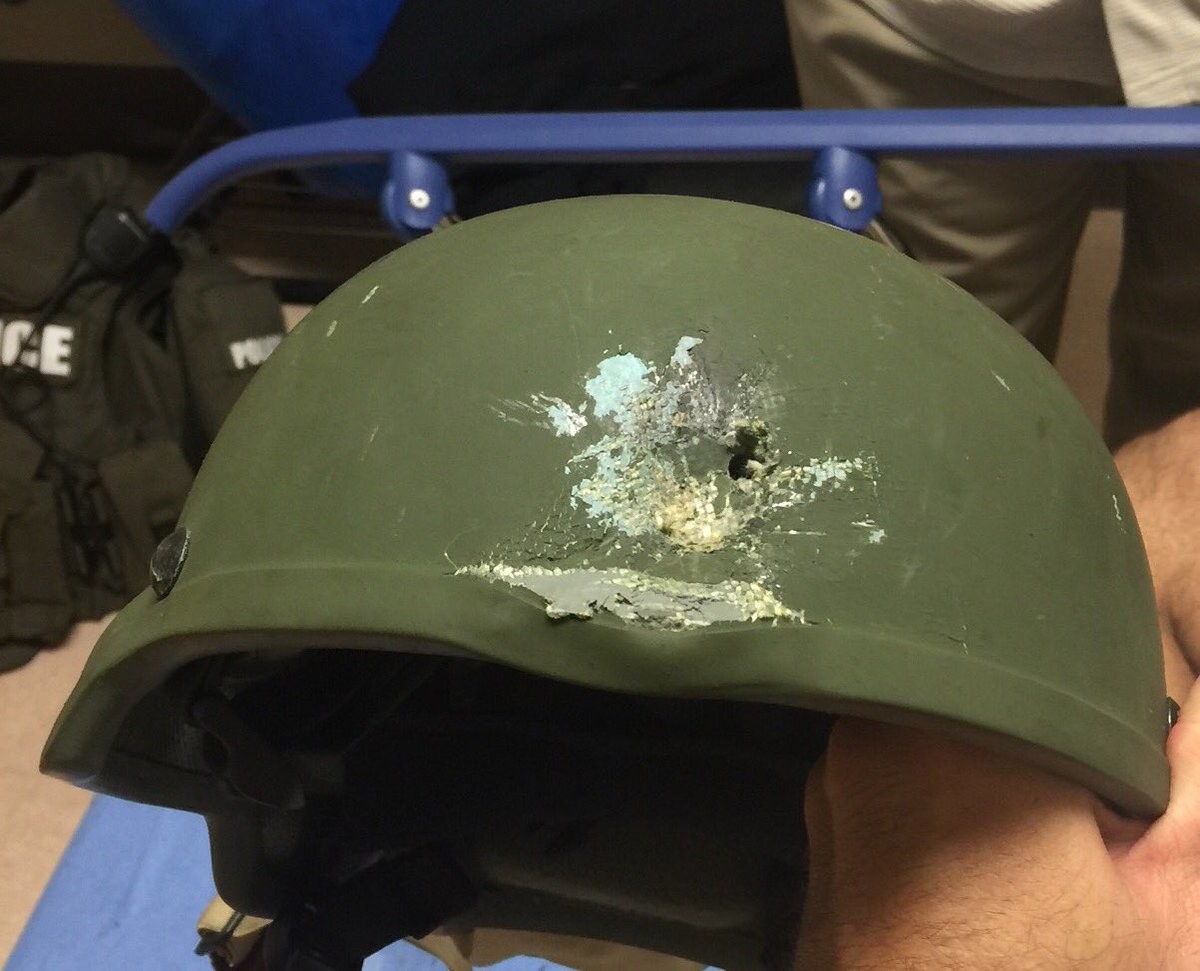 Thousands crowd streets near New York's Stonewall Inn in vigil for Orlando victims
Jared Harrell / BuzzFeed News
Final victims identified in nightclub shooting

Orlando officials on Monday night identified the final victim of the shooting at Pulse nightclub.
In all, 49 men and women between the ages of 18 and 41 died in the massacre. Read their names and stories here.
President Obama will travel to Orlando on Thursday to pay respects to victims' families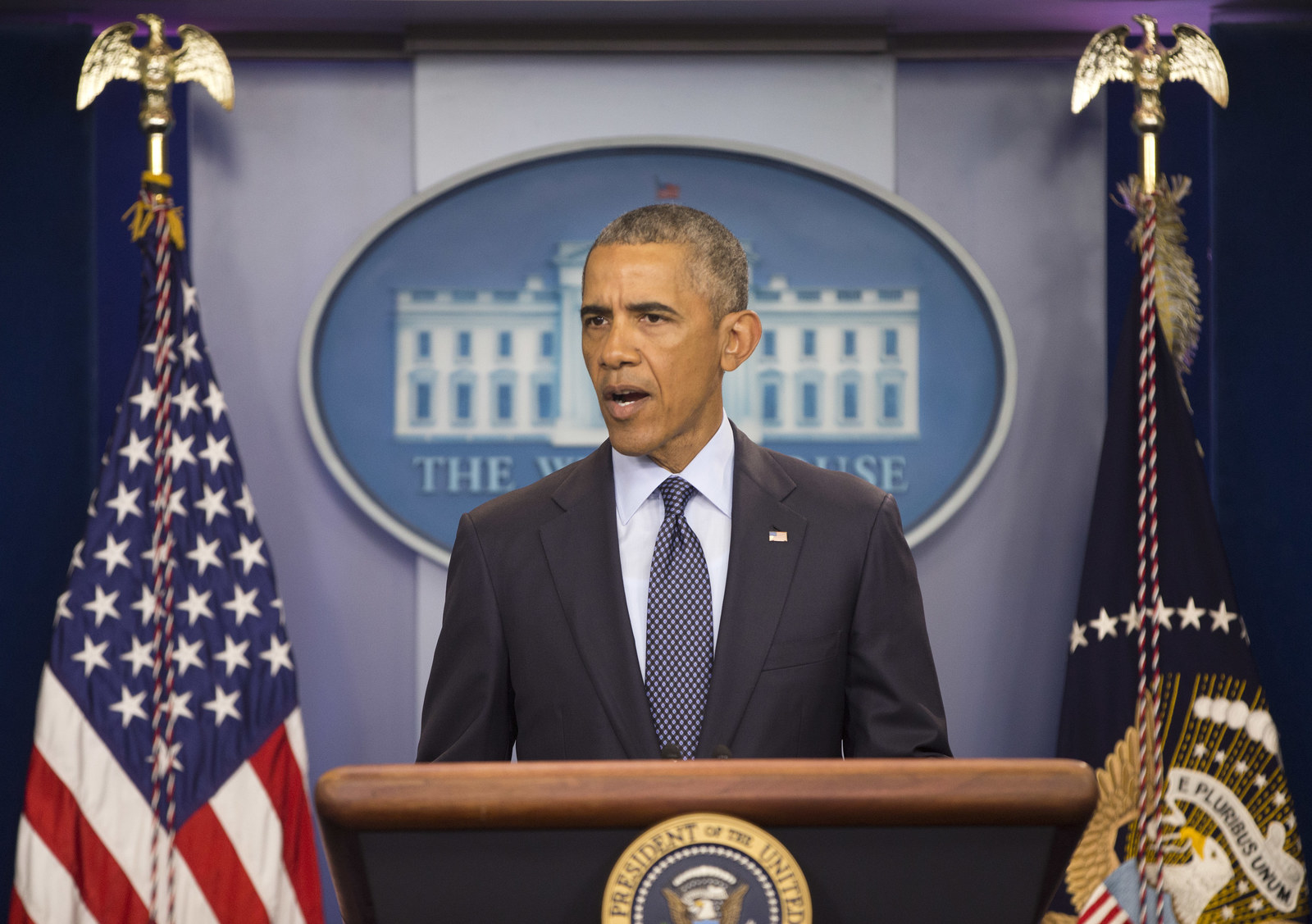 President Barack Obama will visit Orlando on Thursday to pay his respects to the families of the victims of the deadliest mass shooting in the nation's history.
White House Press Secretary Josh Earnest released the following statement:
On Thursday, the President will travel to Orlando, Florida to pay his respects to victims' families, and to stand in solidarity with the community as they embark on their recovery. We will have more information on the President's trip in the coming days.
All wounded patients are expected to survive
Couple killed in shooting who hoped to marry will have joint funeral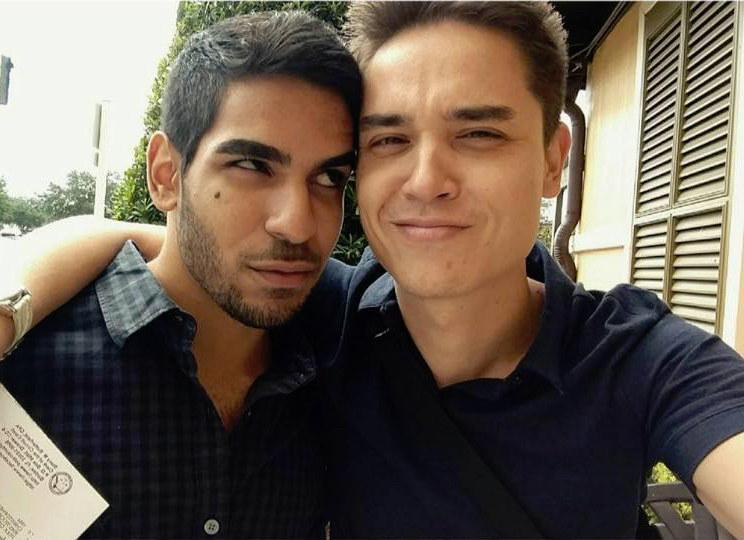 The families of a couple killed Sunday in the mass shooting at an Orlando nightclub said they will have a joint funeral instead of the wedding they had hoped for.
Juan Ramon Guerrero, 22, and his boyfriend, Christopher "Drew" Leinonen, 32, were among the 49 people killed at the Pulse nightclub Sunday.
The Guerrero family told Time they hope to have a funeral where the couple can be buried side by side.
"If it's not a funeral, they were going to have a wedding together," Juan's 24-year-old sister Aryam said.
11 Orlando police officers who fired at the nightclub killer identified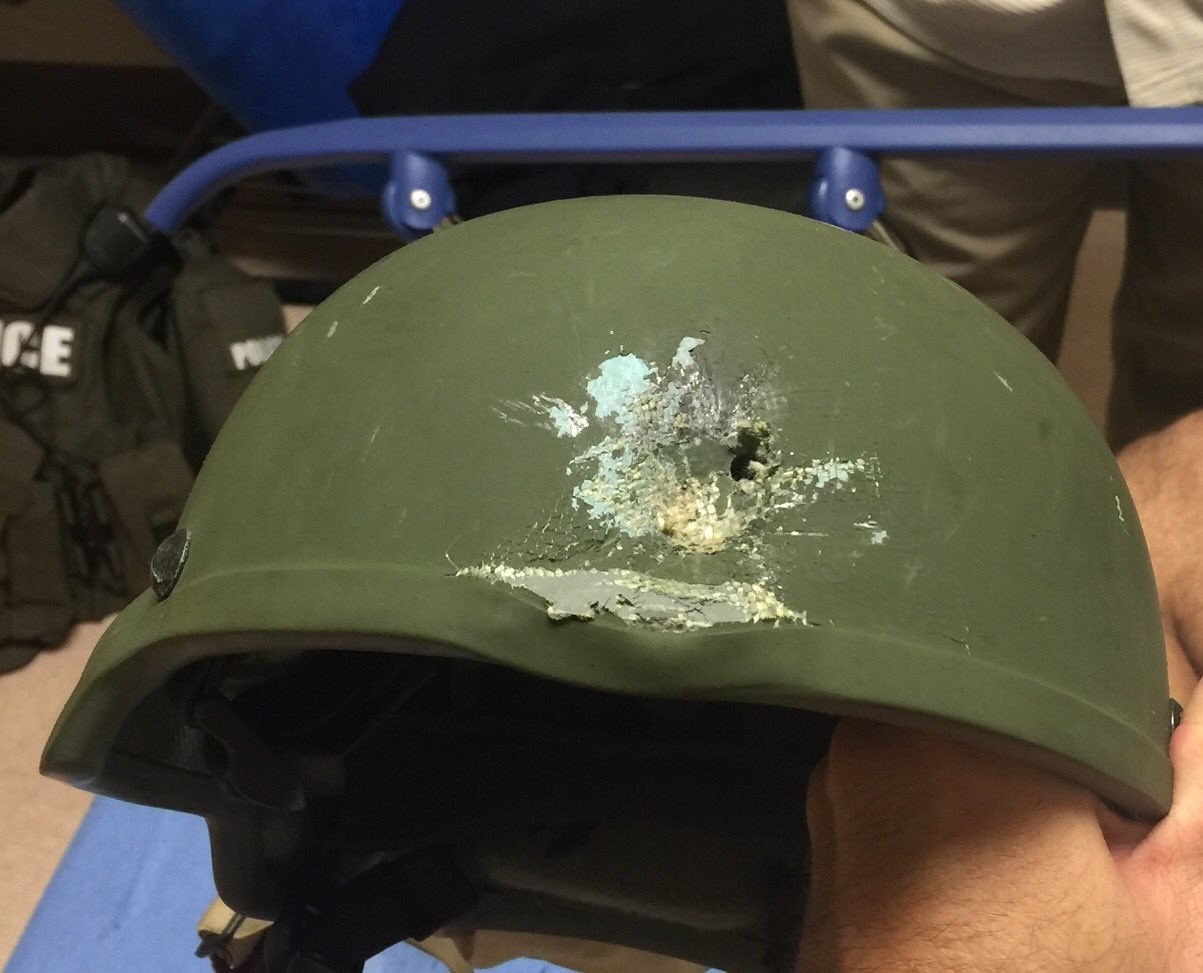 The city of Orlando has released the names of the 11 police officers who fired on Omar Mateen, the gunman who killed 49 people Sunday at the Pulse nightclub. Their names are as follows:
Officer working extra duty at Pulse: Officer Adam Gruler, member of OPD since 2001
First Patrol Unit On Scene (Also a SWAT Member): Lieutenant Scott Smith, member of OPD since 1992
First Patrol Unit On Scene (Also a SWAT Member): Sergeant Jeffrey Backhaus, member of OPD since 2004
SWAT: Officer Timothy Stanley, member of OPD since 1998
SWAT: Officer Kevin Easterling, member of OPD since 1994
SWAT: Officer Andrew Bishop, member of OPD since 1994
SWAT: Sergeant James Parker, member of OPD since 1991
SWAT: Detective Raul Rivas, member of OPD since 1992
SWAT: Lieutenant Jonathan Bigelow, member of OPD since 2001
SWAT: Officer Ricardo Duenas, member of OPD since 2014
Officer shot in the Kevlar helmet: Officer Michael Napolitano, member of OPD since 2012
Gunman previously spent time at gay club, reached out to men online, reports say
Several people said they recognized gunman Omar Mateen from previous nights at Pulse nightclub, the Orlando Sentinel reported.
"Sometimes he would go over in the corner and sit and drink by himself, and other times he would get so drunk he was loud and belligerent," Ty Smith told the Sentinel. Smith added Mateen spoke about his father, wife, and child.
The Associated Press on Tuesday reported that the FBI was investigating the reports.
Chris Callen, who performs at the club as Kristina McLaughlin, told the Canadian Press he'd seen Mateen at Pulse multiple times over the last three years.
Other men in Orlando also said they'd been contacted by Mateen in the past. Micah Bass, owner of another gay club in Orlando, told the New York Times Mateen had previously sent him a Facebook friend request.