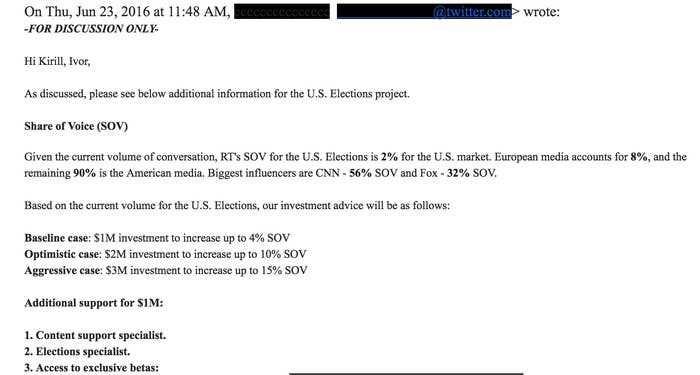 Twitter wanted RT to spend big ahead of the 2016 US election, offering a significant portion of its election-related ad inventory in return. The social media company offered the Russian state–owned television network up to a 15% share of voice ("SOV") on US election advertising — or the percent of all ads run on that topic — for $3 million.
RT's share of voice was 2% at the time of the pitch, according to a June 2016 email from a Twitter sales executive to RT staff members that RT shared with BuzzFeed News. The $3 million spent would multiply RT's share of voice more than sevenfold, but still leave it short of CNN's 56% and FOX's 32%. RT declined the offer.
"We do not have any comment on our private conversations with any advertiser, even a former advertiser," a Twitter spokesperson said. Twitter did not dispute the email's validity.

After courting RT's ad dollars during the 2016 election, Twitter reversed course last week when it said it would prohibit accounts owned by the network from advertising on its platform: "This decision was based on the retrospective work we've been doing around the 2016 U.S. election and the U.S. intelligence community's conclusion that both RT and Sputnik attempted to interfere with the election on behalf of the Russian government."
The intelligence report Twitter referenced called RT "the Kremlin's principal international propaganda outlet."
Both the Russian government and WikiLeaks played important roles in the 2016 US presidential election. WikiLeaks published a trove of hacked emails from Democratic presidential nominee Hillary Clinton, the Democratic National Committee, and top Clinton adviser John Podesta. Russia-backed hackers are suspected of illegally obtaining and handing over those emails. Special Counsel Robert Mueller is currently investigating members of the Trump campaign for possible collusion with the Russian government during the campaign. And the Kremlin-linked Internet Research Agency tried to influence the election and sow discord in its aftermath via a widespread campaign on social media.
At an open Senate hearing Tuesday, Twitter, Facebook, and Google were pressed for answers on why they didn't see Russian election meddling taking place inside their platforms. "I want to understand why no one seems to have caught on to the Russian effort earlier," Minnesota Sen. Al Franken said at the hearing.
All confessed their shortcomings, adding they were making fixes. Twitter's testimony explicitly noted the "off-boarding" of RT's accounts from its ad platform. And RT came up in both the Senate and House Intelligence Committee hearings dealing with Russian interference Wednesday.
RT may no longer be a Twitter customer now, as the company made clear at the hearings, but not long ago it was a multimillion-dollar sales prospect.