Twitter is starting to show live, local news broadcasts in a livestreaming window next to its timeline during major breaking news events.

Twitter's initiative to air these videos is currently rolled out across the platform, a company spokesperson confirmed to BuzzFeed News. The company will rely on a set of partnerships with local news stations to select the footage.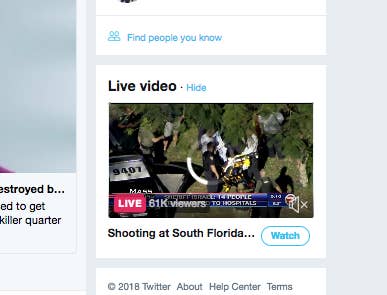 On Wednesday, Twitter put the initiative into action in a big way, streaming hours of footage from Miami's WSVN 7 next to the timelines of US users as the news station covered the shooting at Broward County's Marjory Stoneman Douglas High School in Florida.
"We're continuing to work on new ways we can surface credible and relevant information to help people stay informed. By pairing live video with the conversation on Twitter, there is no faster way to see what's happening in the world," Twitter video GM Kayvon Beykpour told BuzzFeed News in an emailed statement.
Beykpour originally came to Twitter as CEO Periscope, a company Twitter acquired in 2015 in an effort to get a foothold in livestreaming video.

The move furthers Twitter's embrace of its role as a media and news company, and is a more natural use of livestreaming space for a company that has previously aired obscure livestreams like high school basketball and professional bull riding. (BuzzFeed News airs a news show, AM to DM, on Twitter as well.)
Twitter's efforts to promote news contrast with Facebook's recent moves, which have been to deemphasize news content in its News Feed.
When people click into live videos appearing on Twitter's home timeline, they'll be brought to a custom timeline that places algorithmically selected tweets about the news event next to it. When live video airs on Twitter, conversation on the platform about the streamed event increases, Twitter's former COO Anthony Noto told BuzzFeed News last year.
Algorithms are notoriously vulnerable to exploitation and misinformation. But pairing algorithmically selected tweets with news stations' live video could help mitigate these issues by offering Twitter users an authoritative news source alongside the tweets.
Wednesday's broadcast about the Florida school shooting was clearly of interest to a decent number of people using Twitter. It registered more than 50,000 concurrent Twitter viewers at one point.