Twitter released a new feature that shows you which articles your network is currently buzzing about. The feature, called Popular Articles, shows stories shared or engaged with by people you follow. A Twitter spokesperson confirmed to BuzzFeed News the new feature is live globally on Android and iOS.

The Popular Articles feature is just what it sounds like — a list of stories people you follow on Twitter are currently tweeting about, or otherwise engaging with. It also shows links to articles popular in your particular location. Click or tap on a story headline, and the article opens in the Twitter app. It is located in Twitter's Explore tab.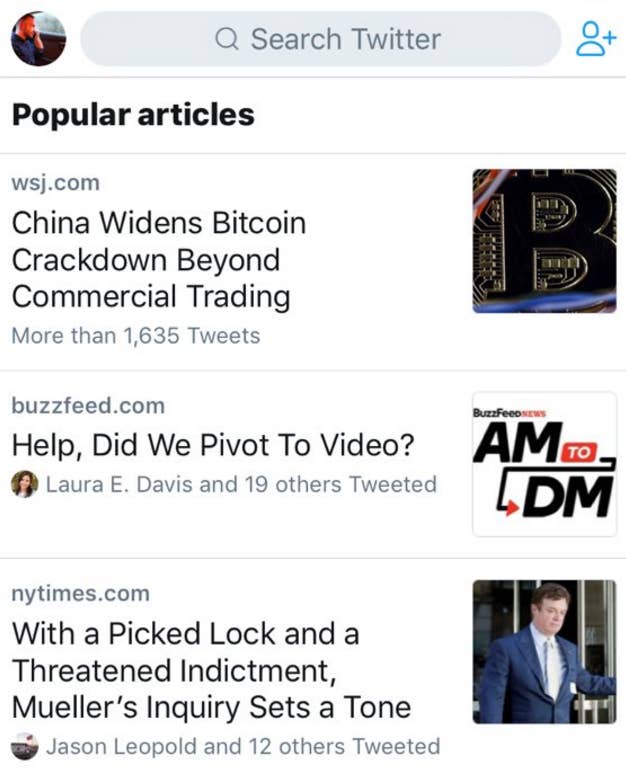 For the past few years, Twitter has been experimenting with ways to make the platform more useful to new and casual users, so they don't have to rely as much on checking its oft-confusing central timeline. In August 2015, Twitter tested a News Tab, a list of links broadly popular on Twitter. In October 2015, Twitter introduced Moments, a curated tab featuring the best of Twitter. In January 2017, Twitter debuted the Explore tab, a collection of trends, moments and popular tweets grouped by category. Popular Articles is the latest in that evolution.
The Popular Articles tab looks a lot like Nuzzel, an app that provides similar, but more robust functionality. Nuzzel is small but quite popular with its users, who see it as a useful way to cut through the noise of the Twitter timeline or Facebook NewsFeed. It also surfaces stories that matter based on social signals like shares.
Twitter, long an underdog in the social media world, appears to be learning from its much larger rival Facebook, a company that has ruthlessly copied competitors like Snapchat and Houseparty, leading to its informal internal slogan: "Don't be too proud to copy."