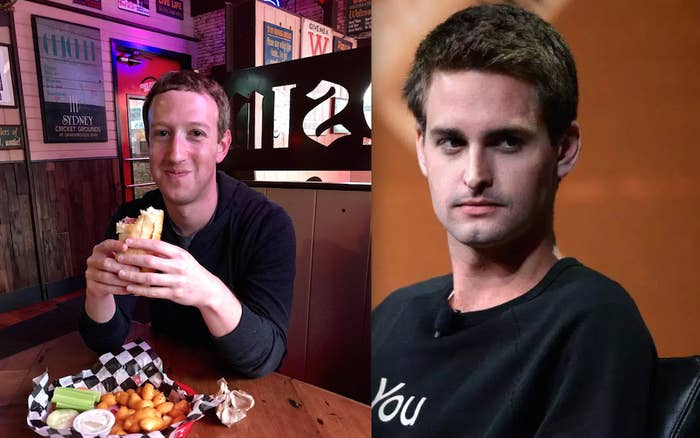 Here's an idea for a fun social app: It starts with a camera. First, you take a picture or video. Then you add fun effects — masks that hew to your face, or crowns that rest at your hairline. You can send these images or videos to friends via a direct message, or share them with all your contacts via a feature called Stories. Also, they disappear.
A year ago, these features were unmistakably Snapchat's. But now the Facebook-owned Instagram has them too. After copying Snapchat's Stories feature last August, Instagram is releasing a version of its selfie lenses today, finishing off a brazen cloning of Snapchat's most beloved features just as its parent company, Snap Inc., is getting its footing on the public market. The only thing missing is Discover, a collection of just-for-Snapchat media created by professionals and publications.
Snapchat didn't invent selfie lenses, but it did popularize their use. That pioneering role did not merit a mention in an Instagram blog post announcing the new selfie lenses — which are interactive, just like Snapchat's. This was a departure from when Instagram introduced its version of Stories, a feature that Instagram loudly credited to Snapchat.
"Today, we're introducing face filters in the camera, an easy way to turn an ordinary selfie into something fun and entertaining," Instagram said. "Whether you're sitting on the couch at home or out and about, face filters help you express yourself and have playful conversations with friends."

Instagram's introduction of selfie lenses (it calls them "face filters") comes in the midst of a major push from Facebook to layer digital experiences on top of the real world via its apps' cameras. At its F8 conference in April, Facebook unveiled a new camera effects platform, inviting developers to create their own masks and filters that, after approval, would be made available for use inside Facebook (which already has its own set of face filters). Using the same backbone technology, Instagram could easily introduce a similar platform of its own.
With its effects platform, Facebook appears to be attempting to surpass Snapchat in terms of mask and filter quality. But its ambition is far greater. Relying on computer vision technology, Facebok would like to map out the world and allow developers to build games, and overlay digital art on top of the physical world we live in today. "When you can make it so that you can intermix digital and physical parts of the world, that's going to make a lot of our experiences better and our lives richer," Facebook CEO Mark Zuckerberg told BuzzFeed News in an interview ahead of F8.
In the meantime, the Snapchat cloning appears to be a boost for Facebook, at least inside Instagram. Instagram's Stories feature is used by 200 million people every month. WhatsApp's Stories copy, Status, is used by 175 million people each day. Facebook and Messenger appear to be somewhat behind that. Snap, struggling to grow revenue and, to some extent, its user base, saw billions of dollars wiped off its market cap last week.
Asked if Instagram plans to ship more Snapchat-inspired features, an Instagram spokesperson said, "We aren't sharing any other updates at this time."
Even if they were, there's little left to copy.