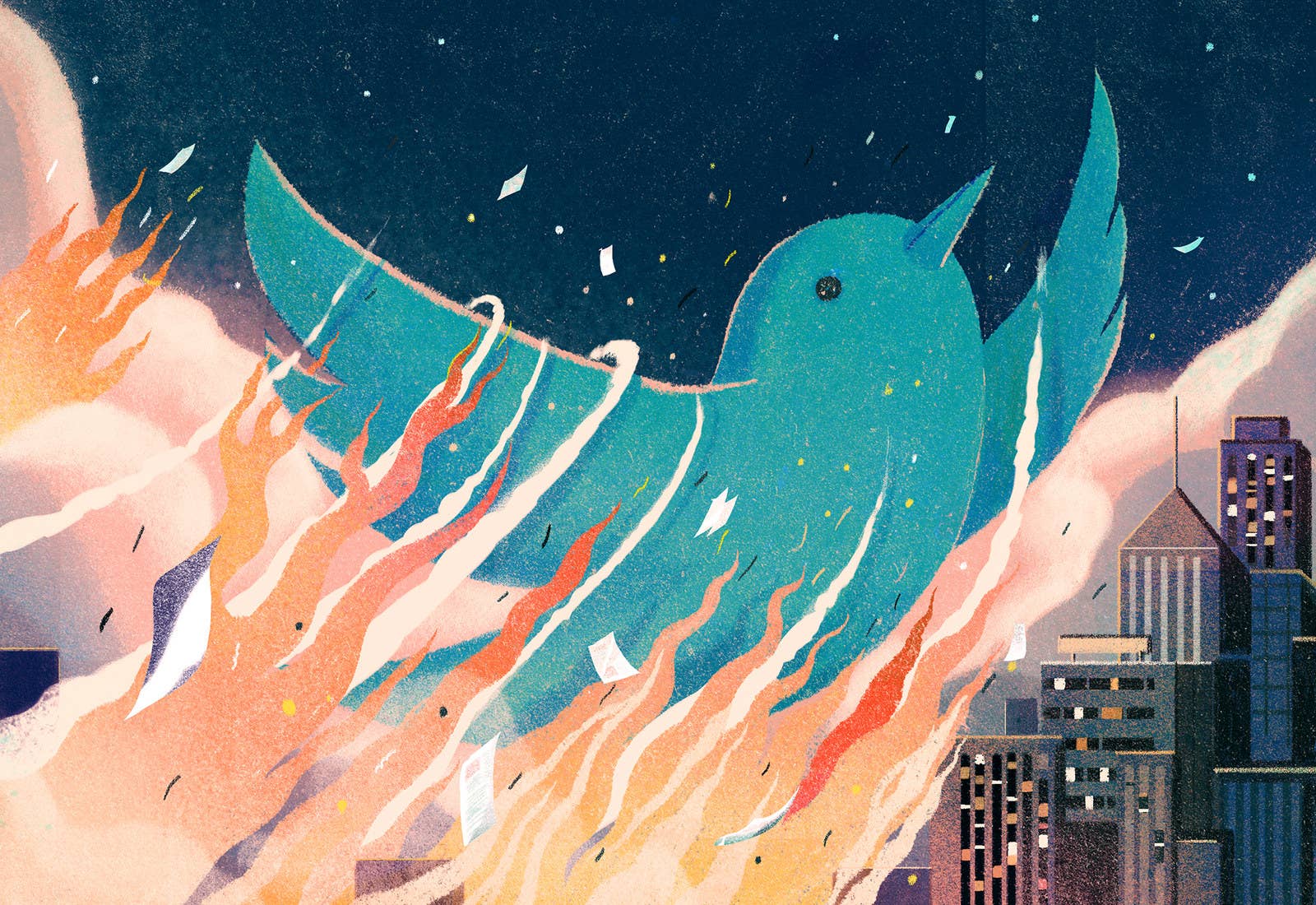 Two years ago, people were writing eulogies for Twitter.
Rudderless and without product direction, the company was losing users and advertisers, and seemed unable to contain a metastasizing trolling crisis that was destroying its credibility. Employees left by the dozens and then got laid off by the hundreds. It tried to sell, and failed at that too.
The press, Wall Street, and the public were merciless. The New Yorker declared it "The End of Twitter." Analyst Michael Nathanson said that at $14 per share there was "no compelling reason to own the stock," and his counterparts applied "sell" ratings in bunches. Over a single weekend in February 2016, more than one million people tweeted "#RIPTwitter."
But then, even as those eulogies were being published, things started changing. Twitter began beating earnings expectations. Star ex-employees trickled back in, finding a new, more positive internal culture than the toxic one they'd left. Advertisers came back too, as did users. The company finally began addressing its trolling problem. And its stock, once unappealing to analysts like Nathanson at $14, is now trading above $46.
It's still somewhat taboo to say it, but it's no longer possible to deny it: Twitter is making an unexpected, somewhat miraculous comeback. It is the first major consumer social company to lose users and start growing again in a meaningful way.
Twitter now claims 336 million monthly active users, up from 305 million in the fourth quarter of 2015, when it lost 2 million users, and up from 328 million a year ago. And Twitter's revenue, which shrunk in the first quarter in 2017, was up 21% in the first quarter in 2018.
"In the Internet space, usually when things start to slow or collapse they disappear," BTIG analyst Rich Greenfield told BuzzFeed News. "The aggregate recovery is pretty unprecedented."
Twitter's unlikely resurgence can be attributed to four major factors: Its acceptance it would never be Facebook, leading to a decision to focus on news as Facebook pulled back. Its move to aggressively add premium live video to its service. Its CEO Jack Dorsey's directive to its product team to rethink everything. And a key component of many great comebacks: luck.
News Pays Off
It's hard to overstate the importance of Twitter's decision to tie its identity to news. For years, you could ask Twitter, "What exactly are you?" and not get a straight answer, because Twitter itself didn't really know. The abundance of communities that formed on the service — Sports, Black, Weird, Meme, Celebrity Twitter, and so on — made it difficult to pin down. And Twitter couldn't settle on one thing it did really well. But in April 2016, Twitter made that call. It moved itself from the "Social Networking" section of the iOS App Store to "News," ceding the former to Facebook and its satellite apps.
As soon as Twitter decided it was a news app, it began investing in its core strengths. It prominently streamed local news broadcasts, it promoted news stories in the timeline, it sent more traffic to publishers. And it cut distracting side projects, some of which it had spent hundreds of millions of dollars to acquire, including Fabric, TellApart, and Vine.

"Two years ago, we were doing too many things and not doing any of them as well as we could."
"They're shipping faster with fewer people, which goes to show how bloated the company got trying to hire all this talent in competition with Facebook — and also how useless a lot of those people were," a person close to the company told BuzzFeed News.
Twitter itself admits it suffered from lack of focus. "Two years ago, we were doing too many things and not doing any of them as well as we could," Matt Derella, Twitter's head of revenue and content partnerships, told BuzzFeed News. "It's been incredibly clarifying to the organization to really know where we're focused, and that is helping people see what's happening."
Twitter's move into news coincided with one of the most news-hungry periods of the decade. Donald Trump's election in 2016, Brexit, and political upheaval throughout the world caused people to tune into news with vigor as they tried to make sense of the world around them. And it didn't hurt Twitter that Trump, a prolific user, often set the day's news agenda with his early-morning Tweets (and perhaps his usage helped clarify what Twitter was to the company's brass). Twitter's daily active user count has now grown by double digits for six straight quarters.
To see how news has helped Twitter, BTIG's Greenfield encouraged BuzzFeed News to look up its stock chart next to the New York Times. The two companies' upward slopes mirror each other. And while moving into news alone isn't responsible for Twitter's comeback, the charts' resemblance is illuminating.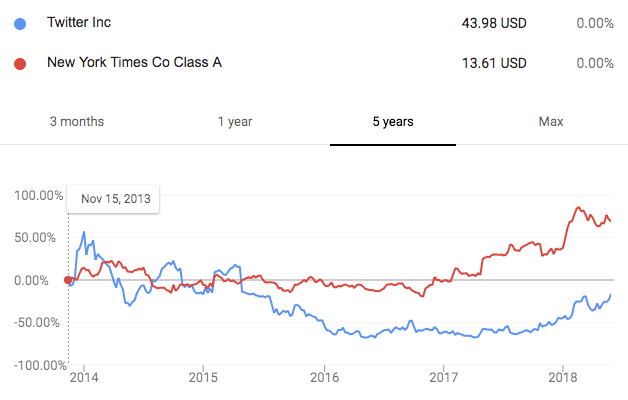 Doing It Live
Twitter's aggressive push into premium live video has also paid significant dividends. It began this pursuit with a bold, $10 million deal with the NFL for a package of Thursday Night Football games, inked in April 2016. And it's followed that up with a barrage of subsequent deals, to the point that it's now airing live video every minute of the day, and often multiple streams at once.
Ex–Twitter COO Anthony Noto, who spearheaded the initiative, told BuzzFeed News last year that Twitter invested in premium live video because it drives conversation among Twitter users interested in a video's topic, making even airing niche sports like lacrosse a worthwhile endeavor. "Our objective is to give our audiences things that they're passionate about," Noto said. "There's almost 300,000 followers for some of the professional dart leagues; we can serve that audience just as well as we can Boston Red Sox fans."
As Twitter inked deals with major media companies — it announced more than 30 partnerships this April with a wide range of outlets including ESPN, Live Nation, and yes, BuzzFeed News — it also dramatically increased its supply of top-tier, brand-safe video ad inventory, and advertisers opened their checkbooks accordingly.
"In January 2018 video was 90% of our overall Twitter spend compared to 75% in January 2017," Aaron Goldman, CMO of 4C Insights, a marketing technology company and Twitter Ads API partner, told BuzzFeed News. 4C's clients ran more than $1 billion in ad spend through its service last year.
"Live content and that video association is huge for us," Jimmy Bennett, head of media and social strategy for Wendy's, told BuzzFeed News. "It will continue to be a world that we look into invest in, and innovate with, and get creative around."
Twitter's Derella wasn't coy about the value of Twitter's video strategy. "Video is really really important to us," he said. "It's our largest format in terms of revenue."
Shipping Fast
When Jack Dorsey returned to Twitter for his second round as CEO in summer 2015, he directed his product team to rethink everything. The company was in a dire place, so Dorsey put nothing off limits, not even Twitter's revered 140-character limit or its reverse-chronological timeline.
The product team introduced an algorithm to the timeline in February 2016, blowing up Twitter's pure reverse-chronological order, and in late 2017 it expanded its character limit to 280. Both changes resulted in major user backlashes. The reaction to the algorithm was so severe, it inspired the million #RIPTwitter tweets and a denial from Dorsey that Twitter would actually go through with the changes after BuzzFeed News first reported they were on the way (it went through with them).
Though hard for some to stomach, the changes helped Twitter appeal to more new and casual users (who had tried and left Twitter by the hundreds of millions) since they didn't have to work so hard to find the best stuff on the service.
"The root of Twitter's problems was they were scared at iterating the product," Greenfield said. "Twitter, at the end of the day, is a machine learning challenge. All the great information is there; it's about surfacing it to the right people at the right time."
Later in 2016, a series of devastating news reports and high-profile user exits forced the company to reckon with a more complicated problem that it had long ignored: rampant abuse and harassment on its service.
In 2017, Dorsey made curbing harassment Twitter's top priority, and Twitter's product team released anti-harassment features at an unprecedented pace for the notoriously slow-moving company. They collapsed tweets they thought might be abusive, they built anti-abuse filters into search, they started allowing users to mute people who hadn't confirmed their email addresses, phone numbers, or were using default profile pictures. They introduced a mute filter that could be applied to specific words. They even killed the default profile photo, doing away with the eggs that had long been synonymous with toxic trolls.
Twitter also stepped up its enforcement against serial abusers and hate groups, extending its rules to cover what people do when they're off Twitter. The company began throttling abusive accounts' reach in February 2017, and it removed verification badges from white supremacists, a departure from its long-held belief that verification does not imply endorsement.
Harassment and abuse are still far from solved on Twitter. Just last week, actor Millie Bobby Brown quit Twitter after being targeted in an anti-gay meme. But Twitter at least seems headed to a better place.
"They are incredibly serious about addressing abuse and harassment, threats, and nonconsensual pornography," University of Maryland law professor Danielle Citron told BuzzFeed News. Citron, who sits on Twitter's Trust and Safety Council and has no financial relationship with the company, said things are getting better on Twitter, at least from her vantage point. "Because I write about cyberstalking and harassment and threats, I get countless emails. But there are less about Twitter," she said.
Better Lucky Than Good
Finally, Twitter has been lucky on many fronts, benefitting from factors beyond its control. Its strong stock performance has coincided with a global bull market. Its decision to seize on news as an identity was followed by Facebook's decision to pull back after a series of scandals. And Snapchat, which attracted a good deal of advertiser attention around its buzzy IPO, has cooled off dramatically since, giving Twitter an opening to reintroduce itself.
"It's no longer a sinking-ship feeling, but instead, a Rocky-like comeback."
Twitter even got lucky from an internal culture standpoint. After two rounds of layoffs and loads of voluntary exits, Twitter shed toxic employees while keeping true believers. And when this core fused with new hires, it created a healthier culture that replaced one exiting employees often described as a war zone. Now, some old star employees have returned, and they've been given an endearing nickname, "ReTweeps."

"It's no longer a sinking-ship feeling, but instead, a Rocky-like comeback," one ex-Twitter employee told BuzzFeed News, describing his conversations with former teammates still at the company.
In a phone call last week, Michael Nathanson, the Wall Street analyst who had a sell rating on Twitter at $14, made clear how he felt about seeing the company's revival: "I'm frustrated."
"The turnaround stories in digital — they're narrative based. It's the hope of tomorrow, the hope of what we see."
Nathanson then delivered what almost always comes along with positive Twitter news: a hedge. Twitter's fundamentals are getting better, he said, but its stock has shot beyond where it should be valued, especially when you put it next to competitors. Twitter's stock price, Nathanson said, was trading at 25 times its earnings before interest, taxes, depreciation, and amortization, while Alphabet's is at 14 times and Facebook's is at 12.5 times. In paying up for Twitter shares, investors are betting the company can deliver higher profits at some point in the future — but that's far from guaranteed given the company's turbulent history.
Twitter will eventually come down to earth, Nathanson suggested. He still has a sell rating on it. But the company, he allowed, has one of the most important things in today's market: momentum.

"The turnaround stories in digital — they're narrative based. It's the hope of tomorrow, the hope of what we see. We always say, every great growth stock needs a story, and people that believe that story," Nathanson said. "They've fixed their growth story." ●
If you want to keep up with the latest on Facebook, Amazon, Apple, and Google, subscribe to Tech Giant Update, a BuzzFeed News newsletter by the author of this piece, Alex Kantrowitz.