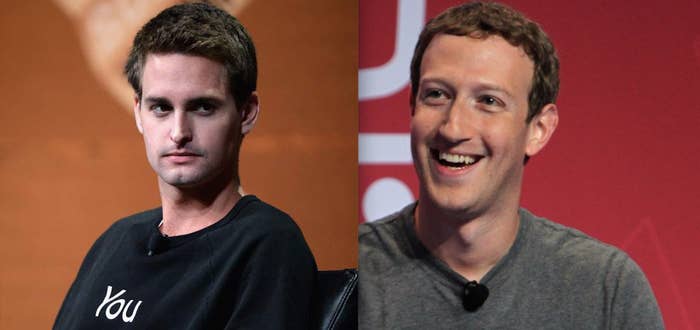 Snap Inc. CEO Evan Spiegel finally addressed Facebook's relentless cloning of Snapchat during his company's quarterly earnings call Wednesday — and he didn't hold back. "At the end of the day, just because Yahoo has a search box, it doesn't mean they're Google," he said, referring to Facebook's creating copies of Snapchat's features for Instagram, Messenger, WhatsApp, and the Facebook app.

In Spiegel's mind, Facebook may be the Yahoo to his Google, but the analogy doesn't fully hold up. Facebook's copying of Snapchat's Stories format into four of its products helped impede Snap's revenue and user growth just as it hit the public markets. On Wednesday, Snap reported disappointing first-quarter earnings results, and its stock plunged nearly 25% in after-hours trading.
Spiegel's comments, delivered in response to an analyst question about whether he fears Facebook, marked the first time he publicly addressed Facebook's brazen product copies. Spiegel's fiancee, Miranda Kerr, discussed the cloning in an interview with the Times of London in February. "It's a disgrace. How do they sleep at night?" she said at the time.
Despite the threat Facebook poses to his company, Spiegel was far more nonchalant than Kerr. "If you want to be a creative company, you've got to get comfortable with and basically enjoy the fact that people are going to copy your products if you make great stuff," he said. "We believe that everyone's going to develop a camera strategy — I think we really helped people understand how valuable the camera is; it's really the center of everything that we do."
Both Facebook and Instagram have credited Snapchat for pioneering the Stories format.
Facebook did not immediately reply to a request for comment.