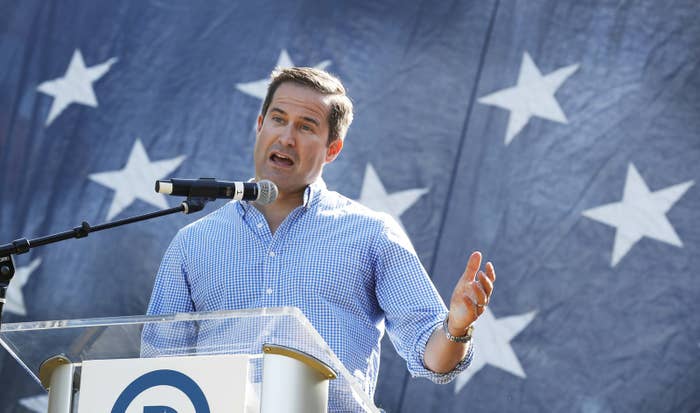 What if the antidote to a celebrity president is someone you have probably never heard of?
Tim Ryan, Seth Moulton, and Cheri Bustos aren't exactly household names. But they are Democrats in the House of Representatives — a place where the 194 members of their party have little power or visibility — who turned up Saturday at a traditional showcase of ambitious national politicians: a steak fry in Iowa.
Their logic is clear: Americans are demonstrably exhausted with the Democratic Establishment, embodied by Hillary Clinton, and might prefer a fresh, relatively unknown face. And of course there's some precedent: it wasn't too long ago that Barack Obama launched a presidential campaign barely two years into his first term in the Senate.
"There's a leadership vacuum, and I believe it's time for a new generation of leadership to step up in the party," Moulton told BuzzFeed News. "That doesn't mean pushing out the old, but it means that we need some new ideas, and we need some ideas that are focused on the future."
As is customary for likely presidential hopefuls three years out, neither Ryan nor Moulton admits outright to any presidential ambitions. But neither forecloses the possibility either. "We'll see where it goes," Ryan told BuzzFeed News in New Hampshire this summer. Bustos is seen as a rising star in the party, but has so far shown little indication of presidential ambitions.
Moulton, speaking on David Axelrod's podcast last month, declared himself "a hell of a lot more prepared" for the presidency than Trump was, but again insisted Saturday that it was not on his mind.
"I don't think you appreciate how little I'm focused on 2020. I mean, I'm literally not thinking about it at all," he told BuzzFeed News, right before speaking in front of the flag displayed at Obama's last campaign rally. ("No pressure," one of the introductory speakers told the members of Congress at the beginning of the program.)
House Democrats have been in the minority since 2010. The first early primary for the 2020 presidential race is more than two years away. The last House member elected president was James Garfield in 1880.
And yet, Bustos, Ryan, and Moulton aren't the only House Democrats making their way to Iowa. California Rep. Eric Swalwell was in the state earlier this year, and Maryland Rep. John Delaney (who already has announced he's running for president) and Hawaii Rep. Tulsi Gabbard are headed there later this month. That's also not counting other Democratic politicians like Los Angeles Mayor Eric Garcetti, former Missouri secretary of state Jason Kander, and South Bend Indiana Mayor Pete Buttigieg — all of whom have been making the rounds in early nominating states.
Of course, the election of Donald Trump and a Democratic Party upended by a loss that many are still struggling to explain has opened the door for candidates who might traditionally have struggled to find footing.
"The thresholds are no longer there that existed prior to Trump's nomination in 2016," said Democratic consultant Morgan Jackson.
"So if I'm somebody that's got a brand and an idea, I don't care if I'm county commissioner," he added. "Trump has opened the door."
At the Steak Fry on Saturday, Moulton, Bustos, and Ryan focused on how Democrats could win back Democratic voters that defected to Trump in 2016. Democrats, they said, could not simply spend the next three years railing on Republicans and Trump; they had to put forward a message and a platform that could bring those voters back into their camp.
Trump's election was certainly motivation but Democrats also point to Obama's presidency as proof that lofty ambitions aren't just a pipe dream.
"I do think Barack Obama on his own opened it up," a House Democrat told BuzzFeed News. Tom O'Donnell, former chief of staff to Dick Gephardt, the last House Democrat to make a serious run at the presidency, also pointed to Bernie Sanders' candidacy in 2016.
"I mean he came from nowhere, raised more money than anybody ever in American politics in a primary and ran a heckuva race," O'Donnell said, saying that prospective 2020 candidates might look at that and think, "this guy came from nowhere as as well, so maybe I can take a shot at this."
Some Democrats say technology has given candidates a bigger platform than they might have otherwise had.
"I think that clearly there aren't a whole lot of rules after a Donald Trump presidency, but I think it has more to do with technology and the internet," Ryan told BuzzFeed News at the Steak Fry. "So yeah, I think House members, business people, small state governors and senators are all in the game if you have the message and are striking the right notes with the voters who would want to donate them. That's the bigger part of it."
Still, House members start with institutional disadvantages when it comes to entering the presidential fray. They usually represent just a small slice of a state's population, which leaves them without name recognition and a national profile. As one of 435, they don't often stick out from the crowd, and few have the fundraising base it takes to raise the millions and millions dollars needed to mount a national bid. While Bustos, Ryan, and Moulton are quickly becoming name brands in Washington, DC, many Steak Fry attendees had never heard of them before Saturday.

House members also have a major disincentive to run for president: They have to run for re-election every two years, meaning if they make it onto the presidential ticket, they have no job to come back to. But Trump's election has galvanized Democrats in such a way that many are ignoring such considerations.
"What changed for me is I was prepared to make the decision to basically put my career on the line, my political career on the line," Delaney, who over the summer became the first Democrat to formally announce his intention to run in 2020, told BuzzFeed News by phone.
It's not just the presidency. House and Senate and gubernatorial races are seeing huge numbers of candidates — and not just also-rans, but credible contenders. Julie Stauch, an Iowa Democratic operative, recounted the story of a friend running for office who called seeking her help finding a finance director. Before they could finish a full interview process with someone, they were "snatched up" but another campaign.
"There is a passion out there not unlike people going into the military after 9/11," said Democratic pollster John Anzalone. "People believe in going into politics now because there is a calling, because Trump is creating an environment that so disgusts them."
Jeff Link, a Democratic consultant in Iowa, told BuzzFeed News he didn't remember the last time so many Democratic candidates were out in Iowa this early, although laying the groundwork early is not unheard of. But for House members, getting out there early is a necessity. "No one knows who I am," said Delaney. "So the way to solve that problem is to get in early and start doing the work."
It's not just Trump that's driving this. It's also the state of the Democratic Party, which often appears somewhat rudderless in the aftermath of last year's loss. There is no clear person to seize the party's mantle in 2020 because there is no clear mantle to seize.
"You look to your left and you look to your right, and you say, 'well you know, we don't have heavy timber in the party – except for Joe Biden," said Anzalone.
For Democratic House members, stuck in the minority for seven years now, that could seem an appealing prospect. They have no power to move legislation in Congress, leaving them with little voice on the major issues driving their party and the country. The campaign trail, if they do it right, can give a House member a megaphone and a say in what the fractured Democratic Party should look like moving forward.
"I think it's good for us to have a lot of people from different areas coming out and talking and getting their message out. I think that's really helpful. Especially now. It's still early in the grand scheme of things," Ryan told BuzzFeed News on Saturday. "You know, we just had an election, it'll be a year in November, and so to have this kind of people out trying different lanes and messaging platforms I think is helpful."
It's also an opportunity for potential candidates to get to know an electorate they'll have to woo to get their ambitions off the ground. "The Iowa Democrats invited me to come speak, but the main reason I'm here is to listen," Moulton said.
But Iowans might not be quite ready to listen to potential candidates. By the time that he, Ryan, and Bustos took the stage the crowd at the Steak Fry had noticeably thinned out. Many attendees had gone for the gubernatorial candidates.
"I do see society being more open to a nontraditional candidate," said Kameron Middlebrooks, a Des Moines resident at the Steak Fry. "I mean, [Trump] proved it. Anybody can win. Honestly. So I think it gives credence that people want to see a different kind of candidate."
And some House Democrats clearly feel that this is their moment.
"We've had a dry spell," acknowledged Delaney. But "some great traditions have had dry spells. Like the Boston Red Sox."
"And then things change."