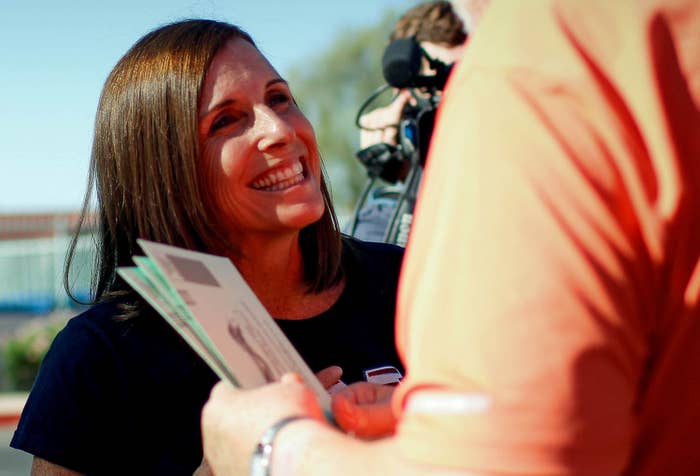 Rep. Martha McSally will be the Republican nominee for Senate in Arizona, coming out on top of a primary that became a battle to prove fealty to President Donald Trump.
She was the candidate Washington Republicans hoped would win: She bested former state senator Kelli Ward and former sheriff Joe Arpaio Tuesday and will now face Democrat Kyrsten Sinema. But Arizona Republicans are fretting about how little time McSally will have to reorient her message for a general electorate in a state with demographics increasingly trending in favor of Democrats. Arizona hosts one of the latest primaries in the country, and mail-in ballots will be sent out in just six weeks.
The Republican primary required stretching from McSally, who deemed Trump's Access Hollywood comments "disgusting" in 2016. But McSally embraced the primary persona with gusto, declaring herself "tired of PC politicians and their BS excuses," urging DC Republicans to "grow a pair of ovaries," and removing herself as a cosponsor of legislation to provide a pathway to citizenship for people who came to the country illegally.

McSally recently told BuzzFeed News the perception that she has done anything differently was "media nonsense."

Sinema, unencumbered by a serious primary, has run a campaign that a handful of Arizona Republicans described to BuzzFeed News as near perfect. While Republicans were fighting among themselves, Sinema had months to craft an image of herself as a centrist Democrat, willing to work across the aisle and unafraid to buck her own party. It is exactly the type of image that Republicans believe could allow Democrats to finally make inroads in Arizona, where, for the past decade, statewide victories have eluded them.

In an interview last week with BuzzFeed News, McSally signaled that she will make Sinema's evolving politics — from a Ralph Nader organizer and Green Party devotee to a lawmaker who has often voted against her own party — central to her campaign.
In her victory speech Tuesday night, McSally both knocked her opponent as "Hollywood Sinema" and kept up her commitment to the president, saying she would work to "build President Trump's wall."

A McSally ad released last week contrasts her background, as an Air Force fighter pilot who served in Afghanistan, with a photo of Sinema protesting the war while wearing a pink tutu.
"Her extreme, extreme radical left past is something we need to make sure the voters know about," McSally said. "I don't know what her sincerely held beliefs are because she's all over the map."