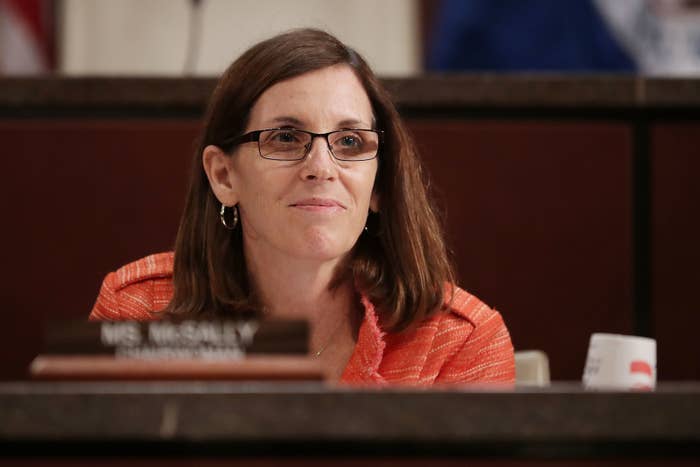 Rep. Martha McSally did not endorse Donald Trump in 2016. She was "appalled" by Trump's comments bragging about grabbing women on the Access Hollywood tape released just a month before he won the presidency. But then he won the presidency. And, a little more than a year later, she started running for Senate.
She, like Trump, is "tired of PC politicians and their BS excuses," she said in a video announcing her candidacy. She is happy to let you know that Trump refers to her as his "friend." She also has the minutiae of an Oval Office meeting with the president committed to memory, including the colorful language she used.
Republicans appear likely to pick McSally next week as their nominee to run for Senate in Arizona. But throughout her increasingly nasty primary, there's been the same nagging criticism: that her love for Trump is inauthentic.
So the state's November election poses a big question: Which is the real problem, the love for Trump, or the inauthentic part?
Republicans widely view McSally as the strongest general election candidate in next Tuesday's primary. If she wins, she almost certainly will face Rep. Kyrsten Sinema, the presumptive Democratic nominee, and one whom many Republicans nationally and in Arizona believe will be tough to beat.
But Republicans also worry that McSally's awkward efforts to mimic Trump's trash-talking style and to brand herself as a harder-line conservative on immigration after representing a moderate district could make things complicated. Republican primary voters like Trump more than general election voters do. And not all Republican base voters find McSally's Trump embrace all that believable. With Arizona hosting one of the last primaries in the country, there will be only 10 weeks to put the pieces back together before Election Day.
McSally dismissed the suggestion that she had changed her posture toward Trump or his policies as being imagined by reporters, whom she referred to repeatedly as "you people" or "you guys" during a Tuesday interview with BuzzFeed News.
"I don't buy any of the media nonsense on this, to be frank," McSally said. "You guys keep turning this into something it's not. He's a duly elected president. There was no turning point, no pivot. This was all made up by you guys."
"There was no turning point, no pivot. This was all made up by you guys."
Before she launched her Senate bid, McSally cut a moderate profile representing Arizona's 2nd Congressional District, a perennial battleground where in 2016 she won reelection comfortably even as voters favored Hillary Clinton by 5 points. Though she was neutral in the presidential race, she joined the pile-on after the release of the Access Hollywood recording in which Trump bragged about grabbing women: "Trump's comments are disgusting," she tweeted then. "Joking about sexual assault is unacceptable. I'm appalled."
The former fighter pilot told BuzzFeed News this week that, as a retired military officer, she always found it inappropriate to endorse political candidates, and that's why she held off on Trump. She also argued that her 2016 criticism of Trump post–Access Hollywood was "measured" and not personal when compared with reactions from other Republicans.
McSally's district, said former Arizona Republican Party chair Robert Graham, "had been packed with Democrats. I was told, as chairman, 'You'll never win that district,' and we did," in 2014, when McSally narrowly unseated a Democratic incumbent. "Martha did a very good job representing the people there."
But as a Senate candidate, running to represent a state Trump won by 3.5 points, McSally has hugged Trump tightly.
"Like our president, I'm tired of PC politicians and their BS excuses," she said in the January video declaring her candidacy. "I'm a fighter pilot, and I talk like one. That's why I told Washington Republicans to grow a pair of ovaries and get the job done."
The video also included footage of Trump praising McSally as "my friend" and "tough."
At the start of the campaign, there were serious doubts about whether McSally — backed by the Washington establishment — could snag the nomination given her past moderate politics and refusal to back Trump in 2016. She is seen as a Republican in the mold of Arizona Sens. John McCain or Jeff Flake, both vocal Trump critics who are not well-loved by much of the Republican base in the state. Trumpism, it seemed possible, might prevail in the form of Kelli Ward, who has been running as a Trump acolyte.
But things got somewhat easier when retired sheriff Joe Arpaio, who was pardoned by Trump after being convicted for refusing to halt a policing tactic to catch undocumented immigrants, got in the race. Public polling puts him in a distant third, and some conservatives in the state have expressed frustration that he is nothing more than a spoiler, siphoning votes from Ward.
A former state lawmaker who is seen as McSally's biggest threat, Ward plans to spend the final weekend campaigning with Mike Cernovich, the pro-Trump propagator of the Pizzagate conspiracy theory. Republicans now expect a more anticlimactic conclusion.
"She's not a Trumper; she never has been."
Instead, McSally's relationship to Trump has been the central issue, in a year when demonstrating loyalty to the president is a delicate dance. Trump has not endorsed in the race, and has spoken well of each of the candidates. (The seat is open because Flake, a persistent Trump critic, decided to retire rather than navigate the tricky path of Trumpism.)
To many, McSally's efforts to move toward Trump are not entirely believable.
"She's not a Trumper; she never has been," said a Republican strategist with Arizona experience. "And I think voters get that."
Said a national strategist closely following the primary: "I don't know if there's a non-clumsy way to make that shift. But she didn't make it."
McSally on Tuesday, though, described her first Oval Office meeting with Trump as the beginning of a friendly, breezy relationship with the president. She recalled with precise detail and dialogue — where she was seated relative to the president, which curse words she used — the March 2017 gathering, called so House Republicans could discuss health care legislation. McSally and Trump ended up talking more about the A-10 fighter plane she used to fly.
"It's a badass airplane with a big gun on it," McSally recalled telling the president, whom, she added, pledged to keep the plane in commission after she told him he would "have to pry it out of my cold, dead hands."
McSally's immigration positions also have put her more in line with Trump than with a House member from a swing district. In May, she removed herself as a cosponsor for a bill that would offer a pathway to citizenship for undocumented DREAMers. And a video of her urging a compassionate solution disappeared from her YouTube channel and an online press release. McSally asserted Tuesday that she has not been inconsistent on the issue: She said she signed on to the first bill as a show of good faith that a compromise could be reached, but later withdrew her support because it lacked the border security provisions she said she has long favored.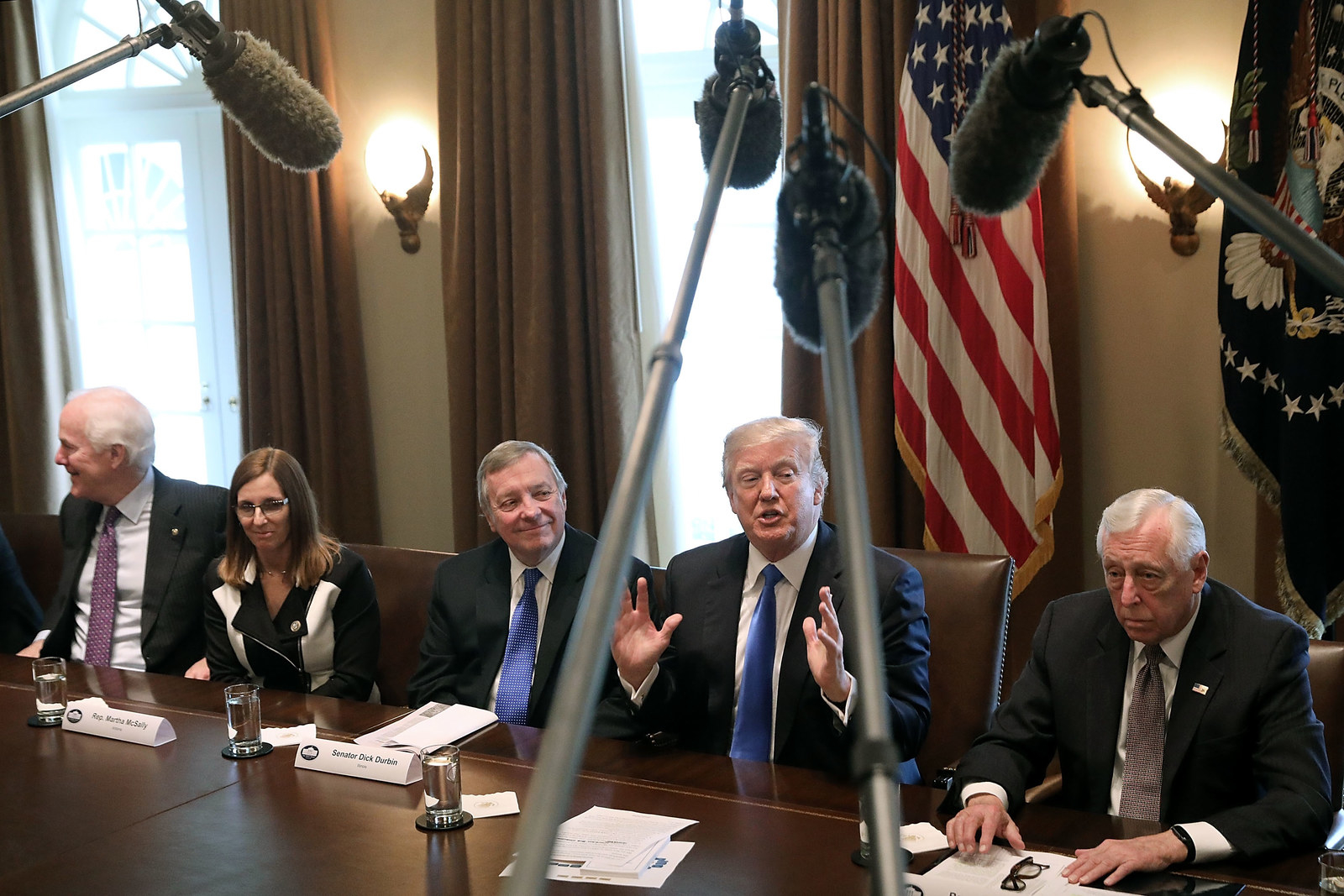 But Republicans who have watched her short political career talk of a jarring transformation, even as they acknowledge the Trump factor for Republicans in races across the country this year often requires such repositioning in order to escape a primary.
"I'd say it's a necessity, though I'd also say I wish she'd be more outspoken," Jim Kolbe, a former House member from Arizona, said of McSally. "And I do want her to win that primary."
McSally doesn't bother with any hedging about being a check on Trump when she disagrees with him or with his conduct.
"I'm in a coequal branch of the government," McSally said. "I'm a legislator. It is my primary job to put legislation on the president's desk. I am not a talking head. You guys just love having political theater. The regular people I represent in Arizona — they don't care about it. I'm not going to breathe life in the political theater."
"If I have an issue with him, I tell him to his face," she continued. "I work out my differences, ideally, behind closed doors."
But the suggestion that McSally's fealty to Trump isn't genuine is damning criticism in the Trump era.
"Being inauthentic is the worst thing you can be in politics today," one former Trump administration official unimpressed with McSally told BuzzFeed News.
The value of McSally's embrace of Trump is dependent on a certain theory of the midterms: that, as one Republican involved in many Senate races, put it, "The way that we win in '18 is by getting that '16 Trump voter motivated to turn out." McSally's Trump embrace might cost her votes in the Phoenix suburbs, the strategist said, but it's a trade that would be worth it if a presidential-year electorate turned out to support her in November. But some Republicans worry that McSally's Trumpism will not be sufficient to motivate those voters to show up.
Other Republicans worry it's not Trump who has defined the terms of the race, but rather Sinema, who has so far skated through the campaign unscathed while Republicans duke it out among themselves. She has made the most of the Republican primary, running positive, biographical spots creating an image that Arizona Republicans, when freed to speak anonymously, have described as practically perfect.
Amid the Republican slugfest, "Kyrsten's been entirely positive. She cares about vets and seniors and puppies probably," said the Republican strategist with Arizona experience. And the coming fight with Sinema has loomed large for Republican primary voters.
"There's a real conflict, though, I find, with a lot of my Republican activists who feel more ideologically in tune with Ms. Ward, and yet believe McSally is more likely to be able to survive and win," Rep. David Schweikert, a Republican who has been out door-knocking for his own (basically uncontested) primary, told BuzzFeed News.
"A lot of primaries often go pure ideological," Schweikert said. "But Sinema went up so early and so big, that she became a known quantity to the political class. So they know, so I think there's this understanding there's a big-time Democrat out there that has to be beat."
"I think there's this understanding there's a big-time Democrat out there that has to be beat."
It's a calculation many Republicans must make this year. They control the Senate by a two-vote majority and are favored to pick up seats in the fall, but the national political winds are not blowing their way.
For years, Democrats have made a big show of contesting Arizona, sensing an opportunity in the state's growing Hispanic population and rapidly shifting demographics, but they've so far been unsuccessful. This year, Democrats see Trump's immigration policies providing an even greater opening.
Republicans are concerned Democrats' efforts this year could create a bigger problem in 2020.
"I would call it almost spring training for the Democrats," said Chuck Warren, a Republican consultant who does work in Arizona.
Some Arizona Republicans see the looming contrast with Sinema as McSally's greatest asset.
"A lot of the times in the general election it's no longer about the candidates you want, but about the candidate you don't want," said Constantin Querard, a GOP strategist in the state. "In a general, the Republican message will be, 'We have to stop Kyrsten Sinema,' and Martha McSally will be the only vehicle to do that."
McSally sharply turned her attention to the general election Thursday with an ad emphasizing her military service after 9/11 and blasting Sinema for protesting the war "in a pink tutu."

Before getting to November, though, McSally still needs to pull through Tuesday. In the final weeks of the primary, Red and Gold, a Democratic super PAC, has spent almost $1 million on ads attacking her. McSally and her allies launched a vigorous counterattack, leaving some Republicans in the state confused — why was she still spending resources on a primary she seemed certain to win?
"We had to punch back," McSally said. "We've done that. We're going to be the nominee."
CORRECTION
Trump won in Arizona in 2016 by 3.5 points. An earlier version of this story misstated his margin of victory.