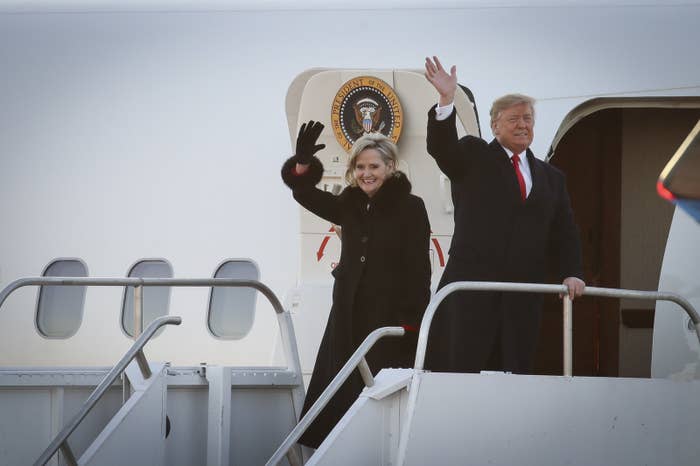 Republican Cindy Hyde-Smith won Tuesday's special election for a Senate seat in Mississippi, a result at once expected and noteworthy in a contest that has raised the specters of the ugliest parts of the state's history around race and civil rights.
Hyde-Smith was appointed to the Senate after former senator Thad Cochran retired, taking office in April. On Tuesday, she won the seat in her own right, beating Democrat Mike Espy, a former congressman and secretary of agriculture in the Clinton administration.
The result should have been a foregone conclusion: President Donald Trump won the state by 18% in 2016 and rallied on Hyde-Smith's behalf on Monday. But the contest took on new dimensions after video surfaced of Hyde-Smith saying of a supporter, "If he invited me to a public hanging, I'd be on the front row," evoking memories of Mississippi's all too recent history of lynchings and hangings.
Hyde-Smith, a former state senator and state commissioner of agriculture and commerce who is still new to the national stage, struggled to defend the remark as she campaigned against a black opponent. Espy called the remark "reprehensible." She ultimately issued an apology "for anyone that was offended," saying "there was no ill will, no intent whatsoever in my statements."
Less than a year after Democrat Doug Jones pulled off a stunning victory in a Senate special election next door in ruby red Alabama, Democrats saw a path for Espy, if a very narrow one.
Initially, Democrats had hoped that Espy might face a different Republican. Hyde-Smith, Espy, and former state senator Chris McDaniel, a self-styled conservative warrior, faced off in a jungle contest on Election Day as a result of the particular special election rules. If a candidate had gotten more than 50% of the vote on Election Day, they would have won it outright. Failing that, the top two vote-getters — Espy and Hyde-Smith — proceeded to a runoff.
Hyde-Smith in the campaign attacked Espy for ethical questions during his time as agriculture secretary. After he left that office, he was indicted on charges of improperly accepting gifts but acquitted on all counts.
Hyde-Smith's victory means she will serve out the rest of Cochran's Senate term, which ends in 2020. She is the first woman to be elected to Congress from the state of Mississippi. Her win brings the Republican Senate majority up to 53–47, up from a 51-seat majority before this month's elections.