As Facebook continues to face intense pressure over its role in spreading misinformation during the U.S. election, the global nature of its platform means the so-called fake news problem is already infecting other parts of the world. From Rangoon to Manila to Sao Paulo, fake news is going viral on Facebook.
Brazil is currently experiencing an onslaught of online misinformation as a result of political upheaval that has seen the impeachment of President Dilma Rousseff and a massive investigation into what has become known as the "Lava Jato," or Operation Car Wash, scandal.
Politicians from Rousseff's Workers' Party (PT), current President Michel Temer's Party of the Brazilian Democratic Movement (PMDB), and members of other political parties are accused of siphoning off funds for themselves, their parties, and coalition parters when they appointed corrupt directors to Petrobras, the state-owned oil company. They allegedly colluded with some of the country's biggest construction contractors to divert up to 3% of the funds from major contracts for their own benefit.
Since the scandal broke earlier this year, there has been a rise in online misinformation and fake news articles about the car wash scandal and its political fallout.
An analysis by BuzzFeed Brazil found that the 10 top-performing false stories about the car wash scandal received more total engagement on Facebook than the 10 top-performing true articles.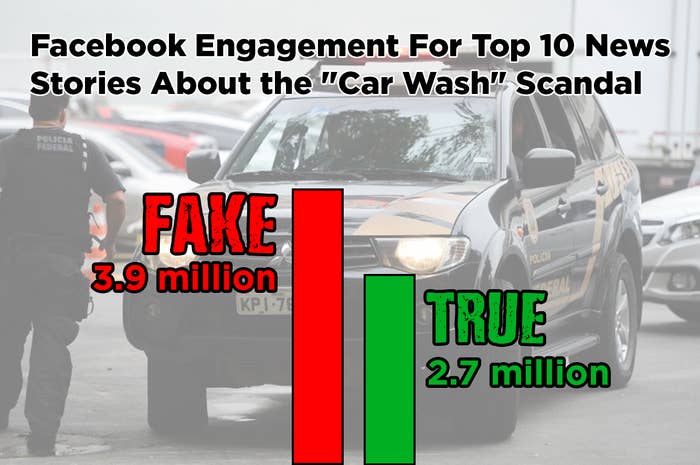 Since January, the top 10 false news stories generated 3.9 million shares, reactions, and comments on Facebook. The 10 top-performing true news stories generated 2.7 million shares, reactions, and comments. This analysis excluded opinion columns and government websites, and is based on Facebook data accessed via BuzzSumo.

The analysis showed that the top false stories also received a higher average amount of engagement when compared to true stories.
A significant amount of the engagement with true stories came from just one big hit: a story from G1, the news website run by the largest TV station in Brazil.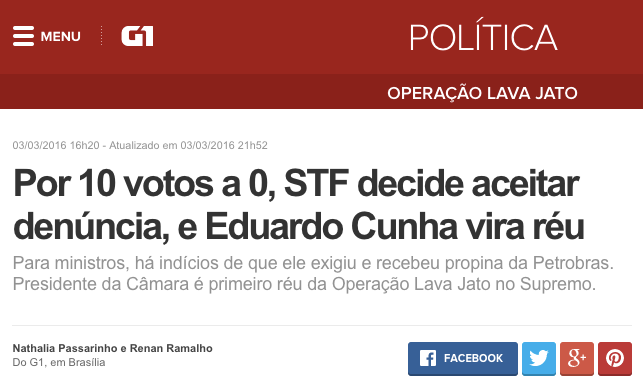 It was the first to report that former congressman and House Speaker Eduardo Cunha was named as a defendant in the Operation Car Wash case before the Supreme Court. That story alone is responsible for 1.1 million of the total 2.7 million Facebook engagements for all top 10 true stories about the scandal.

Facebook declined to comment on this analysis. However, when BuzzFeed News reported last week that the top 20 false stories about the US election generated more engagement than the top 20 stories from major news outlets, a Facebook spokesman said top stories don't reflect overall engagement on the platform.
Facebook CEO Mark Zuckerberg recently announced seven things the company will do to help stop the spread of fake news on its platform.
The most shared false story about the car wash scandal was about Congressman Jair Bolsonaro, and had 596,000 engagements. That's fewer than the G1 story, but higher than any of the other true news reports in the top 10.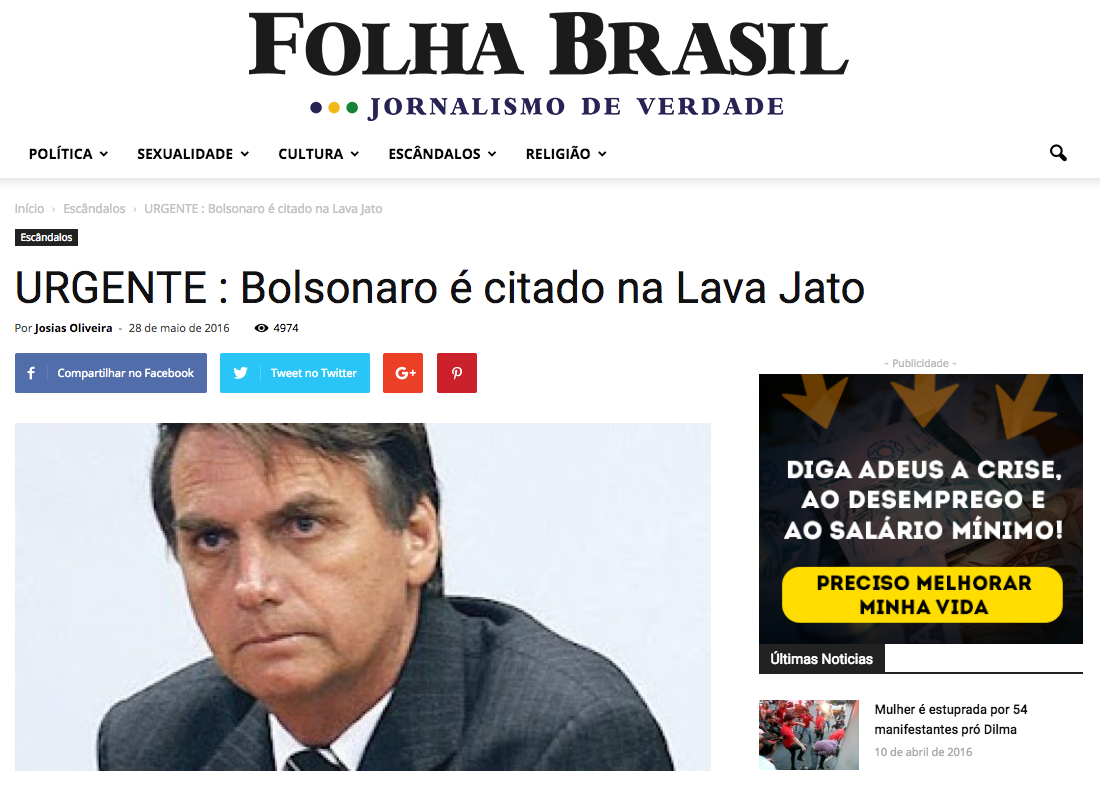 Jair Bolsonaro is the most famous far-right congressman in Brazil,and he may run for president in 2018. Any connection to the scandal would hurt his chances, which is likely one reason why the hoax spread so quickly. It was published on Folha Brazil, a website that only publishes fake news and whose name, logo, and slogan are very similar to the real Folha de S.Paulo newspaper.

The fake website's domain is registered to a man named "Josias Oliveira," which is also the byline that appears on Folha Brazil's articles. This is most likely a pseudonym. Josias is a man's name, but the domain registration lists a social security number that belongs to a 24-year-old female college student living in the State of Espírito Santo.
The BuzzFeed Brazil analysis also identified false stories that resulted from completely misleading headlines. That was the case with a story from Brasil Verde Amarelo, a news site funded by a company called Ethernize Productions.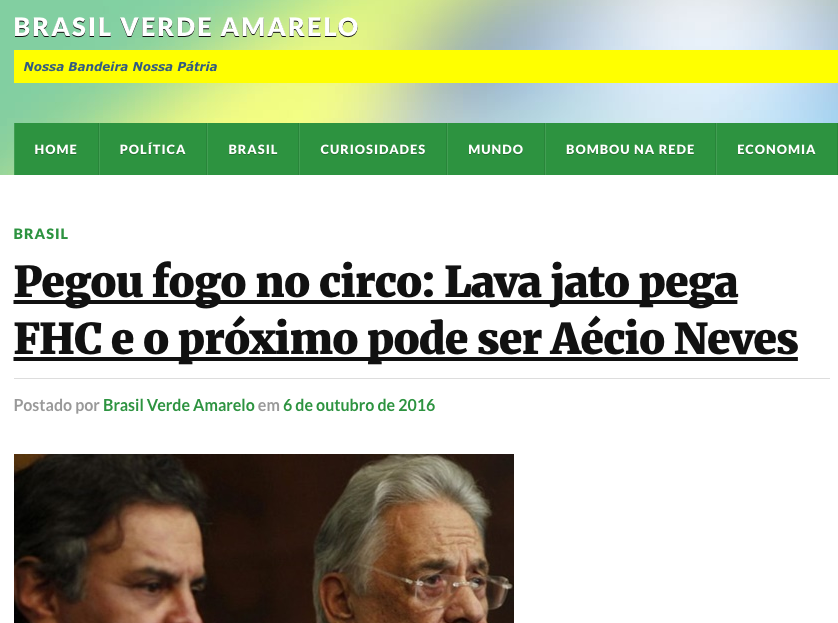 The site took a true report from newspaper O Estado de S. Paulo and gave it a false headline. The original report said Operation Car Wash investigators were examining thermoelectric purchases made during Fernando Henrique Cardoso's time a president of Brazil. Brasil Verde Amarelo invented a false headline saying that the Cardoso himself was being investigated.
Some of the biggest rumors about the scandal never appeared in a news article. Memes with false claims spread widely on Facebook but were not included in this analysis since they did not come from a specific website or article.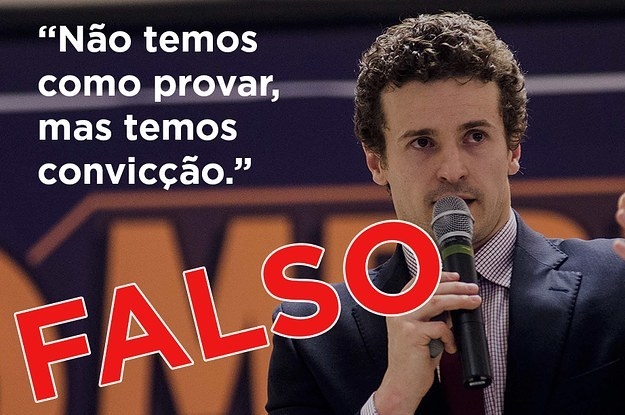 An example of a viral meme is the quote, "We can not prove it, but we have conviction." It has been falsely attributed to a federal prosecutor involved in the car wash investigation, and is presented as him saying they will eventually get to former Brazilian President Luiz Inacio Lula da Silva. BuzzFeed Brazil previously debunked this fake quote.

Here's a list of the top 10 false news stories about the car wash scandal, ranked by their total amount of Facebook engagement since the beginning of 2016: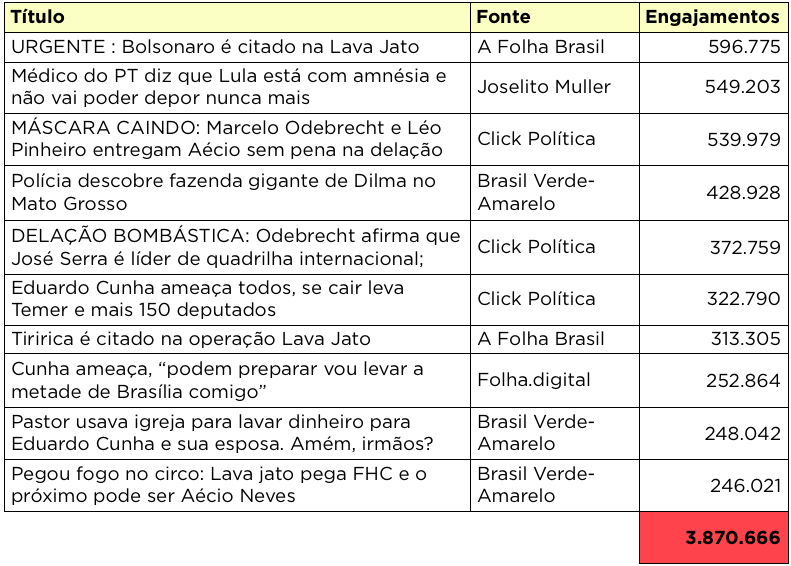 These are the top 10 true news stories about the car wash scandal, ranked by their total amount of Facebook engagement since the beginning of 2016: