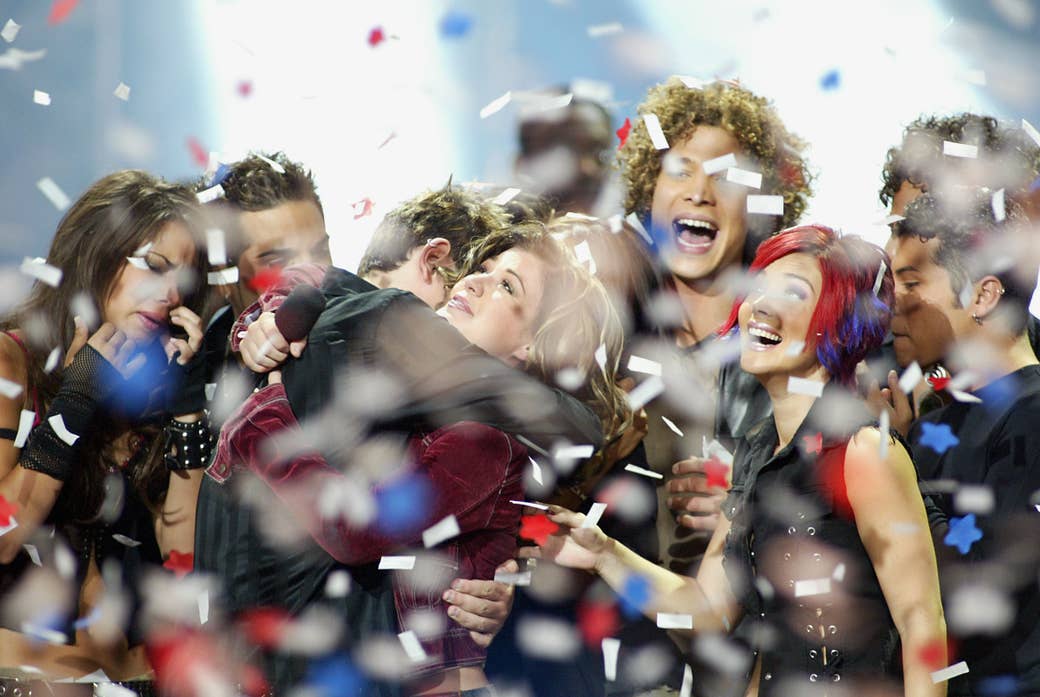 2002 feels like eons ago: The country was still in shock over 9/11, George W. Bush was president, and that June, his fellow Texan Kelly Clarkson auditioned for a brand-new TV show called American Idol.
Looking oddly club-ready in black pants and a top she had made out of old jeans, the 20-year-old hit every note of Etta James' classic love ballad "At Last." Producers liked range, and she followed up by turning Madonna's empowerment bop "Express Yourself" into an a capella showcase for her buttery vocals. "Cool beans," she said repeatedly — to the judges and to herself, almost calming herself down as she went off to the finals.
As a contestant, Clarkson delivered on the show's promise: obvious vocal talent, versatility, relatability. Her coronation that fall felt preordained. As she performed "A Moment Like This," the song designed to launch her career, the cameras focused on her teary-eyed parents. Her voice caught on the line "I can't believe it's happening to me," and it was like the then-small-town Burleson, Texas, server was telling her own story directly to the audience.
The single shot to No. 1 upon its release that September, and her album Thankful did too, establishing the Idol brand as a force to be reckoned with. Twenty years since that debut season, the show has faded. But Clarkson's own success has remained surprisingly long-lasting.
There have been multiple Idol success stories, with other talented contestants parlaying their exposure into entertainment careers. 2005 winner Carrie Underwood went on to break records as a country act. And just being a finalist could be a boost: Neither Jennifer Hudson — who recently EGOTed — nor Queen vocalist Adam Lambert won their year's contest.
But Clarkson has been the most adept alum, managing the peculiar mantle of being designated a mass appeal pop star without coming off as a trend-chaser or try-hard. She has traversed several different eras: adult contemporary ballad queen, premier purveyor of breakup anthems, musically versatile one-woman jukebox, and reviver of the era of the singing talk show host. Throughout, she's stayed remarkably on brand as the people's celebrity.
"A Moment Like This" wasn't Clarkson's choice for a first single, as she recently told Howard Stern. "That's not a song I would've been like, 'Can't wait to sing that,'" she explained. "It's not what I wanted to make a record like, and I didn't want to confuse people. But I get its purpose."

Yet the song, the musical equivalent of a Hallmark card — designed to fit in at weddings, graduations, beauty pageants — did its job: showcasing her range, from an airy upper register to growling bluesy undertones.
The generically inspirational lyrics felt timeless in a way that makes it easy to forget that Clarkson is a contemporary of Britney Spears and Christina Aguilera. The Idol launch — watched by 20 million people — put Clarkson in a slightly different lane, because the show was such a wholesome throwback to pre-MTV musical stardom. While TRL's teen queens were having fun marking their entry into womanhood with ass chaps and phallic snakes, Clarkson was accruing the biggest honorific this country gives a demure white woman: America's sweetheart.
She made the most of that safe image. Her ballads became ubiquitous mood setters in movies: from gospel-flavored "The Trouble With Love" in 2003's Love Actually, to the hummably nostalgic "Breakaway," which appeared in the 2004 franchise blockbuster The Princess Diaries 2: Royal Engagement.
A youthful edge came from Clarkson's uptempo kiss-off bangers, like "Miss Independent" and "Since U Been Gone." She rocked out on them, becoming an avatar of the "fine without you" sentiment that women the world over could sing along to at karaoke bars.
Her image drew mostly on the girl next door: from the cozy sweater on the Thankful cover to music videos that helped bring together the everywoman and the rock star. In 2005's "Behind These Hazel Eyes," a worthy entry in the "ruin a wedding gown" genre, she plays both a bride falling into the mud and a rocker advising the bride to run, in what felt like an echo of her role as breakup guru.
In real life, though, Clarkson started chafing at the impositions of the RCA label, and the constraints of being a "sweetheart" started showing. Thanks to the Idol deal, her early career unfolded under the stewardship of legendary label head Clive Davis. He guided many of the musical choices and sometimes refused her input on the music.
She said she followed his advice for her sophomore album, Breakaway, to record then-emerging producer and songwriter Dr. Luke's "Since U Been Gone." She even cowrote "Behind These Hazel Eyes" with Dr. Luke. But, as she wrote in a blog post after Davis's memoir was published, she had to fight to include "Because of You," a personal ballad she wrote about her relationship with her absent father, because Davis balked at it.
"I cried because he hated it and told me verbatim that I was a 'sh*tty writer' who should be grateful for the gifts that he bestows upon me," she wrote. Davis relented, and the ballad — released after the Luke singles had made a huge splash — went top 10. But their clashing reached an impasse with the release of her third album, 2007's My December. Inspired by a Clarkson breakup, it featured leaner, less overtly sing-along production and more introspective lyrics.
The first single from the album, "Never Again," was a punkier, less melodic take on breakups than her previous anthems. Reviews were mixed for the album, with most highlighting her "angrier" sound. The single eventually went top 10 and the album went platinum. But Breakaway had gone six times platinum. And without instigating a tabloid guessing game about the breakup — she never named the boyfriend in profiles — or Dr. Luke's radio-friendly hitmaking, December lacked the kind of commercial staying power the label wanted. Ticket sales for her tour tanked that summer, forcing a cancellation.
It was the first time she branched out of the industrial production model of the Idol brand, and she said she faced internal backlash. She felt "blackmailed" into working with Luke again. "They were like, 'We will not put your album out if you don't do this,'" she revealed later.
She did cowrite with him again, on "My Life Would Suck Without You," the title track of her 2009 follow-up. The song, her then-biggest No. 1 after her record-breaking first single, also helped the album debut at the top of the Billboard chart. But she refused cowriting credits, and it marked the end of her relationship with Luke.
An empowerment anthem she cowrote, "Stronger (What Doesn't Kill You)," helped her emerge more successful than ever just a couple of years later. The 2011 song became her longest-running hit, with three weeks at No. 1. The flash mob–inspired video, a reminder of her own crowd-sourced origins, remains her biggest YouTube success after "Gone."
By the time she returned to the Idol stage in 2016 to promote her last album under the show's aegis, it felt like the end of an era. She teared up while singing the autobiographical ballad "Piece by Piece," about how her relationship with then-husband Brandon Blackstock had helped her heal childhood wounds. The next year, the show, plagued by historically low ratings, was canceled.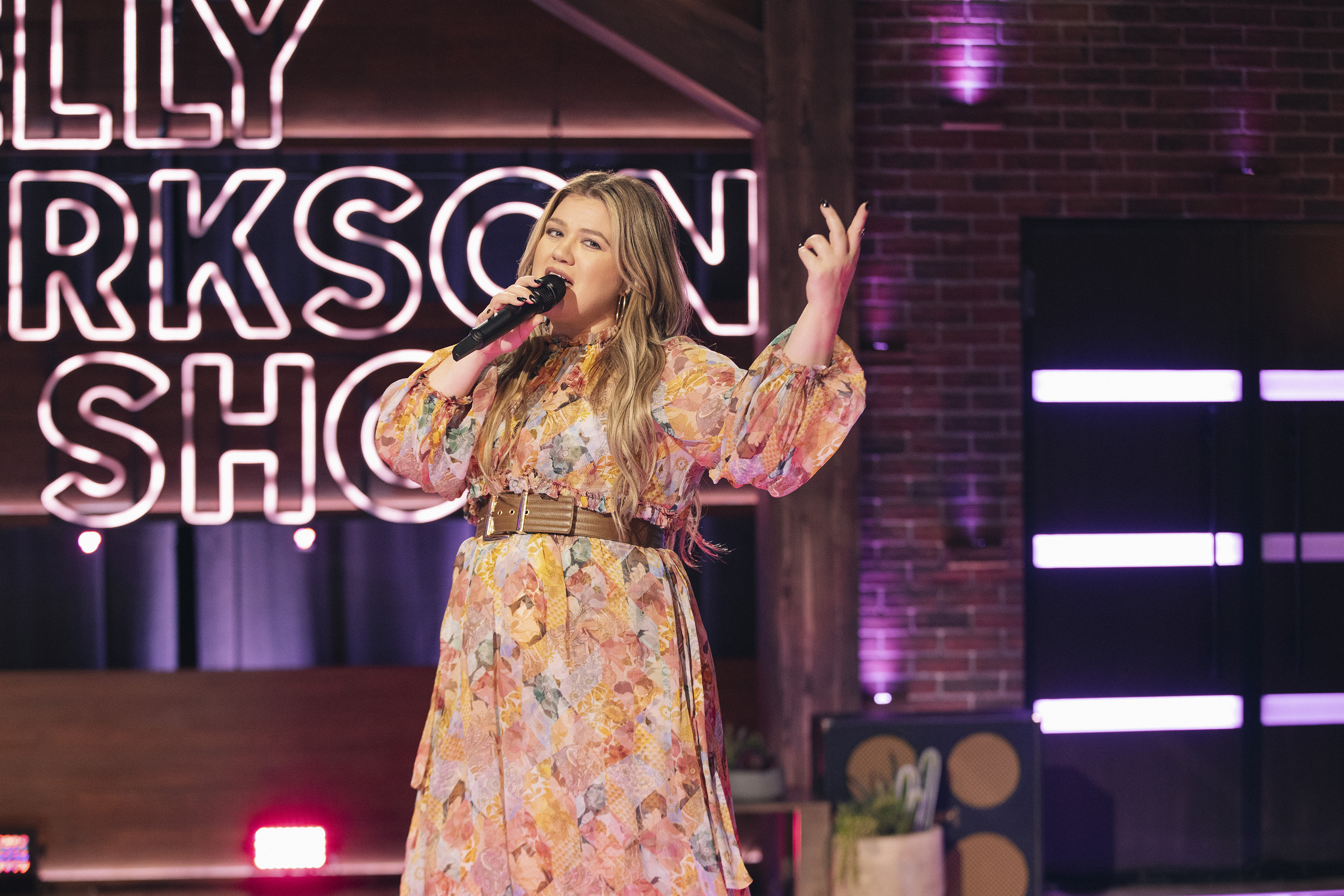 Part of the Clarkson — and Idol — brand is avoiding politics. That was an easier order in the pre–social media era. And when she finally came out politically, as a Ron Paul supporter on Twitter in 2011, there was backlash from surprised fans. (She declared herself a Republican who had been voting Democrat.)

In 2016, she spoke out against Trump, tweeting: "I am legitimately frightened for our nation." And as #MeToo trended in the media and Kesha's lawsuit against Dr. Luke alleging sexual assault went public, Clarkson finally openly spoke out against him. "He's not a good person to me," she said during an interview. "We've clashed. I can't really say anything other than that."
Even as she found her voice politically, musically, her next album, 2017's Love So Soft, underwhelmed. She said she wanted to create a record inspired by '90s Whitney or Mariah, but by then everyone was going for that vibe, and it came off more like Meghan Trainor–style retro yet rootless R&B.
Though Idol returned that year, the show's relevance had devolved into headlines about salaries and the judges' infighting. Clarkson joined Idol rival The Voice as a relatable "coach" instead, and it felt organic. She had always performed other artists' songs in her concerts, from Carey's "Can't Let Go" to Prince's "Purple Rain," so she was a natural fit to advise contestants who were crafting their own takes on big hits. "The thing I love about The Voice is that they're more mentors — they're not judges," she said when she guest-mentored in 2012. "I would never really want to be a judge, just because I don't want to break people's hearts."
Paradoxically, she continues to seem more comfortable with herself when honoring other people's songs. At the opening of the 2018 Billboard Music Awards, she performed the biggest bops of the year, flitting from Sam Smith's "Too Good at Goodbyes" to Kendrick Lamar's "Humble" and Taylor Swift's "Look What You Made Me Do," accompanied by some rare soft choreo.
In probably the biggest departure from her Idol beginnings, she unveiled her own daytime talk show, The Kelly Clarkson Show, in the fall of 2019. Her journey from celebrity to celebrity interviewer seemed to set her up as an obvious successor for the Rosie O'Donnell or Ellen mantle. ("No one can take over for Ellen," she demurred in an interview last year.)
But her show is the same kind of wholesome, celeb-packed, ad-friendly fare as its precedents. There are no hardballs in her interviews, no prickly Wendy Williams–style commentary. Last year, her chat with Sandra Bullock about life in Austin, kids, and parents devolved into laughter and went viral.
It's her "Kellyoke" segment that usually steals the show, though. Clarkson stands onstage with her microphone and gives her all to covers, from Ariana's "7 Rings" to Alanis's "Uninvited," that rack up millions of views. It's not the most original concept for a segment — Carpool Karaoke predated it by a few years — but the novelty of watching an A-lister play cover singer had a unique charm, even in the age of stunty YouTube bait.
And in a moment of celebrity retreat from social media, Kellyoke seems to have become a way for Clarkson to comment on her personal life. While she's refused to talk about the pandemic divorce from ex-husband Blackstock, a lyric change in her version of Billie Eilish's "Happier Than Ever" was viewed as a dig at him. And after Britney Spears recently called her out for resurfaced comments about the pop star, Clarkson trotted out "Womanizer."
The way Clarkson has found her voice in public again by interpreting her favorite songs echoes the way she introduced herself to the public two decades ago. During that Idol finale, a cavalcade of fellow competitors rushed in to sing the final chorus along with her. The poignant gesture was a tribute to Clarkson's Miss Congeniality charm, confirmation of why her persona was such a perfect match for Idol's ethos of pop democracy. Rebooting songs already woven into people's lives is the perfect sequel to that musical egalitarianism.
Even amid the glut of TikTok revivals and musical recycling, her enthusiasm for other artists' creations has helped her stand out commercially: In June, her Kellyoke EP shot to the top of the iTunes chart.
Clarkson has never really been a trailblazer, but she hasn't been a follower, either. She's remained oddly in step with pop culture by being slightly out of step with trends. "I'm never going to be Whitney Houston — I'm never going to be Cyndi Lauper, Reba or Trisha or Mariah," she said in a recent interview. "I'm going to be me." Twenty years on, it's still reaping dividends. ●