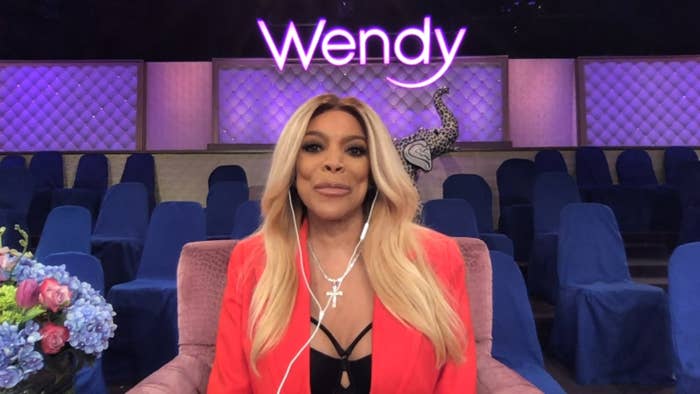 When The Wendy Williams Show returned for its 13th season last fall, the talk show lacked something essential: its eponymous host. Rumors floated about her personal life and whether she might be dealing with an illness or addiction. An array of guest hosts, ranging from Leah Remini and Fat Joe to Michael Rapaport and Remy Ma, took over for her.
This week, the months of speculation about the fate of the top-rated show finally came to an end. Producers announced that Sherri Shepherd would replace Williams, prompting a statement from Williams' own spokesperson. "She, more than anyone, understands the reality of syndicated television," he said, acknowledging the inevitable. "You can't go to the marketplace and sell a show that's the 'Maybe Wendy Show.'"
Shepherd, the actor, one time-View cohost, and evolution skeptic, was one of the more popular fill-in hosts. She's something of a safe choice who fits in with the current era of celebrity talk shows, saturated with former actors and singers jumping into the format.
From Kelly Clarkson, who revived the era of the singer-hosted variety hour, to the zany, feel-good vibes of The Drew Barrymore Show, the current crop of ratings-getters are not in the Williams mold. Still, the show's end highlights her uniqueness and why her style redefined the daytime talk format when her program debuted in 2008.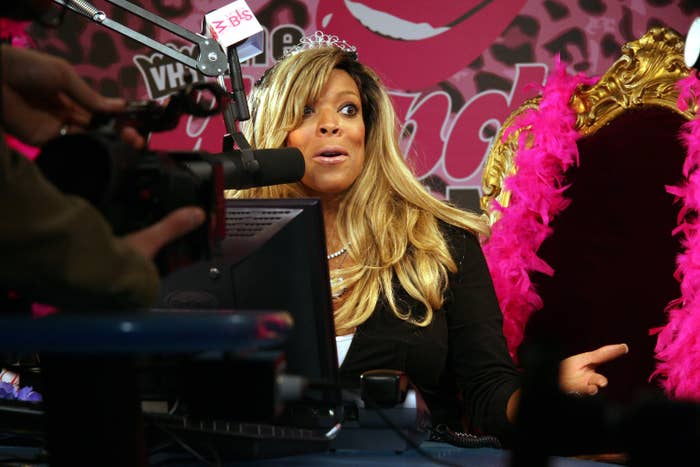 Williams famously came up as an old-school radio personality who wasn't just an interviewer but a broadcasting entertainer. She got her start in New York and Philadelphia radio, discussing hip-hop culture and celebrity with a messy, transgressive brand of sharing gossip and personal revelations.
The nineties and aughts gossip era has come in for a drubbing for promoting everything from anti-queer to anti-Black mores. And Williams was as problematic as the rest, outing figures like Da Brat. She even speculated about Puff Daddy's sexuality, and her gay-coded "How you doin'?" became a trademark.
It all made her a lightning rod, and she was famously confronted outside her studio by a Diddy music group she shit-talked — exploits chronicled in last year's Wendy Williams: The Movie on Lifetime.
But like fellow shock jock Howard Stern, she balanced scandalmongering with vulnerability, sharing stories about her own life as well. Her struggles with dating, her weight, plastic surgery, cocaine addiction, miscarriages, her eventual marriage to Kevin Hunter, and pregnancy were all fodder for chatter.
She transcended radio with a bestselling memoir; her interviews with Whitney Houston and Mariah Carey became iconic on their own terms and filtered onto YouTube. The VH1 reality show The Wendy Williams Experience, which also starred her radio cohost Charlamagne Tha God, brought her backstage exploits to TV and aired until 2006.
By then, even people who didn't listen to her on the radio knew of Williams. But it's not as if her brand easily translated to daytime TV, which requires less shade and more family-friendly celebrity coddling.
During one of the first episodes of The Wendy Williams Show, which debuted in summer 2008, human porcupine Omarosa Manigault Newman tried to get under Williams' skin with jabs about her wig and claims that the host had gotten soft. "Maybe they're backing you up for the show," she said. "I'd love to see more of the edge." "No, this is the same Wendy, sweetie," Williams retorted.
And she was. As her back-and-forth with Omarosa illustrated, Williams came into television at the perfect moment to be the shady ringmaster of our emerging, feud-centric social media and reality TV era. Nobody else could have handled in-depth sitdowns revisiting Aretha Franklin's life and career while also stoking on-air squabbles with Love & Hip Hop star Joseline Hernandez.
She catered to the majority-women audience of the daytime TV format with the show-us-your-shoes cam and the cooking demonstrations. But it was the "Hot Topics" segment, which grew to take over almost the entire show, as she moralized and opined about the day's celebrity news, that really defined the program. Sitting in a throne-like purple chair while sipping her tea, Williams gave her hot takes on TV shows, social media brouhahas, and music, always looking for reactions.
It was the "Hot Topics" segment, which grew to take over almost the entire show, as she moralized and opined about the day's celebrity news, that really defined the program.
Whether she was declaring Beyoncé inarticulate or airing out her concerns about Tabitha Brown's marriage, Williams had no fear about eliciting the wrath of the Beyhive or prompting viral clapbacks. ("Wendy, the pain you must be in to feel this way. Honey, I'm so sorry," Brown replied, in what became a meme corralling shade with earnestness.) Williams was shady and ridiculous, but there were also subtler moments that captured why she was good at her job and understood pop culture.
She clearly watched the shows she talked about and knew how to make good television with her interviews. For instance, needling Real Housewives of New Jersey star Teresa Giudice about being jealous of her sister-in-law to her face, knowing full well the wrong brand of cookies had started a major family drama between them; or making the perfect expression as former Danity Kane member and Celebrity Apprentice contestant Aubrey O'Day sat with her, explaining how she was more "urban" than the other corny white castmates on the reality show. Williams basically winked at the audience, repeating, "So urban."
But it all started to crumble around 2017 when she collapsed on air in a Statue of Liberty costume. There were rumors that her longtime husband had had an affair and fathered a child with his girlfriend, which were eventually confirmed. She took some time off in 2018 and 2019, revealing tearfully on her own talk show that she had been in rehab.
Williams returned in full throttle to "Hot Topics" by 2020, admonishing Future to tie his "penis in a knot" and jokingly wishing death on Britney Spears' parents during the conservatorship battle. She was still often called out for her victim-blaming misogyny and anti-gay comments.
Early last year, she didn't just come back to the talk show, though; she also seemed to be in a nostalgic mood and concerned with claiming her story. She created a gonzo Lifetime TV movie as well as a candid documentary, in which she munches on caviar and Cheetos and tearfully talks about the end of her marriage.
Last fall, she disappeared once again, raising speculation and prompting producers to bring in all the guest hosts. The range of people — across genders and races — speaks to the assortment of Williams' own audience, as she was one of the few hosts who particularly spoke to Black women and gay men.
This week's announcement, after months of her publicity team's face-saving "Wendy will be back" postponements, led to tributes to Williams on Twitter. "As a queer, this show was an escape and always will be. 13+ Years on Daytime?! LEGENDARY!," one user wrote. Andy Cohen shouted her out on his own talk show, proclaiming, "We love you, Wendy."
Perhaps the biggest tribute to her longevity is remembering the numerous A-list TV personalities who flopped in the format during her reign, including Katie Couric, Anderson Cooper, Meredith Vieira, and Bethenny Frankel. When Ellen DeGeneres's nice persona crumbled and her talk show ended, Williams pointed out, "19 years on TV doesn't change your life — it exposes you for the person you really are."
And to her credit, Williams mostly owned her imperfections. In an interview with Cohen last year, he asked how she had come up with the title for her candid documentary, Wendy Williams: What a Mess! She said it was her reaction to the boring titles pitched by Lifetime executives. It's a fitting self-admonishment — and tribute. ●