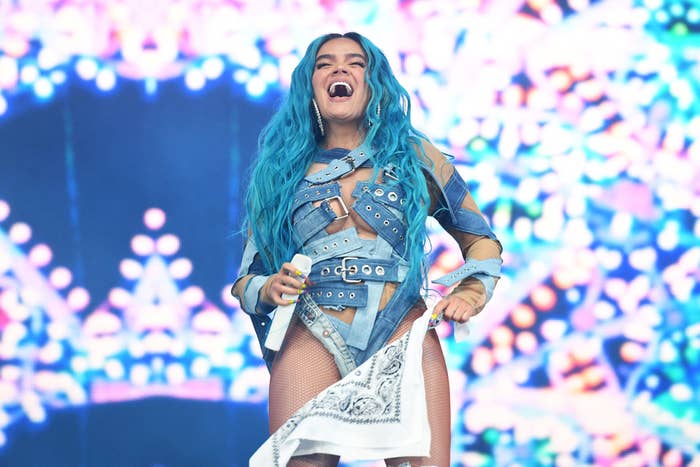 Nearly 10 years ago, pop star Karol G gave an interview to a Colombian TV station. "I've always had this project in my head," she said, relaying her observations of the Latin pop landscape. "I'm vying for that spot that's been missing since Shakira; there hasn't been a woman who's really gone global."
She was right. Shakira has been breaking records since the late '90s, reinventing herself: first teen pop star, then rocker and crossover queen, and now cemented, with the success of her breakup anthem "Bzrp Music Session 53," as a global behemoth. But even amid the current wave of women in reggaeton, no one has matched her genre-crossing ambition and girl-next-door celebrity.
Karol G popped up in the 2010s as something of a cool-girl sidekick to male stars like Nicki Jam and Bad Bunny but quickly added her own spin: songs about heartbreak, sexual agency in cheeky vernacular, and kiss-off lyrics, all delivered with laid-back cool and a powerfully melodious voice; she sings about feeling sexy like a cat woman (in "Gatubela") and declares herself a big shot ("La Bichota").
Last year Bad Bunny broke records by topping Billboard's mainstream pop album chart twice with Spanish-language albums. And now Karol G's latest album, Mañana Será Bonito, has become the first ever by a woman to do the same, an event in a genre where women's albums (as opposed to singles) have struggled to break through, a testament to timing and her commitment to her vision.
Like Shakira, Carolina Giraldo Navarro started out in her teens. At 14, she auditioned for Colombia's youth version of The X Factor, El Factor Xs, in 2006 and was eliminated before the finals.
At the time, she loved the campy Mexican pop diva Thalía — whose most iconic video cast her in bustiers featuring candelabra, water faucets, and strawberries — and R&B stars like Ciara and Beyoncé. She made YouTube videos covering Lauryn Hill, hoping to be discovered like Justin Bieber. But she wasn't, so she studied music and songwriting in Colombia's University of Antioquia. After performing as a backup singer for Colombian reggaeton performer Reykon, she eventually came out from behind the scenes in 2012 for a successful — but unremarkable — duet, which she cowrote with him, "301."
Her breakout finally came the next year, with a self-penned romantic song called "Amor de Dos," where she played the good-girl girlfriend to Nicky Jam's bad boy. It sounded like an Ashanti-style hit from the aughts, and the song's success earned her a record deal from Warner. Like most of the other women breaking out in reggaeton and Latin trap, she started collaborating with the biggest men in the genre to get a global following, including Ozuna, Maluma, and Bad Bunny.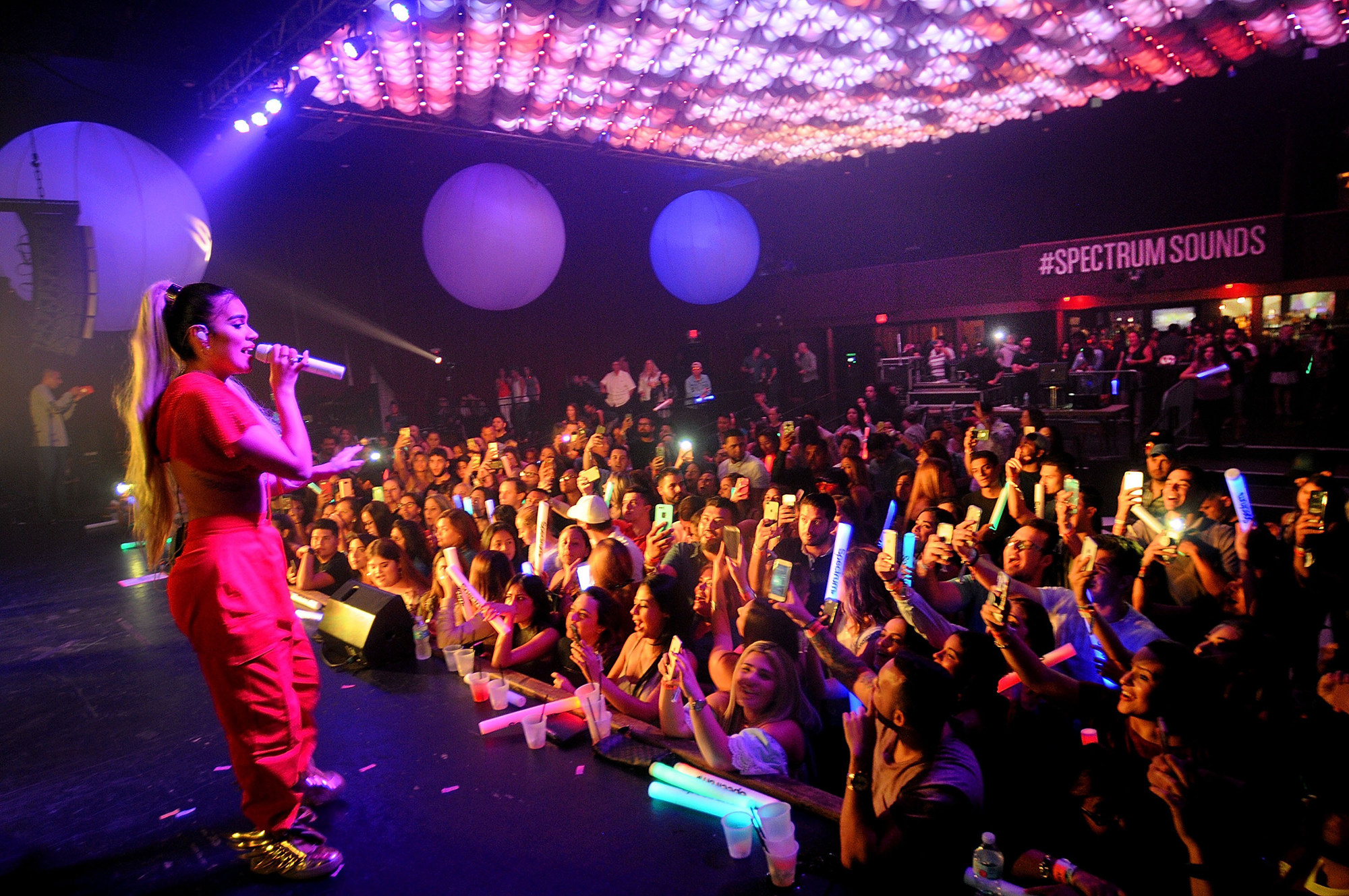 Her first solo album, Unstoppable, came out in 2017, and featured in-your-face sexuality, as in "Muñeco de Lego," a Latin trap track with clever lyrics like "Mi muñeco de Lego / Bienvenido a mi juego" ("Hey, Lego piece, welcome to my game").
She started dating Puerto Rican rapper Anuel AA, and their collaborations took her into the billion-streams club. In 2018's "Culpables" ("Guilty") and 2019's "Secreto," they leaned into their celebrity coupledom, teasing how they'd kept their relationship a secret. A cool and nonthreatening sexiness stabilized her popularity, but she still lacked the uniqueness to stand out.
As with most Latin pop stars, Karol G has stayed resolutely apolitical throughout her career. In interviews, she has seemed uncomfortable with the term "feminist" and she faced massive backlash for an obtuse tweet about racial harmony that celebrated a white dog with black spots, around the time of the 2020 Black Lives Matter protests. And she's been critiqued for using Anuel's celebrity (he's Afro Latino) to sell a bad-girl image.
Despite certain aesthetic shifts, she continued to espouse a frictionless kind of celebrity. In 2020 she dyed her black hair an acidic blue, giving her normie image a bit of an alterna-sheen that quickly caught on among her tween fans. On Instagram, she said the blue era was meant to symbolize "tranquility, protection, health, understanding, power, stability, intelligence, generosity as well as sadness, nostalgia, pain and empathy." (What didn't it mean?) Since then, she's opted for red and then green hair, a signposting of her moods and musical eras.
Ultimately, it was Karol G's ability to interpret relationship fractures and her tapping into the zeitgeist that kept her in the spotlight. Leaning into Colombian vernacular led to her biggest hit, 2019's "Tusa," a Paisa regional expression that refers to women's heartbreak and inspired a whole '80s music genre known as música de tusa, or música de plancha. (She recently performed a duet with one of the genre's queens, Myriam Hernández.)
From there, her triumphant subsequent releases made it feel like she was on a victory lap, claiming her image on her terms; they also showed her most significant departures from middle-ground norms. In 2020's "Bichota," she sings about looking for a guy who can wreck her, but crows that nobody can keep up with her "boom boom." "Bichota" is Puerto Rican slang, the term itself translated from English — big shot, bichot — which she repurposed in femme form as "bichota." Technically it means drug lord, though she repurposed the term to mean a bad bitch or an empowered woman. She then faced more backlash, this time for being a "bad" representation of Latina women.
In the latter part of her career, Karol G has worked with women more than ever. In "El Makinon," an empowering bop with Anahí, she sings about having been on her own since she was 16 and staying ahead of imitators. "Gato Malo," with Argentine Nathy Peluso, is a rocker rendering of música de plancha, with lyrics where she coyly waves goodbye to an ex.
Giraldo had long been wanting to collaborate with Shakira, so it felt like a full-circle moment when they worked together after Karol G's 2021 split with Anuel. Shakira has only ever recorded songs with two women — Rihanna and Beyoncé — so this collaboration felt like an anointment. Last year, while Shakira was in the midst of her "boy, bye" singles trilogy, the pair worked on the Karol G–penned "Te Quede Grande": "I got too big for you." (Anuel seemingly jumped into the tabloid fray to comment on it.)
Released last month, the song became Karol G's first global No. 1 on Spotify and only the third Spanish-language song by a woman, after Anitta's "Envolver" and Shakira's recent collaboration with Bizarrap. It's helped Mañana Será Bonito break streaming records, a rarity for women in Latin pop, who often have breakout singles, but not hit albums.
And the record is much more than that one hit. On "Tus Gafitas," she creates Julieta Venegas–style alt-pop, singing romantically to an ex. "Gatúbela" sees her dipping into early aughts club reggaeton to sing her raunchiest lyrics yet; on "Gucci Los Paños," she broadcasts heartbreak, backed by mariachi guitar.
Karol G might not have gotten her start in the music industry as a rule-breaker, but as she becomes even more popular, her songwriting seems to capture an increasingly vibrant and complex persona: her humorous perspective on sex and relationships, and the earnest positivity evinced by the album title.
Most importantly, she understands and celebrates her musical lineage. When she was invited to Coachella last year, she took a moment to "honor Latina songs that were No. 1 in the world but were never played on this stage." Then she covered crowd favorites like Selena's "Como La Flor," Celia Cruz's "La Vida es un Carnaval," and Shakira's "Hips Don't Lie."
They "gave me the opportunity to be here," she said. Now she's part of that history herself. ●