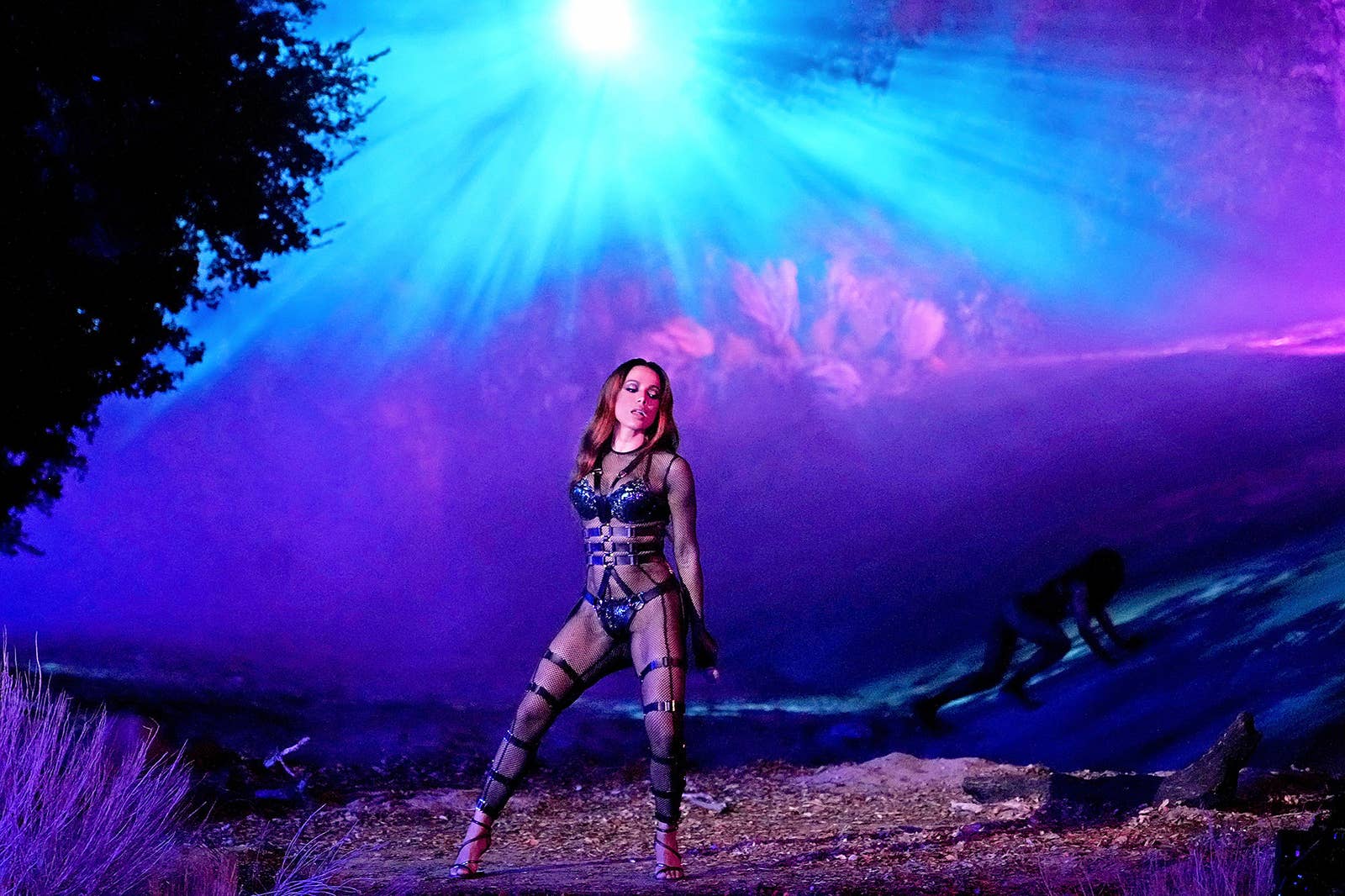 "I love the idea of being many women in one," Brazilian pop star Anitta told Hola magazine last year. And that kind of multiplicity dominates her music and shows.
At August's MTV Video Music Awards, she split her performance in two. First, she turned the stage into a dimly lit dance club for a subdued version of her reggaeton anthem "Envolver." Then she addressed the VMAs audience: "Did you think I wasn't gonna shake my ass tonight?" A carnival-sized backup squad emerged to support her as she twerked to the whirlwind flows of funk carioca.
When she won the Best Latin Artist award, she thanked her family, shouted out Brazil, and got a little political. "I performed here a rhythm that in my country that for many years was considered a crime," she said, sounding shocked. "I was born and raised in the ghetto of Brazil. For whoever was born there we never would think this was possible. So thank you so much."
The 29-year-old's statement about class and the criminalization of the funk carioca genre, also known as baile funk, was not the usual awards show acceptance speech. But then again, even before she was on the world stage, Anitta has always stood out for her frankness and vulnerability.
In interviews, she's been open about surviving sexual abuse and talked about her queerness and open relationships. In the lead-up to Brazil's 2022 national election, she spoke out against far-right-wing president Jair Bolsonaro and threw her support behind the eventual victor and current president, Luiz Inácio Lula da Silva.
Her hits, like "Show das Poderosas" and "Lobby," emphasize sexual agency and are packaged with transgressive panache. She made out with herself — nude — on the cover of her 2019 album Kisses and rode a gargantuan banana in her video for the kitsch phallocentric "Banana." Her plank-and-twerk dance move for "Envolver" took over TikTok, and the track broke records this summer as she became the first solo Latin artist song to ever top the global Spotify chart.
It's all garnered a big, devoted fanbase. Anitta's videos routinely get hundreds of millions of views, and she has billions of streams on Spotify. She's also accrued 63 million Instagram followers and 21 million TikTok followers.
Even amid an increasingly successful group of women in reggaeton, this was, in many ways, the year of Anitta. She was the first Brazilian woman to perform at Coachella, won the American Music Award for Favorite Latin Artist, and this November was nominated for Best New Artist at the Grammys, a rarity for a Latinx artist.
But Anitta's rise also captures tensions within Latinidad. Over the past couple of years, there has finally been a reckoning with the anti-Black racism that permeates the Latinx music industry, and the multiracial diva became a controversial symbol of those contestations. At the same time, her genre-crossing style — which mixes hip-hop, reggaeton, funk carioca, and pop punk — made her the multicultural face of pop.
"I'm not competing with anyone," she told Time magazine last year. In many ways — in part because of her ethnicity, race, and gender — she stands alone at the top. And her massive success captured the limits and possibilities of Latinx music in 2022.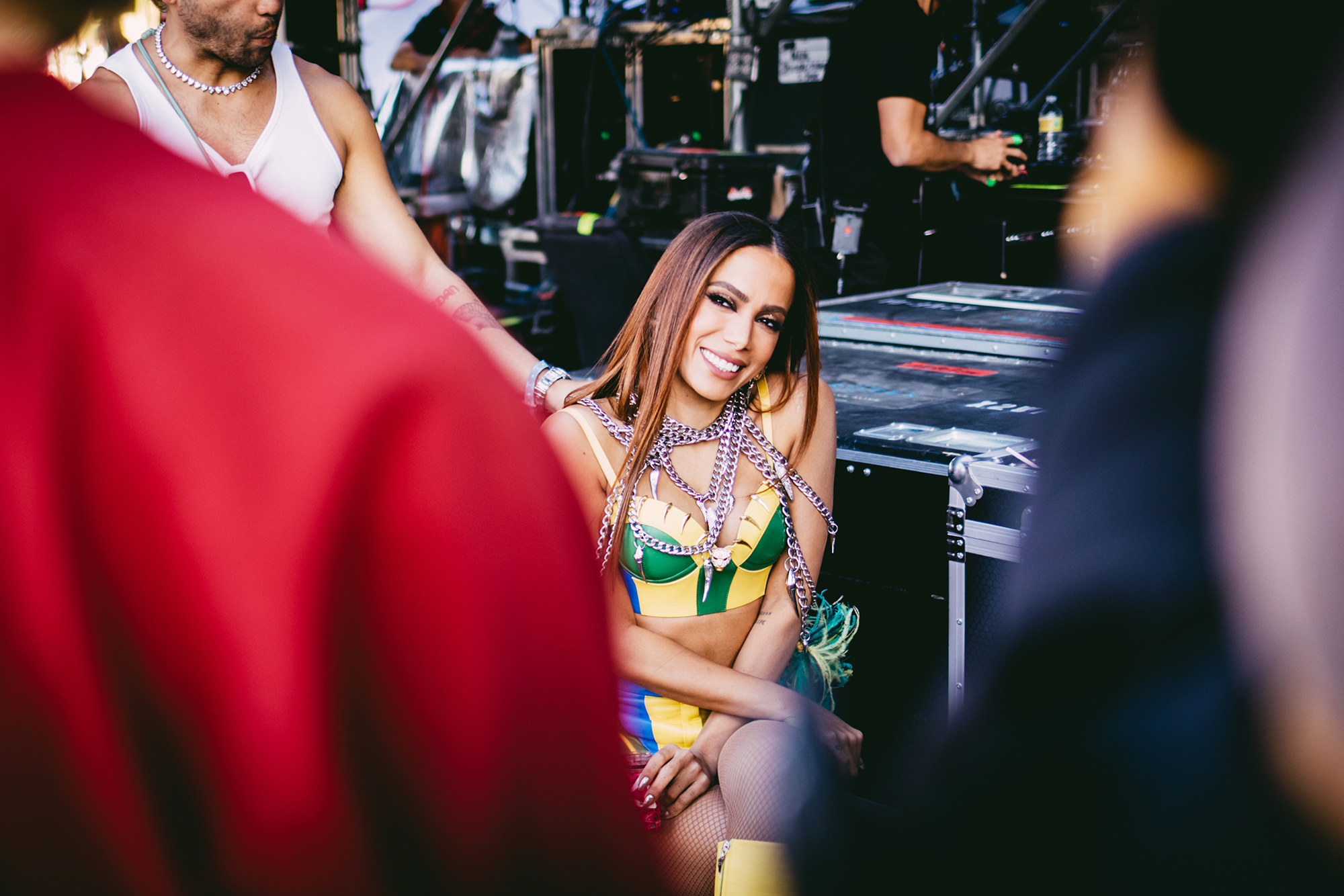 Larissa de Macedo Machado became Anitta in 2010, finding her voice in funk carioca, a mix of Brazilian rhythms with American funk that arose in the '70s and '80s. Like rap, the genre originally grappled with drugs, violence, and racism, and its proponents, called funkeiros, faced censorship and criminalization. Eventually, a more commercial strand focused on dancing and partying got radio play, and by the 2010s streaming made it pop.
According to commonly cited lore, Anitta was signed by producers after a YouTube video where she sang into a deodorant stick went viral. Her bops, like 2012's "Meiga e Abusada," about playing the sweet girl to dominate a guy, and 2013's "Show das Poderosas," which urges women to get loose on the dance floor, blended funk and late '90s electro pop with messages of women's empowerment.
Her stage name, MC Anitta, came from the 2001 telenovela Presença de Anita, a meta Lolita narrative about a teen girl whom Anitta saw as exuding main-character energy. "Today crazy, tomorrow romantic, sexy, the other day intellectual," she told Hola, describing herself vis-a-vis the character.
Her 2015 album title announced a major arrival: Bang! In a sign of her influence, she sang at the 2016 Olympics opening ceremony, the only woman representing her country to the world alongside icon Caetano Veloso. She became the queen of Brazilian pop, often described as Rio's Beyoncé.
2017's "Vai Malandra" gave Anitta controversial cachet. The lyrics aren't shocking: The title translates to something like "Go on, naughty girl," which MC Zaac sings to Anitta; she winkingly responds that she won't stop. But the video's racial politics sparked a kind of reckoning, with Anitta's stardom as the kindling.
To begin, the camera zeroes in on her ass, then pans over favelas — the housing of Brazil's working class. We see Anitta on a rooftop surrounded by women in tiny black-tape bikinis and riding a moto taxi, a Latin American phenomenon that speaks to a lack of public transportation and the hustle culture sparked by massive inequality.
On the one hand, "Malandra" represented a push against what critics have described as a kind of respectability sought by Latin American elites who want to hide away the precarity of poverty in the Global South to sell a whitewashed vision of themselves to outsiders. At the same time, Anitta's sporting of braids and the scenes of carousing in favelas prompted an appropriation backlash from Black Brazilians and critiques that, as a light-skinned woman of color, she was commodifying Blackness when it was convenient.
In the aftermath, Anitta detailed her own mixed-race background. "My father and his family are black people from BH (Belo Horizonte, capital city of Minas Gerais), and my mother is white, from Paraíba," she told Glamour. But she faltered in her broader commentary, claiming that in Brazil no one is fully white, sidelining conversations about colorism and the ways white European beauty standards permeate media industries.
Still, with English-language rapping by producer Maejor, "Vai Malandra" became a massively streamed multicultural ode to funk carioca, akin to J Balvin's 2017 reggaeton hit "Mi Gente." The video has amassed over 430 million views, and the massive streaming numbers for Anitta's Portuguese-language music opened doors to the bigger Spanish-language market.
She collaborated with the biggest names in reggaeton, including Maluma in 2016's "Sim Ou Nãu" and J Balvin in 2017's "Downtown," a Spanglish song about oral sex, a recurring theme for her. In the late 2010s, a new wave of Latinx women were coming up through the ranks of reggaeton, like Colombian Karol G, Mexican American Becky G, and Dominican Natti Natasha, singing about pleasure on their terms. (On "Mayores," for instance, Becky G sings about being into older men, and on "Sin Pijama," a playful romp about men's fantasies, she and Natti Natasha ride a carousel in lingerie.)
Anitta jumped on the bandwagon, featuring Becky G on "Banana" and, in turn, featuring on Natti Natasha's "Te Lo Dije." On Kisses, her first album where she sings in English, she also collaborated with hip-hop stars like Swae Lee, creating a multigenre persona that confidently bridged hip-hop, funk carioca, and reggaeton.
Still, amid all the collaborations, it was important for her to create her own message. "I want to show more of me," she told Rolling Stone in 2018, "that I can do something by myself and reveal my personality alone."
And 2022's Versions of Me, her latest album, became her most sprawling and defining statement to date. It toggles between rendering Anitta an American-friendly pop star even as it disrupts the typical expectations of serious artistry for women. Take the cover, a series of busts illustrating her various surgical alterations. When she promoted the album on Kelly Clarkson's daytime show this summer, the host asked, "Why did you call your album 'Versions of Me'?" It was a softball question, possibly meant to elicit a faux-deep answer about the many facets of being a woman.
But Anitta pointed to the album cover's central image. "The one in the center is me right now," she said. "And then … the others is me, one intervention, one plastic surgery before."
"Oh, it's because of that," Clarkson said, then paused, momentarily taken aback.
Anitta's stardom doesn't easily translate into a feminist narrative. She sidesteps moral panics around body modification, neither celebrating cosmetic surgery as some feminist choice nor apologizing for it. Instead, she renders it almost comically banal. And she does the same with sex and relationships. For instance, on the English-language single "Boys Don't Cry," and Versions of Me's title track, she sang about being a bad girlfriend in punk and pop mode.
In other songs, she does something even more complicated. On the single "Girl From Rio," she interpolated fellow Brazilian Antônio Carlos Jobim's "Girl From Ipanema," the '60s hit about a girl muse walking on the beach. Anitta rejiggered the song by making herself the rapping narrator — the girl from Rio — sharing real news from her own life, including discovering she had a brother she didn't know about, and singing about the Rio de Janeiro she featured on "Malandra," where the girls don't look like white models. In the Cardi B collaboration, "Me Gusta," the duo sing about sapphic action; and Cardi celebrates men who eat "cuca," and being Afro Latina.
"Envolver" reclaimed perreo, or reggaeton dancing, from a woman's perspective, with lyrics about how her twerking on a guy keeps him coming back. She's since released "Lobby," a new English-language single with Missy Elliott, another ode to sensuality, with winking references to oral sex, and on her most recent EP, November's À Procura de Anitta Perfeita, she went back to her Portuguese roots.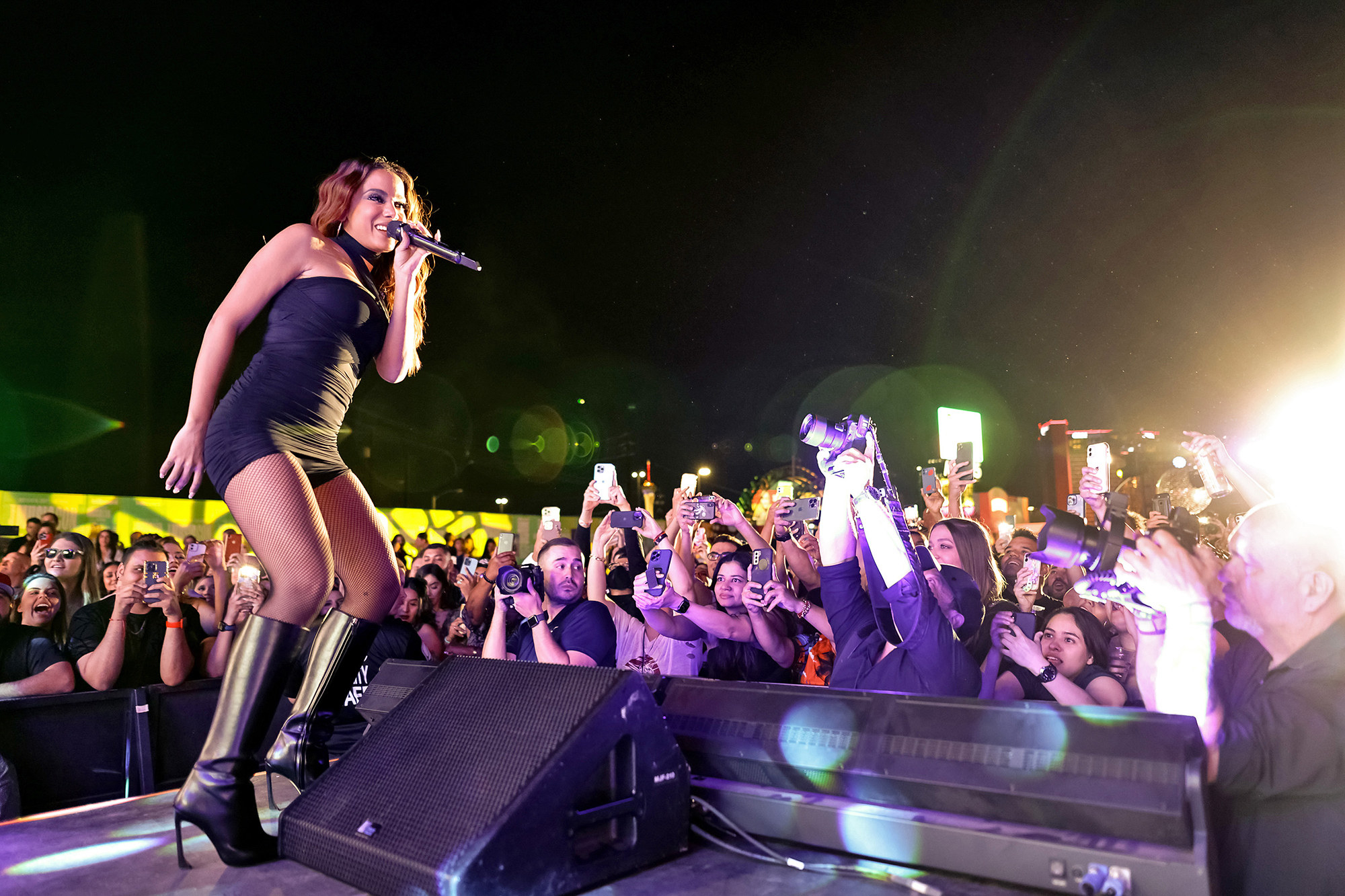 The big wave of streaming-era Latinx music produced huge hits like "Mi Gente" and Luis Fonsi and Daddy Yankee's "Despacito." The songs became ubiquitous monocultural presences, aided on the US charts by Beyoncé and Justin Bieber remixes, respectively. More recently, "I Like It," on which Cardi B, J Balvin, and Bad Bunny mixed Latin trap with Spanglish hip-hop, became an inescapable No. 1 hit in 2018.
Now there's a sense that streaming has enabled Latinx artists to make music on their terms, without any need to pander to the US English-speaking audience. Bad Bunny, who sings in Spanish, won Artist of the Year at the VMAs and was nominated for major Grammys, including Album of the Year.
Still, there are hierarchies within Latinx music. During the international reckoning over police brutality in 2020, the Spanish-language music industry was rightly criticized for its anti-Blackness. Even the term "música urbana" — akin to the description of Black genres as "urban music" in the U.S.— was criticized for its lack of nuance, gathering up Afro Latinx sounds like Dembow, Latin trap, and reggaeton into one category. (The millennial Latinx pop culture website Remezcla stopped using the term in 2020.)
These debates highlighted the racism and colonialism that permeates the music industry. Even after the racial reckoning, there hasn't quite been a confrontation of colorism or how Black women artists are nearly invisible at the highest commercial echelons of Latinx music. The video for J Balvin's 2021 song "Perra," which featured Black women in leashes, was ultimately taken down after a massive backlash, one symptom of the difficulties that women, and Black women in particular, face in achieving multifaceted visibility in the industry.
And racism and classism still dominate. Take, for instance, the fact that neither Cardi B nor reggaeton star and fellow Afro Latinx artist Amara La Negra got access to the Latinx industrial complex; instead, both women got their start in music through VH1's Love & Hip-Hop reality TV franchise.
That industry backdrop makes Anitta's emphasis on expressing complexity in her own way even more meaningful. Despite her undeniable commercial impact, Anitta herself has seemingly been embraced more fully by the US industry than the Latinx one.
Within the Latin Grammys, Spaniard Rosalía was elevated as the serious artist woman counterpart to Bad Bunny this year, nominated in six categories and winning Album of the Year for the second time. Anitta's two nominations were specifically for "Envolver." (Billie Eilish and Rosalía, both white women, won the award for MTV's Best Latin Artist in 2021, a year before Anitta did.)
Anitta's pop stardom, both kitschy and political, is unprecedented, her narrative as a mixed-race woman in charge of her sexuality still a rarity. In the title track of Versions of Me, Anitta role-plays as a messy girlfriend. "I'm a whole lot," she taunts. "Don't really care if you like it or not." The slyly defiant message is addressed to a boyfriend. It's also a fitting caption for her improbable rise. ●