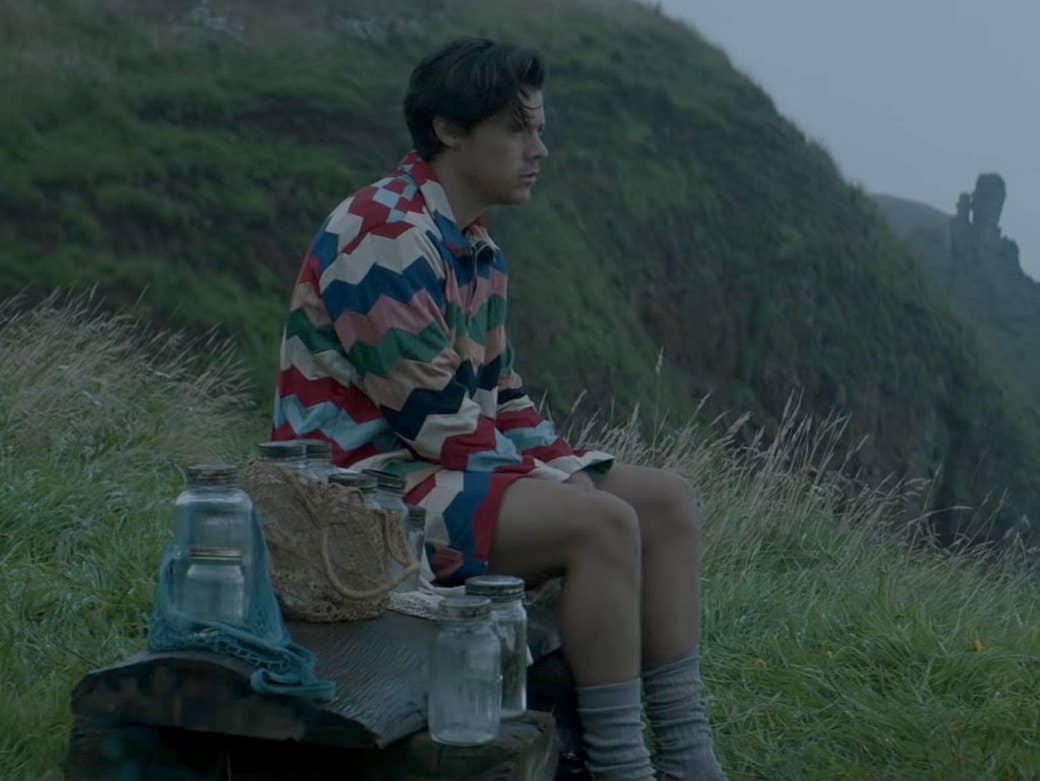 In the opening monologue for his recent SNL hosting gig, One Directioner–turned–retro rock star Harry Styles mocked his own pop stardom. "I'm a very serious musician," he explained, strolling over to a piano, wearing a revealing open-necked shirt and (characteristically bright) yellow pants. "And nothing says serious musician like talking while playing the piano."
As he played, Harry joked about being grown in a test tube by pop kingmaker Simon Cowell, emphasized the importance of fantastic hair, and punctuated the monologue by standing up to swivel his hips while giving jazz hands.
Styles' appearance was promoting the forthcoming release of his sophomore album, Fine Line, dropping December 13. His winking self-awareness about the narratives swirling around him speak more broadly to why he was picked to be SNL host in the first place, and why he has emerged as one of the most attention-getting boy banders gone solo.
Initially, it seemed like it was Zayn Malik's sexy sadness that might go the distance. His first single "Pillowtalk" — which quickly zoomed to No. 1 — was a bigger hit than any Styles song so far. Other former boy banders have had more success so far, too, including unpretentiously dorky (and tastefully queerbaiting) Nick Jonas, whose career-launching signature hit "Jealous" had more legs and ultimately made a bigger musical impact than any singles from Styles' debut album.
But it's Styles who keeps making news. Since going solo, he's garnered two Rolling Stone covers, was selected as a cohost for the "camp"-themed Met Gala earlier this year, introduced Stevie Nicks at the Rock and Roll Hall of Fame induction ceremony, and most recently, hosted — rather than just musical guesting — on SNL, a double-duty honor most recently bestowed on stars like Justin Timberlake and Chance the Rapper.
Styles even galvanizes Stan Twitter so much that this summer, savvy K-pop fans made "Harry Styles going to jail" a trending topic as a way of redirecting attention to their own videos. Today, with the release of "Adore You," the third and last single dropping before his album release, Styles has already sent stans down a rabbit hole in search of clues about lyrical meanings and the contents of the forthcoming record.
Love him or hate him, Styles' ability to make waves beyond just music or hit singles isn't an accident. Rather, Styles has cultivated stardom and standom on par with the savviest of pop divas. While most of the contemporary men of pop seem to shy away from pop gamesmanship — like crafting social media narratives around their identities or relationships — Styles' willingness to play the game (and laugh at it) has helped him stand out.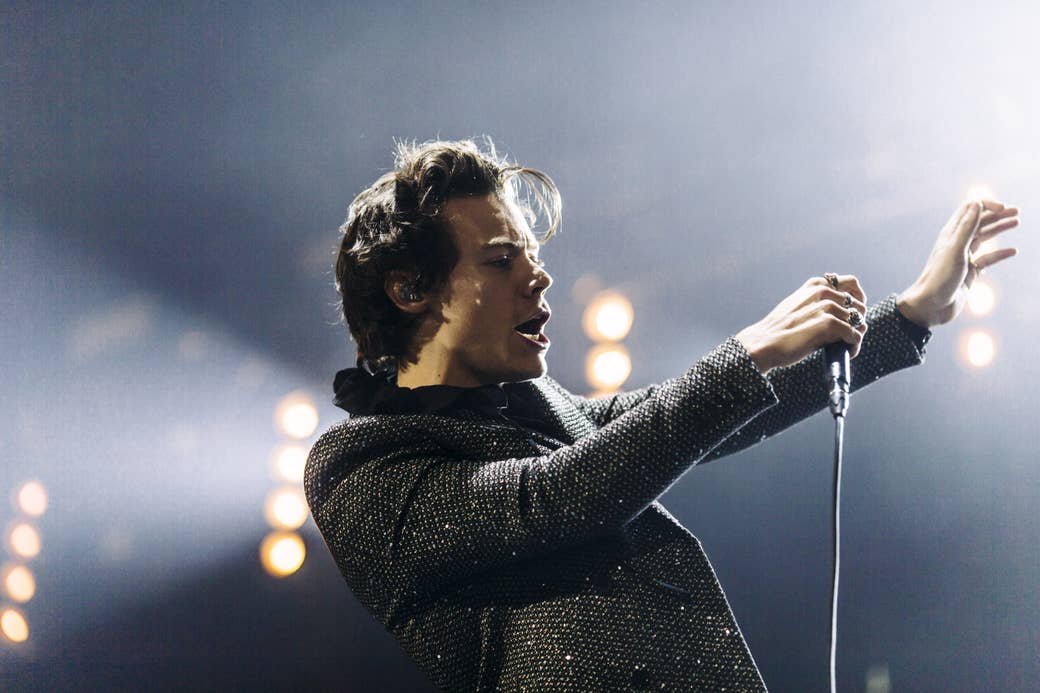 There are plenty of male pop stars who, in the past couple of years, have achieved major musical success and chart hits. There's Drake (if he accepts the title), Bruno Mars, the Weeknd, Ed Sheeran, Post Malone, and Shawn Mendes, to name a few. But they've all been relatively boring in terms of showmanship and social media–friendly narrative-building. For the most part, these men either take themselves too seriously to interact with a clamoring stan base, or think they're above it all, playing it safe image-wise. Post Malone, for instance, seamlessly pivoted from rap to pop with his No. 1 hit "Circles," but it didn't really become a memeable cultural event because he provided no overarching story for the musical pivot.
Similarly, Mendes recently got his first No. 1 hit, "Senorita," a Latinx pop trend-chasing blip in his otherwise mainstream pop rock trajectory. The success of his debut with Camila Cabello was aided by the tabloid speculation over his relationship with the singer, and the song seemed more like a sequel to "Havana" than part of some ongoing narrative about his persona. (Sheeran similarly recently released a Latinx pop duet, "South of the Border," with Cabello and Cardi B.)
As a former boy bander, Styles arguably started in a different lane, with a huge built-in fanbase — the Harries — that had been fascinated with his persona from the start, famously shipping him with fellow bandmate Louis Tomlinson. And to some degree, any initial release of an album or single by a former One Direction member was going to be hugely newsworthy.
But not all former One Directioners have taken the same tack when it comes to encouraging old fans to follow along with the new. Malik, for instance, didn't really like being a pop star — he wanted to veer into R&B — and told magazines after he left that he didn't like the band's music. "That's not music I would listen to," he told the Fader. "Would you listen to One Direction at a party with your girl? I wouldn't." But more importantly, he seemed disenchanted with the compromises he'd been required to make as a cog in the pop machine.
That's a key to understanding Styles' appeal and success: He actually enjoys the business of being a pop star and acknowledging fan expectations, even if just to subvert them.
In contrast, speaking about his time in One Direction, Styles has said: "When somebody gets out of a band, they go, 'That wasn't me. I was held back. But ... I don't feel like I was held back at all. It was so much fun. If I didn't enjoy it, I wouldn't have done it." And that's a key to understanding Styles' appeal and success: He actually enjoys the business of being a pop star and acknowledging fan expectations, even if just to subvert them.
From the start, Styles had a Taylor Swift–like knack for presentation and foreplay. He made the announcement of his first single title — 2017's "Sign of the Times" — and album release date an event unto itself. By dropping it to coincide with the 30th anniversary of the release of superstar Prince's album of the same name, he kept fans (and the media) guessing about what the song and album would be like, adroitly building up momentum and expectation.
When he finally dropped the first single — a big, melodic, retro rock ballad — it was a surprising twist, in part because it was mostly nothing like the purple one's style, and also because it seemed out of place amid the current minimalist male pop stardoms of low-key EDM mumbling and sad trap. The caressing lyrics in "Sign of the Times" — about getting away from it all — hinted at it being a balm for the politically chaotic zeitgeist without being controversial. Styles also made a splash with the accompanying music video where he flies around like a tween idol Little Prince.
His stans helped his first single reach the top 5 (for one week, before it quickly tumbled out of the top 30) and made his first album No. 1. They also flocked in droves to his first world tour. Styles' follow-up single, "Two Ghosts," didn't even chart, and "Kiwi," the sexiest song on the album (he loves sexualizing fruit by implication), mostly made news thanks to the video, set in a grade school classroom, featuring puppies and a mini Styles doppelganger, all of which raised questions about what it all meant, including whether the song was inspired by a former Australian girlfriend.
Not unlike Taylor Swift's fans, the Harries love speculating about which of the women he's dated inspired which songs. And he plays into it. Stans discovered that his latest (and best) single, "Watermelon Sugar," another sexy fruit reference, traces its title to a former girlfriend's mention of the postmodern novel In Watermelon Sugar. Also, like Swift, Styles has increasingly played with audience expectations about his sexuality, even as he benefits from being read by the industry as straight but queerly tinged.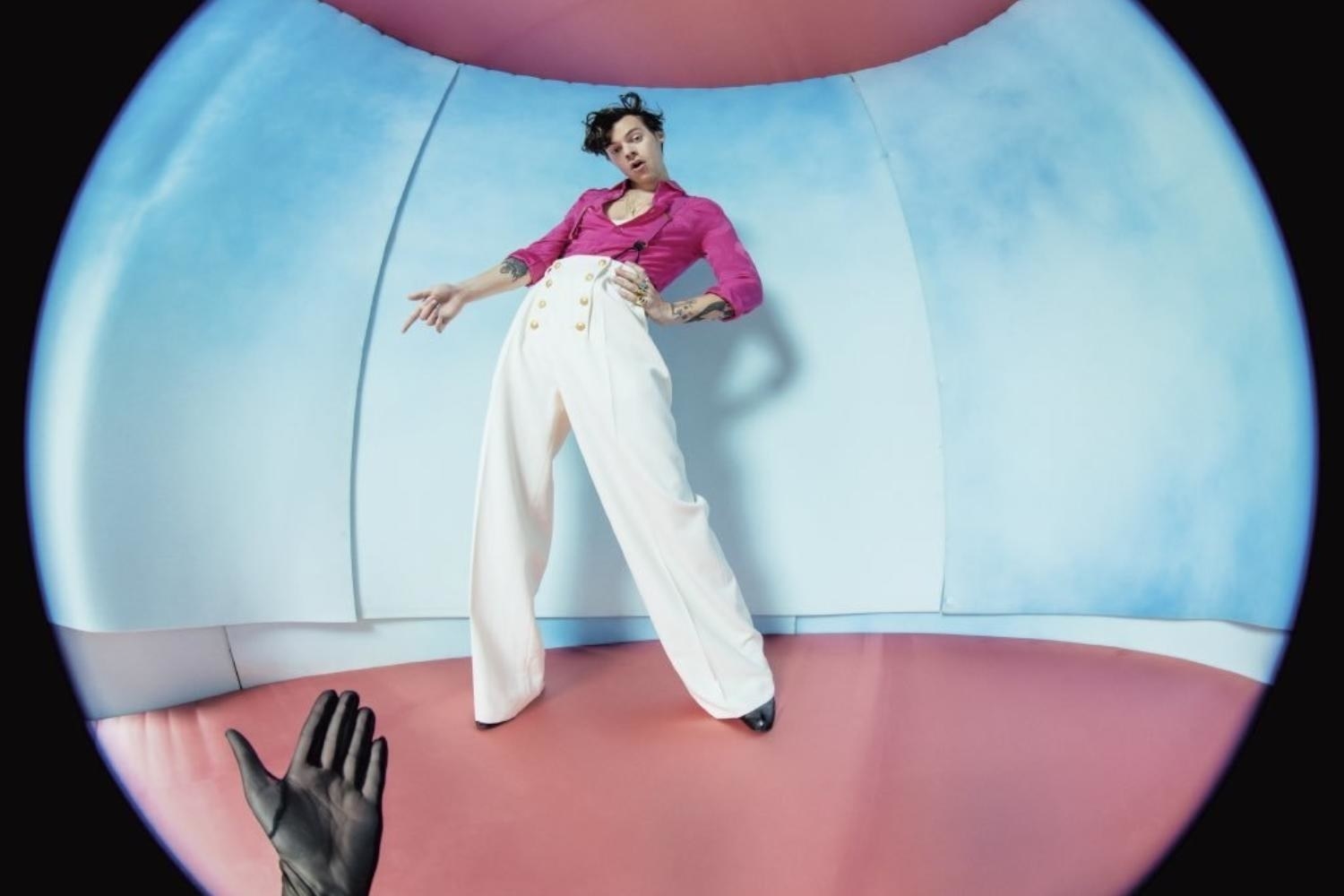 The queer Styles narrative first emerged back during the days of stans shipping One Direction members, but he has played into it more directly now through his solo stardom — and it's helped him stand out as a pop star.

During a 2018 tour stop, Styles fans went into a frenzy after he debuted the non-album song "Medicine." "The boys and the girls are in / I mess around with him / And I'm OK with it," he supposedly sang. (Some fans think he actually said "I mess around a bit," but official lyrics have never been released.)
Either way, it was quickly proclaimed a bi anthem, and the song helped Styles created a Lady Gaga–style fan community around queerness as a metaphor for outsiderness. "Please feel free to be whoever it is you want to be in the room tonight," he said at a San Jose concert. After he helped a fan come out to her mom at a different show, his announcement — "Tina, she's gay" — became a meme.
Earlier this year, Styles cohosted the Met Gala with, among others, fellow music star Lady Gaga. Though he is in no way equal to Gaga in terms of stardom or musicianship, his queer-adjacent celebrity made him a reasonable pick for a show that was meant to celebrate camp as an outsider political force. (After being spotted reading Susan Sontag's "Notes on 'Camp'" in preparation, his rather basic mesh top and Guy with a Pearl Earring look earned raves from his fans.)
The narrative has also helped him promote his forthcoming album. When it leaked in August this year that Styles was shooting a video in Mexico, some stans thought he was going to do his own Mendes- or Sheeran-like Latinx-tinged song. But "Lights Up," released on National Coming Out Day as his albums' lead single, unleashed stan speculation that he himself was coming out. The video, featuring gloriously lighted bare-chested scenes of Styles as he gets grabbed by men and women and rides a motorcycle in his sparkly shirts, fed into the speculation. (Styles also added queer star King Princess as an opening act for his new world tour, having previously tweeted her lyrics.)
Despite relatively banal pop lyrics about "stepping into the light" that don't really build up to anything, it's the open-endedness that makes "Lights Up" a great pop song and, even more importantly, stan interpretation catnip. So far, the song peaked even lower than his previous lead single, but, more importantly, Styles has continued to fuel the ongoing is-he-or-isn't-he narrative — one that he even played into on SNL. In one of the most viral skits, he plays a rogue gay Sara Lee social media account manager, perhaps as a kind of wink to his Twitter stan-friendly persona.
What's new — for the social media generation anyway — is for a guy pop star to use these strategies, and to make it all appear authentic in the process.
In terms of more recent pop, Styles is basically combining the Lady Gaga strategy of using queerness as a metaphor for "being yourself" with Taylor Swift's expertise at teasing titles, dates, and even color palettes to hint at and play with audience's expectations about her identity. But what's new — for the social media generation anyway — is for a guy pop star to use these strategies, and to make it all appear authentic in the process.
It will be interesting to see how the guessing game over Styles' songs and identity will play out. Even as openly queer pop stars — like Sam Smith and Lil Nas X — are now entering the mainstream and presenting their own narratives of queering masculinity or refusing the binary altogether, queer and straight fans alike seem to prefer thirsting and speculating over enigmatic cases like Styles.
In the meantime, Styles' new single, "Adore You," dropped today. From the lyrics' fruity allusion to "strawberry lipstick" to the potentially coded reference to a "rainbow paradise," he succeeded in turning what sounds like his most radio-friendly, almost early Weeknd-ish, love song so far into a perfect artifact of pop foreplay.
A teaser had explained the song's video would be set in the mystical island of Eroda, and the actual video takes you on a two-and-a-half-minute journey that includes an animated fish sequence before getting to the actual song. That might sound like an eternity to a casual music fan, but the Harries will stick with it. And that's the point. ●