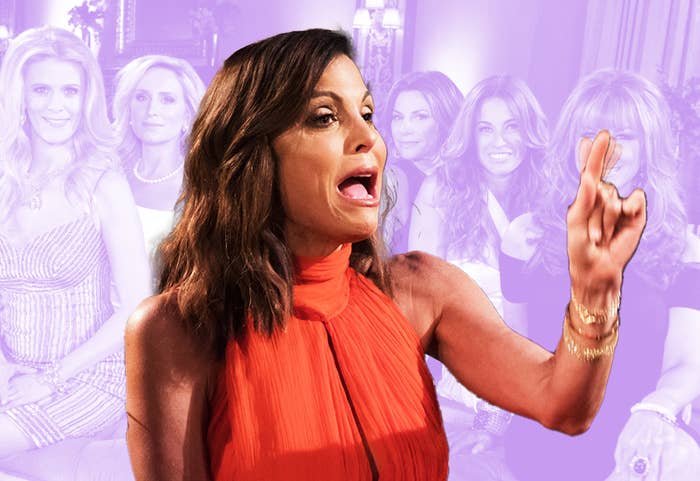 The Real Housewives thrives on disputes, wine-throwing, and table flips. But it was still shocking to witness last year's public clash between franchise producer Andy Cohen and former New York cast member Bethenny Frankel.
Cohen made his name as the behind-the-scenes wizard and public face of Bravo's signature franchise. Frankel became a symbol of the "good" side of Housewives, the Michael Jordan of the genre, and a successful entrepreneur who leveraged the show into real-world success with her Skinnygirl brand and TV spinoffs like The Big Shot with Bethenny.
"I hear from every producer that every housewife that comes on the show says, 'I wanna do what Bethenny did,'" she told me during a phone interview last week, in her usual rapid-fire style.
But Frankel has been critical of Housewives' "toxic" energy since she left in 2019. And in November of last year, her announcement of the new podcast ReWives, which would revisit her time on the series, prompted Cohen to complain on Radio Andy, his SiriusXM show.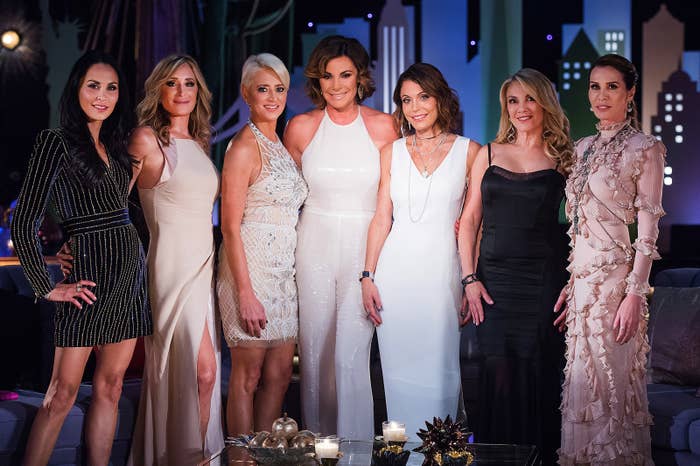 He invited Frankel onto Watch What Happens Live in December to hash it out. "You've been trashing the Housewives publicly for the last three years," he told her. "You called it boring, toxic, [pitting] women against other women."
"I'm entitled to not want to be there and still want to talk about it," she retorted. "How can I be on for more than a decade and not have reflections to share?"
Her iHeart podcast, which drops new episodes on Mondays, is neither a takedown nor a nostalgiafest. Instead she revisits iconic moments alongside eclectic notables, like Handmaid's Tale actor Elisabeth Moss and former Hype House TikToker Griffin Johnson. It leads to quirky insights you never knew you needed.
In one episode, Jerry Springer declared the blowout 2013 Giudice-Gorga fight at a New Jersey christening "worthy of my show" and gave a mini history of audience participation TV; in another, financial adviser Suze Orman described Atlanta housewife Shereé Whitfield as "financially abused."
And who knew that both '90s SNL star Kevin Nealon and TikToker Johnson identified with New York castmate Luann de Lesseps? The former said he saw himself in her reaction to a cheating partner, while the latter connected to her emotionally avoidant coping style. (He also admits that watching the episode "Life Is Not a Cabaret" required googling "what a cabaret was.")
But ReWives also provides a compelling first-person take on the show's evolution from a woman who was there from the start and who now has questions about the reality behemoth that first made her famous.
Frankel wants to take a pragmatic view of the shows' exploitative structure. "It's making a deal with the devil ... It's prostitution of sorts, in a way, which is, people say, the most noble profession," she said. "I'm giving you this, you're giving me that. So anybody who comes back to ... pretend that they were victimized is also full of shit because: Here's what it is, you know what it is."
Still, she's conflicted. She often uses neutral words like "different" to describe current Housewives, but other, more charged, terms have crept in. "I'm not saying, 'Oh I hate everything I did,'" she told me. "The show has devolved and gotten to be something different.
"It's changed a lot with all the hair and makeup and fashion labels," she said, referring to the calculated self-producing that she feels has become endemic. "But that's also part of why I left. I left because I don't want to be on a semiscripted show."
ReWives episodes are named and organized around iconic Housewives fights and moments, with titles referencing outbursts from Frankel or other castmates that became memes, like "Go to Sleep!" or "Who Gonna Check Me, Boo."
Frankel's experience colors all of the podcast's episodes, but she's most candid in the chats about New York. She joined the show in 2008, right after the original Orange County iteration took off, but before it became a cultural powerhouse. "I got paid $7,000 the first season," she told me.
Back then, the drama focused on the women's clashing styles and social hierarchies: "The biggest thing that ever happened was, 'I'm up here, you're down there,'" she said, referring to an infamous scene with costar and then-nemesis Kelly Bensimon.
Bensimon, a former model, arrived on the show with a down-to-earth shtick and what Frankel called an "imaginary boyfriend" she met up with just for the show. Throughout the season, it became clear that Bensimon and Frankel didn't like each other.
But the feud culminated during an infamous 2010 Turks and Caicos trip that became known as Scary Island, a high point of the early Housewives era. On the podcast, Frankel said producers had her cook because Bensimon had been attacking her culinary credentials.
During the dinner, Bensimon accused a castmate of channeling the devil and said she felt Frankel was trying to kill her; Frankel called her "crazy" and screamed, "Go to sleep!" At the reunion, the women accused her of having had a "mental breakdown"; Bensimon later countered that she'd had a "breakthrough" by realizing she couldn't be around "systematic bullying."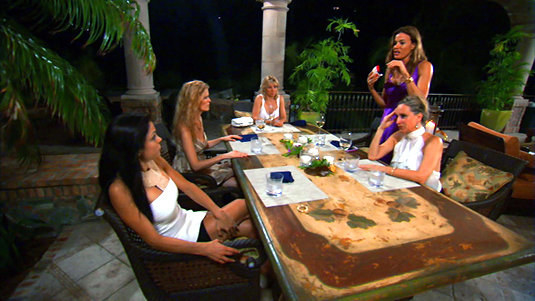 Given how conversations around mental health stigmatization have evolved, the episode's exploitative framing probably wouldn't work today. On the podcast, Frankel hasn't quite addressed that, nor has she addressed using words like "crazy." She points out, instead, that Bravo's willingness to show Bensimon's experience made her realize that production was OK with questionable content as long as it made good TV.
Frankel said she thought that after the trip Bensimon might not come straight back to the show. "I'm not saying I'm better than the process," she told me, referring to the way Bravo handled those events. "But that time we were just pretty sure that we would get back and she would be sort of somewhere taking care of something ... respectfully to her. And we came back and it was like, 'The show must go on.' It just was surprising because that's what goes."
It foreshadowed the Ponzi scheme accusations and fraud scandals that have consumed the franchise's cast members more recently, she claimed. "They have to find where the line is between entertainment and content and humanity," she told me. "No truthful Housewife will disagree that if somebody has gone off the wagon in some way, that's reality TV gold and that's not humanity gold."
Frankel doesn't shy away from the critiques lobbed against reality TV and Bravo, like some cast members' claims that they turned to medication to remain in the machine. "Many Housewives take Lexapro and have gone on anti-anxiety medication as a result of being on the show," she said.
She emphasized that while people aren't specifically encouraged to drink, there's a heightened sense of expectation before filming. "They don't need to push you — you're pregaming, you feel different," she told TikToker Griffin Johnson in one episode. "You're on adrenaline, alcohol, thirsty, you're excited. They're setting you up to say something."
She first exited New York in 2010, and the following year she sold her diet margarita line, Skinnygirl, which viewers saw evolve on the show. Frankel got her own spinoff, Bethenny Ever After, which chronicled her marriage and showed the first cracks of what became a contentious divorce with Jason Hoppy.
When she came back to Housewives in 2015 — her tagline was "I'm not a Housewife, but I am real" — social media and blogs were fully enmeshed with the show's melodrama in a new way. "It's like Gremlins," she said, referring to the way adding water spawned more of them. "Everybody goes crazy, and nothing is real, and it's exponentially getting more chaotic and dangerous."
"Everybody goes crazy, and nothing is real, and it's exponentially getting more chaotic and dangerous."
Glam squads were the new normal — and, to Frankel, an indication that her first seasons on Bravo, up to 2010, were less produced and more emotionally authentic.
For instance, after her fight with Bensimon, the cast went to do a bizarre photo shoot with Bensimon as a kind of healing moment. Frankel didn't attend, but since her return to the show, the women have been required to attend events, probably because forcing encounters easily creates drama. (The contracts have gotten more and more specific to codify these requirements.)
Still, Frankel jumped into the fray when she returned. In one of her most famous episodes, she confronted de Lesseps with cellphone footage of her fiancé kissing another woman. "Please don't let this be about Tom," de Lesseps said when Frankel came to her in a hotel. "It's about Tom," Frankel calmly replied.
Does she think that exchange — in which she essentially produced a castmate's gotcha — represented a low point? "It was too good to keep," she said. "How did that even happen ... like how did I know a person that was at the Regency that night that took video and sent it to me?"
"Luann said to me early on, when we were on a trip to Chicago, 'Have your show life be your show life and your real life be your real life,'" she said. "But I made a commitment to myself and this audience. I'm not gonna just lie and pretend about things."
Still, the constant exposure and vulnerability that Housewives requires — during her second stint, Frankel was in the middle of a divorce and custody battle, and her boyfriend died — and the intensity of the reunions took their toll.
After five seasons she left again for reasons that were "mental, emotional, spiritual, and physical. Because it literally feels like you've been abused after being on a reunion." In her exit statement she said she'd be "producing and starring in shows which represent a shift in the conversation for women."
Frankel's other reality ventures haven't matched her success on Bravo. Her eponymous syndicated daytime talk show was canceled after one season in 2014. An HBO Max show, The Big Shot with Bethenny, a kind of Apprentice–style reality show where she searched for a Skinnygirl operations director, got consistently unfavorable reviews.
Still, distancing herself from the franchise that launched her makes sense as Frankel navigates the latest stage of her fame. Today's viewers are less forgiving of the toxicity of aughts reality TV. Just ask Tyra Banks: America's Next Top Model has trended time and time again over its anti-Blackness and fat-shaming.
During reality TV's racial reckoning in 2020, Housewives attempted to revamp its brand with cast shake-ups and progressive storylines. Still, there have always been critiques arguing that Housewives is just a misogynist cesspool.
Despite Cohen's WWHL comment about Frankel's supposed pitting "women against women" critique, her podcast has yet to fully reflect on the show's gender politics or her own role in perpetuating it. She regrets, for instance, screaming "you're a whore" at de Lesseps. But so far she's shied away from reexamining her breakup with friend and former ABC News journalist Carole Radziwill.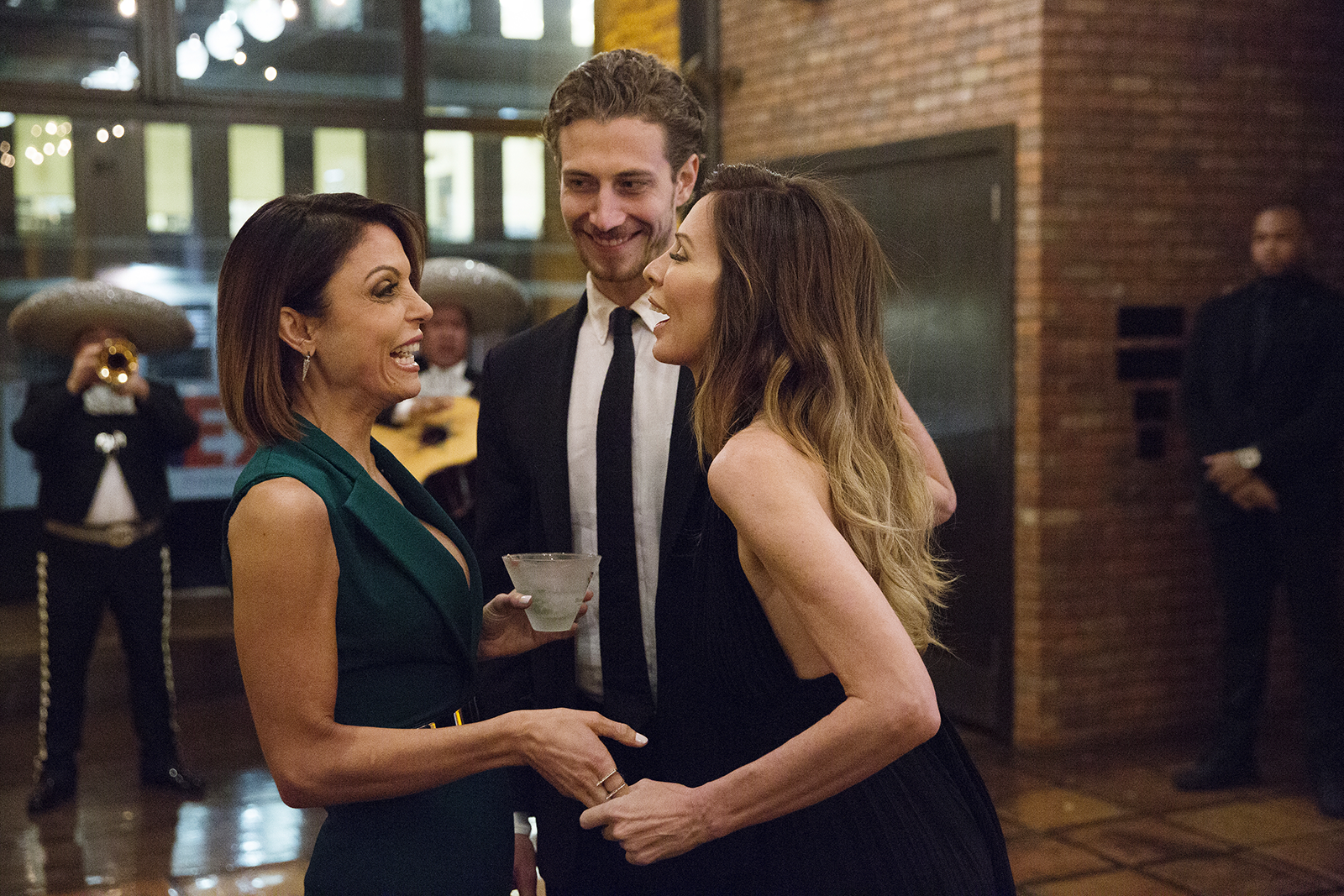 Frankel age-shamed Radziwill, implied her boyfriend was an opportunist, and claimed she didn't have a real career. During a big reunion blowout, Radziwill called out Cohen for favoritism toward Frankel. "You're so full of shit, Andy," Radziwill said. (Radziwill later called out the anti-fat implications of Frankel's Skinnygirl brand and has spoken out about the nonunionized labor at Bravo. "Reality contracts are seriously wack," she tweeted. "Unionize ladies!")
Frankel readily admitted to me that Cohen plays favorites. "There's always a different popular Housewife," she explained. "The night that I met my ex-husband, I wasn't invited to an event with Andy"; around 2010, she said, NeNe Leakes "was the most popular in school. Atlanta was just on, it was the bloop ... and she was very popular."
The popularity contest is never-ending, both in front of the camera and behind the scenes. And for viewers, the line between loving to hate someone and not wanting to see them onscreen is a delicate one. Lisa Rinna just left Beverly Hills after eight seasons, and Frankel said Rinna might have crossed the line, like her former castmate Ramona Singer, whose "All Lives Matter" comments and Mar-a-Lago partying during a COVID-19 lockdown earned plenty of criticism online.
Being "'love to hate' is great," Frankel said. "In my day, Ramona was 'love to hate.' She said something stupid, she keeps the party going in the drama, and she doesn't miss a beat. When it became 'hate to hate' because of whatever happened last season, they let her go."
Beverly Hills star Kyle Richards, she said, "plays the game properly." As for herself, Frankel said she tends to be a little less polite. "I can be misbehaving and become the bad kid in school."
ReWives hasn't endeared her to fellow Housewives, many of whom now have their own podcasts. They're all fighting for their own slice of the drama content factory, and Frankel's return debuted to backlash, with many crying hypocrisy.
De Lesseps called it "sad and pathetic." "Oh lordy…how original," Radziwill tweeted. "But she did build her brand by trashing& mocking women ... Betheny always returns to what she does best. I mean right out the gate she trash talks the other HW podcasts. Lol. Good luck to her. Somethings will never change."
When Frankel appeared on WWHL last year, fellow guest and former Bravo star Jeff Lewis also joked about the "originality" of her starting a Housewives podcast. And, of course, the Housewives' "Daddy" had his say.
"I thought it was kind of hypocritical of you ... to now go deep in the Housewives," Cohen said. To Frankel, it felt like she was being spanked by the patriarch. "My response is you did not say that to me privately, you said that publicly," she replied.
"Would you say that to Mariah Carey?" she said about Cohen's comments. "It's because I've been in this cesspool that now you get to just say that to me? Based on what?"
Frankel told me: "He's never gonna be losing. It's his show, so the guest is gonna probably be losing and he's gonna usually be winning. And it did feel a bit like it was, subtly, to either one-up me or to knock me down a notch because I'd come in there with a successful podcast that went to the top of the charts."
Afterward, she joked that he had saved their confrontation for his show. "You saved the tea for the tea party," Frankel said. With ReWives, it's clear she saved some of her own.