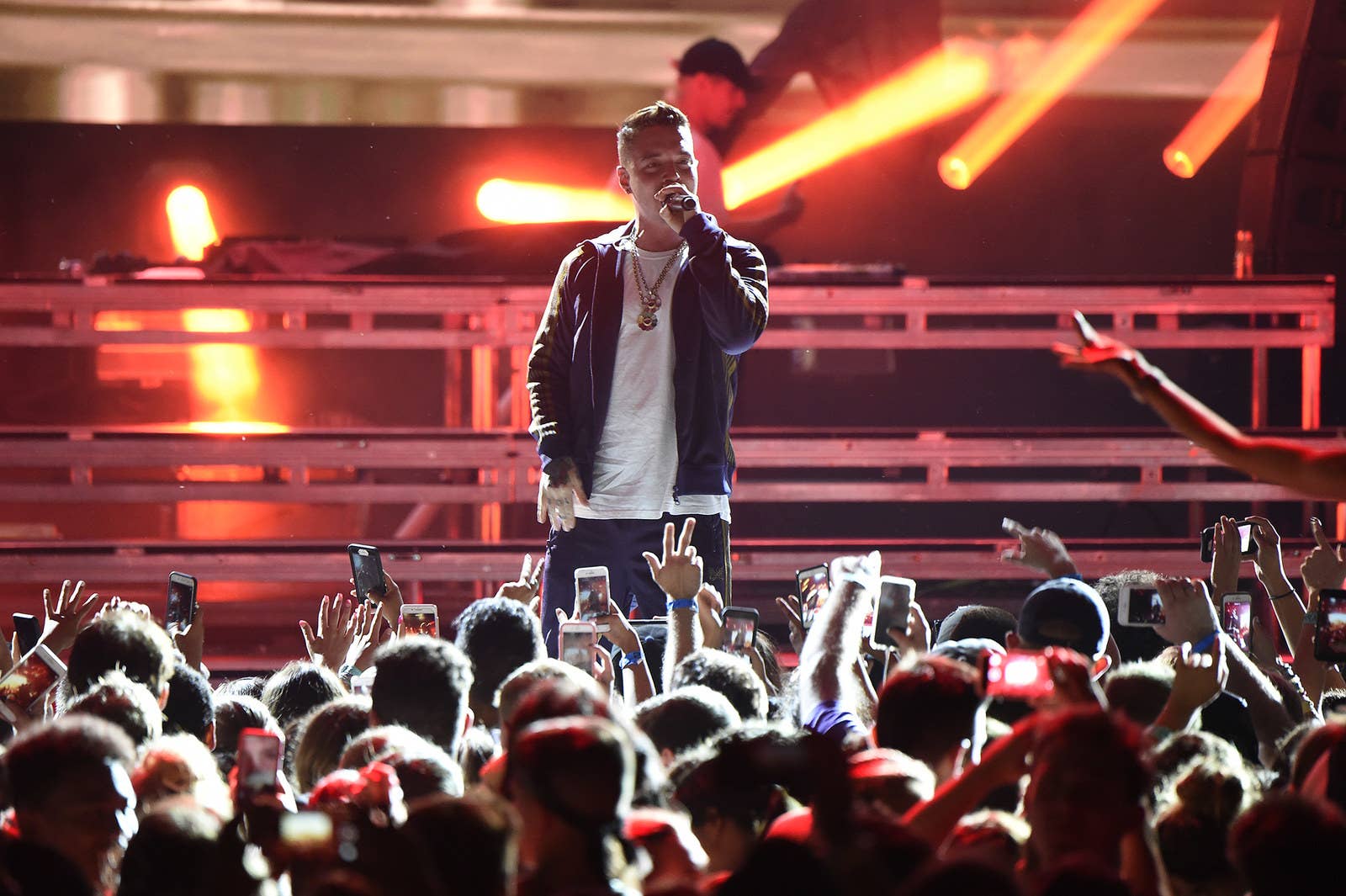 By all accounts, 2017 seems to have turned into a breakthrough year for Latinx pop music. "Despacito," the reggaeton hit by Latin pop star Luis Fonsi featuring Daddy Yankee, was remixed with Justin Bieber (who recorded Spanish lyrics he was incapable of performing live) and became a meme-spawning cultural phenomenon as it spent 16 weeks at the top of the US pop chart. And now "Mi Gente," a global hit by Colombian reggaeton star J Balvin, which initially peaked at 19 on the Billboard Hot 100, looks poised to gain a new US audience after a remix featuring Beyoncé dropped last week and shot to No. 1 on iTunes. "Despacito Changed the Music Industry," USA Today trumpeted recently, and these latest developments seem to support the claim.

But these songs' path to "American" success tells a more complicated story, one that is less about industry change and more about a recurring pattern with sudden booms of Latinx music in the pop mainstream. Both "Despacito" and "Mi Gente" were already massive global smashes before ascending the US pop charts. And the fact that they needed two of America's biggest stars to break the US pop barrier is a reminder that this Latinx music moment does not necessarily signal an expanding understanding of Latinx artists or music.
Instead, Latinx performers still have to find ways to fit into industry conventions, whether by recruiting other, more familiar pop stars, or by fulfilling US listeners' expectations and stereotypes of Latinidad. Critics have written about these "tropicalizing" conventions — representations that feature vibrant colors, frenetic rhythm, passion, and romance — but they are so ingrained in the cultural fabric that they appear to be "natural."
These tropes don't ultimately allow the space necessary for the kind of artistic exploration that leads to long-lasting US pop careers. And because Latinx singers are celebrated only during so-called booms — now an established trope in talking about Latinx culture — the lucky, media-anointed few get only a short period of time to establish themselves. The trajectories of previous "boom" winners, like Ricky Martin and Shakira, help explain the constraints these performers have to navigate, and the difficulties of transcending their big moment once the novelty ends.
This "Despacito" explosion isn't the first time the US music industry has claimed the beginning of a new era for Latinx pop on the strength of a few individual mega-hits. "Another Latin Boom, But Different," announced a June 1999 New York Times article, trumpeting the rise of Ricky Martin, Jennifer Lopez, and Marc Anthony, which ostensibly represented "not just a new level of commercial success for Latino-American singers but the long-awaited acceptance of Latin music into the pop mainstream." Even as the paper noted the tiredness of the "boom" idea, it still had to use it to present these disparate artists within some kind of easily digestible narrative.

Martin, whose "Livin' la Vida Loca" became a kind of slogan for multiculturalism and Latinx inclusion, became the most famous face of that late '90s moment. He was plastered on the covers of magazines ranging from Time to People. But in fact his image was transformed — in part through lucky timing and in part by design — to become globally legible. In the early '90s, Martin was a long-haired master of the pop-rock ballad with a distinctive Bon Jovi rasp, performing Spanish-language covers of Laura Branigan's "Self Control," which were not major hits.
He first became a global star with 1995's "Maria," a song that more explicitly played on his image as a passionate Latin lover, complete with its own dance steps built into the lyrics. His high-energy World Cup hit, "The Cup of Life" ("Go! Go! Go! Allez! Allez! Allez!" is the chorus), introduced his new short-haired, hip-shaking stage persona to English-speaking audiences at the Grammy Awards in 1999 and primed audiences for his crossover that year.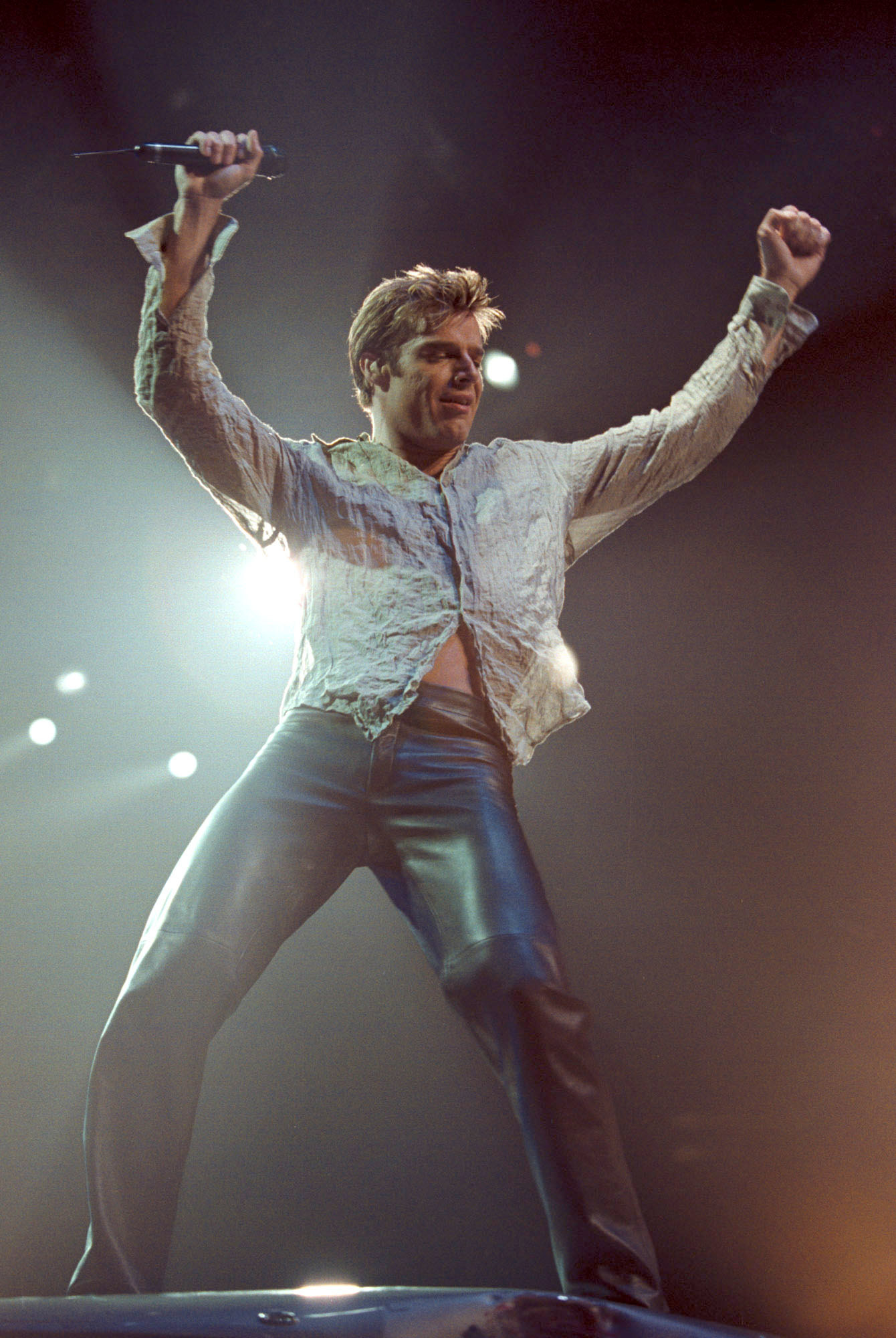 Thanks to "Livin' la Vida Loca," another ode to a woman (with lips of "devil red" and "skin the color mocha") Martin sold 8 million copies of his self-titled debut English album just in the United States. There wasn't a hint of his previous androgyny and there seemed to be no space for Martin, a gay man, to perform outside the hyper-hetero stereotype. He became a star through that defining hit single's Spanglish catchphrase and the song's salsa-tinged, high-energy rhythm, emphasized in the music video, set at a club filled with dancers. His follow-up up-tempo hit, "Shake Your Bon Bon," played into the same sexy stereotypes. ("I wanna be your only Latin lover," he sings to the song's female dedicatee. "I'm a desperado, underneath your window.")
In that same New York Times article, Ruben Blades, a veteran salsa star, cautioned about the limits of "crossover." "I'm really happy for Ricky. I think he's a really nice guy, and he's worked very hard, but I'm afraid that what is going to happen now is that the labels are going to create a whole bunch of clones just to make bucks." And indeed this is what happened, arguably with Martin's own career.
His second album, 2002's Sound Loaded, tried to replicate his initial success and was launched with another horns-and-hips pop ode to a femme fatale, "She Bangs," but the US market had moved on. The song peaked outside the top 10, and while the album debuted at No. 4, it sold only around a quarter of the 8 million copies his first album had. When Martin released the 2005 album Life, an extension into other sounds, the lead single "I Don't Care," with a jamming hip-hop groove featuring Amerie and Fat Joe, peaked outside the top 50. (The album failed to make the top 5 and didn't even go gold.)
This is, some might argue, the ephemeral story of all pop stardom. But Martin's career never fell off in the Latin pop market. His 2003 follow-up Spanish-language album opened with the ballad "Tal Vez," and both album and single went to No. 1 on the Latin pop charts. More recently, his 2015 hit "La Mordidita" is at 990 million views on YouTube; his collaboration with Maluma, "Vente Pa' Ca," has more than 1 billion views. Martin's quickly shifting fortunes in the US pop market suggest that Latinx performers are recognized and consumed under such specific circumstances of eventful novelty that it makes it more difficult to reinvent their personas or expand their careers into other sounds. Their Latinx sounds become old news until there is a new "boom," but when these artists showcase another side in the interim, there isn't an audience for it.
Latinx sounds become old news until there is a new "boom," but when these artists showcase another side in the interim, there isn't an audience for it.
In fact, by the time 2002's Sound Loaded came out, Shakira had become the new flavor of the month. She presents an equally striking example of the way these constraints work. The Colombian-born pop star was launched in the English-speaking market by Sony Music, also Martin's record label, in 2001. Before her crossover, she was a Latin American rockera with punky hair colors, often compared to Alanis Morissette, an aesthetic that carried over to her sophomore album. But by the time her English-language album Laundry Service launched with the Andean-inflected pop/rock hit single "Whenever, Wherever," Shakira had dyed her hair blonde and used the video to perform a belly-baring, hip-shaking persona against a rotating backdrop of otherworldly landscapes. Shakira had belly-danced before, but the exotified image quickly defined her in the US pop market.
When Shakira attempted to move back to her rock sound on her next album, 2005's Oral Fixation, the lead song "Don't Bother" languished at No. 42 on the pop charts. She quickly produced "Hips Don't Lie," which wasn't even on the original album, by sampling Wyclef's Jean's "Dance Like That," and the horns of Jerry Rivera's salsa masterpiece "Amores como el Nuestro." She turned the song into a dance-friendly ode to her own body movements. By playing into — almost doubly exploiting — her crossover persona, she achieved not just her first No. 1 pop single in the US, but also the biggest hit of her career. And whenever she attempts to explore musical identities outside of that, critics and audiences seem confused.
Shakira's 2014 self-titled English-language album (aside from the lead single, "Can't Remember to Forget You," a ska-tinged duet with Rihanna that played into their image as "Caribbean girls," as Shakira put it) wasn't an exploration of the kind of sounds the public expected from her. She was roundly criticized for losing her identity; in an otherwise thoughtful piece, a Stereogum critic noted, "Rather than the hip-moving party music she has always excelled at, Shakira steers towards bland balladry." "Bland" is a telling adjective; US listeners seemed bewildered by Shakira's interest in any music they didn't deem fun or spicy or "Latin" enough. (The Los Angeles Times similarly lamented that there was "Not enough Shakira in 'Shakira.'")
Both Shakira and Martin, like Jennifer Lopez and Marc Anthony, were Sony Music recording artists, and, in many ways, the '90s Latin boom was the media creation of the company's then-CEO Tommy Mottola. "The media created a myth of a Latin explosion," he said in 2000, "when really it was just pop music being sung by Latin artists." But if Shakira or Martin had simply translated the kind of pop and rock they were performing before the boom into English, or made music like the pop, R&B, or hip-hop already on the US market, they likely wouldn't have succeeded. And indeed, one reason that Nuyorican Jennifer Lopez was never reduced to stereotypes is because she was produced by Puff Daddy and turned to R&B, dance, and hip-hop to launch her music career from the start.
In contrast, it was largely the spectacle of Spanglish and swiveling hips that made Martin and Shakira visible as Latinx in the mainstream market. Their association with these sounds and images is also what made it difficult for them to continue evolving. And this is a problem that the current boom riders will have to figure out as well.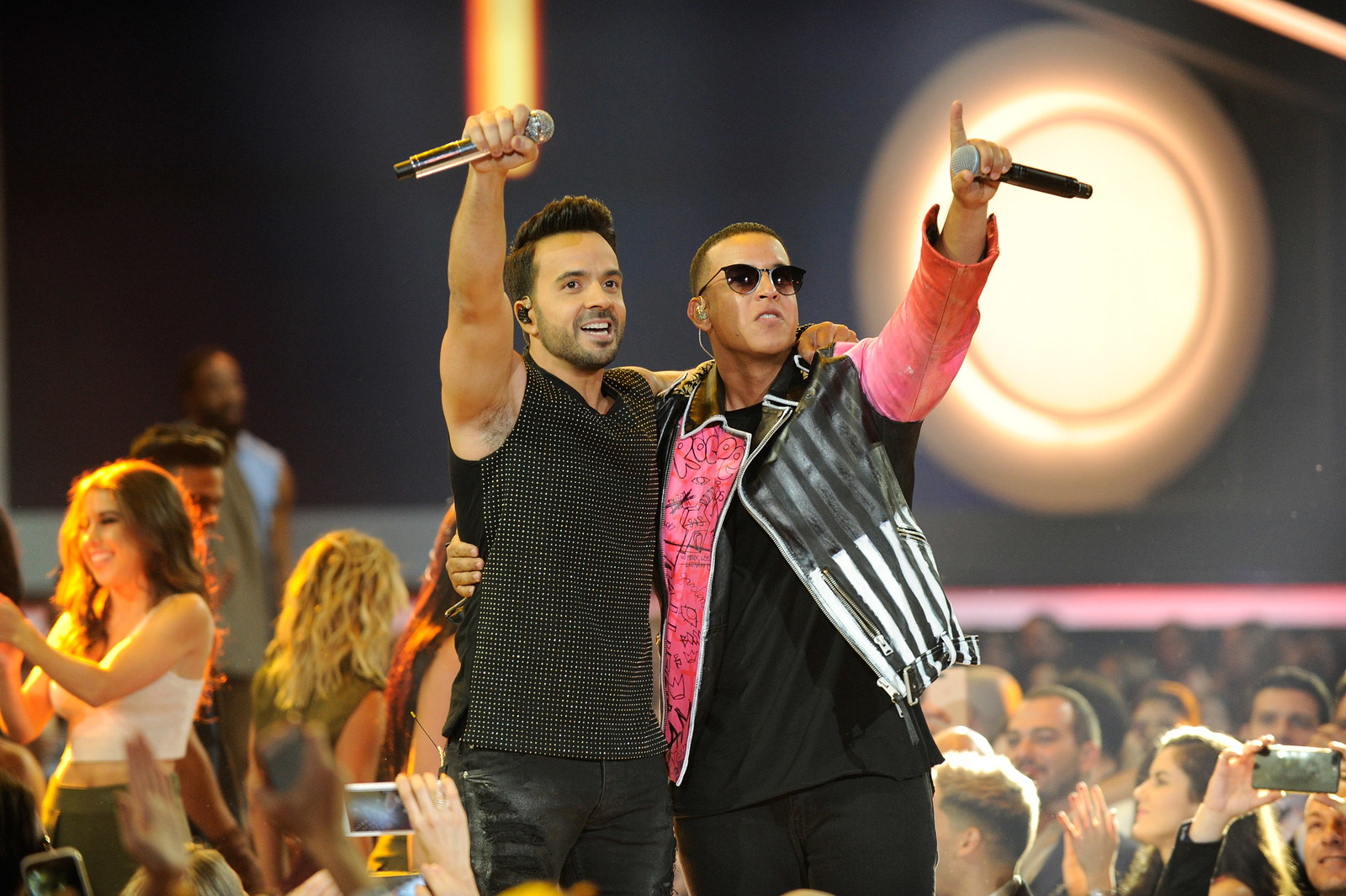 The very reasons for the success of "Despacito" signal the problems Luis Fonsi, Daddy Yankee, or J Balvin will likely have in reproducing the song's transcendence. Reggaeton has been a commercial force for well over a decade, and is now the lingua franca of Latinx pop. Both Daddy Yankee and Shakira reached the lower echelons of the US pop charts with reggaeton tunes earlier this decade; Yankee's 2004 "Gasolina" got to No. 32 and Shakira's 2005 "La Tortura" was No. 23. But neither was hailed as a game-changing moment for all of Latinx pop at the time, or ever reached the kind of multiplatform, global peak of saturation that the "Despacito" remix has this year — arguably because neither of these Spanish-language songs were tropicalized, or carefully repackaged, enough for mainstream US audiences.

Unlike Balvin or Daddy Yankee, before his "boom" moment Luis Fonsi was a purveyor of dance pop and romantic ballads; his version of reggaeton was sweetened by his pop vocals. And the "Despacito" video's dreamy imagery of the Puerto Rican landscape plays up reggaeton's association with Caribbean Latinidad. This all helped make it a global smash, and Bieber's addition of introductory verses in English for a pop-radio version spoon-fed the song to English-speaking audiences.
Industry experts forecasted that J Balvin's rising hit "Mi Gente," which replaced "Despacito" at the top spot on the global streaming streaming charts, would soon follow suit in the US. Balvin has a long history of trying to globalize reggaeton on his own terms, even hiring Pharrell to produce for him, which didn't ultimately result in a US pop hit. So he turned to EDM, and just as Ricky Martin included French ("Allez allez") in his attempt to globalize his sound with "The Cup of Life," Balvin collaborated with French DJ Willy Williams, who added French lines to the song to help ensure its European audience. "It's really difficult for a French guy [alone] to break into the US market, but ["Mi Gente"] is a French guy singing in Spanish, and a Colombian guy on a big dance track, and together we're on the US charts," Williams told BuzzFeed News in August. "Mi Gente" is already a kind of ode to the music's global and rhythmic appeal ("Mi música no discrimina a nadie," he sings. "My music doesn't discriminate."), but unlike Fonsi, Balvin's image isn't the traditional pop heartthrob.
As he told the New York Times last summer, Balvin's crossover model is not that of pop stars like Shakira or Ricky Martin, but that of Daddy Yankee. He also admires US stars like Kanye West and Pharrell. But Pharrell was a behind-the-scenes producer and songwriter who had his pop moment as an artist only after years in the industry, and the fact that rappers like Kanye can now become pop stars is a result of the way hip-hop has become so integral to US musical culture. It remains to be seen whether reggaeton achieves that degree of success. In the meantime, these strategies require time and opportunities for reinvention that Balvin might not get.
"Mi Gente" peaked at No. 19, and as of October 6 is sitting at 21 on the Billboard Hot 100. But its massive global success — and that of "Despacito" — brought Beyoncé onto the remix. She has a history of singing in Spanish, including a Spanish-language norteña version of "Irreplaceable," and also of Latin pop collaborations, like her duet with Shakira for "Beautiful Liar," another hip-shaking spectacular that became Shakira's highest-charting US single outside "Hips Don't Lie." It looks like the "Mi Gente" remix will give the song a second wind, and even a shot at a Hot 100 No. 1 in the US after shooting to the top of the iTunes charts.
If your stardom is predicated on the moment of "going global" or "crossing over," how do you become part of the landscape?
But regardless of how much the Beyoncé bounce works, this remix strategy might not end up benefitting Balvin's career — or Latinx pop — in the long term. USA Today approvingly quotes Alejandro Duque, general manager of the imprint that released "Despacito," noting: "There's been an interest from many general market players and people that don't necessarily look at Latin music. Now we have artists saying, 'Hey, I want to do my remix with a Latin artist.'"
In other words, major US pop artists will get a sudden infusion of Latin flavor for their mainstream pop careers, and can then move on with their music after the boom. But this will be harder for the Latinx performers who become famous through their explicit connection to these sounds. (Luis Fonsi already had to clean up after and cover for Bieber after his disrespectful treatment of the song's Spanish lyrics.)
And, unlike Ricky Martin or Shakira, Luis Fonsi and Daddy Yankee have been largely overlooked in the publicity craze over their song; headlines have focused on the hit, rather than the hit-makers. "Meet the singer behind 'Despacito' (It's not Bieber)," CNN had to point out. Balvin was presented in the New York Times last summer as "a Man With a Mission: Making Reggaeton Global," but what comes after? If your stardom is predicated on the moment of "going global" or "crossing over," how do you become part of the landscape?
More than 20 years ago, the Times already noted, "Over the last several decades, Latin entertainers have more than once seemed poised to break into the mainstream, only to slip back into the cultural margins." But this media-driven pop economy, in which Latinx acts are visible only when they're supposedly booming or crossing over, reveals the very limited constraints under which they must explore and perform their musical identities for mainstream markets. Even Lin-Manuel Miranda's new benefit single for Puerto Rico, which brought together Fonsi with Jennifer Lopez, Marc Anthony, and Gloria Estefan, among others, once again demonstrates that high-profile Latinx pop performances seem to require a special occasion.
In many ways, Latinx artists in the US are still treated as one-time novelty acts, sensational media events, rather than as complex artists who can contribute to pop culture in an ongoing way. "Pasito a pasito, suave suavecito" goes "Despacito," which roughly translates to "step by step, smoothly." But these lyrics are also a reminder that it continues to be a slow climb for Latinx artists looking to perform at their own pace, and on their own terms. ●