It's not quite dawn, a dark orange glow peeking over the Arizona suburbs, when Sukhwinder Singh Sodhi arrives at the gas station where his father was murdered. His eyes heavy, a ball cap over long hair that has never been cut in his 44 years, he pulls into a parking spot in the corner of the Chevron lot and steps into the stiff summer heat.
"I still can't believe it's been 16 years," he said. "Life goes fast."
His father, Balbir Singh Sodhi, was the first person killed in the wave of anti-Muslim violence after 9/11, gunned down on Sept. 15, 2001, by a white man on a mission to punish anybody who looked anything like the people behind the deadliest terrorist attack in US history. Balbir, not a Muslim but an Indian-born Sikh, was 52.
After his father's murder, Sukhwinder believed that he'd live to see the US return to the welcoming place he'd known when he first arrived from India at age 23, full of optimism and ambition to follow in the entrepreneurial path of his father and uncles.
But as the years passed, the racist sentiments only seemed to intensify. If Sukhwinder had any questions left about the direction of his country, they were answered in November when Americans elected Donald Trump.
Trump's support base included white supremacists like those who converged on Charlottesville, Virginia, this month to protest the city's decision to remove a statue of the Confederate general Robert E. Lee, a demonstration that escalated into a bloody brawl with counterprotesters. Most of the extremist demonstrators were young people who came of age in the shadow of 9/11, part of a new generation of racist groups energized by a president who they believe shares their worldview. One of the counterprotesters, a 32-year-old woman, died when a car driven by a white man who attended the white supremacist rally plowed into a group of people. It was the latest burst of white supremacist brutality at a time of thickening tensions. Rather than criticize his most extreme right-wing fans, the usually unrestrained Trump gave a measured response condemning "violence on many sides" and refusing to condemn the racist march even days later.
"Part of me has still not moved on from the day my dad was shot. Part of me died there."
The murder of Sukhwinder's father marked the starting point of a dark period of racist violence in the US that continues 16 years later with no end in sight. The abuse once aimed at Muslims — and those who might look Muslim to ignorant eyes — in the aftermath of 9/11 has expanded since Trump's election to target anybody who is not white. Jewish cemeteries have been vandalized, mosques have been burned and bombed, and students have chanted "build that wall" at Latino classmates. In New York City, a white man who fatally stabbed a black man told police that he was on a mission to kill as many black people as possible. In Kansas and Washington, white men shot Indian men while shouting at them to leave the country, killing one and wounding two more. In Oregon, a white man fatally stabbed two men who tried to stop his racist tirade against two teenage girls, one of whom wore a hijab. In May, a memo from the FBI and the Department of Homeland Security, first made public by Foreign Policy, warned that white supremacists "likely will continue to pose a threat of lethal violence over the next year."
Caught between old expectations of progress and a new realization that things have gotten worse, families like Sukhwinder's are forced to reconsider whether they can really feel at home in their adopted country.
"Part of me has still not moved on from the day my dad was shot," Sukhwinder said. "Part of me died there. It's a part of my life and it's not going away."
His father had owned the gas station. After his death it was passed onto the son. Six days a week, Sukhwinder spends 11 hours working there. He locks his car and walks behind the gas pumps to the back door of the shop, a curvy gray building with a blue and red sign that reads "Mesa Star Convenience Store." His jingling keys join the chorus of howling coyotes, chirping birds, and occasional pickup trucks roaring down the empty road past subdivision houses with swimming pools in the back and American flags out front. He turns on the lights, unlocks the front door, and takes his place behind the register. In his direct line of sight, out the front windows, is the exact spot where his father was killed.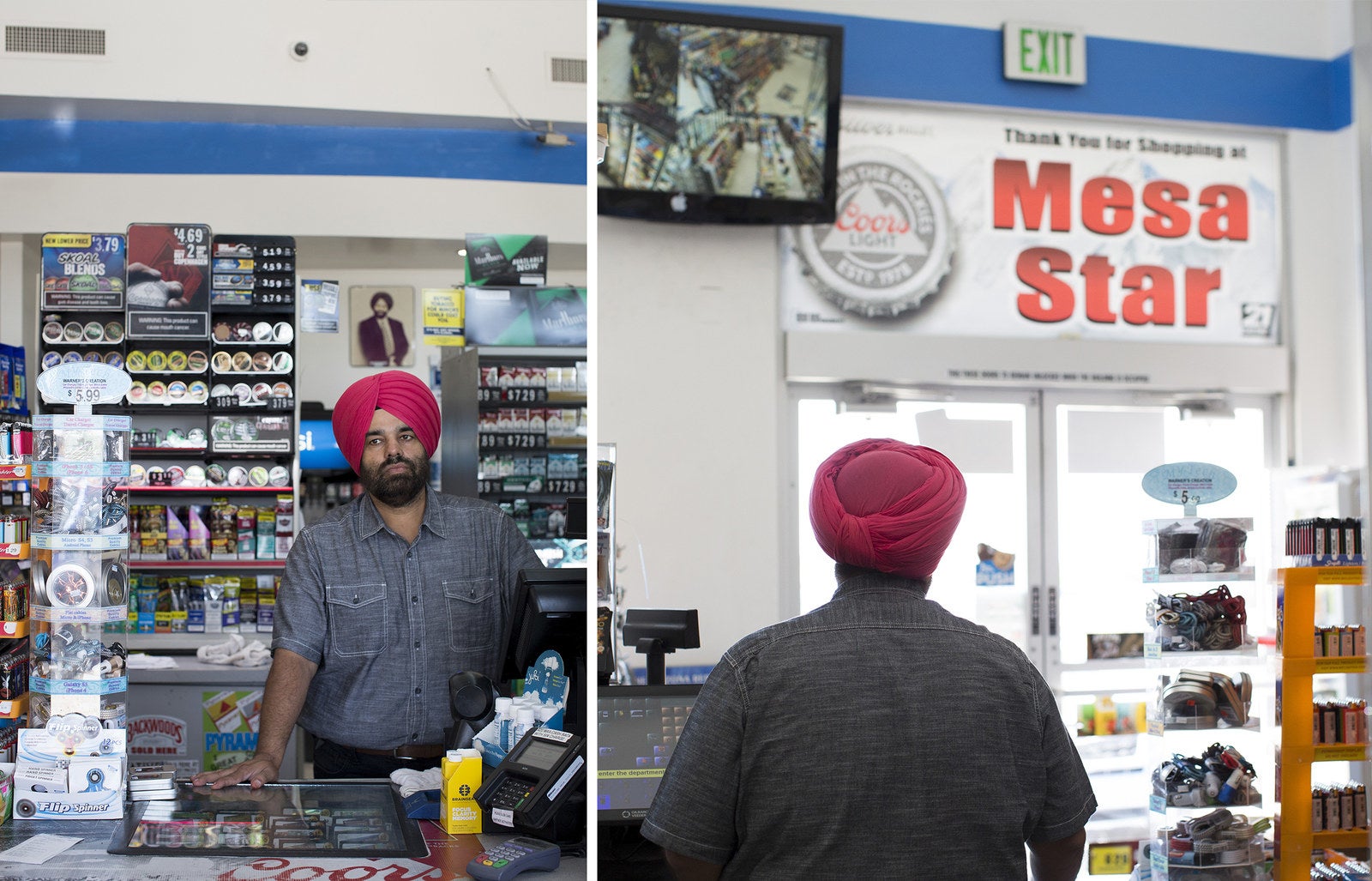 Sukhwinder doesn't consider himself particularly political. He follows the news generally but doesn't keep up with all the details. Last year, like most Americans, he couldn't avoid campaign talk, so he was aware of the strong stance his uncles had taken against Trump, which confirmed his own suspicions about the candidate. He was disheartened by the election result and feared that Trump's policy to ban immigrants from Muslim-majority countries was the opening strike for a new stage of bad times for people who look like him.

The past nine months have validated his concerns. After hearing about the rise in hate crimes after the election, he told his 15-year-old son that if he was concerned about getting bullied in school, he could stop wearing his patka, a head wrap for kids, and maybe even cut his hair, which observant Sikhs grow unabated out of religious practice. His son chose to keep wearing the patka, which made Sukhwinder proud but also contributed to his list of worries.
He still remembers the last conversation he had with his father, two days before he was killed and two days after images of Osama Bin Laden, with a turban and long beard, flashed across TV screens. Sukhwinder lived in San Francisco then, and on the phone he asked his father if he considered not wearing his turban. Some Sikhs were shaving their heads and beards. Others told their children to use Americanized versions of their names in class. One of Balbir's brothers refused to let his kids out of the house except for school. Another brother, the owner of an air conditioner business, switched from turban to baseball cap, having concluded that his traditional appearance might drive away customers. But Balbir, citing his constitutional freedoms, told his son that he had no plans to alter his look. "It's okay, people are nice here," Balbir had said. "I know my customers and they know me."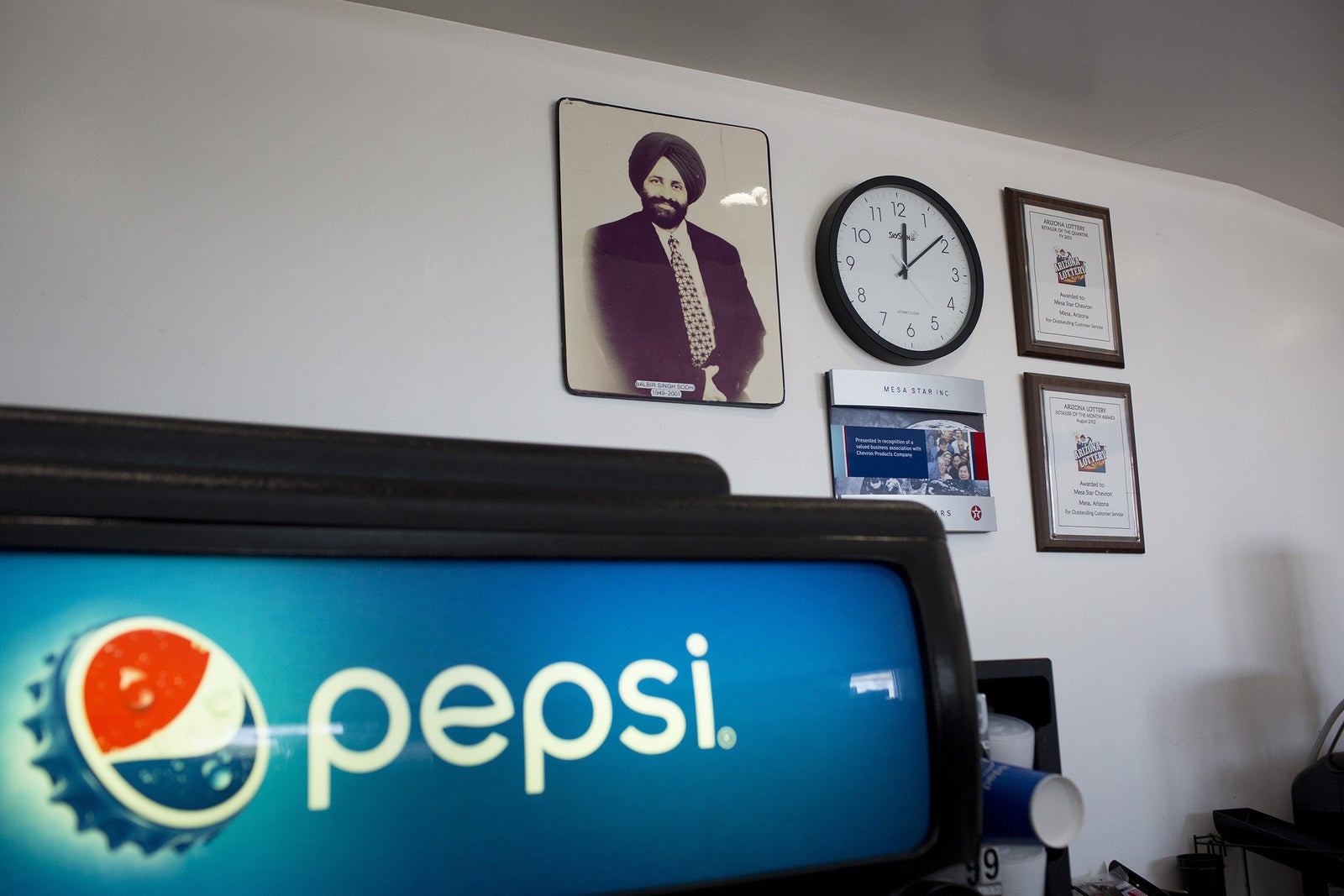 Hours after Balbir was killed, hundreds stood out in the hundred-degree heat for a vigil at the gas station. Two days later, when the gas station reopened, locals dropped in to make sure it was the most profitable day the store had ever had. The funeral, a week later, was held at a convention center to fit the thousands of mourners, including a parade of state and local politicians. "My brother died and he got so much honor from people in this country," Sukhwinder's uncle Rana said. "It made me proud to be part of this country."

When Sukhwinder pulled into the Chevron lot a day after the funeral for his first day running the gas station, flowers, toys, cards, crosses, and flags blanketed the property. Customers poured in to meet and support the son of the man who'd given free candy to children and gas to desperate travelers, and who'd always remembered their names.
Balbir's murder was a national news story. The man who shot him, a white 42-year-old aircraft mechanic named Frank Silva Roque, had repeatedly threatened to kill "towelheads" in retaliation for the terrorist attack, statements overheard by his wife and coworkers. He pulled up to the gas station in his black truck and shot Balbir as he stood outside contemplating which flowers to plant in the dirt patch by the sidewalk. After speeding off, Roque went on to shoot up the house of an Afghan-American couple and a store owned by a Lebanese-American man. When police arrested him that night, he declared himself "a patriot." "I stand for America all the way," he said to the cops. A jury convicted him, and he's serving a life sentence.
Patriotism has long been a justification of white racists, who say they are only defending their country from those seeking to take it away from them. White supremacist protesters in Charlottesville, some of whom wore red hats bearing Trump's campaign slogan, chanted, "You will not replace us." To their ears, the president's vow to "make America great again" implied a return to a time when the grip of white dominance was tighter.
"My brother died and he got so much honor from people in this country."
"We are going to fulfill the promises of Donald Trump," former Ku Klux Klan grand wizard David Duke told reporters in Charlottesville. "That's what we believed in. That's why we voted for Donald Trump, because he said he's going to take our country back."
In contrast to Trump's delayed responses to racist violence, President George W. Bush won wide praise when, six days after 9/11, he sought to calm the rage with a speech at a mosque in Washington, DC. "Islam is peace," he said, asserting that the extremists behind the attack did not reflect the beliefs of most Muslims. "These terrorists don't represent peace."
Of the surge in anti-Muslim violence, Bush declared: "That's not the America I know."
It was a refrain Sukhwinder heard in the days, months, and years after his father's death — a refrain that continues to echo with each new incident of racist violence.
Nearly every day, customers tell Sukhwinder that they remember his father. They extend a handshake and offer condolences, maybe a hug, and sometimes an anecdote about his father's kindness. Almost always, they tell him the extremist who killed his father doesn't reflect the beliefs of most Americans.
"I knew your father."
"He was a good man."
"I'm so sorry."
"That's not what America is."
One customer donated a framed photo of Balbir transposed over an American flag, the message "our strength = diversity" printed at the bottom. It hangs over a fridge containing orange juice and hot dogs. Some days, people stop to read the marble memorial the family built on the patch of dirt where Balbir fell. "In memory of all of the souls who lost their lives on September 11, 2001 and all of the backlash victims," the bronze plaque reads, noting that Balbir "was killed simply because of the way he looked." Visitors take photos and leave flowers, and every year on the anniversary of Balbir's death, locals gather with the family in the gas station lot to show that they haven't forgotten.
"When you see how many people are standing with you, it gives you courage to stand up."
"When you see how many people are standing with you, it gives you courage to stand up," Sukhwinder said.
But 16 years after he pulled into that gas station lot for his first day on the job, and seven months into the Trump presidency, Sukhwinder has to wonder: How many people are still truly standing with him?
It's a reasonable question for an immigrant living in one of the nation's red states. Trump won Maricopa County, where Sukhwinder lives and works, by nearly 5%. If his customers are an accurate reflection of the region, about half the people he sees every day likely voted for Trump.
The regulars — nearly all of them white — still enter his store with a smile, greet him by name, ask how business is going, and jokingly gripe about the price of cigarettes. They don't treat Sukhwinder any differently, and he treats them the same too.
Over his years at the store, even during the especially tense months after 9/11, Sukhwinder has encountered few outwardly racist customers. Every now and then, he hears a slur from a drunk stumbling in or from a shoplifter who got caught. If others are in the store, usually at least one person shouts down the racist. Once, when a shoplifter punctuated his racist tirade by bolting out the door, a customer chased him down and held him until police arrived.
Surely, some of those men and women who've defended him voted for Trump. Sukhwinder still believes they're good people, and that's what troubles him: That people he considers kind and reasonable could accept Trump's ideas reflects the extent to which anti-Muslim sentiment — and by extension white racism — has infiltrated mainstream culture.
"So much hate exists in our country," said Rana. "You can see so much hate coming when Trump rose. The hate had existed and now it's bubbling up. When he came, more hate came."
"You can see so much hate coming when Trump rose. When he came, more hate came."
From Sept. 12, 2001, to the early months of 2017, white supremacists and far-right extremists were responsible for nearly three times as many fatal attacks (62) as Islamist militants were (23) and nearly as many total deaths (106 and 119, respectively), according to a report by the Government Accountability Office. Yet, to many Americans, white extremist terrorism remains overshadowed by the specter of Islamist militants. The year following the San Bernardino massacre, in which two US citizens pledging allegiance to ISIS shot 36 people and killed 14, saw the biggest surge in anti-Muslim hate incidents reported to the FBI since the year following 9/11. After a white supremacist fatally shot nine black parishioners in a church in Charleston, South Carolina, in July 2015, Sen. Lindsey Graham described the violence as "Mideast hate."
Over the first three months of 2017, amid a series of racist attacks against a range of minority groups, at least 35 mosques were defaced or burned. In some cases, the vandals scrawled Trump's name alongside the graffiti.
"My fear increased tremendously after the 2016 election," said Rais Bhuiyan, who was shot in a 9/11 backlash attack in Texas six days after Balbir was killed. "Trump normalized and legitimized this kind of hatred and discrimination. It will go away one day, but the pain and suffering that people are enduring right now, that cannot be reversed."
Unlike the quick response of George W. Bush, Trump waited until almost four months into the post-election spree before condemning the behavior as "hate and evil." While Bush dedicated a full speech to the message, Trump spoke a single line in an hour-long address to Congress. After a bomb exploded at a Minnesota mosque earlier this month, the only member of the administration to comment publicly on the incident was White House adviser Sebastian Gorka, who explained that the president hadn't made a statement about it because he was wary of "fake hate crimes."
Sukhwinder doesn't project his distrust of Trump onto his customers. He doesn't try to guess which ones voted for Trump. In fact, he rarely thinks about where they stand on the issue — better not to know, he believes. His philosophy is to judge each person on the actions he sees and the words he hears. After all, he has to see these folks every day. He wants to believe that those he knows who voted for Trump simply didn't think about the damage they would help to inflict. "A lot of people, their lives are basically sports and the weekend," he said. "They don't know about the outside."
When the afternoon rush has passed and the store is empty except for him and me, Sukhwinder leans back against the rack of cigarettes behind the counter, tired. He has been on his feet for nearly 10 hours without a break. I ask him what he would he say to the families currently going through what he went through in late 2001. He chokes up and stands silently for some seconds, looking out the windows into the lot, his hand rubbing his neck.
"I'm still fighting with that," he said haltingly, his voice low. "I don't know what I can tell somebody else. Just stay strong. And…"
He trails off, searching for the words to capture emotions that have never left him and likely never will. Just then a car pulls into the lot, the store's doors swing open, and Sukhwinder is back at the register, smiling, asking the customer how she's doing.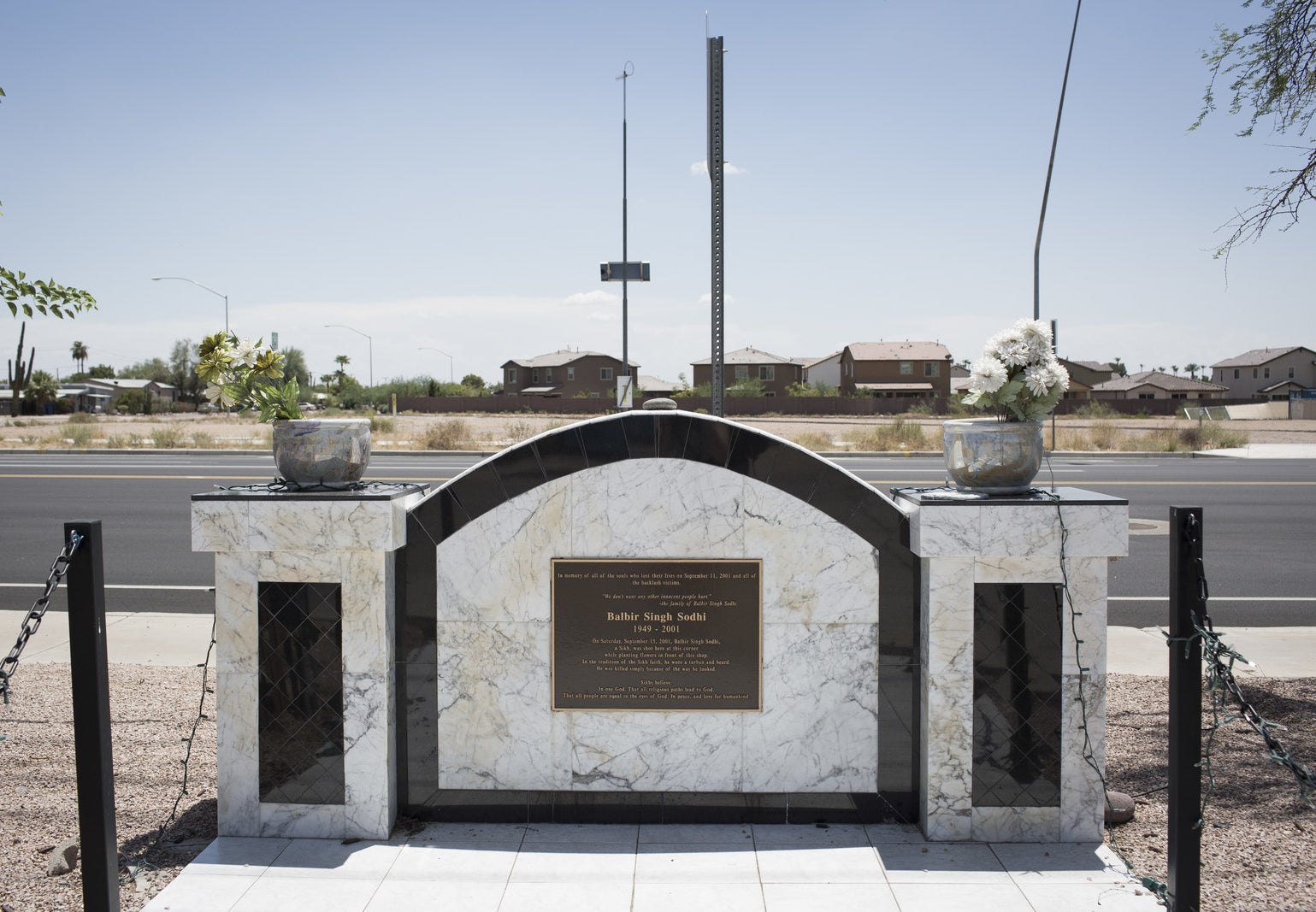 Why stay?
Why not leave it all behind?
Why put yourself through the daily strain of seeing that marble reminder of the worst day of your life?
Only fleetingly, in the days after Balbir's death, did the family consider selling the store. To Sukhwinder, the decision was easy. This might be the site of his father's death, he reasoned, but it was also the site of his father's grandest achievement. "That was his dream," he said. "We wanted to continue this."
Balbir, along with five of his brothers, had arrived in California in the late '80s, leaving India's Punjab region after thousands of Sikhs were massacred by mobs seeking revenge for the death of Prime Minister Indira Gandhi, who'd been assassinated by two Sikh bodyguards. He settled in Daly City, just outside of San Francisco, where he worked long hours driving a cab, lived in a crammed two-bedroom apartment with four relatives, and sent money back to his wife and three sons in India. His brothers Rana and Harjit moved to Phoenix and used their savings to open a restaurant and a gas station. By 2000, 50-year-old Balbir wanted the same. The brothers pooled their money, and Balbir bought a plot of vacant land on a suburban street corner in Mesa.
The gas station had been open for seven months when 9/11 happened. Balbir returned to work on Sept. 15, a Saturday. On the way in he stopped at Costco, where he picked up supplies for the store and donated all the cash he had in his wallet, around $75, to a collection for 9/11 victims.
It was Rana who called Sukhwinder to tell him his father had been shot. Sukhwinder, his wife, his brother, and his uncle Sukhpal piled into his car for the 12-hour drive from San Francisco to Phoenix. They barely talked as they zoomed through the darkness.
"Many of our relatives in India wanted us to leave here. They thought it was too dangerous in the US."
Sukhwinder never went back to San Francisco. On Aug. 4, 2002, police found Sukhpal, a taxi driver, dead in his cab, a single bullet wound in his neck. There were no suspects, no witnesses, no surveillance footage, no sign of robbery, and barely any physical evidence. The homicide remains unsolved. Police speculate that Sukhpal may have caught a stray bullet but can't say for sure. Sukhwinder and the rest of the family are convinced it was a hate crime. Sukhpal had told them many stories about the racist abuse he'd gotten on the job in the months after 9/11.
When the news reached Sukhpal's parents in India, "it broke them," Rana said. Having lost two children in 11 months, they urged the rest of the family to return to India. "Many of our relatives in India wanted us to leave here," Rana said. "They thought it was too dangerous in the US."
But every one of them stayed.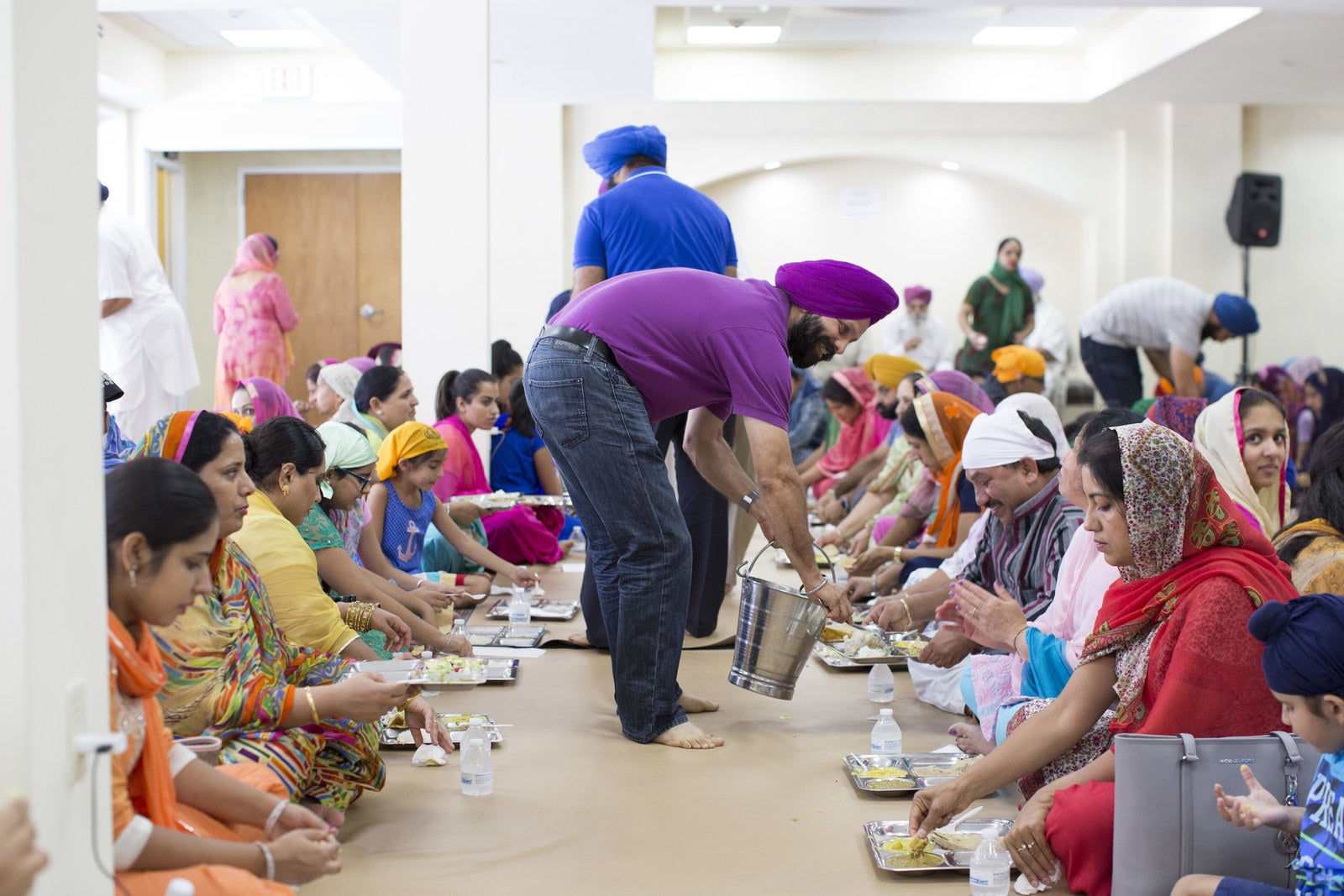 Today, the family owns eight gas stations and four restaurants. They send their children to good public schools and live in comfortable houses in safe neighborhoods with smooth roads for their newish cars. They make enough money to take care of relatives an ocean away.
On Sundays, they gather in a gurdwara in Phoenix with dozens of Sikh families. In the airy and bright basement of the high-ceilinged temple, they sit on the floor crossed-legged, in rows that fill the big room from end to end. Traditional music, performed by a trio in the main worship hall upstairs, blares from speakers. On the carpet in front of every person, metal trays are piled with rice, vegetable fritters, and palak paneer. Families alternate cooking every week.
Years ago, Balbir was the one who volunteered to do the dishes when the cooking was done. Nearly every adult in the gurdwara remembers him — not just for his kindness, but for the cold truth that it could have been any of them facing the barrel of that gun. Many of them, like retired neurosurgeon Jaswant Singh Sachdev, take extra precautions. He makes sure he's never in a park alone. He avoids places "where only teenagers are" and places "where people like me are not there." "You are always watchful," Sachdev said. "Your eyes are always looking around."
"It happened 16 years ago and it's never going to stop."
Not even in the gurdwara do they feel completely secure. It was only five years ago that a white man opened fire in a gurdwara in Oak Creek, Wisconsin, killing six Sikhs. Sukhwinder wasn't sure how to explain the shooting to his two kids other than to say that there are bad people in the world who attack people for how they look. He told them they didn't need to worry, because he was their father and that is what fathers say, but in his own mind he understood that violence can strike his family anytime in any place.
"It's never going to stop," said Balbir's brother Harjit. "It happened 16 years ago and it's never going to stop."
Sukhwinder and his family have resigned themselves to this. It's the only way they know how to live in the US: to put up with the pain and keep going. Like the 12-hour shifts driving a cab six night a week and the long years crammed into a too small apartment with too many people, their fears are just another cost of building a life in the land of opportunity. It's still worth it, they agree.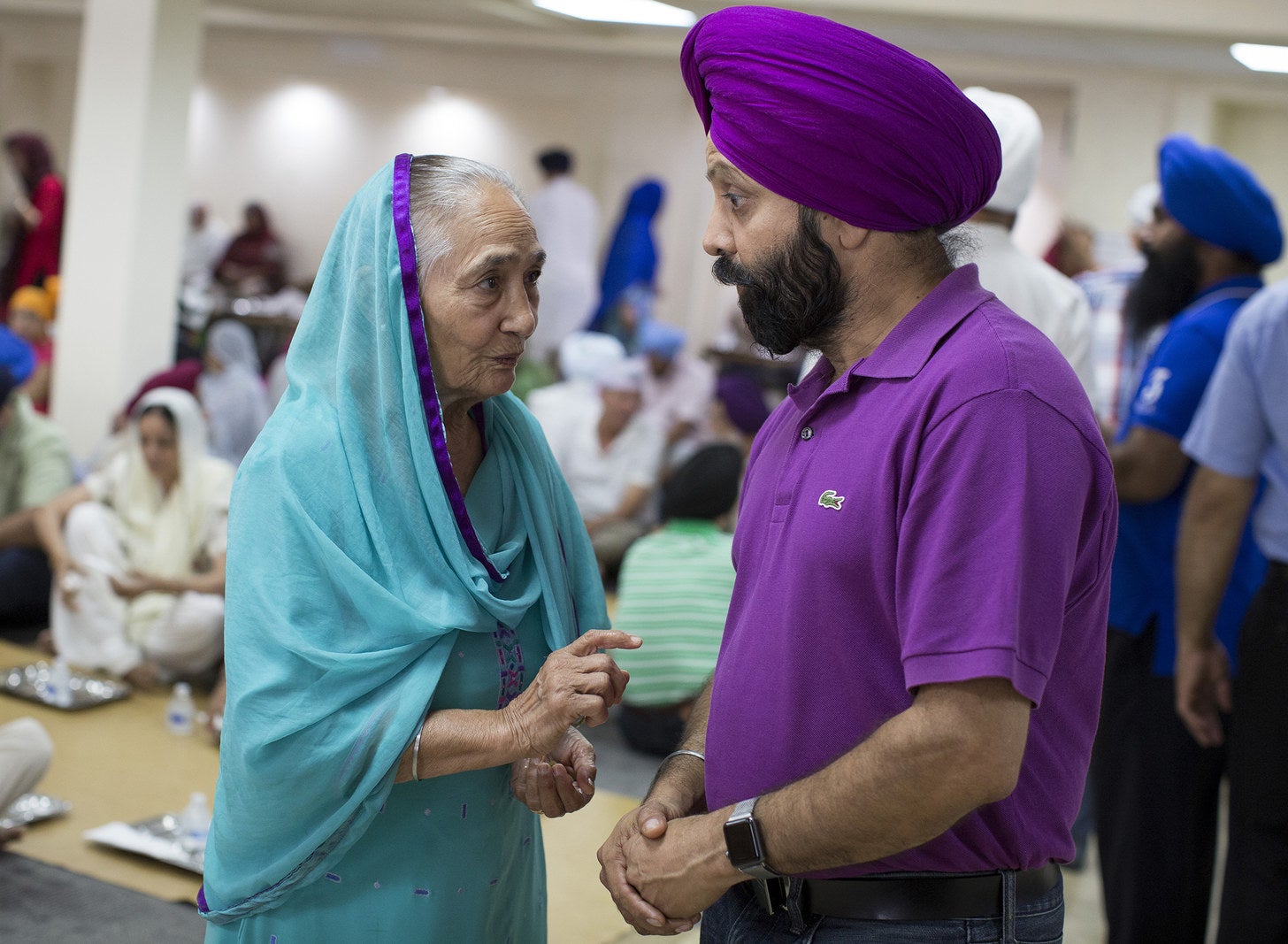 "America is a better place than anywhere else in the world," Sukhwinder told me one day in the gas station.
As we talk in the gurdwara, Sukhwinder, Rana, and I move around the room while the two of them greet friends. Near the corner, Rana comes across an elderly woman, Bhagwant Rangi. He takes her hand and bows. She has lived in the US since the 1970s, longer than almost everybody else in the temple.
"This is a golden, golden country," Rangi said. "We cannot give in."
She gazes across the room at small children dancing, teenagers leaning coolly against white pillars, families gathered in circles on the floor. To Rangi, this place once felt like a sanctuary but no longer does.
"Anybody can be angry and do something," she said. "We are living in fear."
Sure, she said, most Americans are good people. But the hate lives on. Every car that drives by, every person who walks past, every stranger she crosses makes her heart beat just a little bit faster. ●
Mike Hayes, Talal Ansari, and Hannah Allam contributed reporting to this story.