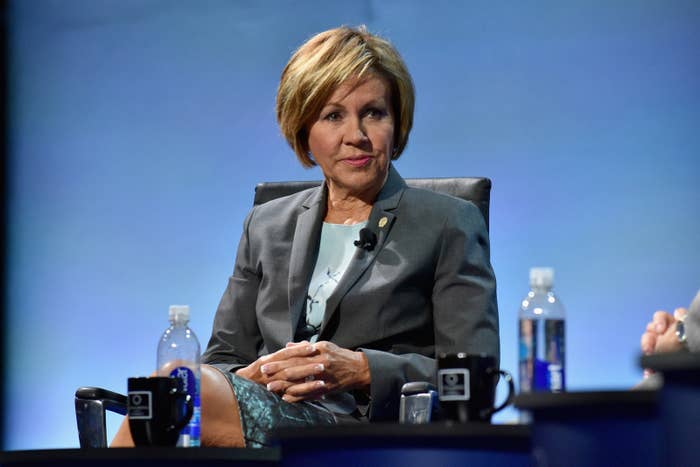 San Antonio's city manager said Wednesday that she's "embarrassed" by her police department's lack of women in leadership positions, as detailed in a BuzzFeed News story, but she denied the police chief is sexist.
Sheryl Sculley spoke a day after the BuzzFeed story, which revealed a pattern of sexual misconduct by male officers and an internal culture that critics say often blocks women from rising up the ranks.
As reported in Tuesday's story, San Antonio is the only one of the 15 biggest city police departments without a woman ranked at the assistant or deputy chief level. According to the department's 2016 roster, of the 304 SAPD officers in supervisory positions, 15 were women.
"I'm embarrassed that we don't have women in [leadership] positions within the SAPD," said Sculley, who didn't respond to interview requests for the story but who contacted BuzzFeed News after it was published. Citing "historic inequalities," she said that fixing the gender imbalance "takes time." Following the BuzzFeed story, Sculley said that she spoke with SAPD Chief William McManus to "reemphasize the importance of the Women in Policing initiatives that are underway."
Sculley, whose job includes executive powers under San Antonio's council-manager form of government, hired McManus in 2006, a year after she was appointed to her position. An officer told BuzzFeed News that McManus "has a problem with women," but Sculley denied that.
Sculley blamed a system, cemented during collective bargaining agreements in the 1980s, that mandates promotions be based on how officers perform on standardized tests, not on the chief's opinion of their suitability for higher rank. Open jobs for sergeant, lieutenant, and captain go to the highest scorers.
But in explaining why so few women would score high enough for promotion, Sculley echoed a police spokesperson's reasoning for the lack of high-ranking women officers: They often devote more time to their families than to professional advancement.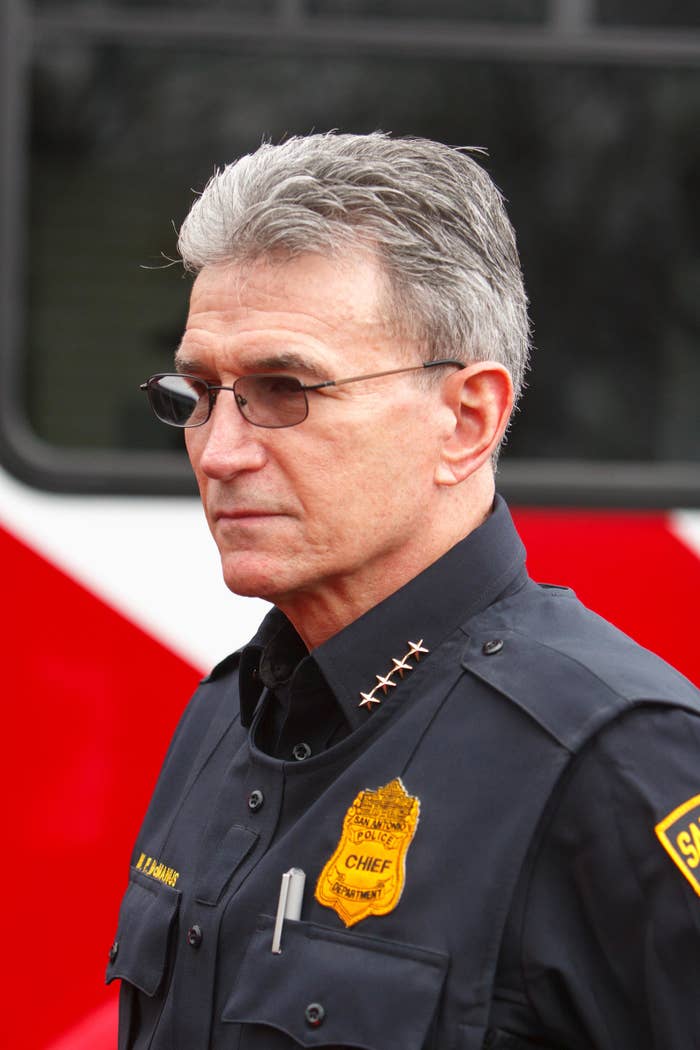 Some men, Sculley said, "take time off" to memorize the police handbook and other details that ensure high scores. But women often "have responsibilities for families outside of work," Sculley said.
The police department spokesperson, Sgt. Michelle Ramos, said something similar when asked earlier why so few women tried for promotions. "We're the caretakers," Ramos said. "I know many women in the department who don't take the test [for promotion] because it doesn't fit their schedule or the schedule of their children."
Sculley said that until the collective bargaining agreement is changed, "the chief's hands are tied."
This promotional system was not a topic of discussion during the city's most recent collective bargaining negotiation with the police union in 2016, she acknowledged.
One former SAPD officer also reached out to BuzzFeed News after reading Tuesday's story, recalling her own experience facing sexism in the department. During police academy, she said, "female cadets would be brought in front of my class and training officers would bring attention to their breast and buttock size for amusement."
The woman, who requested anonymity, provided her badge number, her training certificate, and a photo of herself in uniform standing next to Chief McManus to confirm her employment with the SAPD. During her three years in the department, she said, she worked alongside just one other woman officer. "I remember multiple occasions where the male detectives would ask us to make out with each other, touch each other sexually, and ask to record us showering together," she said. "One night, the harassment frustrated me to the level where I told one of the detectives to 'shut the fuck up.'"
The next day, she and the other woman found that their mailboxes "were overflowing with pads and tampons. It was common for male officers to shove feminine hygiene products in female officers' mailboxes as an intimidation and humiliation tactic to prevent them from making formal complaints." In 2014, she resigned. According to the former officer, five of the eight women in her police academy class are no longer with the department.
Sculley said that the department had made strides at eroding the male-dominated police culture that has been in place. In 2005, she said, less than 5% of SAPD officers were women, compared to around 10% in 2016, which is still barely half the average at big-city departments. In the years since, she said, the city eliminated discriminatory physical qualifications for applicants and began having women officers meet with city officials to discuss their experiences on the force.
But progress has been slow. The chief has discretion to select assistant and deputy chiefs, but there are few women in the department with enough experience and a high enough ranking to qualify for the position. Typically, assistant and deputy chiefs are promoted from captain; today, there is not a single woman captain in the department. The most recent woman to hold the position, Laura Andersen, resigned last year, then sued the department for sex discrimination.
Three other women SAPD officers who spoke to BuzzFeed News on the condition of anonymity said that the department's struggle to hire, retain, and promote women stemmed from the chauvinism that trickled down from the command staff to the rank and file, subjecting women to demeaning comments, an isolating work environment, and professional blockades.
"We've worked hard to encourage women to apply," Sculley said. "We're getting them into the entry level. It will take years to get them up the pipeline."
UPDATE
This post has been updated to include details of a discussion between the city manager and the police chief.